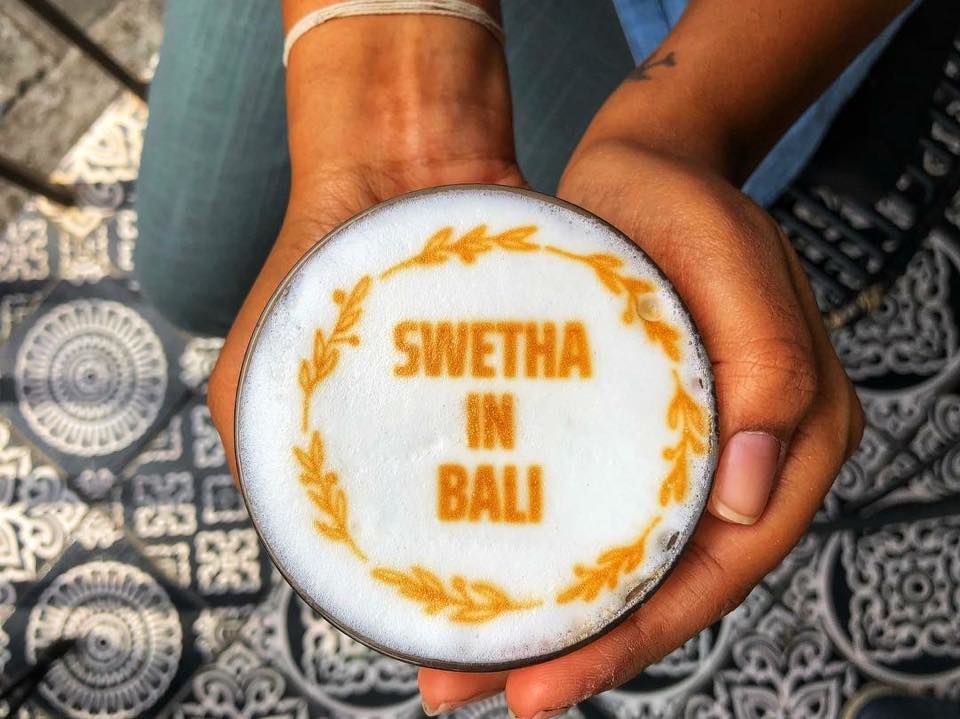 No matter what historians claimed, BC.
I feel it really stood for "Best coffee"
Well!! Are you a coffee person and cannot start your day without sipping that best coffee? Then here are some suggestions for you and you cannot miss them if you are at Bali.
Bali has one of those unique cozy corners where you can read, have a relaxing evening time for yourself sipping that cocoa. and this is the best thing to do if you are tired of all the surfing or snorkeling.
Address: Jl. Lb. Sari No.8, Kerobokan, Seminyak
Phone: +62 821-4525-1005
Opening Hours: Daily, 7:30am-6pm
This one is in top of my list and one of my favorite cafe's. it is called a coffee boutique and it is perfect if you want to enjoy interesting options like Delicious food, customized coffee, Vegan options and of course fast wifi and comfortable seating. The flooring is made of beautiful marble tiles and the presentation of food is excellent . And yes it is Instagram worthy if you want to get some pictures clicked.
Must try- Coffee with your name imprinted, Mushroom Duxelle, Acai Bowl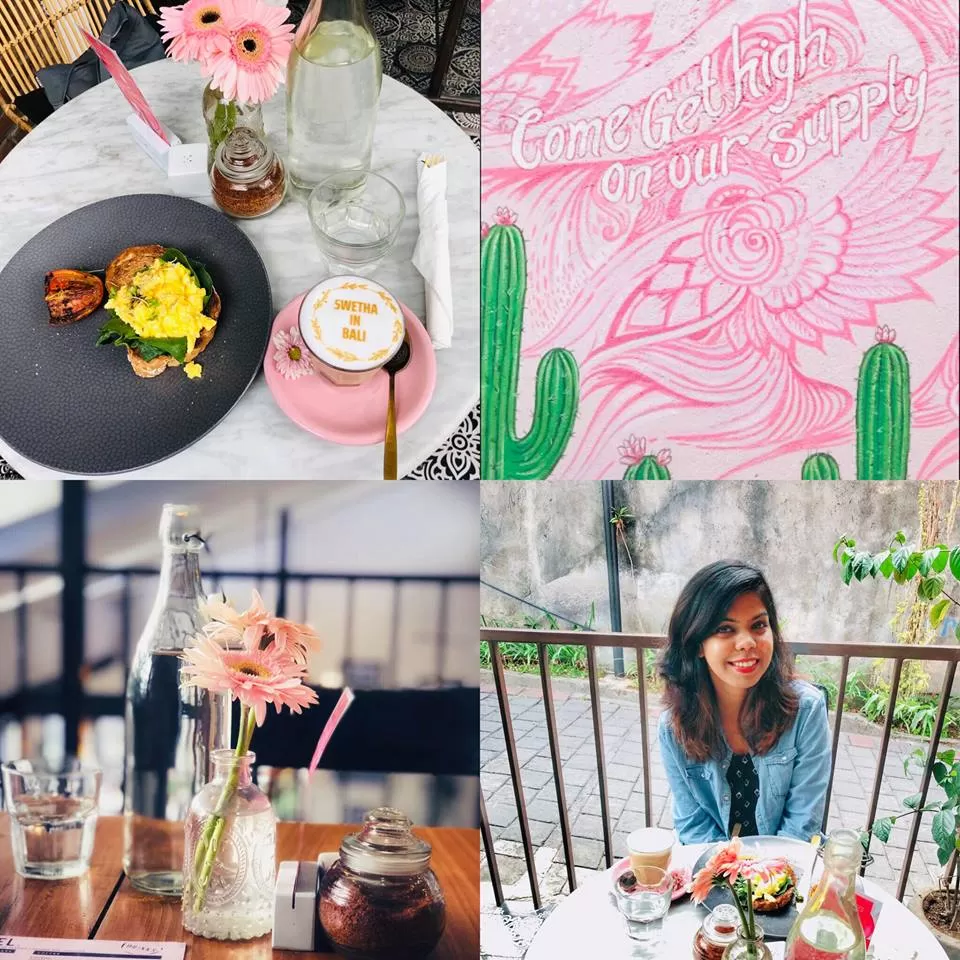 Address: 22A, Jalan Kayu Aya, Seminyak
Contact: +62 361 738667
Opening Hours: Daily, 7.30am – 10 pm
No this is not a circus. but this is a restaurant with a bar and coffee den that can give you a difficult time in choosing your menu. They have you covered with breakfast, lunch and dinner with there mouthwatering dishes.
The cafe is stylish with some seriously beautiful wall paintings and the neon colors add that extra charm.
Must try - Machiato, Margarita , Pink coffee and the Dragon fruit bowl.
Address: 12, Jalan Petitenget
Contact: +62 859 3112 0209
Opening Hours: Daily, 6 am – 4 pm
This plant based cafe should definitely be in one of your bucket list. well the name Kynd is because they show you how good plant based food tastes.
The place is generally crowded in the mornings but it is better to wait to get a place and cherish some interesting food. and this one tops the list if you are a vegetarian. this place is also become famous due to there colorful interiors which are again instagram worthy.
Must try - Choco Loco Milk shake, Green & Grind Smoothie bowl, Pancakes and a cocktail called Cozmic Star.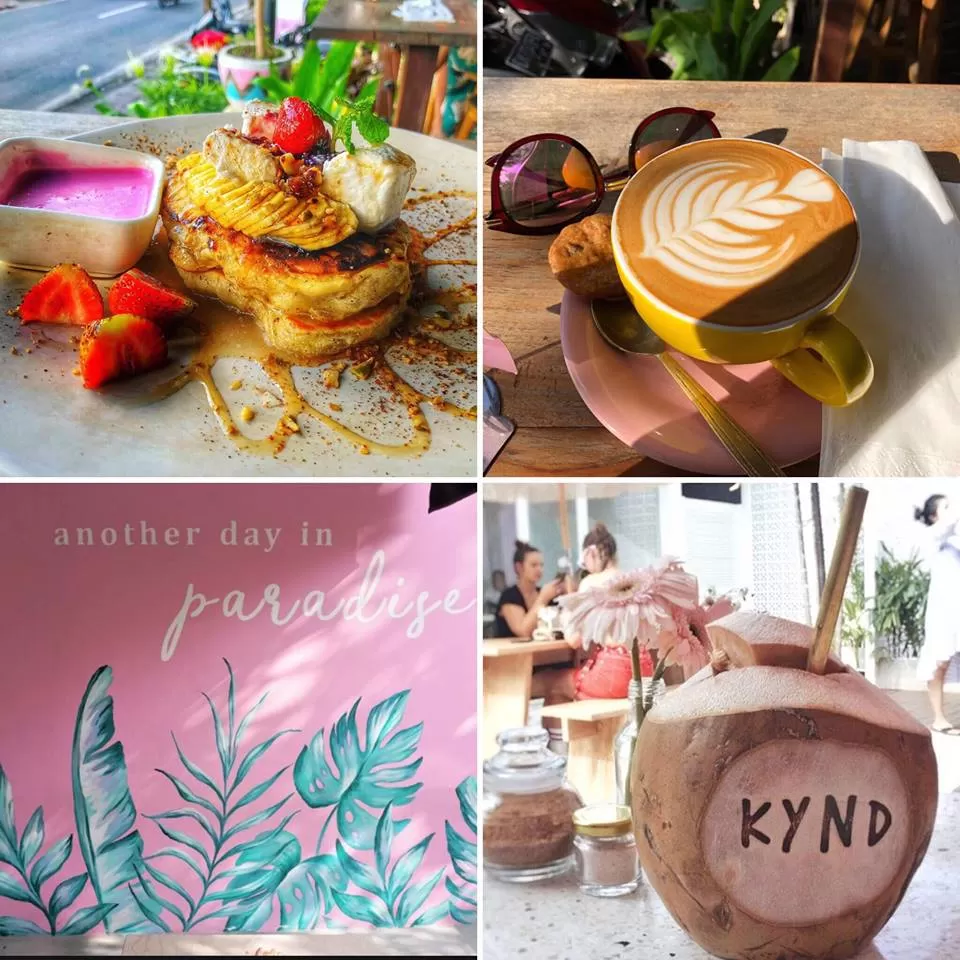 Address: Jl. Kayu Aya, Gang 51, Seminyak & Baby Revolver at Jl Petitenget #102, Seminyak
Contact: +62 851 0088 4968
Opening Hours: Daily, 7 am – 6 pm
You wont be able to miss this cafe because this is right near the shopping street at Seminyak Bali. You should definitely get a seat close to there pink wall for some amazing clicks. They serve one of there own rostered coffee's with an Australian touch along with some delicious food.
Must try- Killer Chiller espresso, Smashed Avocados, Tiramisu.