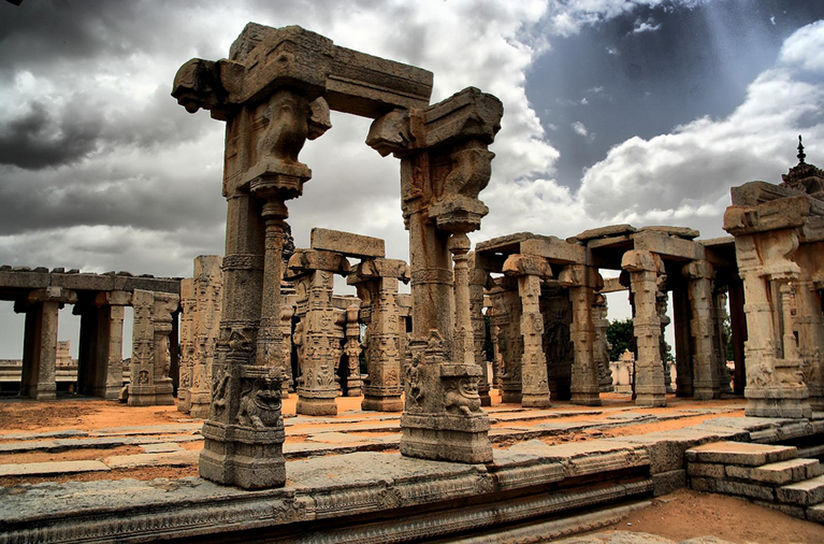 If the mighty infinite sky above and the ancient architectural marvel below ever fascinated you, this place ought to be in your bucket list!
The road to Lepakshi is as beautiful as the sculpted beauty itself... Endlessly wide and lonely roads, paved amidst the ethereal hills and the fresh yellow & green fertile lands on either side of it, makes a dream come true for every nature lover and a prized capture for every photographer! Well, just when you hadn't enough of the cool breeze brushing softly against you, reminding you of the vastness and limitless love that the universe has for you, the gorgeously carved Lepakshi appears right in front of you. A reminder that the ancient architects were nothing short of Gods in the form of extraordinary geniuses.
As though an abode for the Gods & Goddesses to rest, this beauty is splendidly adorned with mural paintings and sculptors of Lord Shiva and Vishnu. Every corner of the temple reminded me of something very aesthetic and rustic in the air inside. As though I have been coming and meeting them since many many lifetimes.
I happened to explore the gorgeous pillar inside the temple, which has remained a mystery since ages. Either side of the pillar isn't attached to the roof or the floor. If you try to pass a sheet of paper or a coin below the pillar from one side, you could surely collect it from the other side. So, it's basically nothing between the floor and the pillar. Strange but miraculously true! #mysterious #clueless
The temple has an adjacent wedding hall that has remained partially constructed by the kings since many centuries... I just fluttered around the half formed marvel, imagining myself as a princess who was born to be there! :)
Well, how could I miss meditating in this exquisitely carved wonder!
And....I felt so much connected, so much belongingness with every bit of the place!
Lepakshi shall remain etched in me beyond lifetimes...
#Lepakshi #aesthetic #equisite #ancientarchitecture