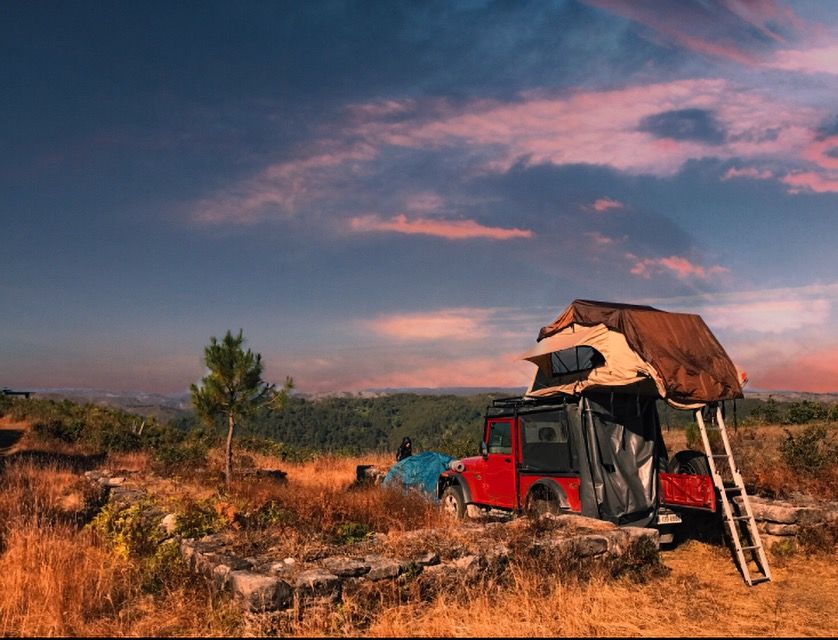 I met Biban this year in June during one of our trips to Mawphlang Sacred Groove, Meghalaya. He was our guide for the jungle trek. The way he took our photo through a dead leaf I knew he has to be associated with The Camping Co, over a period of few months we kept in touch. I would share his number with all the guests who plan to visit the forest.
I couldn't contain my excitement when he told me that now the place can be used as one of our partner campsites. I had to go there again and see if it fits our requirements.
It was the time for Shillong to turn pink with Cherry blossom blooming everywhere. I could instantly feel the freshness in the air as we crossed Umiam lake. As usual, I was lost looking at all the beautiful trees on the side of roads and 2 hours just flew away.
As soon as we entered the compound, we were greeted by Bibin with a big smile on his face and said oh! You came! Like an over-enthusiastic child, he started to show us around and how much the place has changed since our last visit.
The starting of the forest has a big open ground on which teenagers from nearby villages play football in afternoons. With lush green forest on the one side and valley on the other side, this is by far the most scenic playground I have come across during my travels in Meghalaya and I was glad that my favorite scene didn't change a bit.
This is beautiful, I said with a lot of excitement in my voice when we reached our campsite. In my mind I had already started to visualize how our camp would be set up for the night. Our overlander parked in one area, food getting prepared near a small pit surrounded by rocks and bonfire at one side, I was once again zoned out for a few minutes before Harsh asked me you think our guests will like it? and I said absolutely!
We had just enough time before it gets dark to go Biban's friend's house and bring them to our spot. It was a diverse group of people. A footballer who was excited for the tournament next Saturday, a musician who played more instruments than I have seen in my life and a teacher. We built the bonfire while the musician tuned his guitar. Bibin and his friend talking about a position of one of the constellation.
He started with one of his favorite Khasi songs and soon we were singing from grunge rock to old Bollywood songs. I would look at the sky until my neck hurt while sitting on the chair and then start singing and then look up again. I kept doing it till dinner time. We talked about family, life, career, world, village during our music break sessions.
We said our goodbyes after we finished the meal and I climbed inside the tent finally opened it up, took out just my face from one of the sides and looked at the stars wondering about the decisions I have made in my life to be here, to form Camping Co. till I fell asleep.
One more day ended, one more starry night witnessed, one more life-long memory created!
For more adventures - Checkout www.camping-co.com