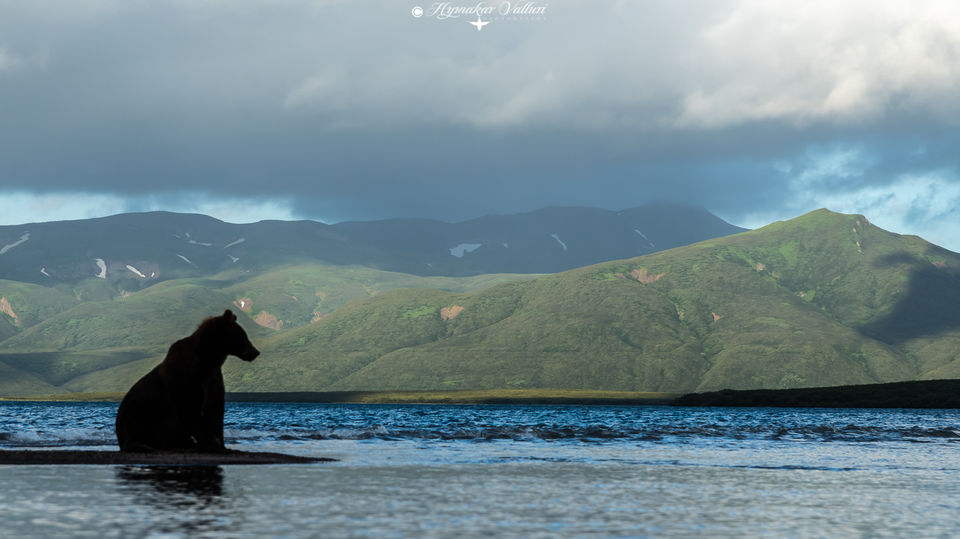 Kamchatka a paradise surrounded by snow capped mountains, colorful flowers, Lakes, Sea and lots of wildlife . Kamchatka has been my dream destination to watch and click the images of the wonderful and mighty Grizzly Bears. Finally that dream came true, i had made up my mind almost a year back and signed up for this trip, this trip not only included Bears watching but also a boat ride into Bering Sea to look for Puffin Colonies, Whales, Seals and Sea Lions. I will take this opportunity detail my trip with you, i am not so good at writing but i will make it up with my images.
This is one of the most interesting travel itineraries so far in my life as this involved travel by almost all modes of travel. I traveled by the early morning Aeroflot flight from Dubai to Moscow. Flight landed in Moscow at 7 am and i had almost 10 hours layover for my next flight to Petroplovsk-Kamchatsky (PKC). As guided by my neighbor on the flight i had checked in my bags in Terminal B and dumped the hand bags in the locker room ( Rub 500/ Piece) and took the Aeroexpress to get into the City. ( Remember its a painful process to carry heavy check in bags from International Terminal to Domestic Terminal as you will have leave the trolley and hand carry). Aeroexpress plys between the SVO (Sheremetyevo Airport) and Belorussky Rail Terminal and there is a train every 30 mins, ( Regular class costs Rub 500/head/ one way and First Class Rub 1000/head/oneway). It is around 35-40 mins train journey to the centre of the city. You can buy tickets at ticket counters, self-service Kiosks and there are staff who sell tickets at Baggage collection). This was my first time to Russia and dont know a word in Russian, thats the fun part of exploring a new place, I reached Belorussky terminal and with the help of few people (Russians are very friendly and nice people) i took the green line metro train and as guided i dropped at 3rd station (Teatralnaya) and just followed the crowd, finally i landed in front of Saint Basil's Cathedral, I killed three hours walking around and inside the Cathedral and promptly returned to Airport domestic terminal in time for my flight to PKC.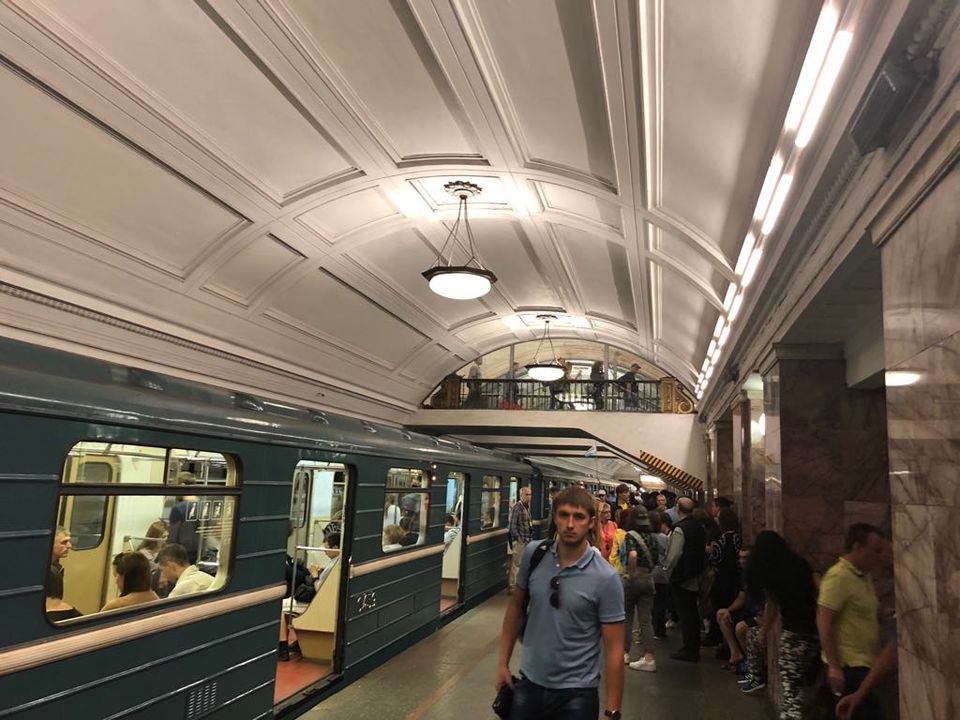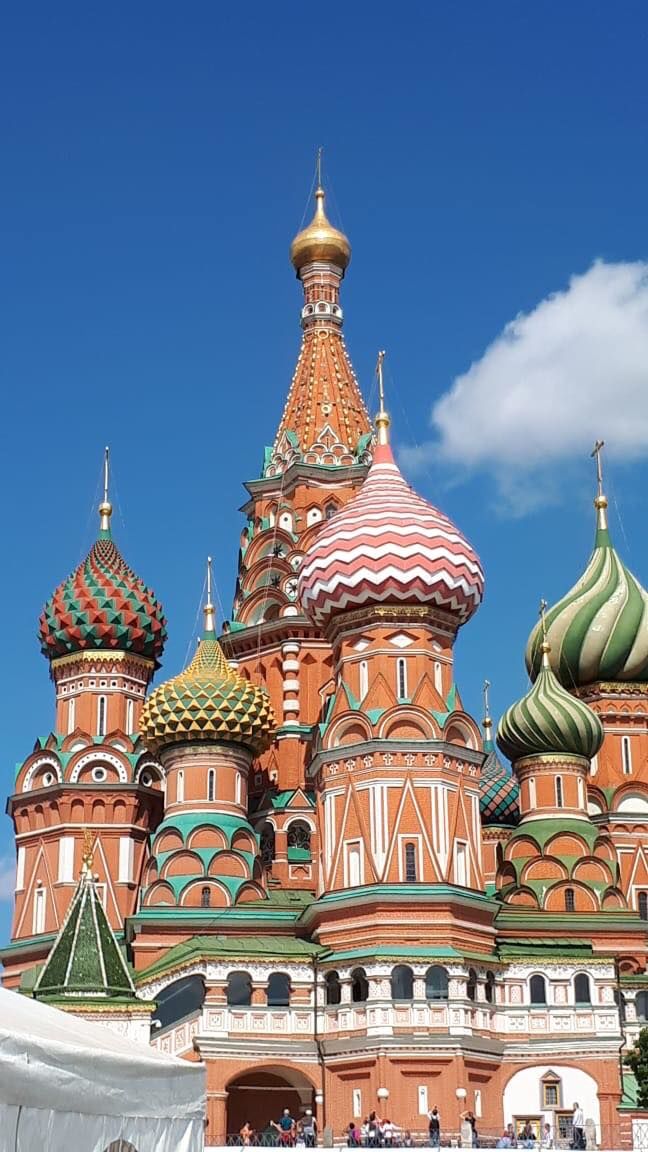 After a 9 hour flight we had landed at PKC airport and the airport arrivals was like a small tented camp. We met our guide Mike for next one week, we were checked into hotel and after a quick lunch we headed to buy Gum boots ( most important for Kuril lake) these Gum boots are upto waist height and costs only Euro 15. On the way back we stopped over at a church overlooking the city clicked some images and headed back for dinner and then to Mall to buy some Vodka for the trip and some stuff to eat for the rest of the days at Kurile Lake. PKC is a beautiful city and very clean, I havent seen any litter on the roads and streets. People are very disciplined and they just mind their business. You cannot miss the Koryaksky volcano as you can see it from any point in the city. Mike met us at the end of the day along with our Skipper from toehold Santosh and gave briefing about the next few days. We were also informed that as per weather forecasts they are expecting rain and Helicopters will take off only if the weather was suitable. If Helicopters dont take off then we will not be able to go to Kuril lake and end up resting at hotel or sightseeing at PKC. We had few Vodka shots before calling it a day and hoped to get a clear weather as it s tight schedule and cannot afford to loose a single day.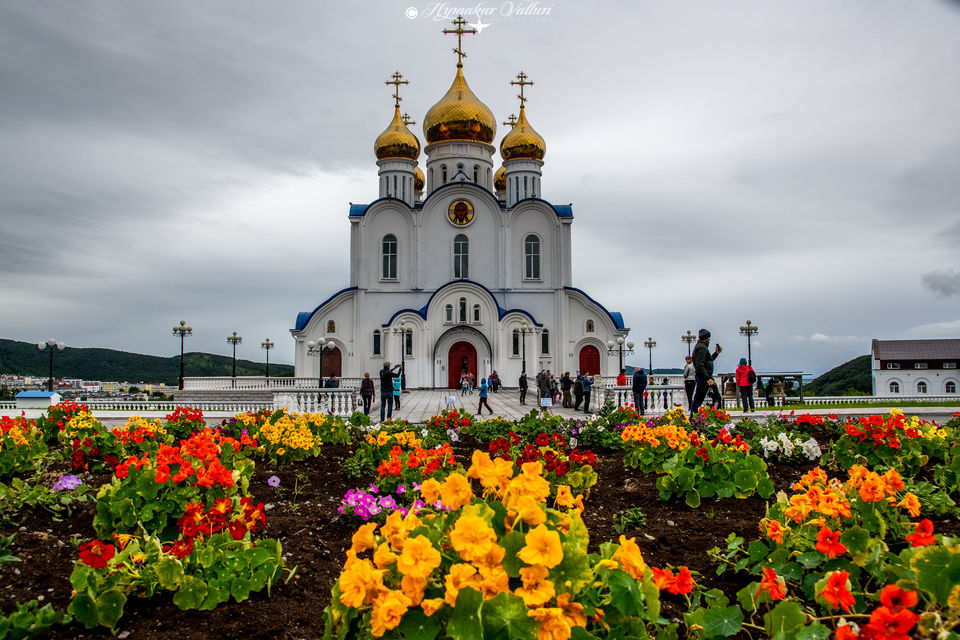 We were ready by 8 am and as forecasted it was very cloudy, windy and was also raining. It was so cloudy that we were not able to see the Volcano. We were asked to be ready on stand by and as and when Mike gets any clear message about Helicopter leaving he would let us know. At around 9.30 we left to the airport for Helicopters and decided to wait there. Finally at around 10.30AM it was decided we will be taking off and was informed one of the most experienced and expert crew will be flying us. It was expected to be a 60-90 mins flight because of the weather conditions and route change it took around 2hrs 15 mins to reach Kurile Lake. After a rough rollercoaster ride we finally made it to Kurile Lake,I was anxiously and eagerly waiting for a long time to see this paradise to click Bears fishing Salmons. After having lunch we were introduced to the Rangers and at around 3 PM we walked around a Km to go to the watch tower which was like a cage where we cramped ourselves there and started clicking the images of Bears looking for Salmons.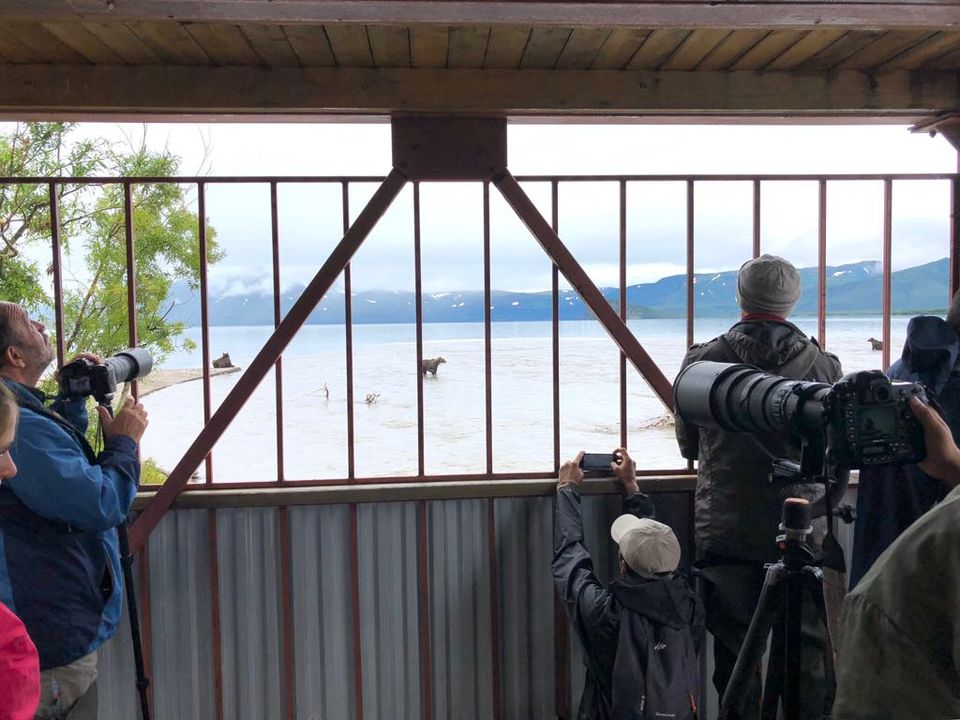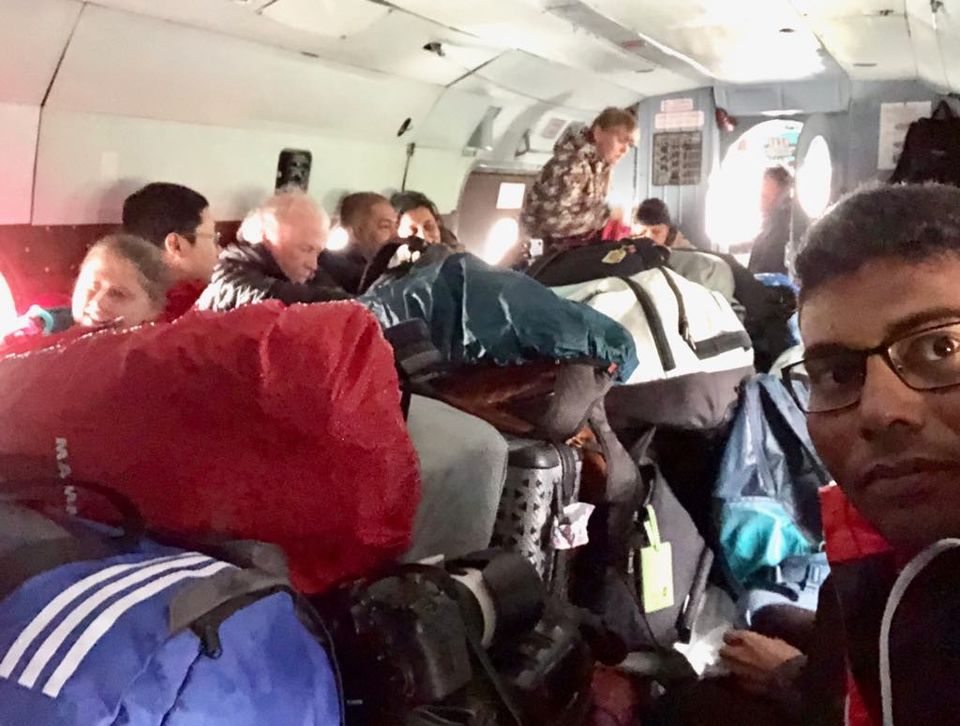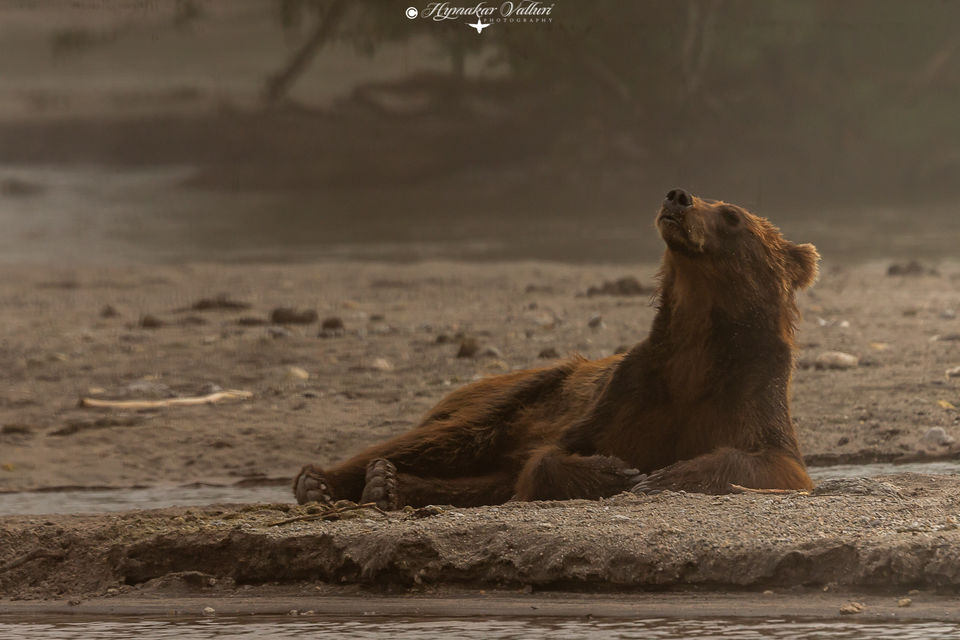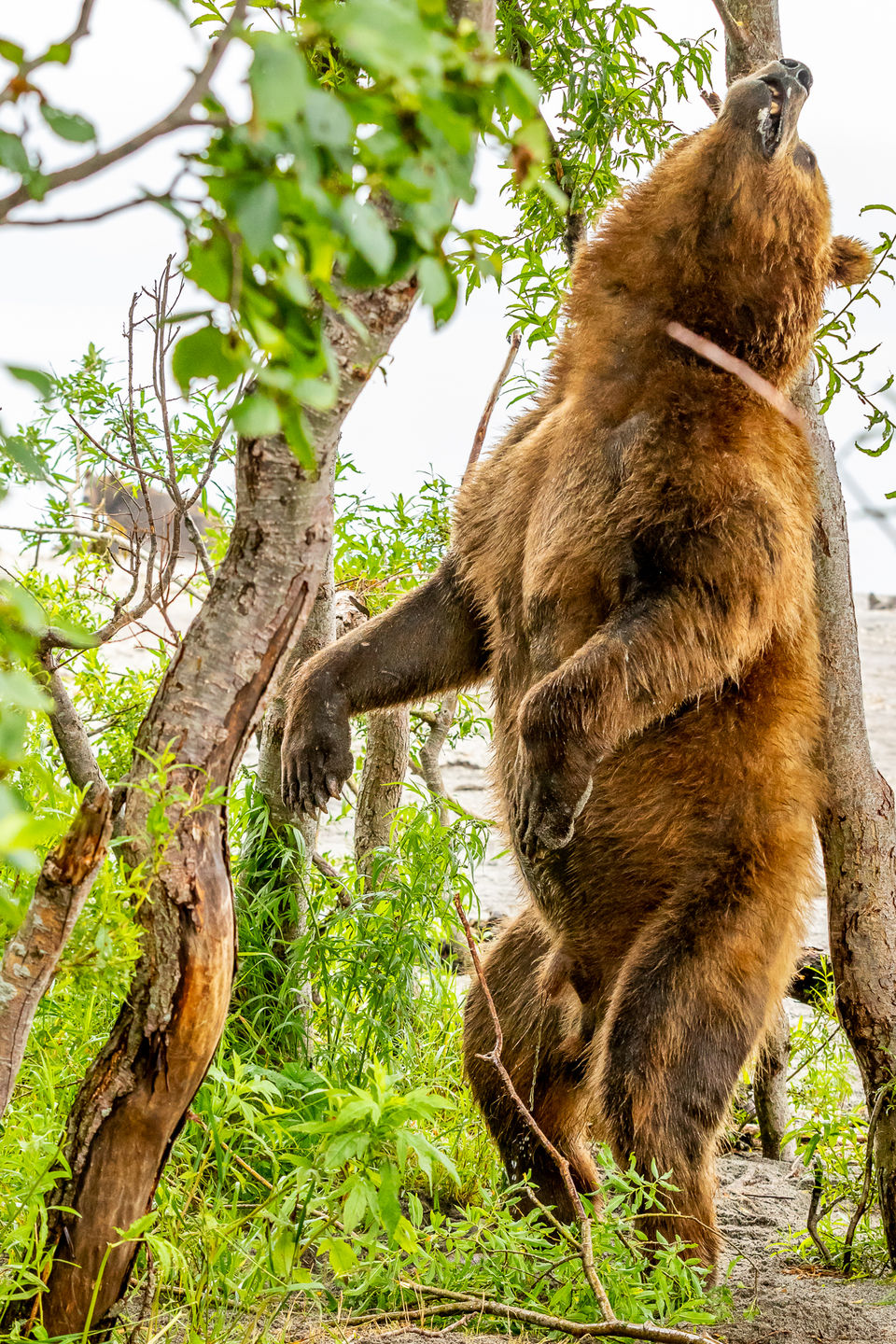 On day 2 at Kurile lake the weather changed a lot and it was looking much better, though it was a bit cloudy, there was some good light and also it was not raining. We had breakfast and walked to the lake in a single file led by the ranger. We did not see a salmon push previous day and were hoping to see some salmons coming today and get some bears in action. Bears come out of hibernation after the winters and they start feeding on the berries, mushrooms, flowers etc., they get to the points where they can find salmons and eat the salmons for the fat, protein and nutrition to keep them warm and safe during hibernation in winters. As the temperature keeps increasing they shed their winter coat by brushing off against the trees. Salmons every year during summer time swim back from sea to the lake upstream to hatch their eggs, the same place where they took birth, they live for 6-8 years. Bears wait for the Salmons to return to Kuril lake and to catch them during their journey back to the lake.At the convergence point of river to lake the water is shallow and may be not more than 2 ft which makes it very easy fo bears to catch Salmon, Once Salmon enters the lake they are gone as the lake is 200 ft deep and the bears will not be able to get them. Bears can eat upto 40 Kgs of salmon a day which makes it 15-20 Salmons a day, if bears dont eat enough salmon and build sufficient fat they struggle to survive through the winters when food becomes scarce. with 30-40ft high snow and -40 Degs C Temp. On day 2 at Kuril lake we were allowed to stay in open with strict rules and strong supervision of rangers, which is allowed with a special permission given by photographers and researchers. On day 2 push was not strong there were few salmons, as there were only few we got some brilliant action between the bears. If the salmons were in abundance bears would pluck them out of water like berries and have them at convenience and sleep on the banks.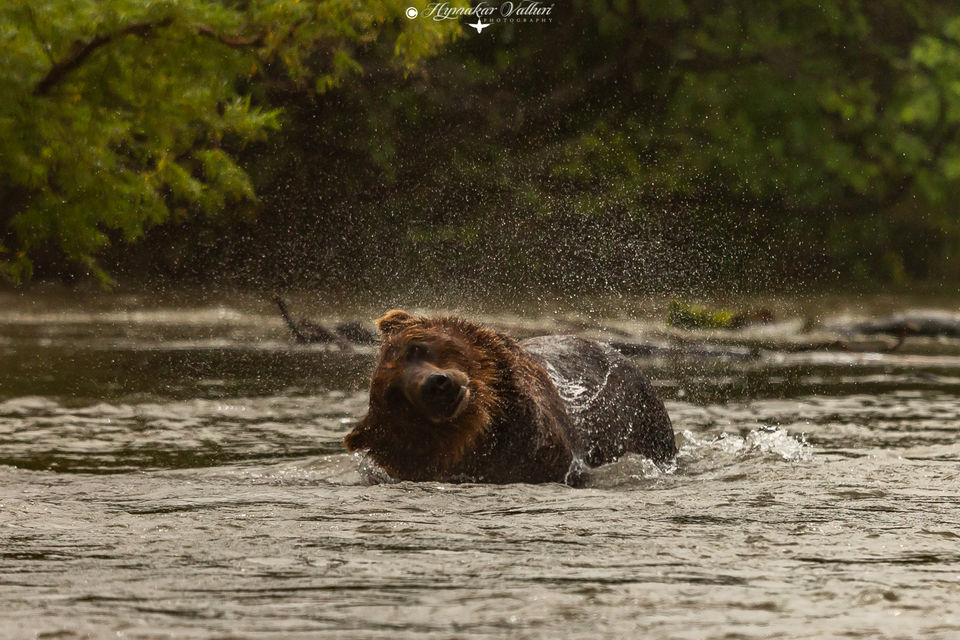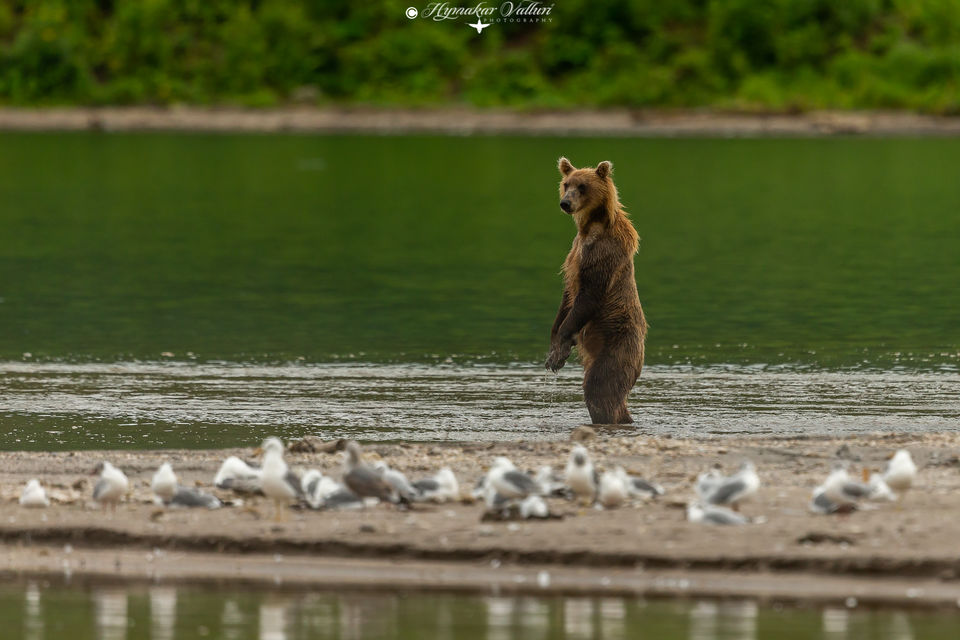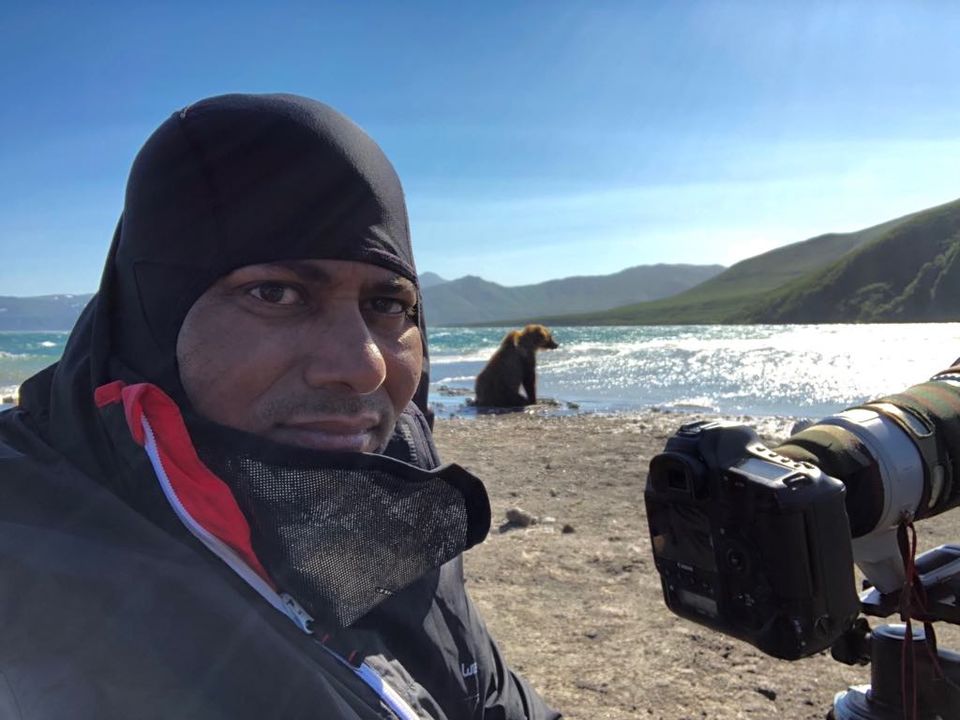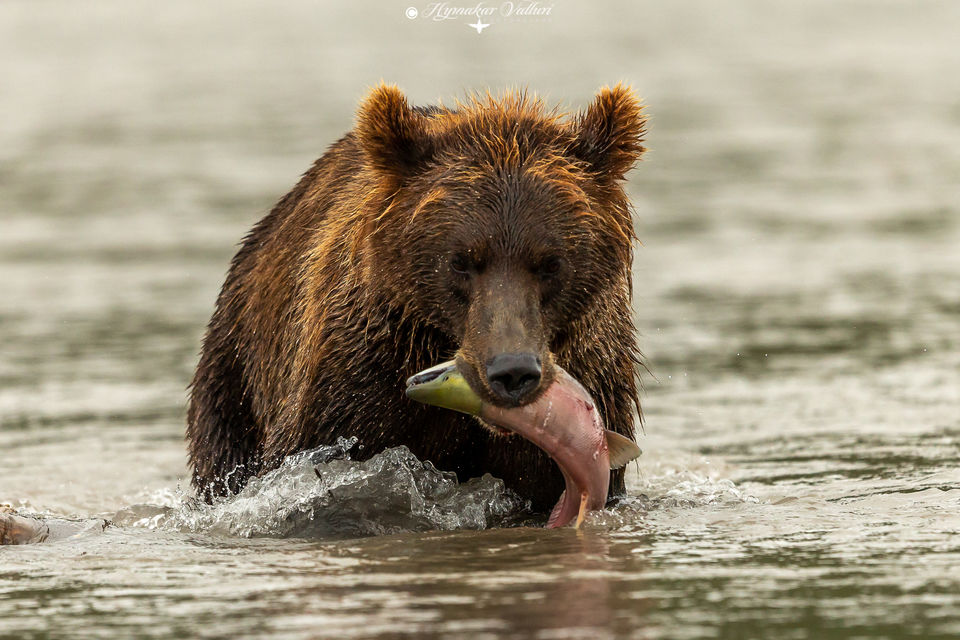 On day 3 we wanted to catch the morning light as the weather was looking better and hoped sun would show up. We got to the lake early and sun was hidden behind the cloud and by the time it emerged after clouds moved away it was already up and light was bad and also we were shooting against the light, There was one more group of photographers who were staying in a camp bit far from the lake had occupied a small patch on the lake from where the bears were approaching the convergence point last two days and not many bears showed up that morning. We decided to wrap up early with some action shots clicked and get back to the camp and rest till afternoon. After lunch we decided to go for a walk to Tundra and see if there were any bears there with green background with flowers. When we reached the watch tower we saw the salmon big push happening, there were few hundreds / thousands of salmons pushing their way through in a hurry to the lake and fighting against the stream. The whole place turned from green waters to red salmons. We started walking towards the tundra along the river and saw lot of bears and hundreds on salmons on the way. After spending sometime in tundra and understanding the history of the place from our ranger we returned to camp and relaxed for the day. This was our last night at the camp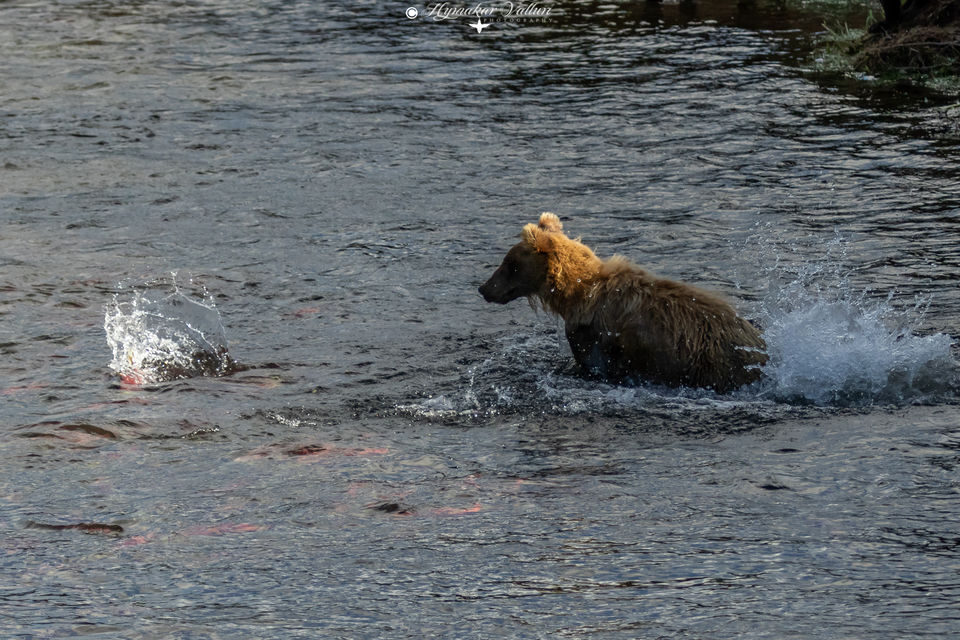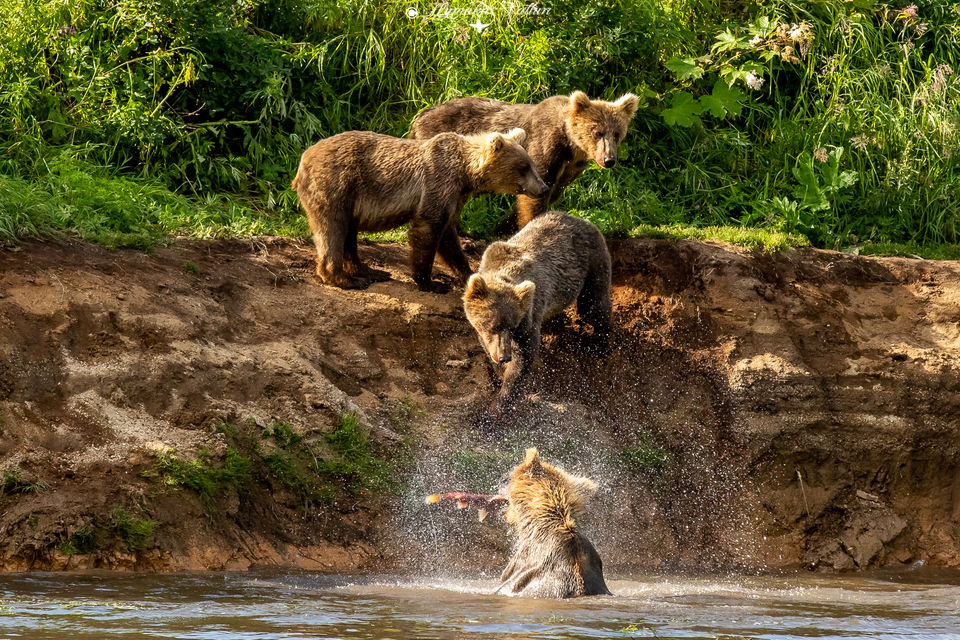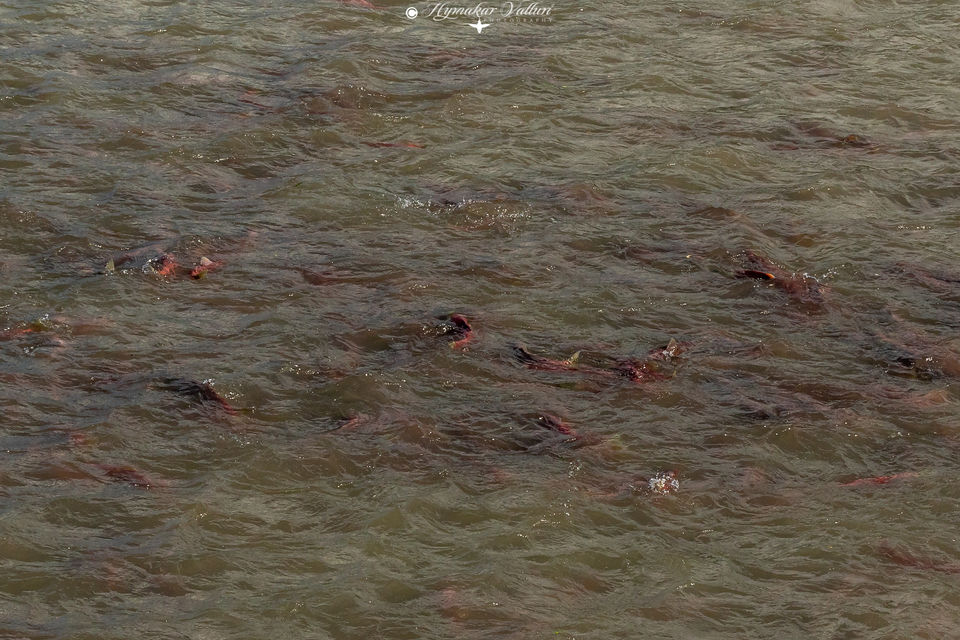 This was the last day at Kurile lake and have few hours to make best out of the time left with Bears. Today i tried doing wideangle closeups capturing the habitat of the Bears. By afternoon we headed back to PKC. Weather was excellent and we had 3 stop overs on the way, first we stopped at Ksudach Volcano where there is a nice green lake in the crater, then at a hotsprings and finally at Mutnovsky an active Volcano before reaching PKC. By evening we reached the hotel back and it was time to re-pack and get ready to get on a boat for sailing in the bering sea for 2 days.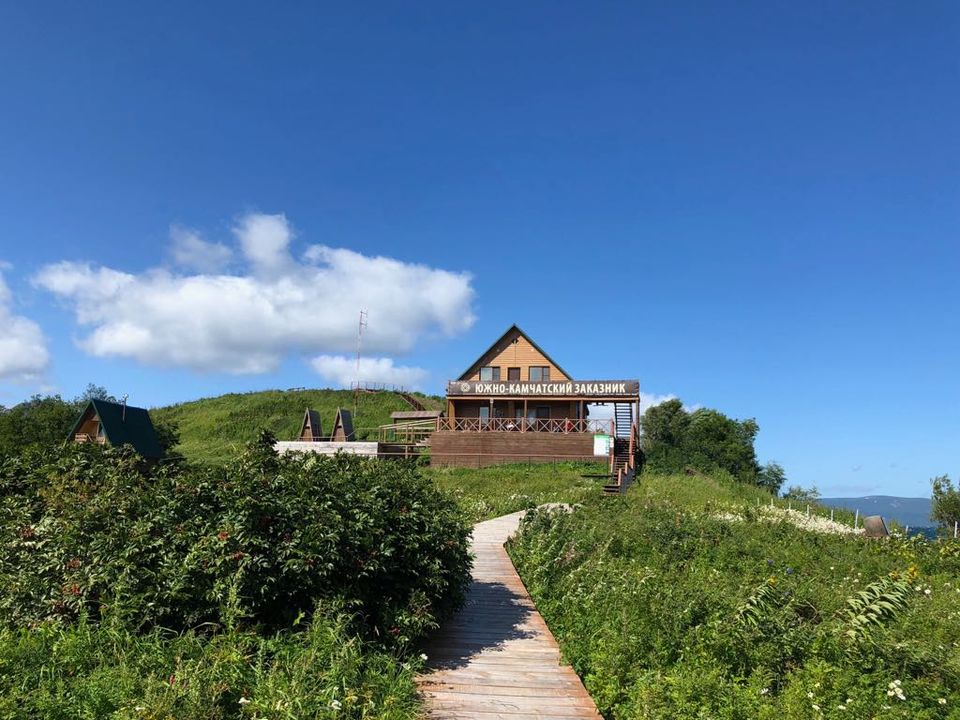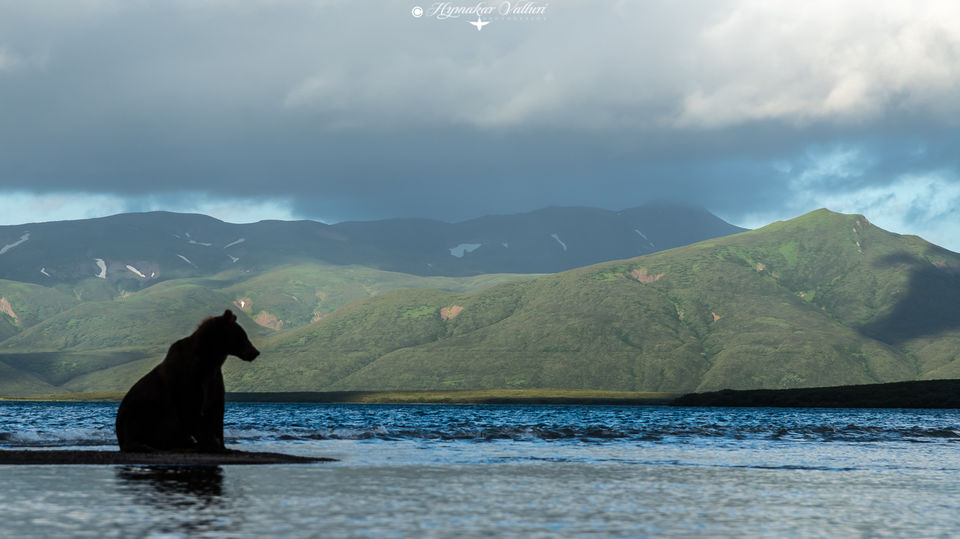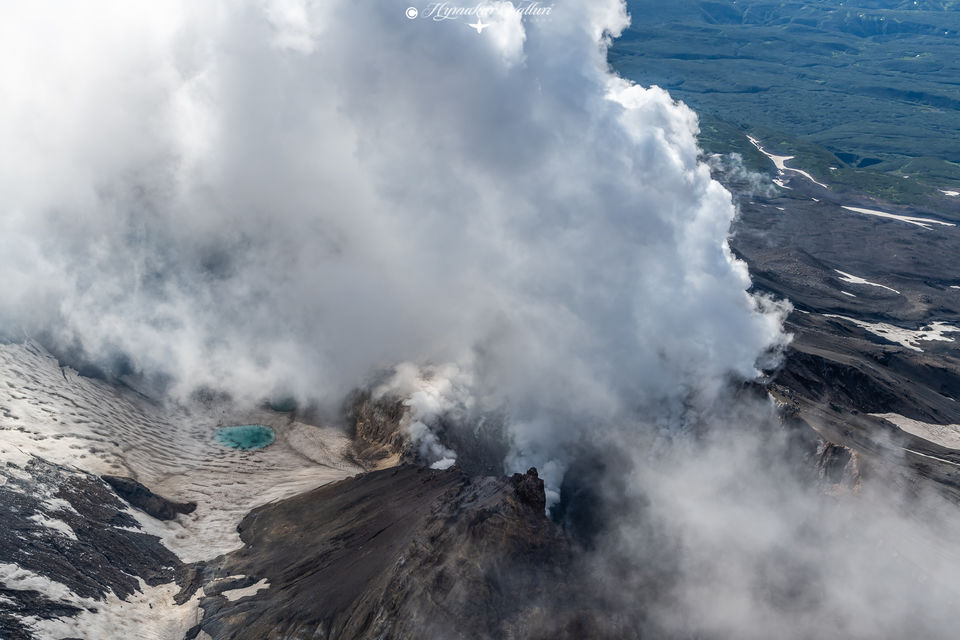 As usual again for the twist in the tale, there was some navy drill happening hence the boat can leave the dock only after a clearance and we do not know when we will get clearance. But Mike decided that we should go and wait in the boat and as when we get clearance we get out into the sea, good news came in 20 mins after settling in the boat that we got clearance to get into the Sea. As we set sail we stopped over at the three brother and then headed towards puffin colonies. We were asked to get into the Zodiacs and we spend almost 2 hrs at this place clicking images of thousands of puffins, Kittwakes, Skuas, Guillemots and Gulls.We also got to see the Spotted Seals and Sea otters. I was delighted to see my dream bird horned puffin also. After the puffins we headed further into the sea looking for Whales and we finally got to see a mother and 2 calves of Humpback Whales. Post clicking whales to ours hearts content we headed towards the islands where we can see Sea Lions. By evening we reached the point where sea lions were resting and decided to anchor close by to capture the images of sea lions next day in morning light.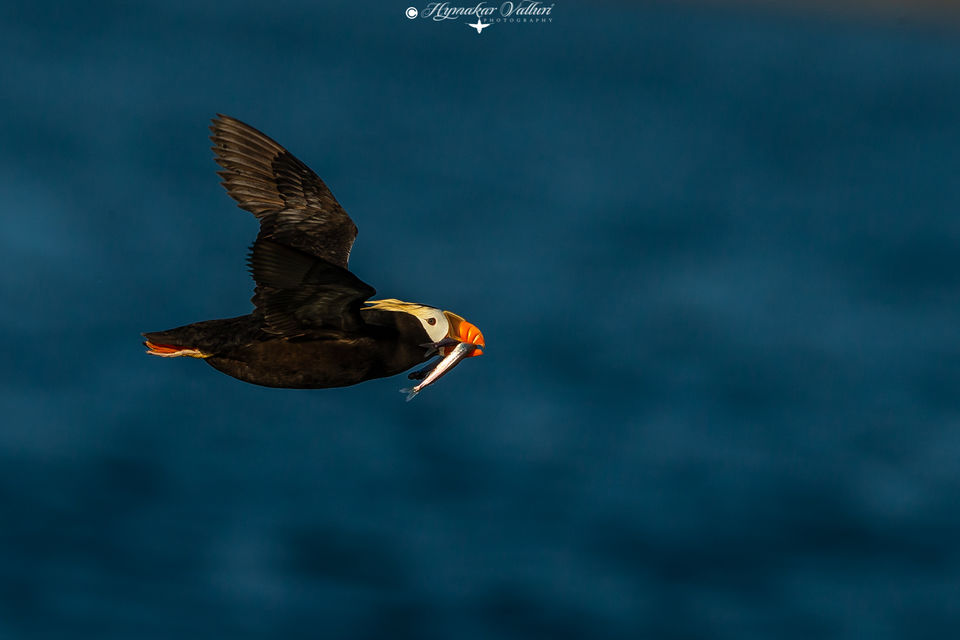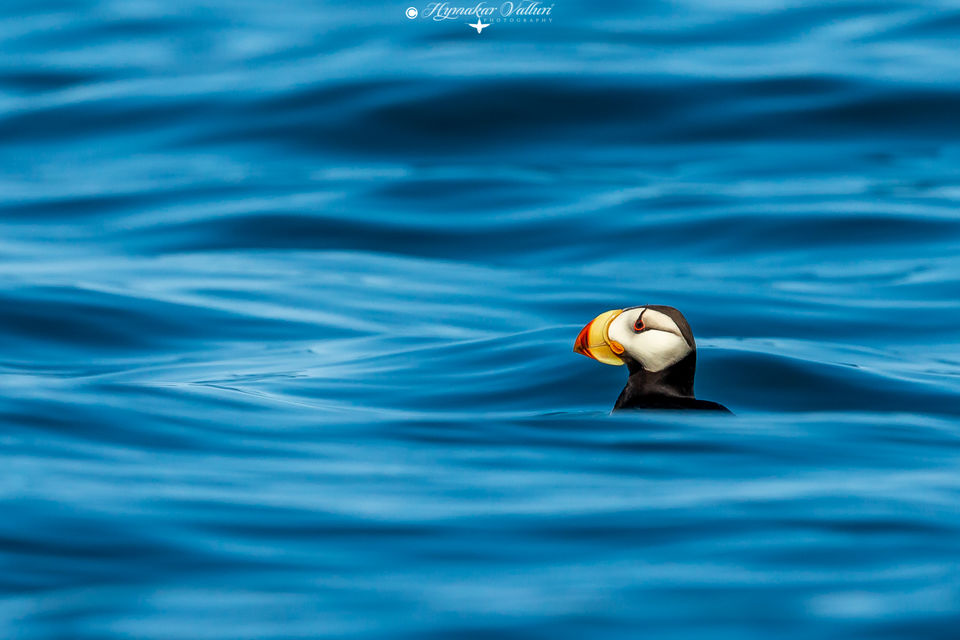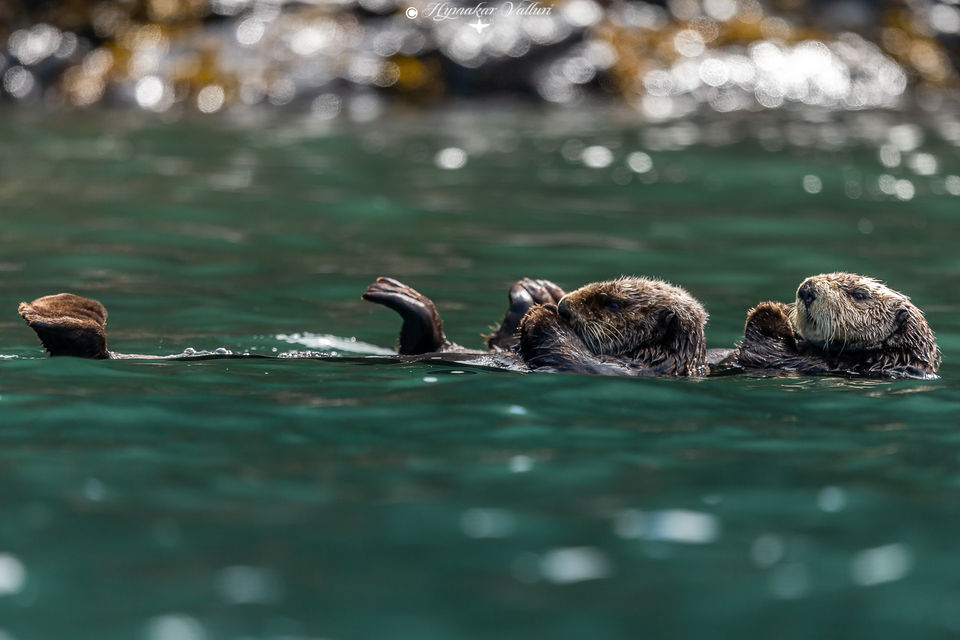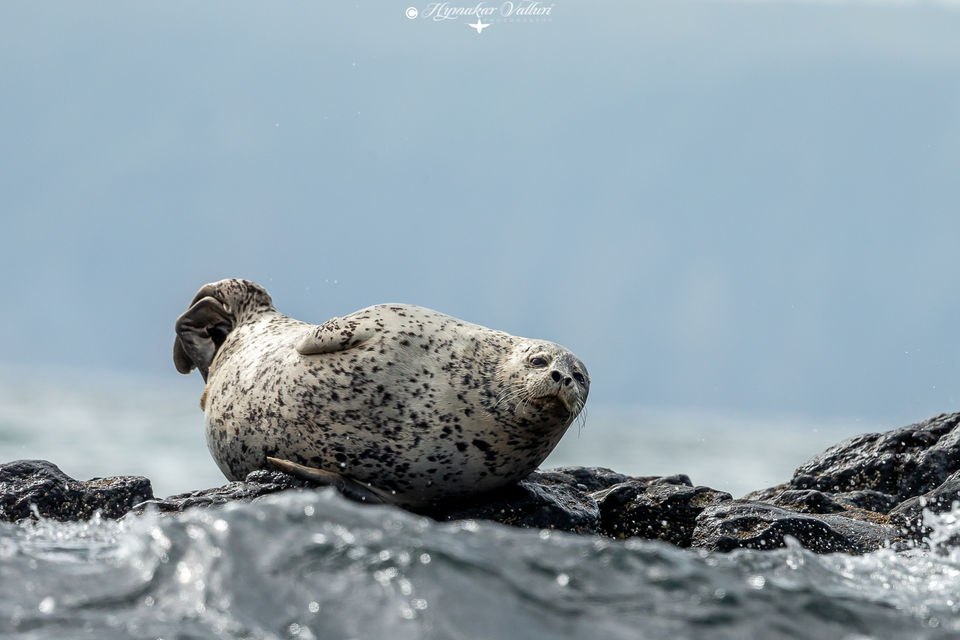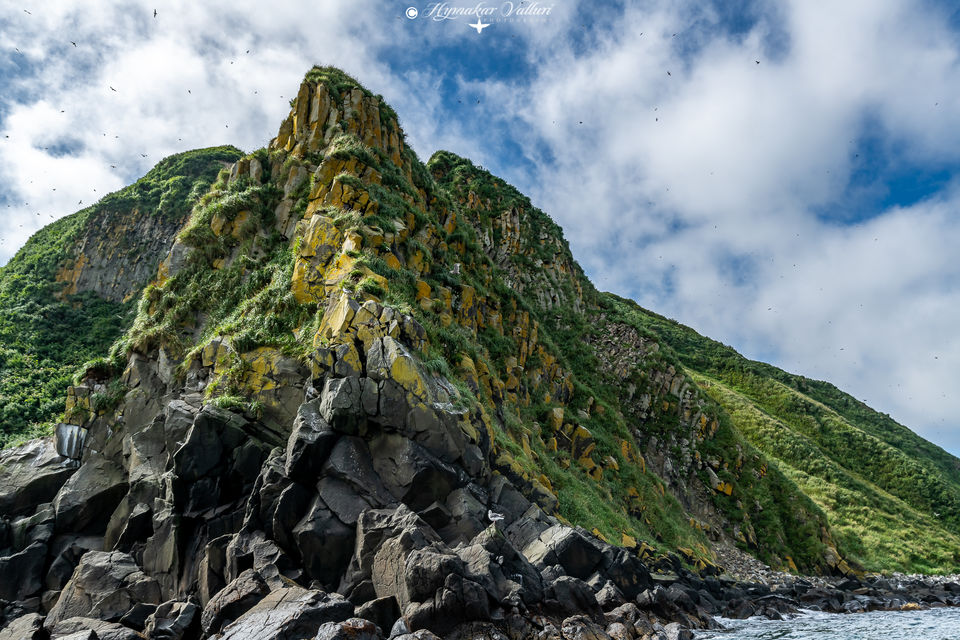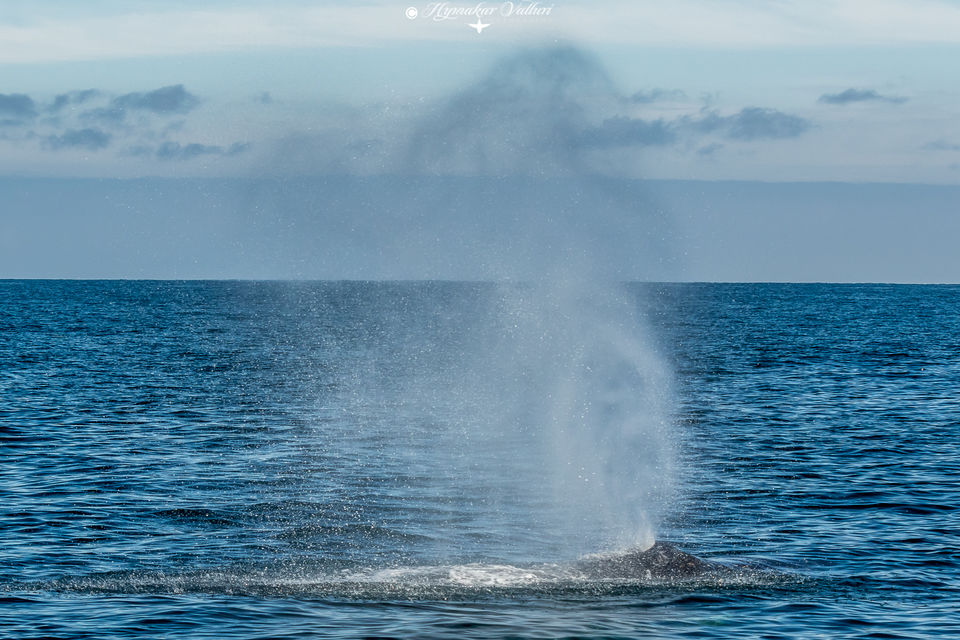 Morning we woke up by sunrise time got into the Zodiacs and headed towards the Sealions rocks. After clicking images there i had requested Mike for two things to be seen in the sea one was Orca Whales and other was Steller Sea Eagles. Our captain tried his best for Orcas, but as we know Orcas are not that easy to find, on our way back we thought we should stop at birds colony again and get some shots, Sea was choppy so we got back pretty quickly to the boat and as we headed back to the town captain waved to me asking me to scan on top of the hill for Steller Sea Eagles and we were lucky to see a mother and chick on top of the hill. With Steller Sea Eagles sighting our wildlife photography for this trip has come to an end. By the evening we reached the hotel, changed and headed to the town for dinner and a drink.
Gu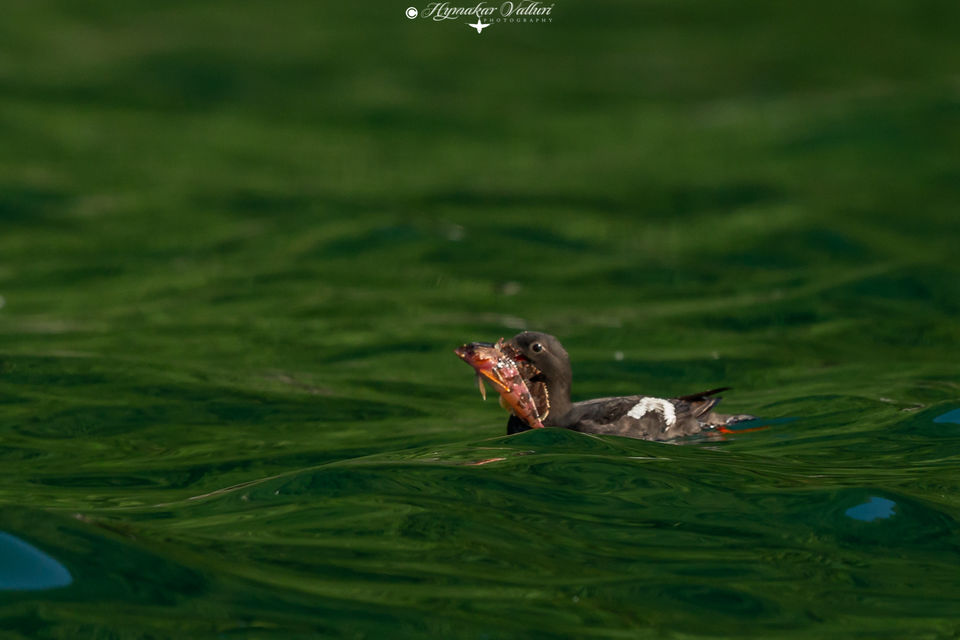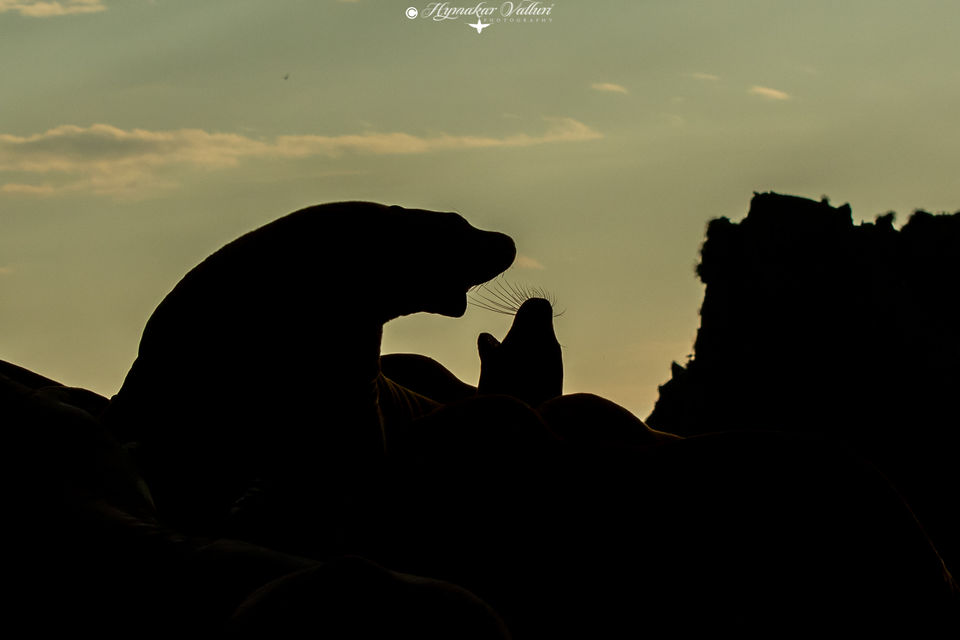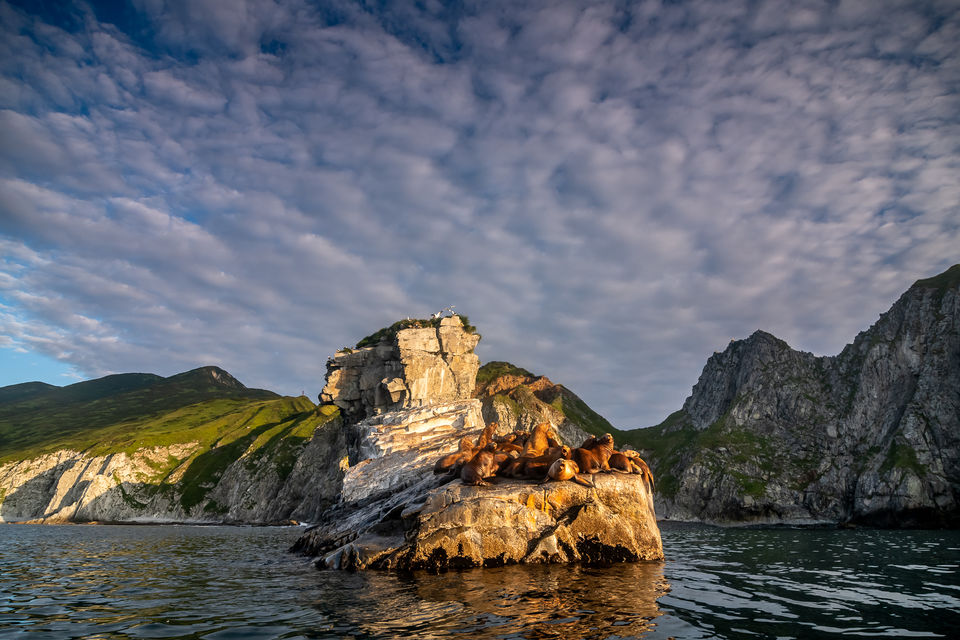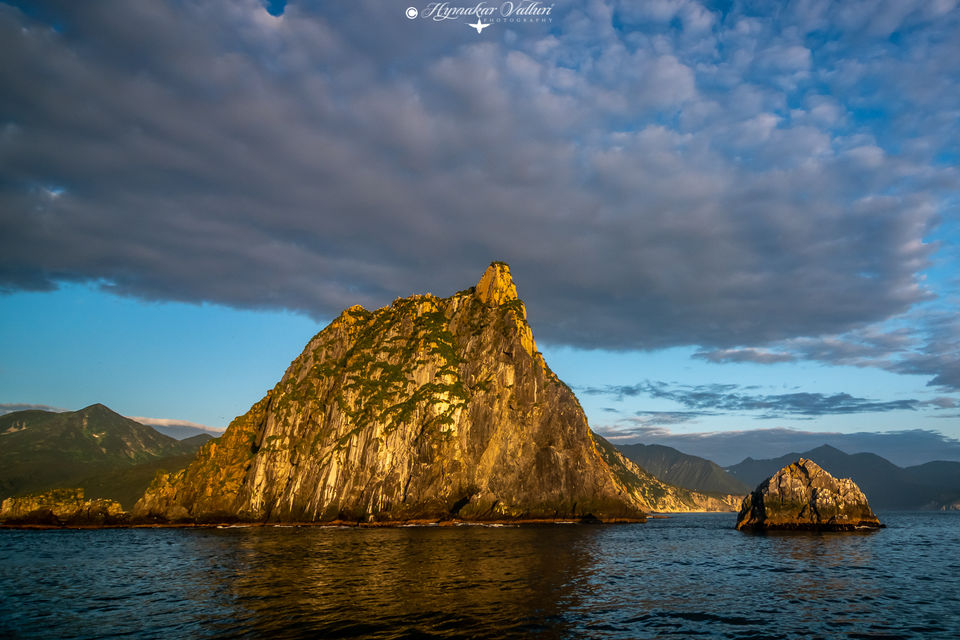 By noon we had packed and headed to PKC airport and left to Moscow with few thousands of images and great experiences. Interesting part about the flight was we took off at PKC at 12.50 afternoon and landed in Moscow at 12.10 Noon. The time zone difference and flying time from PKC to Moscow is almost same. Signed off the trip with Areal shots from iphone from Moscow to Dubai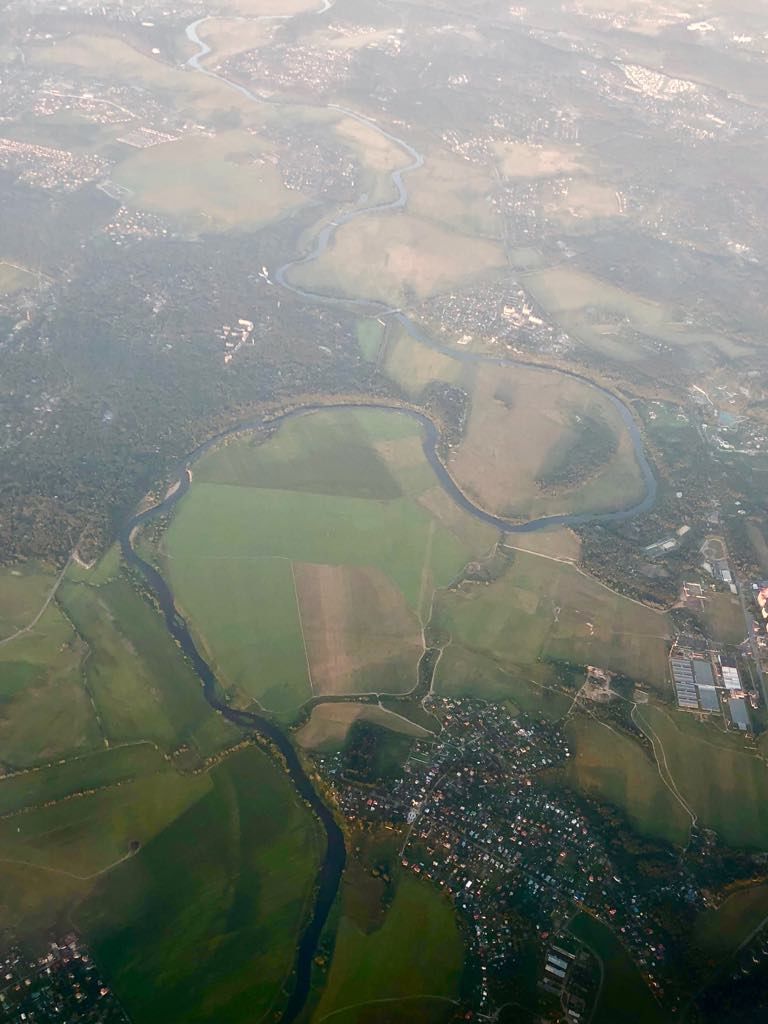 Few important tips for Kamchatka trip : 1) Waist height Gum Boots compulsory 2) I am from India and vegetarian so the veg options in Russia are not much and the food is plain, i survived on MTR ready to eat 3) Mosquito repellants must at Kurile Lake 4) Dont forget to keep a towel and swimming trunk handy in helicopter as there could be a stopover at hotsprings 5) If you are a photographer and going to be outside in Kurile lake please ensure that you follow all safety precautions, Bears are wild and not teddy bears from Hamleys, they can be 8-9 ft when the stand up with 3-4 inch nails, one blow can take skull away. 6) At Kurile lake stay is in bunk beds and 8-10 people get stuffed into one room, at night there could be some snorers so deal with with ear plugs or music something like that 7) Dont litter anywhere in Russia in Kurile Lake dont leave anything thing behind however small it is.
Thanks a lot for reading. Hope you liked it.