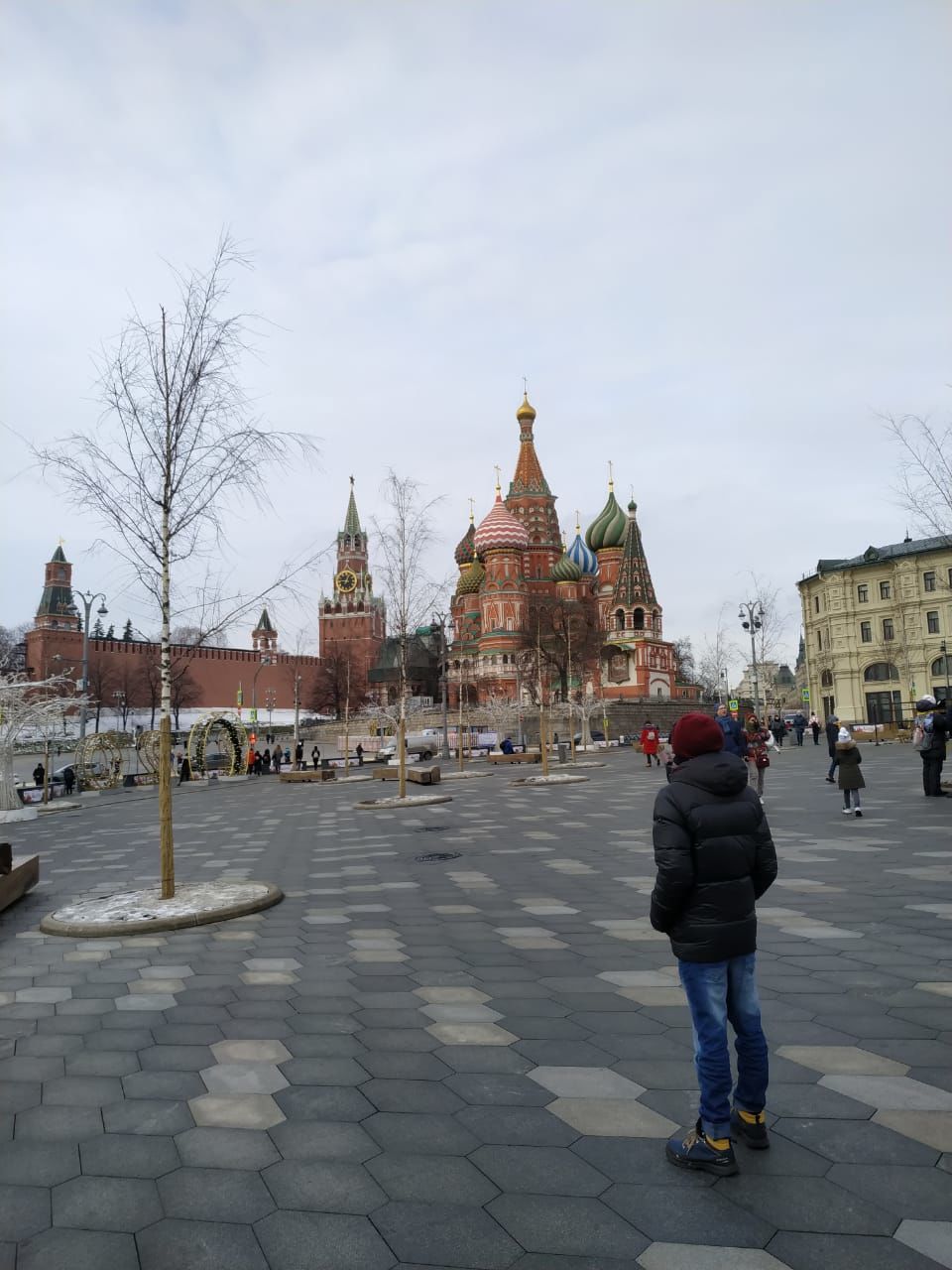 After years of dreaming about Russia and falling in love with it (thanks to Hitman video game). Since, my college days I wanted to go to Russia, ride the Trans-Siberian all the way from Petersburg to Vladivostok.
It was November 2019, and I was thinking to take my first abroad trip and I thought why not Russia? I decided to go in Feb, 2020, I just wanted to go to Russia in Winters. I know some attractions are to be seen in Summers but it was worth it. And things were set in motion. I knew I will go solo and plan all by myself (I just don't like packages).
CITIES VISITED
1. Moscow
2. Saint Petersburg
The two most well-known cities of Russia.
I planned to spend 3 nights in each city and take train from Moscow to Petersburg for one night.
Feb 15 – Feb 18: Moscow
Feb 18: Night train from Moscow to Petersburg
Feb 19 - Feb 22: Petersburg
I tried to buy train ticket online from https://pass.rzd.ru/ but payment didn't go through. You can easily buy ticket at Kurskiy station in Moscow.
Before going, download offline google maps for Moscow and Petersburg, metro map for both the cities and google translate (very few, and I mean it, people speak English there).
VISA
First hurdle was getting Visa. Russian Tourist Visa is not hard to get but you need an invitation letter from your hotel, travel agency or individual inviting you to visit them.
I had booked my hostel already from booking.com. But they didn't provide the invitation letter.
I got my invitation letter from https://russia.support/. I had to send my hotel confirmations to them. It was fast and easy, and they sent the letter on by email under 2 hours. The cost was Rs 1768
After getting the invitation letter, head to https://visa.kdmid.ru/ and fill the form for visa appointment.
Either you can go to Russian consulate or Russian Visa Center (they charge a bit extra but offer extra services also like courier delivery of passport). As I live in Bangalore and had to go to Chennai for visa processing, I chose Russian Visa Center, for the courier delivery as it was not possible for me to go again to get the passport.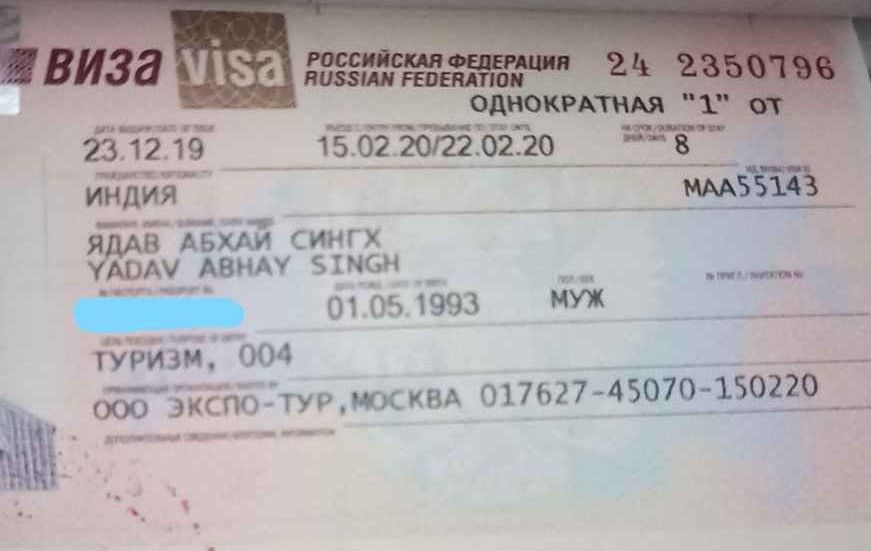 Price Breakdown:
1. Rs 2130 was visa fee.
2. Rs 1830 was charged as center fee (If you choose Consulate option, you can save this amount)
3. Rs 500: Courier fee
I got my visa in a week.
FLIGHT
Then started the process of searching flights and finding the best one.
I was already flying to Delhi (my hometown) so booked from Delhi.
I found Delhi to Moscow flight via Almaty which was in my budget.
Note: Kazakhstan transit visa is not required. There is only one terminal at Almaty, and you can just go to transit lounge and wait there for your connecting flight.
My return was from Saint Petersburg to Delhi via Almaty.
Price Breakdown:
1. Delhi to Moscow: Rs 16463
2. Saint Petersburg to Delhi: Rs 16510
Delhi Airport
I reached IGI Terminal 3 at night of Feb 14, all excited for my first international trip and that too solo. And then the Air Astana staff at check in counter dropped the bomb that you need like 1000$ cash or else they will deport you.
I checked with a guy who was leading a tour group to Moscow, he said just take 200$ or close, and you will be fine. I withdrew the amount, got it exchanged (to USD as the exchange guy told me you can't exchange there and I agreed, didn't want to risk it). Signed an undertaking at check in counter and boarded my flight.
At Domodedovo Immigration they kept me for like 2 hours (Don't know why, I asked them, but they didn't know English, surprising that they were the immigration department and are supposed to know). There were other people also they stopped. Finally, after 2 hours they let me go. You will get a immigration card which we have to show at the hostel/hotel.
After exiting the airport, I got the USD exchanged for Rubles and bought a local sim card (Megafon, unlimited data for 500 rubles).
One can choose bus or Aeroexpress to reach the city center, I chose Aeroexpress as I was not feeling well and wanted to reach hostel and just sleep. The ticket was 500 rubles. You can buy the ticket just outside the airport.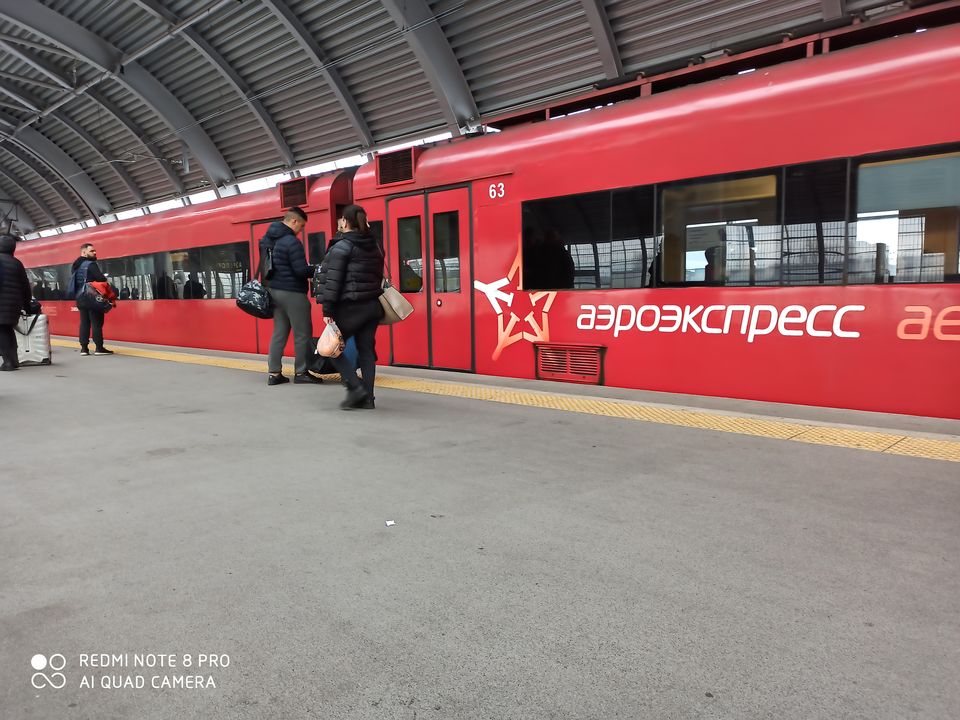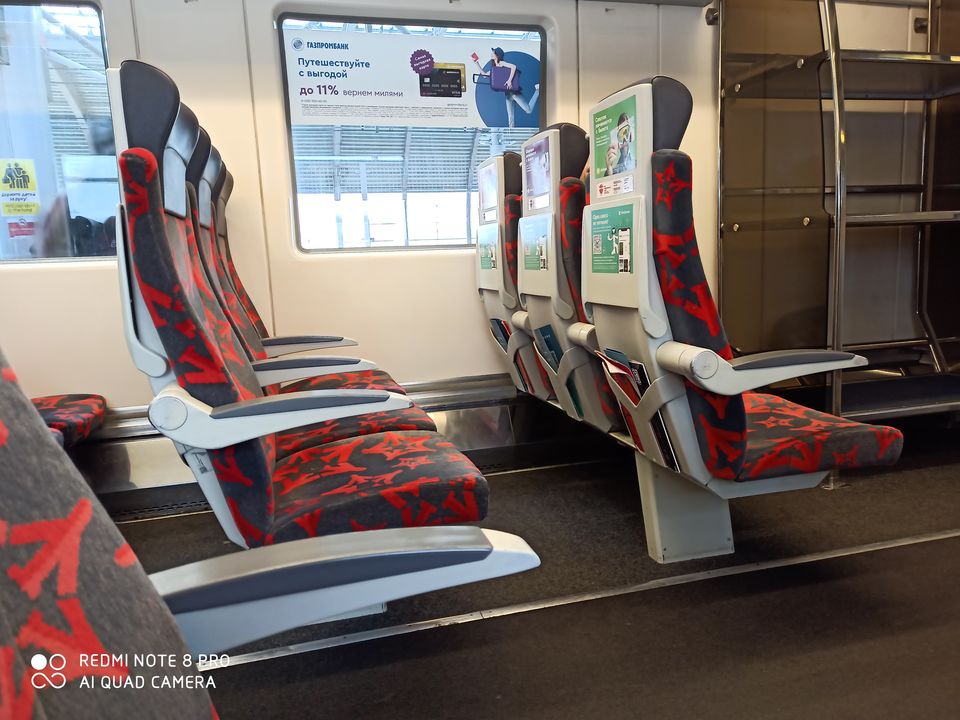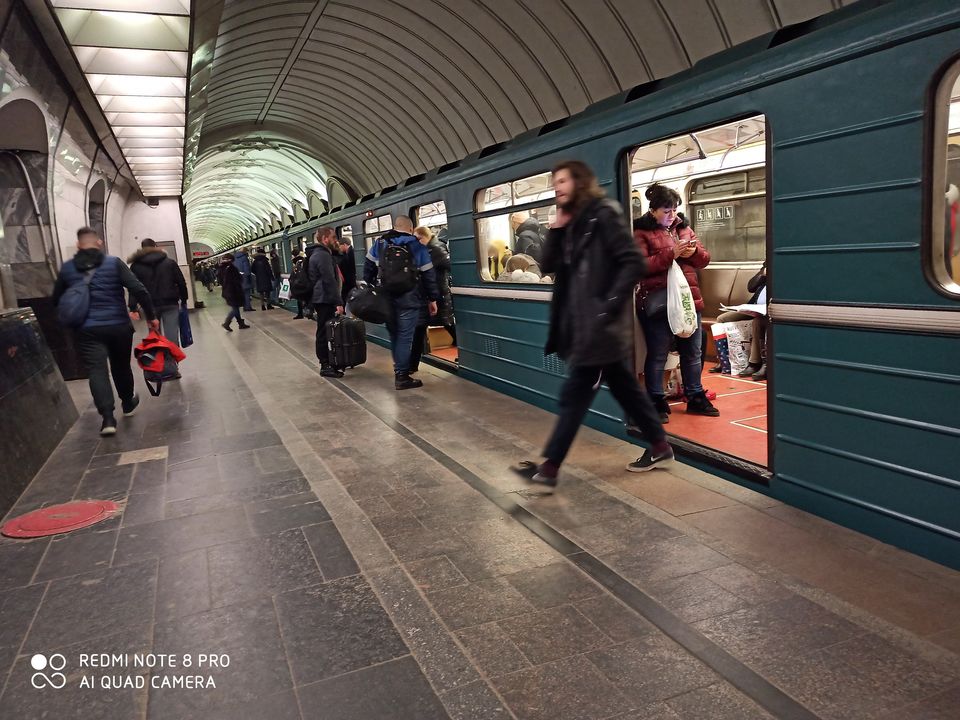 My hostel was situated near Chistye Prudy metro station (which I came to know later, I got down at Kitay Gorod staion on my first day). The Aeroexpress goes till Paveletskaya station and from there I had to take the subway. A one trip metro ticket is 57 Rubles and not station specific means just buy the ticket and exit anywhere you want.
The subway is confusing, especially if you don't know Cyrillic alphabets (learn them at least before going). And the trains make a lot of noise. Some trains are old with no announcing system and some have.
The announcement is made in Male voice when moving towards city center and female voice when going out.
Thanks to some good Russian folks, contrary to some stories I heard that they are cold and reserved; who helped me find the exits, one guy even came up and asked where you want to go when I was reading maps and confused since GPS was not working properly when underground. I reached my hostel around 6, checked in, paid a registration fee of 850 rubles (including 100 rubles for key card, which was refunded when I checked out) and slept till 12 am. Went out to have dinner around 1 am and it was quite safe.
After reaching the city center, first thing to hit me was the cold, obviously :D and the very sparse traffic and no honking.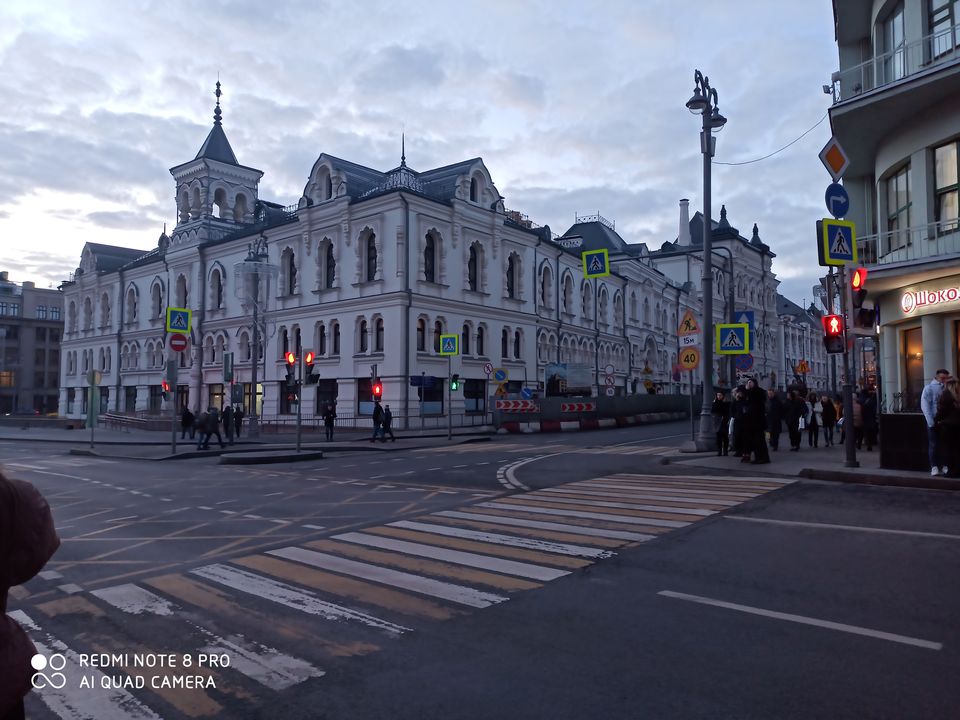 I started my day at 9 am. For breakfast, I went to Mu-mu (a budget friendly self-service buffet restaurant) which was a few blocks away from my hostel. First task of the day was to buy train ticket to St Petersburg. I reached Kurskaya (Kurskiy Station) and bought the ticket (938 Rubles). Keep your passport ready. I chose Kupe wagon. Read more about Russian trains here https://www.seat61.com/Russia-trains.htm
Also, I had to buy adapter as Russia uses different outlet than India. I bought one for 110 Rubles from a shop in Atrium Mall, near the station.
Russian Electrical Outlet
After this, I went to the heart of Moscow, the Red Square, St Basil's Cathedral, Park Zaryadye, GUM. Left Kremlin for next day. From there I took metro to reach Cathedral of Christ the Savior (nearest metro station: Kropotkinskaya). Make sure to go the bridge.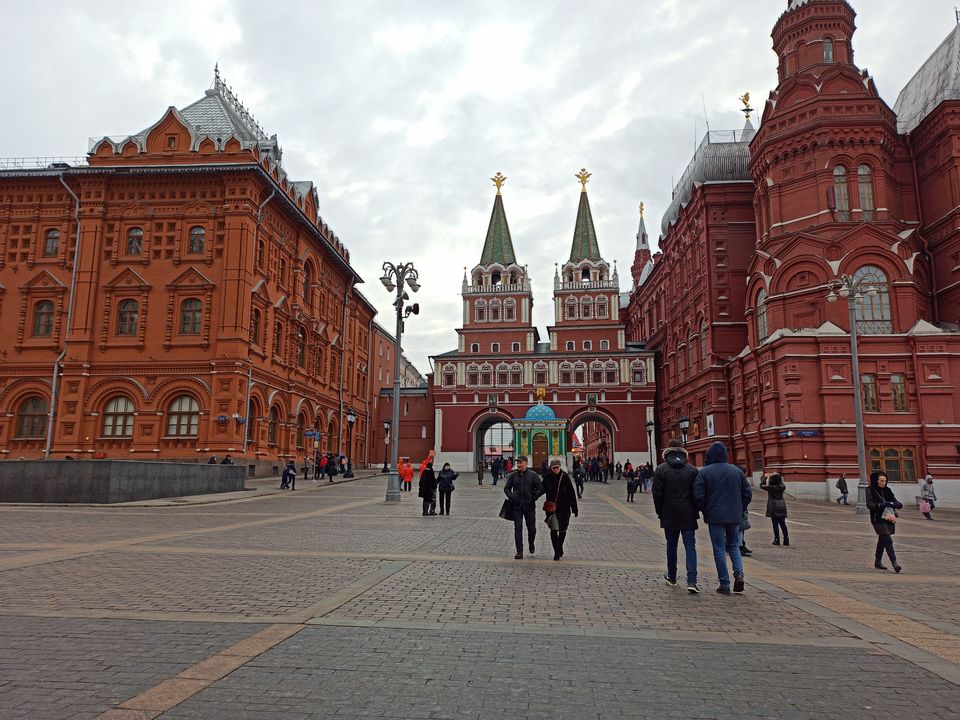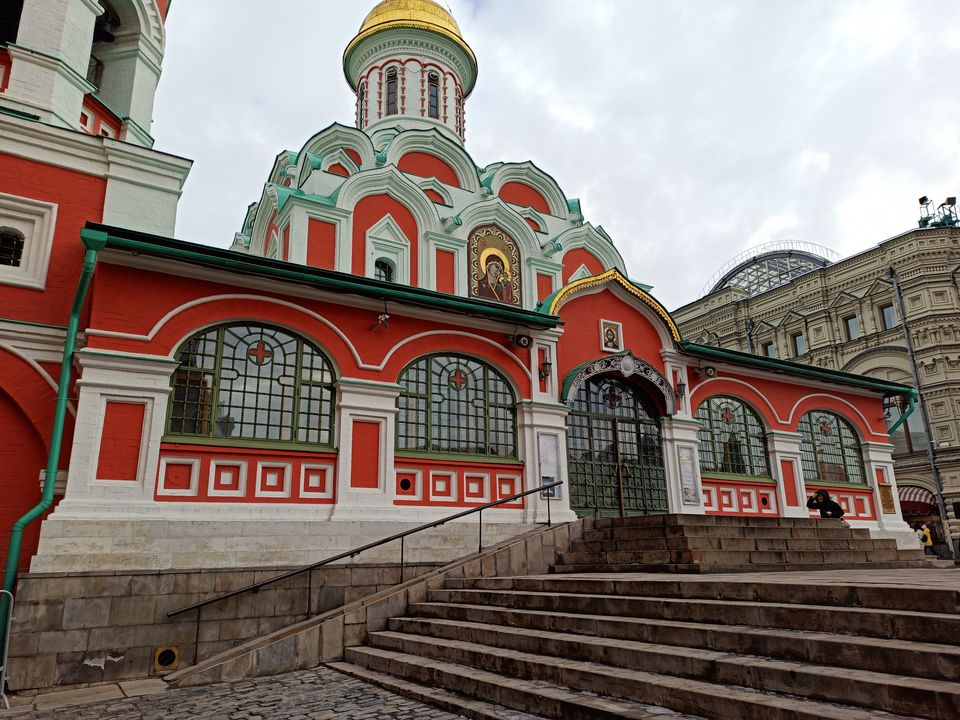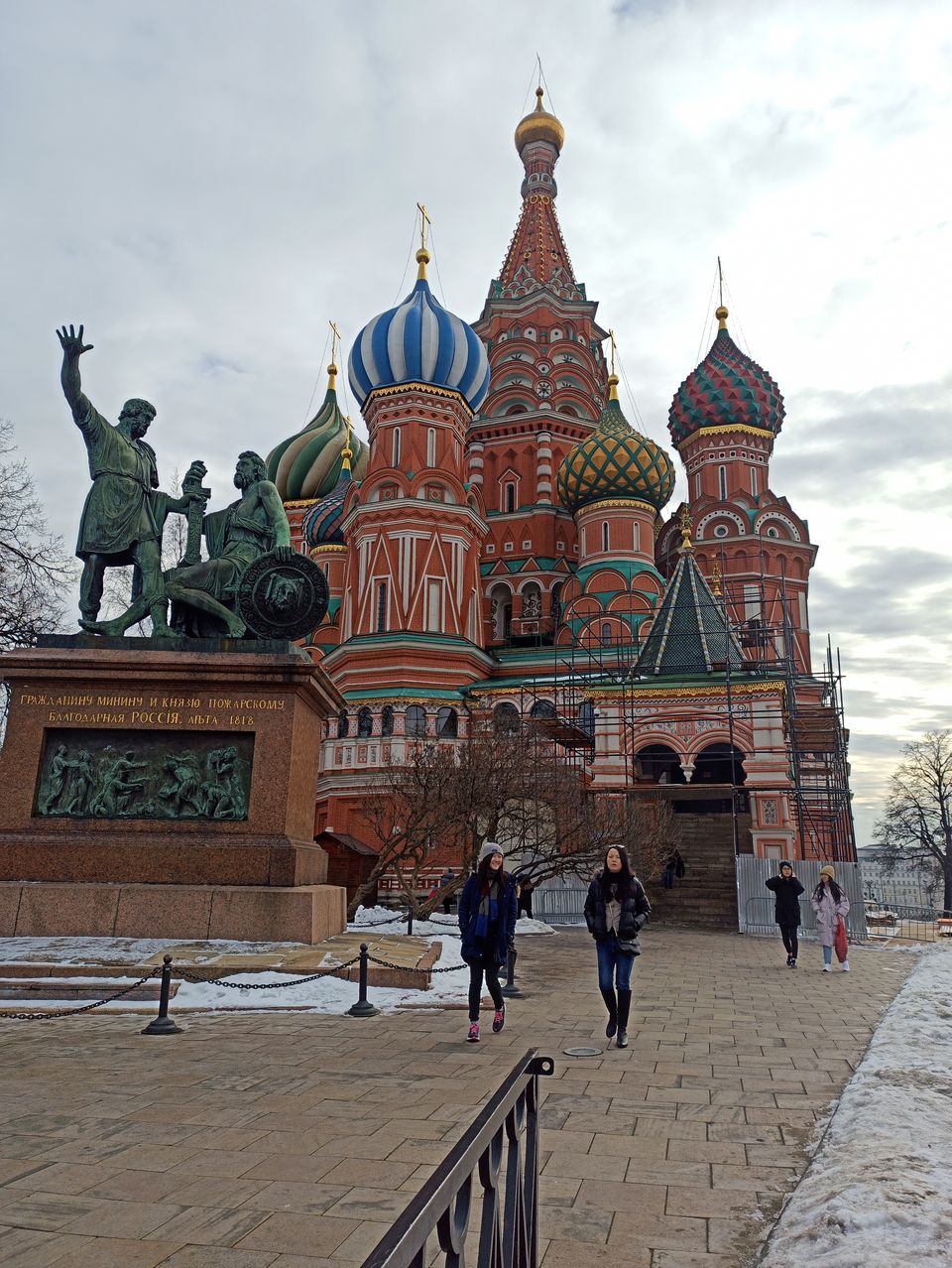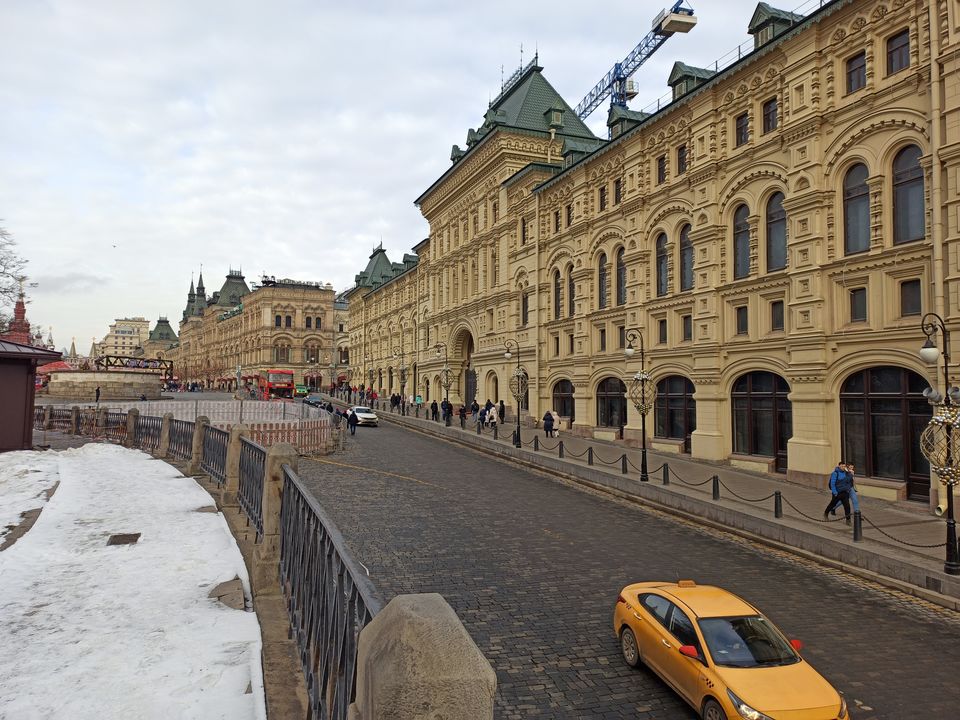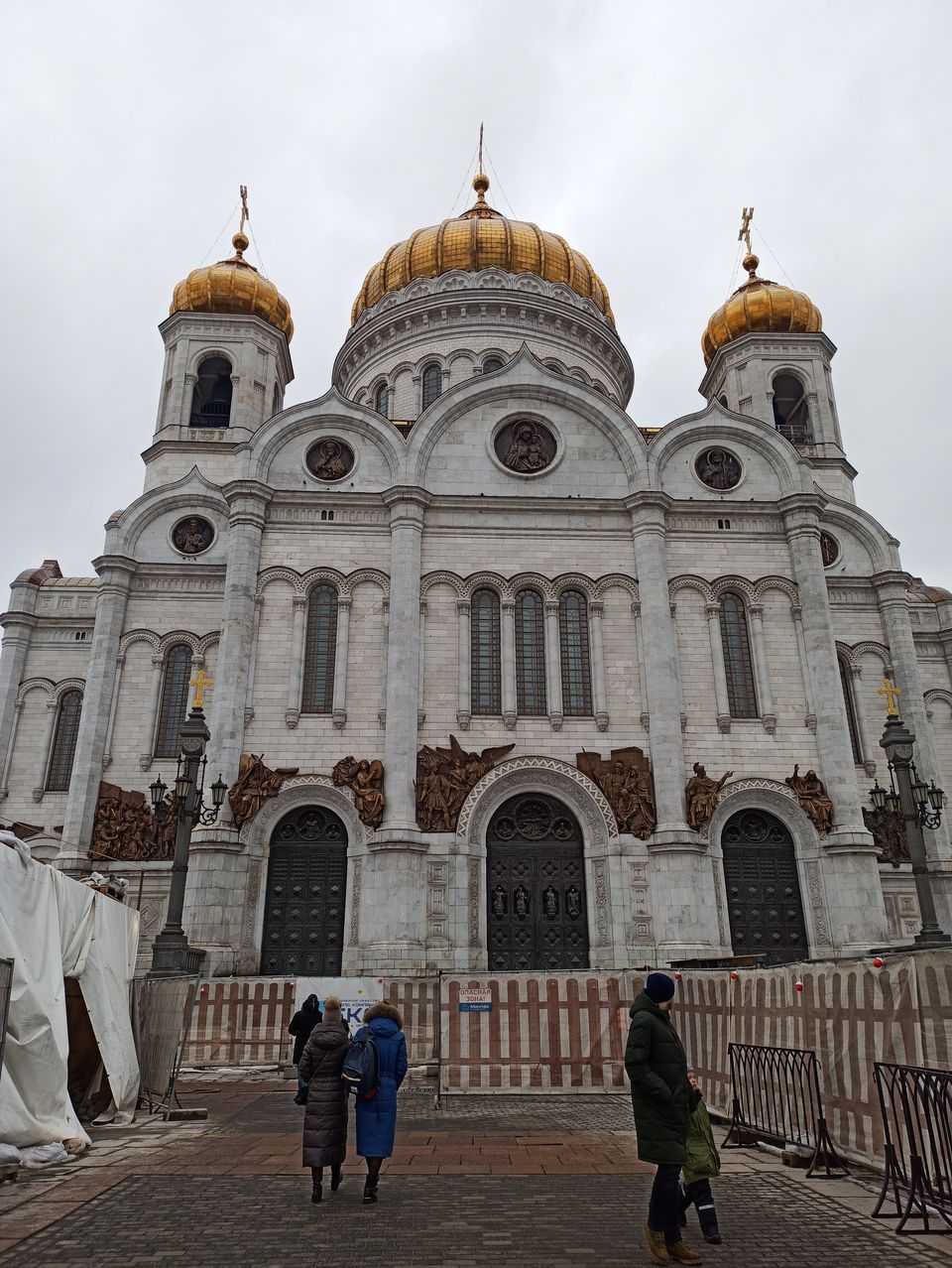 After a long day, I went back to hostel and just roamed around nearby and ended up in Red Square again and glad I did as it looked amazing at night.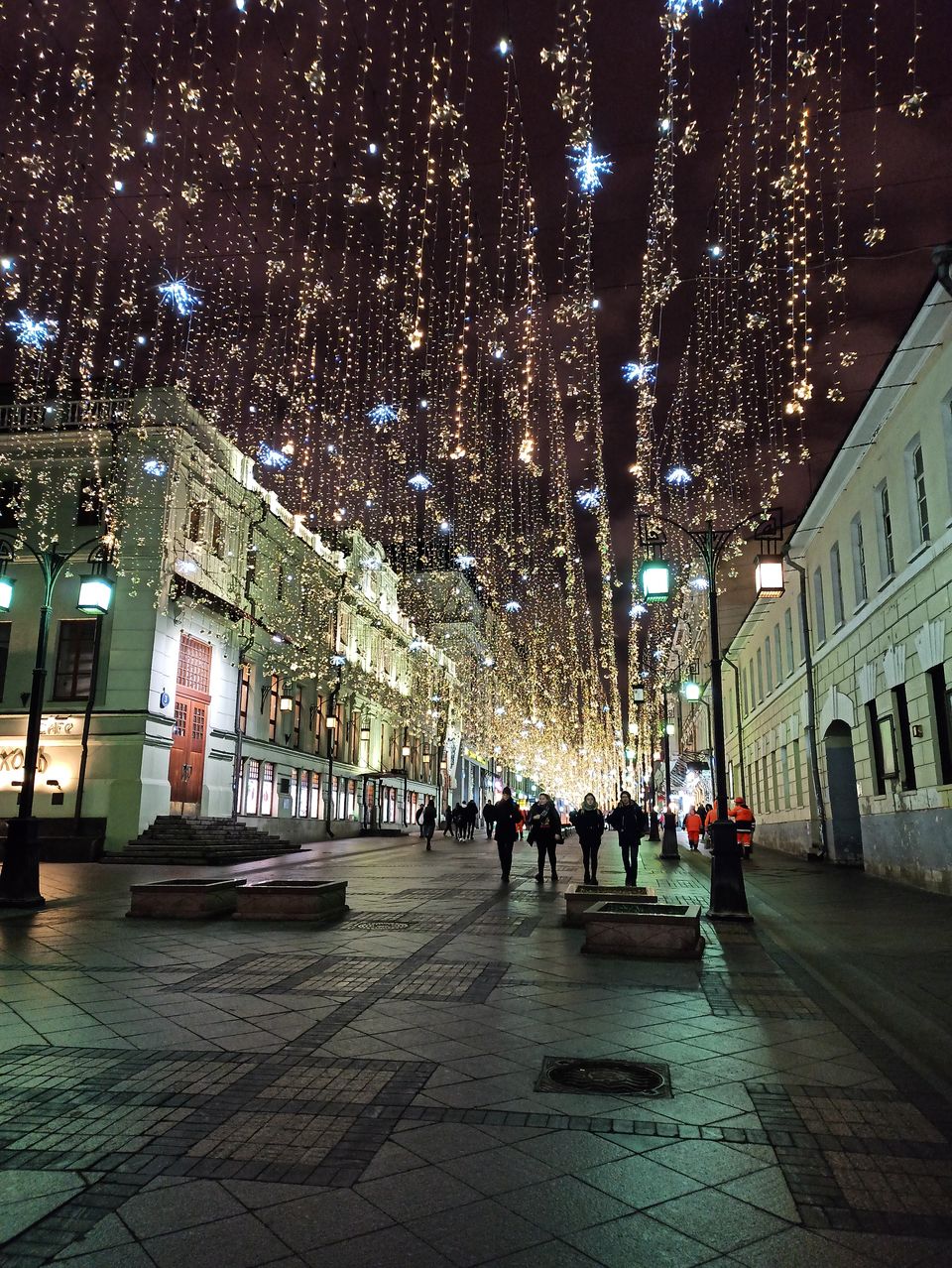 Went to Kremlin in morning, bought ticket from the office for 700 rubles.
Tsar's Cannon
Cathedral of the Archangel
Assumption Cathedral
After Kremlin I decided to do a metro tour and covered some known stations and Moscow metro stations are tourist attractions in itself. Prepare a list of metro stations to see there.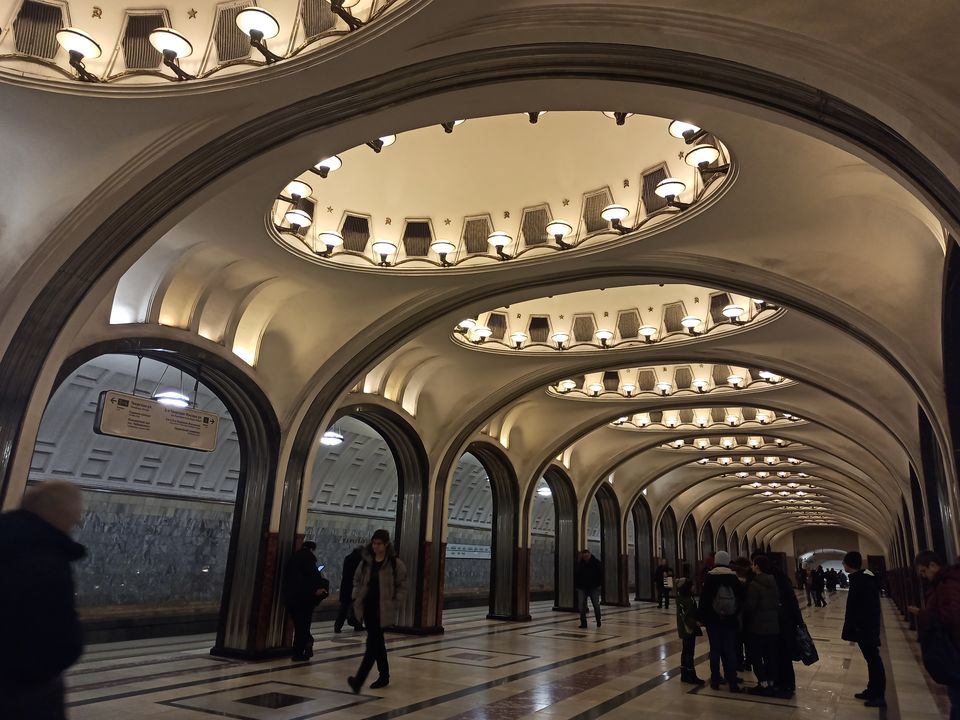 Went to Gorky Park in night (nearest metro station is Oktoberskaya), though there was nothing much to see due to winters. The park is huge and am sure it's amazing in summers. If nothing, you can sit and relax near Moskva River running beside it.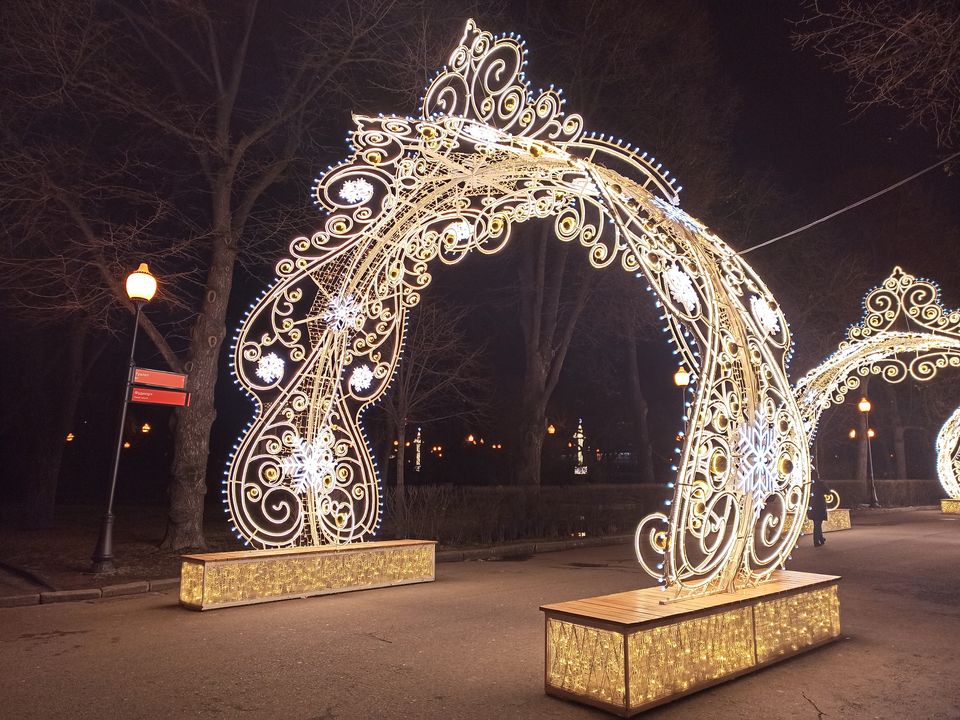 After checking out from my hostel, I went to Izmailovo Kremlin (nearest metro: Partizanskaya). I had breakfast at Karoshka Kartyoshka. The staff there didn't know English and though I can read Russian was not able to pronounce the dish, so I clicked a pic of Menu and pointed to them what I wanted.
Karoshka Kartyoshka
Izmailovo Kremlin
After Izamilovo, I went to VDNKH, pronounced videenha; (nearest metro: VDNKH).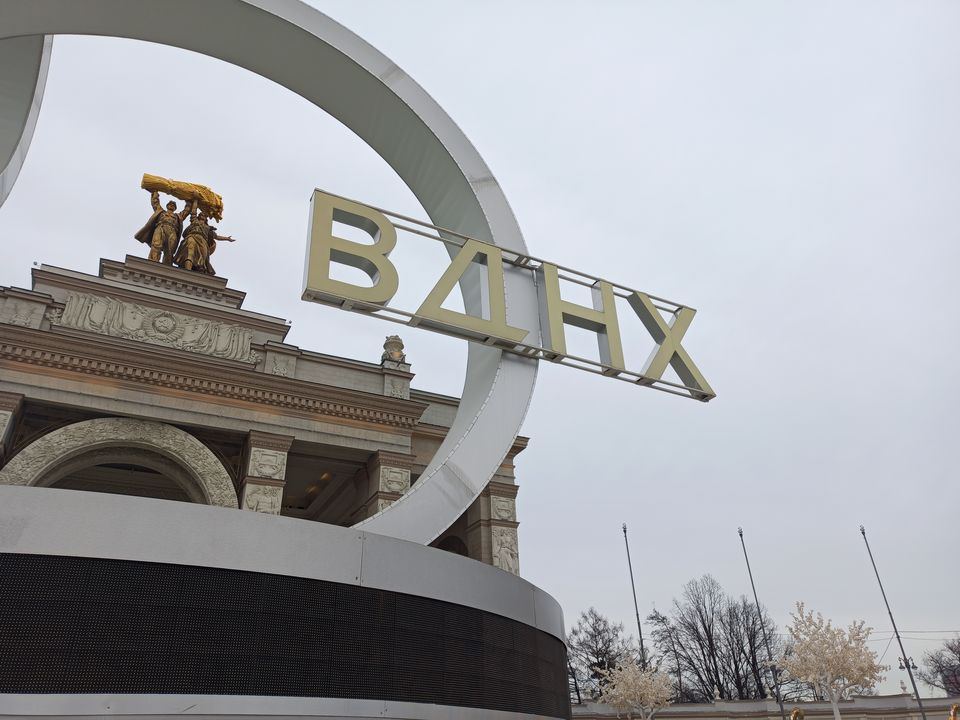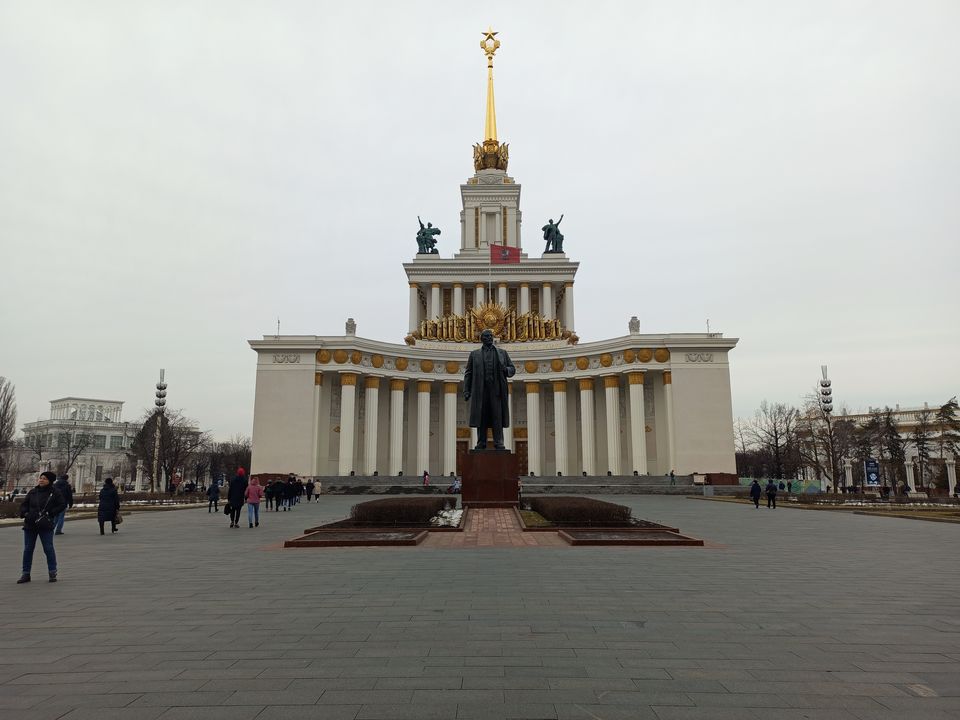 Just outside VDNKH, there is Museum of Cosmonautics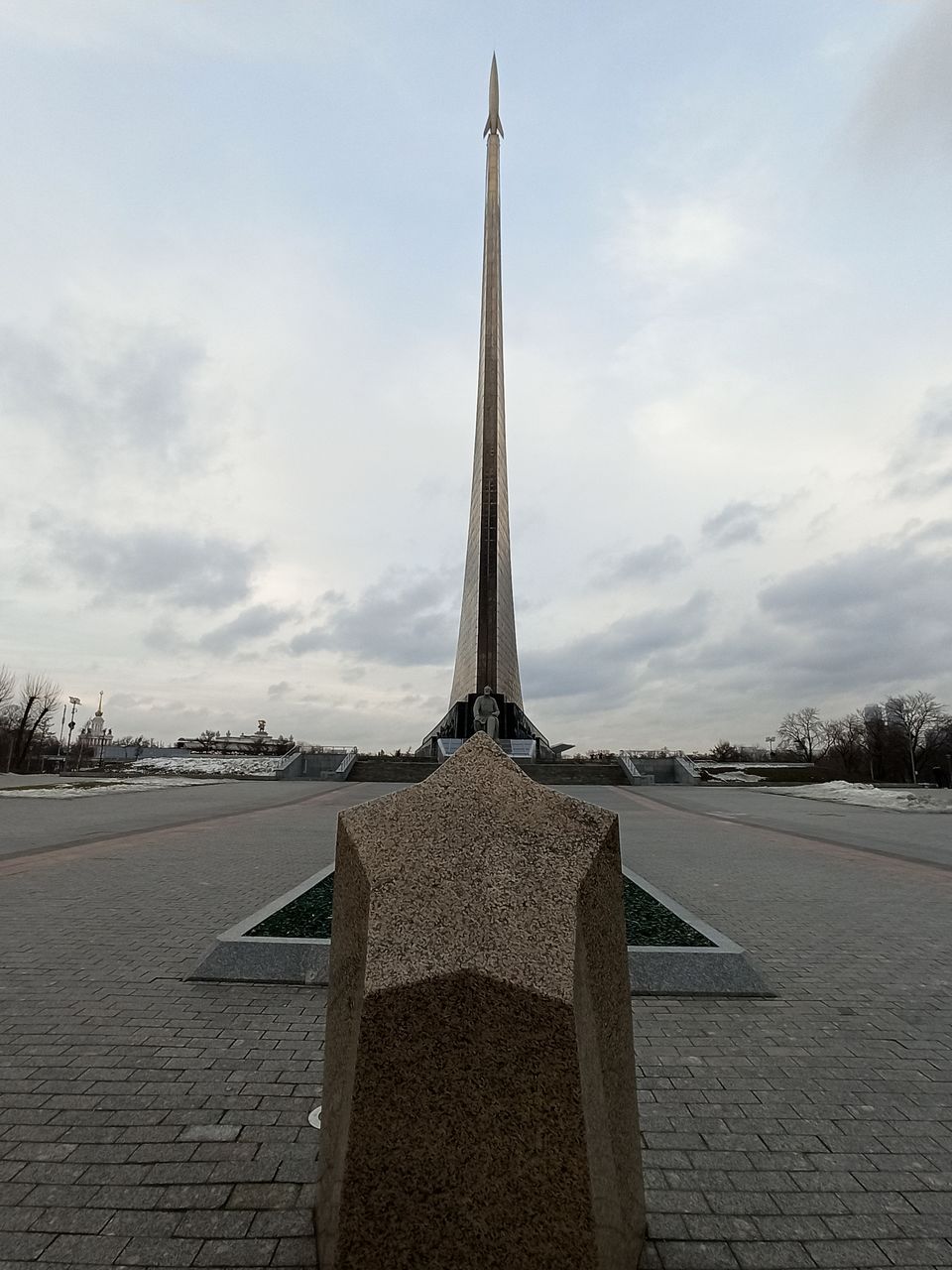 In evening I went to Arbat Street (nearest metro: Smolenskaya).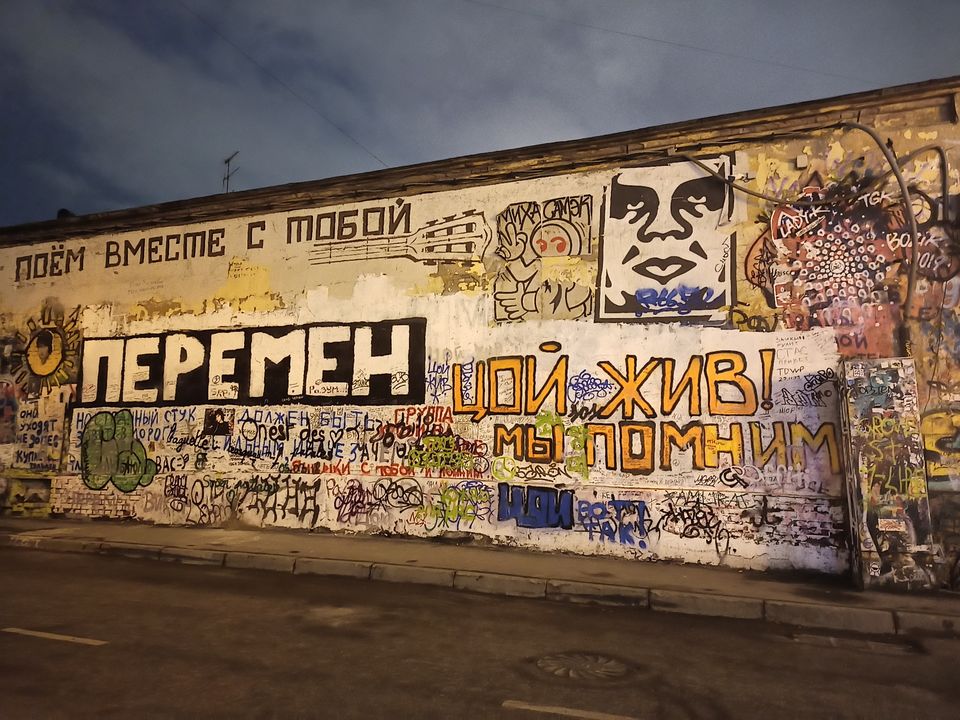 After a couple of hours there and dinner at Mu-Mu I took metro to Komsomolskaya to reach Leningradsky to catch my train to Petersburg.
The train was on time and you will get mattress, bedsheet, blanket and pillow. Make your own bed and go to sleep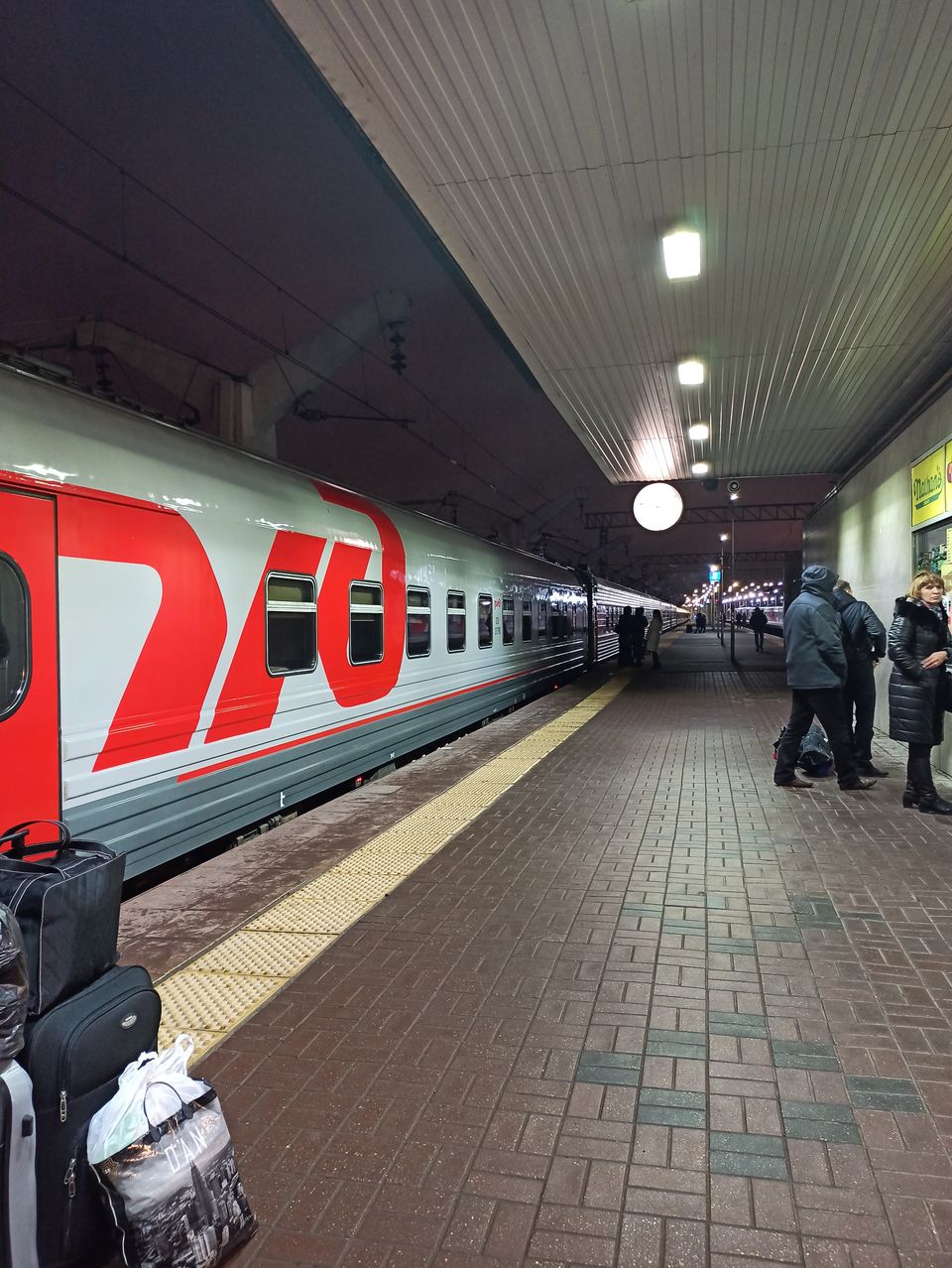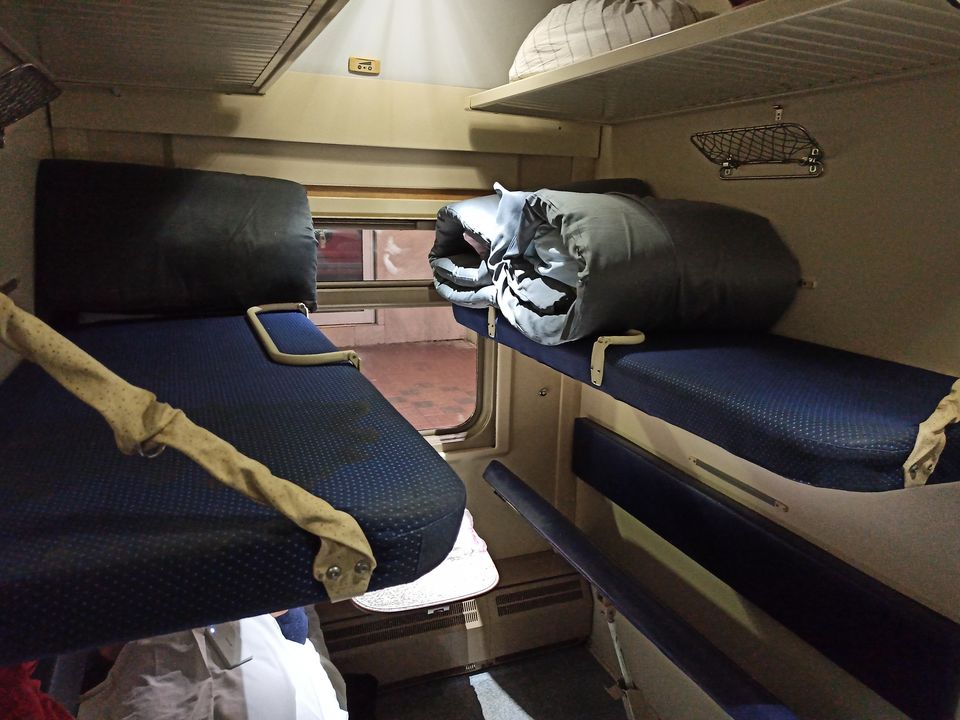 Reached St Petersburg (Moskovskiy Railway Station) around 7 am and it was raining slightly. I had booked Hostel Graffiti located near Ploschad Vostanniya metro station and check in time was 2 pm (my bad I didn't notice the time, god help me). I took a chance going there and guess what, they allowed, and the registration fee was 200 rubles. I had breakfast at Stolvaya No 1 which was across the road and budget friendly and it was crowded with locals which usually means the food is good.
Anichkov Bridge
Kazan Cathedral
St Isaac's Cathedral
Later, I went to Yasupov Palace, the palace where Rasputin was poisoned, shot at and later drowned. Sadly, the area was scheduled to open only on Fridays. Entry ticket was 700Rubles and people are supposed to leave their shoes and jackets at cloak room before starting the tour.
Yasupov Palace
After breakfast, I headed for Church of the Savior on Spilled Blood. The main dome was covered for repair (old buildings ask for maintenance). I had never gone inside a church, so bought a ticket for 350 Rubles and went inside and it was magnificent.
On third Thursday of every month Russian museums are free, and I had planned my itinerary keeping that in mind. But when the time came, I decided not to go inside Hermitage. I know Hermitage is like must see when in Petersburg but I am quite happy with the decision and have no regrets.
And from the hermitage square, went to Peter and Paul fortress and Saint Petersburg Mosque.
Saint Petersburg Mosque or Blue Mosque
I decided to go to Peterhof Palace. Since, it is outside city and will take a whole day so plan accordingly. I took metro to Leninsky Prospekt Station and bus number K-103 from there to Peterhof, ticket was 70 rubles and journey took around 40-50minutes. Google maps was showing to get down at Pravelenskaya Street, but the bus driver told me to sit and dropped me at next stop which was near. Of course, he didn't know English and we talked in signs, I asked him Peterhof Palace and he just waived to sit :D.
Peterhof Palace (Lower Park)
Finn Bay
For lunch, I went to a shawarama shop and again the guy didn't know English, so I clicked a pic and pointed.
After coming back to hostel, I went out in evening to buy some souvenirs and the lady at shop asked me if I'am Indian and then said namaste, mujhe thoda thoda hindi aata hai. She had lived in Delhi for 5 years then few years in Bangalore, worked in a Telugu movie and showed me a pic of her with Shahrukh Khan.
On last day I wanted to go to Catherina Palace, but you have to buy ticket beforehand which sadly, I hadn't. So, after breakfast, I checked out at 12 pm and headed to Saint Michael's castle.
Saint Michael's Castle
At night, I had teatime with my hostel mates: a guy from Kazakhstan and Turkmenistan, both were very friendly and we talked a lot (via google translate :D) about our work, general life, Bollywood movies, songs, dance (showed them Sapna Choudhary's Teri Aakhya ka yo Kajal video and they were like ooo sexy :D) and corruption. The guy from Turkmenistan knew a little English but the guy from Kazakhstan didn't. I knew old Bollywood movies and songs especially Sita-Gita and Shree 420, Disco Dancer, Jimmy Jimmy were famous in Soviet Union but discussing with someone from there is entirely different.
In the evening I headed to Pulkovo Airport, took metro to Moskovskaya and from there boarded the airport bus.
Afterthoughts
It was a memorable trip for me. Moscow and Petersburg are full of beautiful buildings, parks,even roads hold a charm there. Yeah it was Winter, cold and windy there but I liked it, and hope to go again in Summers and to other cities.
It's a popular belief that Russia is expensive especially Moscow and Petersburg, but I didn't find them to be so. A major chunk of my expenses was flight and visa cost. Yeah, food is a bit expensive compared to India but just a little bit. Public transport and hostels are reasonably priced. So, if you are putting off your Russia trip due to budget issue thinking you need a couple of lakh or so, don't and go ahead to book the trip.