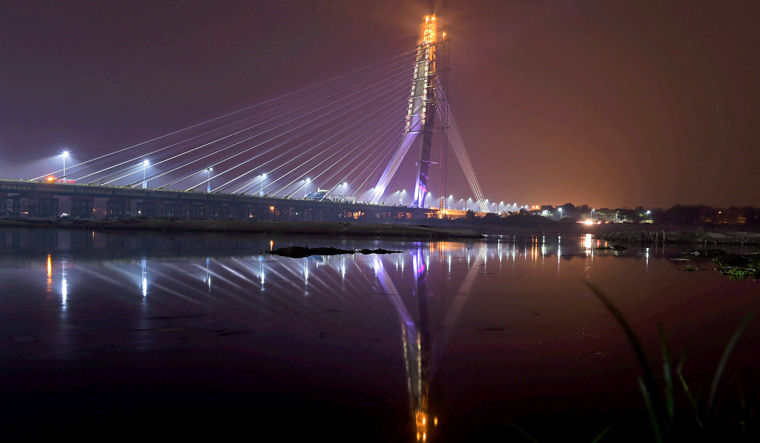 Fourteen years in the making, the much-awaited Signature Bridge has finally opened to public over the Yamuna in northwest Delhi. Touted as "civil engineering spectacle", the bridge was constructed by the Delhi Tourism and Transport Development Corporation (DTTDC) and is double the height of Qutub Minar.
Deputy Chief Minister of Delhi Manish Sisodia promised a breathtaking view of the city from the 154-meter high bridge.
"From the top of the bridge, the people of Delhi will be able to enjoy a panoramic view of the city, like people can from the Eiffel Tower (in Paris). The people will be taken to the top of the bridge in four elevators with a total capacity of carrying 50 people," Sisodia said.
Here's everything you need to know about the spectacular Signature Bridge:
• The bridge has a 154-metre-high glass viewing box, which is double the height of Qutub Minar
• There are four elevators at the bridge with a total capacity of carrying 50 people that take people to the top.
• Expected to become a major tourist spot in the city, the bridge also has selfie spots
• The bridge is being projected as India's first asymmetrical cable-stayed bridge.
• Apart from being an attraction, the major significance of the bridge is that it will reduce travel time between north and northeast Delhi
• Announced in 2004, the bridge is one of the most delayed projects in Delhi.
• Initially estimated to cost around ₹494 crore, the cost eventually inflated to ₹1,594 crore.
Let the world be a part of your memorable journeys, take Tripoto wanderers back to your most cherished trips and help fellow travelers have a unique perspective about places, people and planet. Share your experiences here.