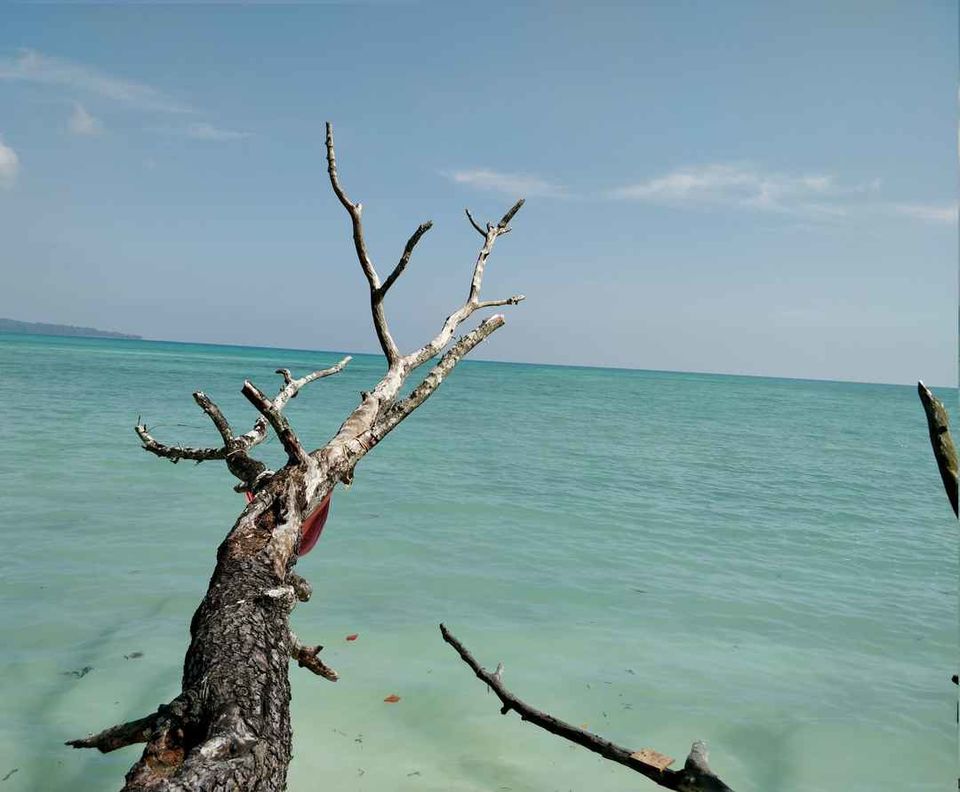 I am sharing my experience about my South Andaman trip (Port blair & Havelock Island), I traveled along with friends.
On reaching Port Blair Airport we took taxi to reach our hotel, but before reaching there we asked driver to take us to the Booking counter from where we can book fairy tickets as we have to leave for Havelock Island next morning. The driver was a good person he advised us that we should book Private Ferry Tickets as there are very less chances to get Govt. Ferry tickets (which proved right later in) otherwise we would waste a day of our trip and also said that we can get return ticket of Govt. Ferry, then he took us to agent for Booking and we booked Three tickets at rate of Rs.1525 per head (tickets need to be booked in advance to ignore the hustle). There was only 3 slots were left, somehow we able to save one day of our trip. After that we reached our hotel.
After reaching hotel we visited local market and had lunch there, food taste was good.
We got up early in the Morning and went to Phoenix Jetty Bay for booking of return immediately without delay and luckily got tickets as there was already many people was waiting in line.
Then we went back to hotel , staff asked for breakfast and he also suggested that there is a place where we can also have breakfast at reasonable price. We reached there, it was very small place run by a family of 4 members, they have cooking setup outside and sitting capacity of around 6 people inside at a time. But I couldn't expect the kind of food I have ate there, even today I miss the taste of that food. They cook South Indian items and take very good care of hygiene. I can't forget the food which I ate there as it was so simple, fresh and delicious, most importantly it felt like home cooked. Their nature was very gentle and kind hearted.
We left hotel as we have to board ferry from Haddo Jetty to reach Havelock Island at 12:30. As hotel owner & staff was very supportive they told that it would be no problem if we don't want to carry our whole luggage could be left in the hotel.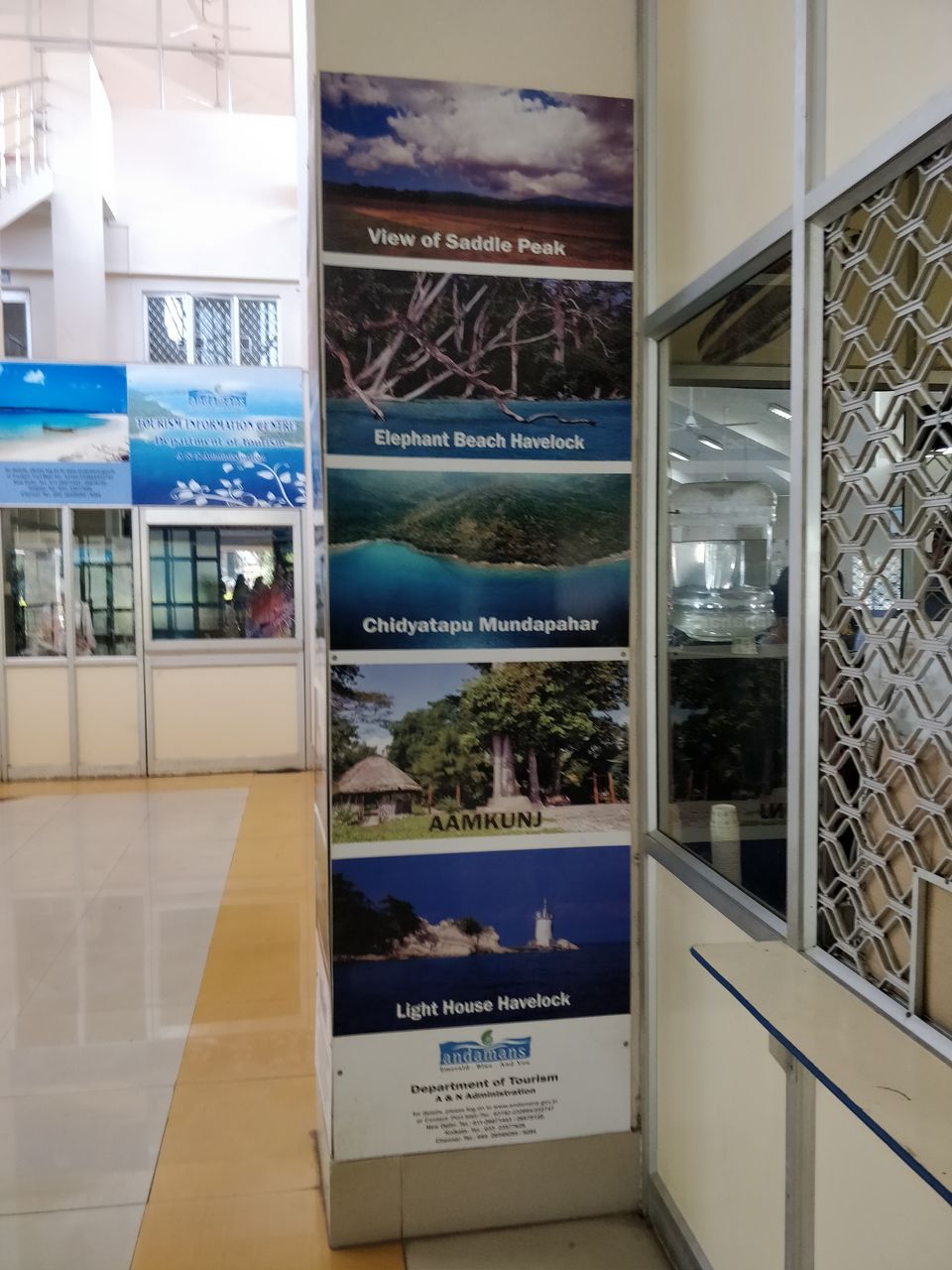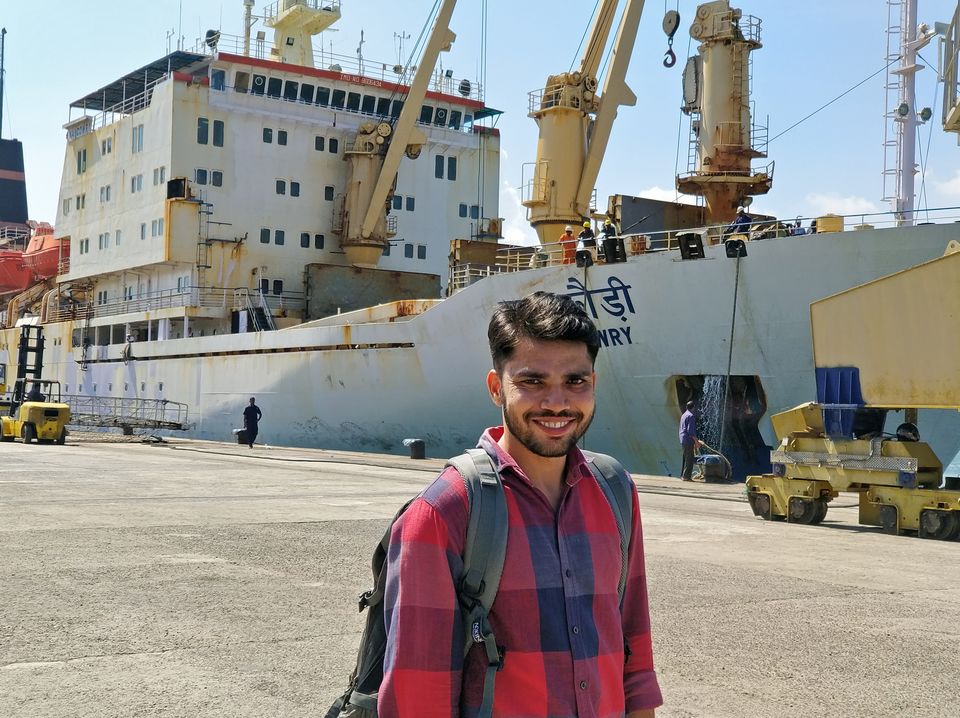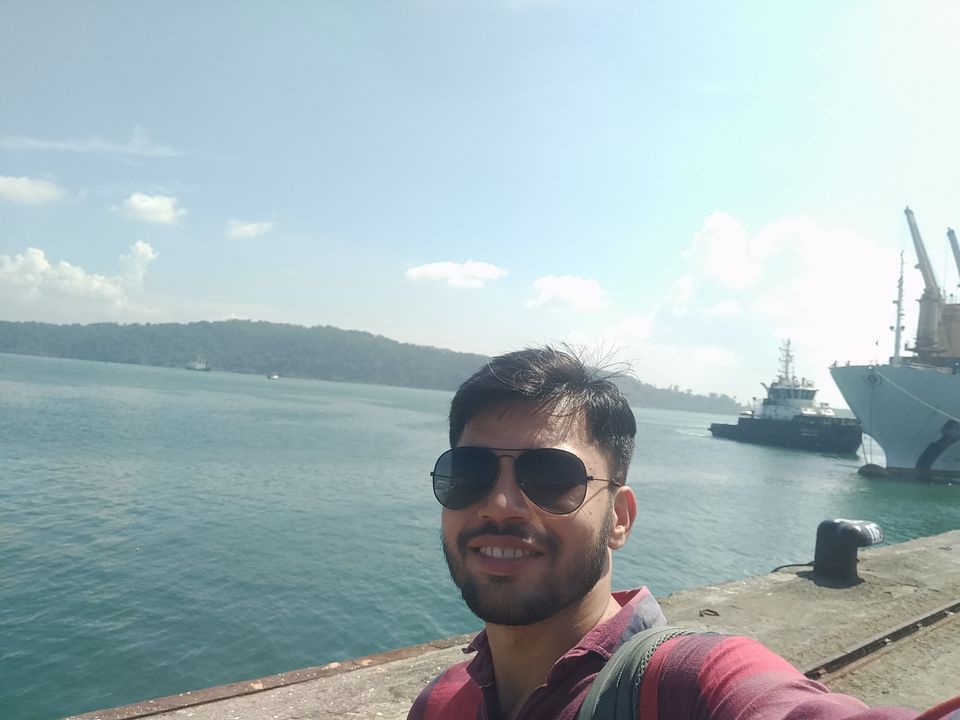 It was first ever experience to travel in ferry. what I could see was only the blue crystal water of the sea. As Jetty left the port the staff don't allow to roam here and there, after around 20-30 minutes you can go to the roof of ferry. Ferry wasn't too spacious but lots of activities were happening there like music playing and tourists were dancing and there was small food stall too for snacks.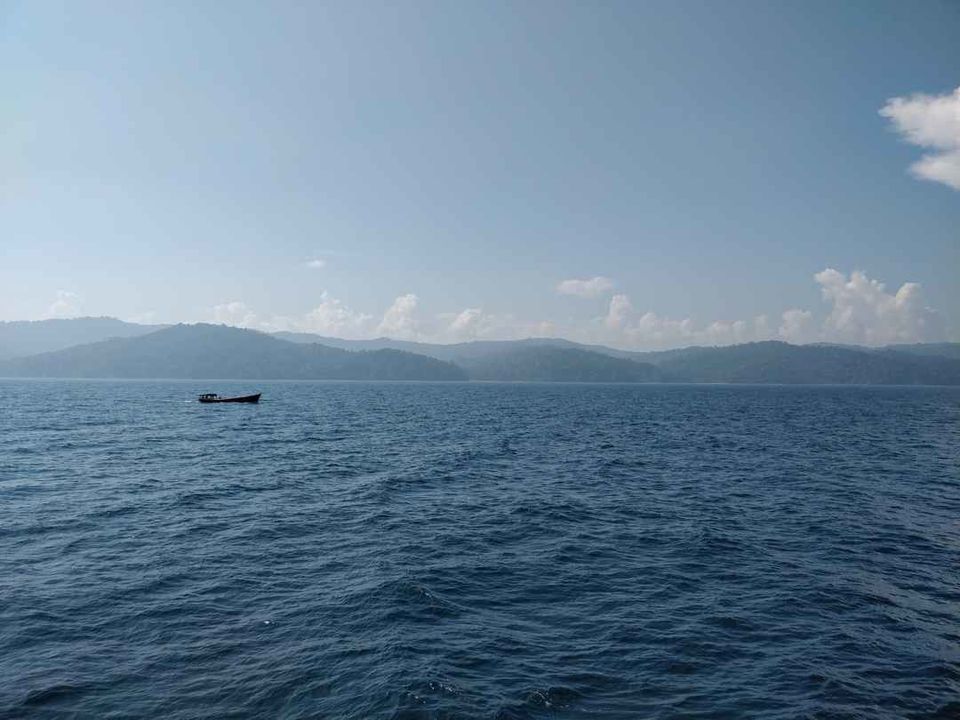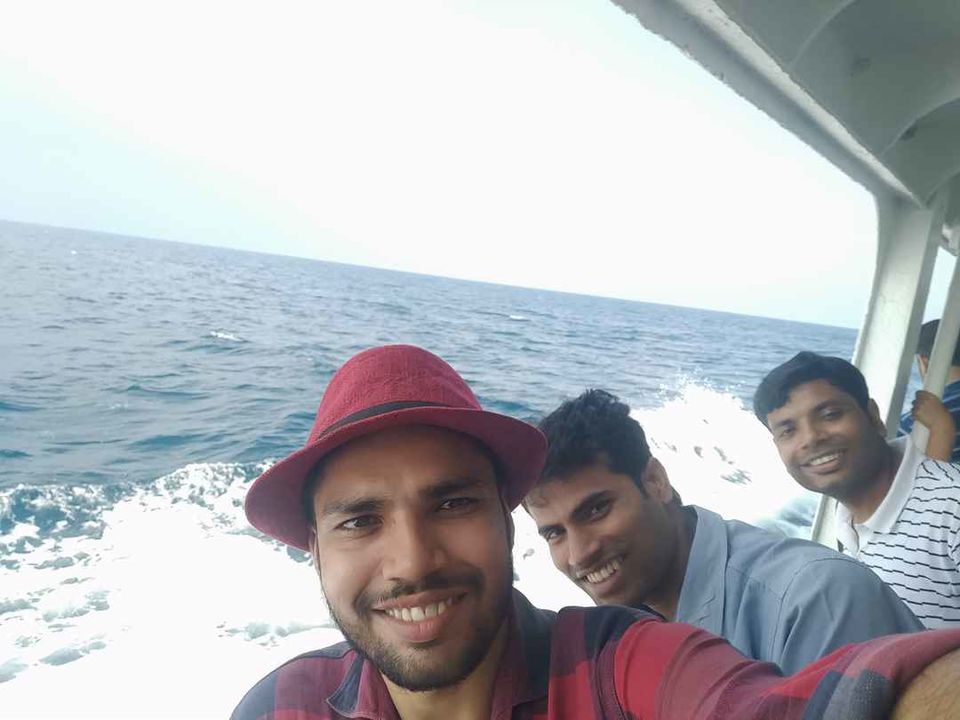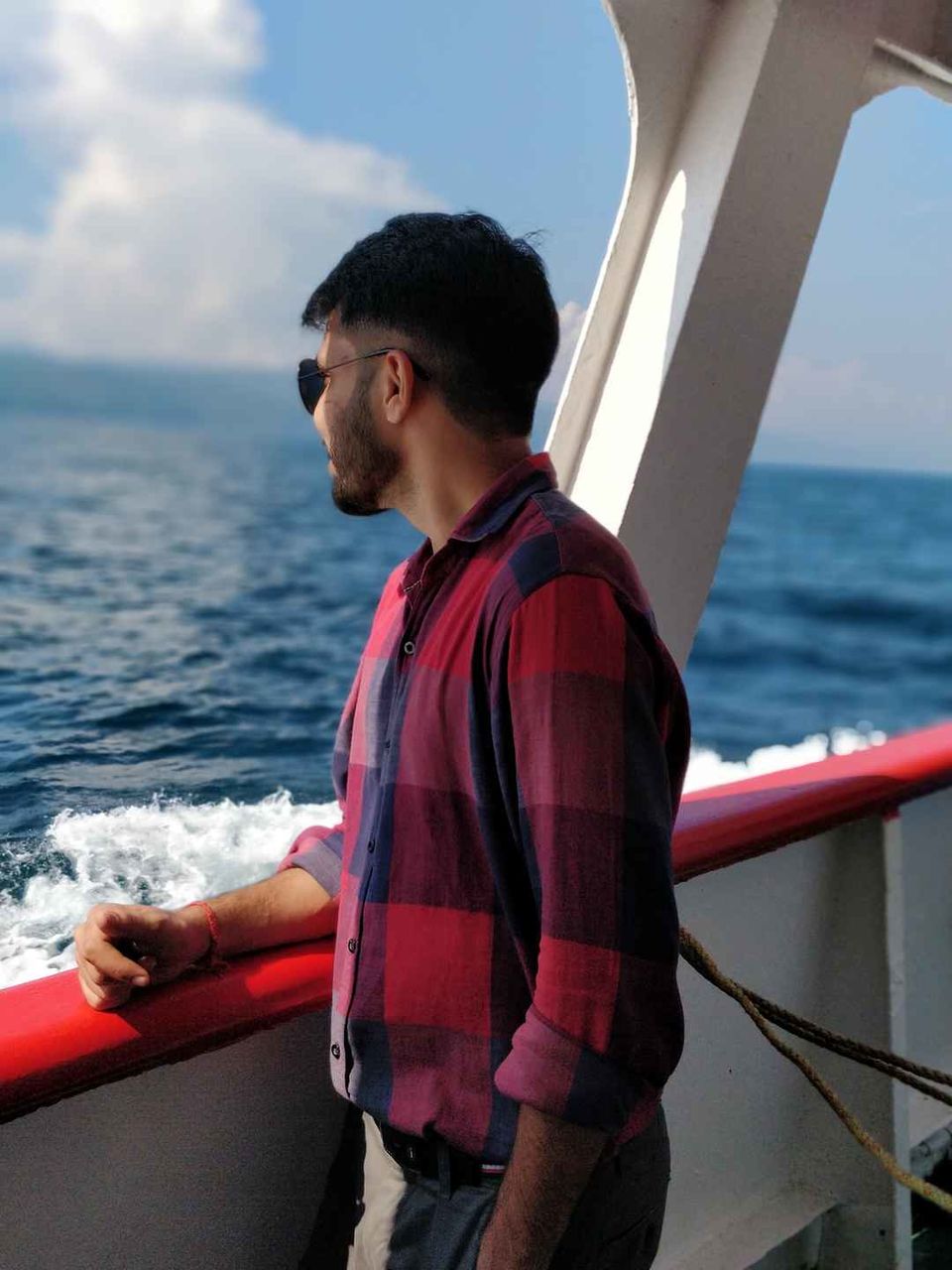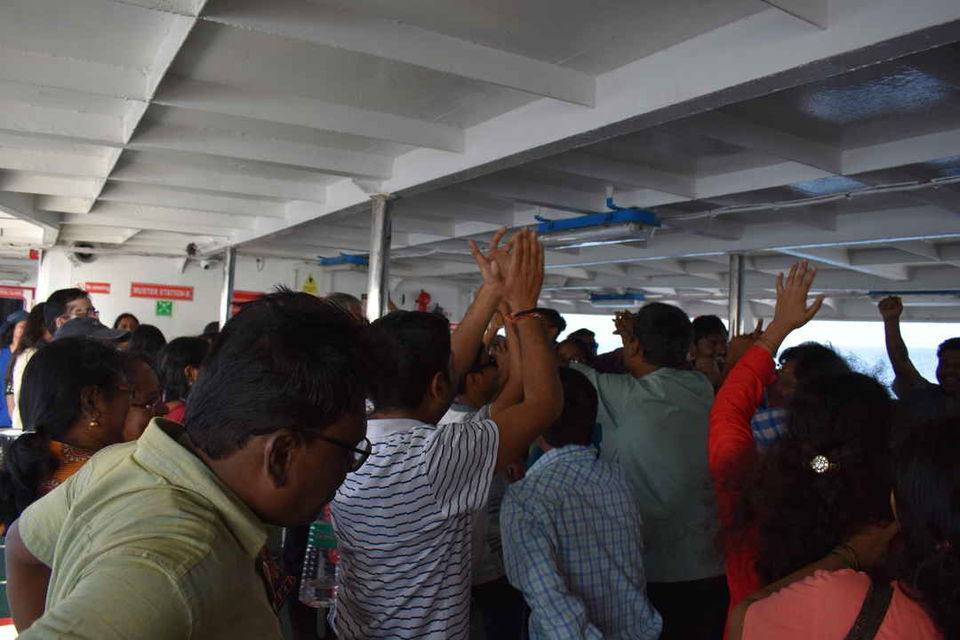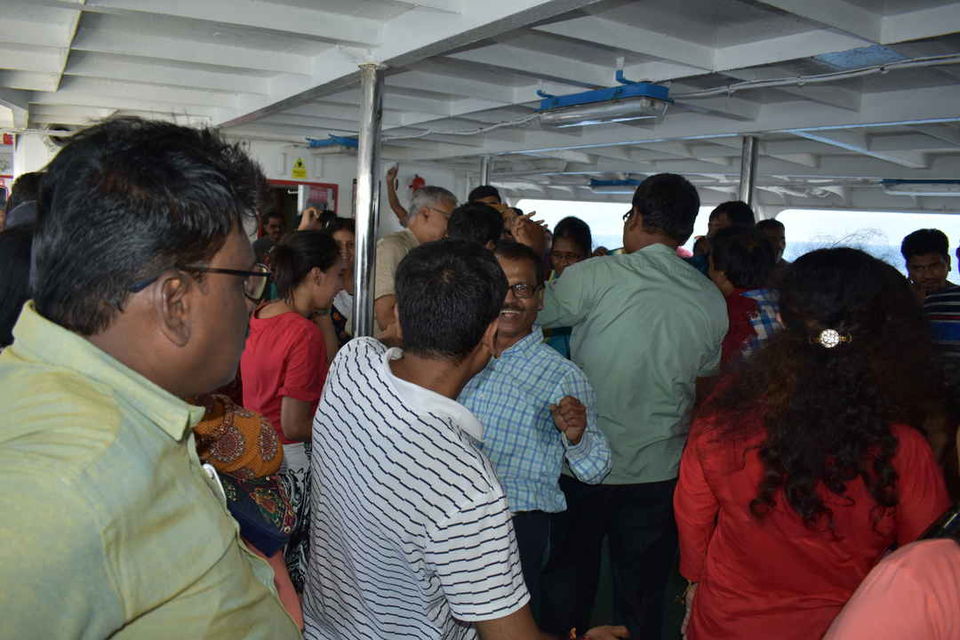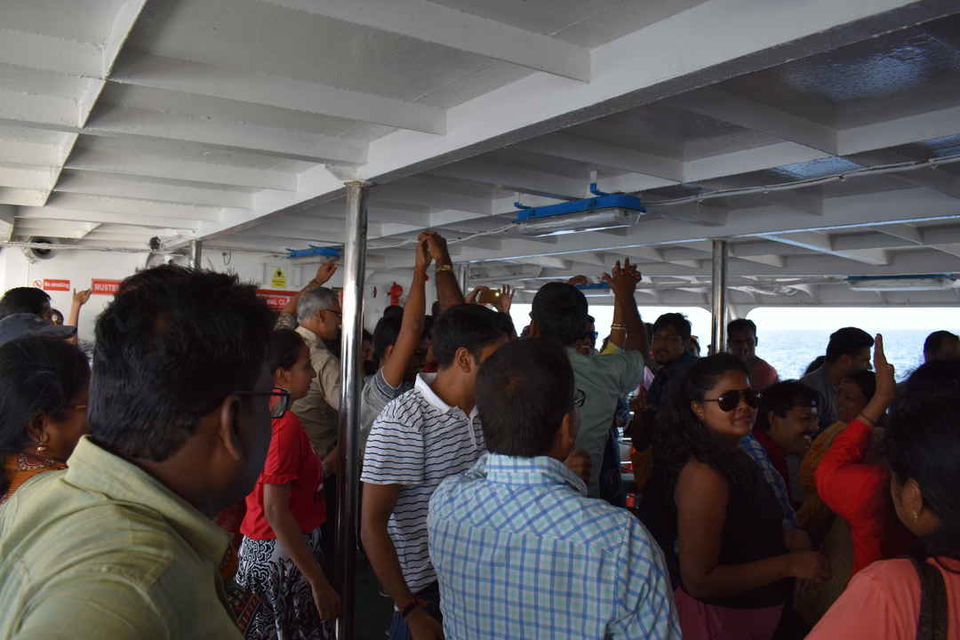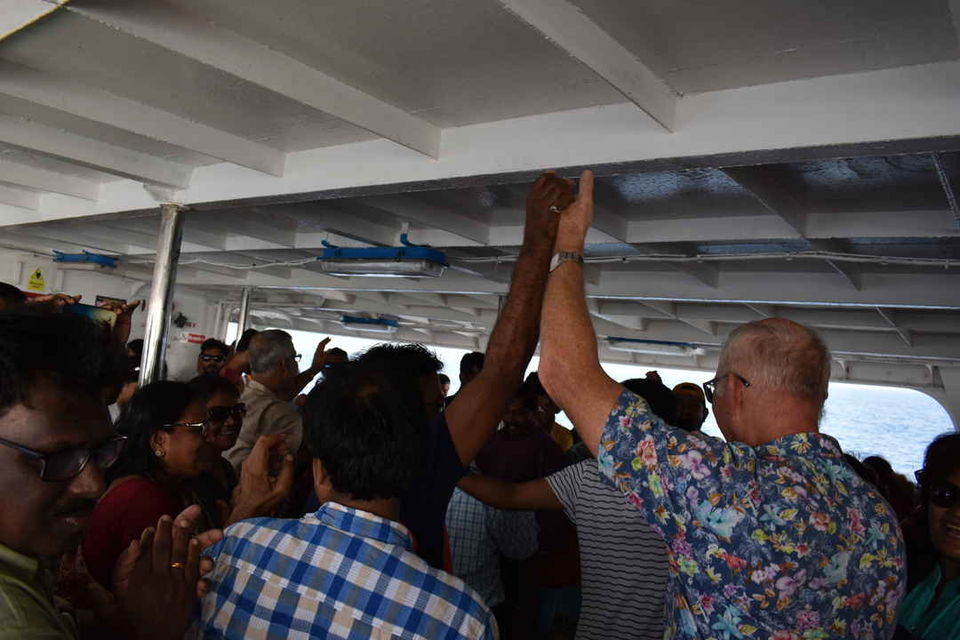 Finally we reached Havelock Island Port after travelling more than 2.30 hrs but I didn't realized that when we have reached here as lots of things were going on in the ferry.
As we reached the resort we immediately went to nearby Govind nagar beach just at some distance from there.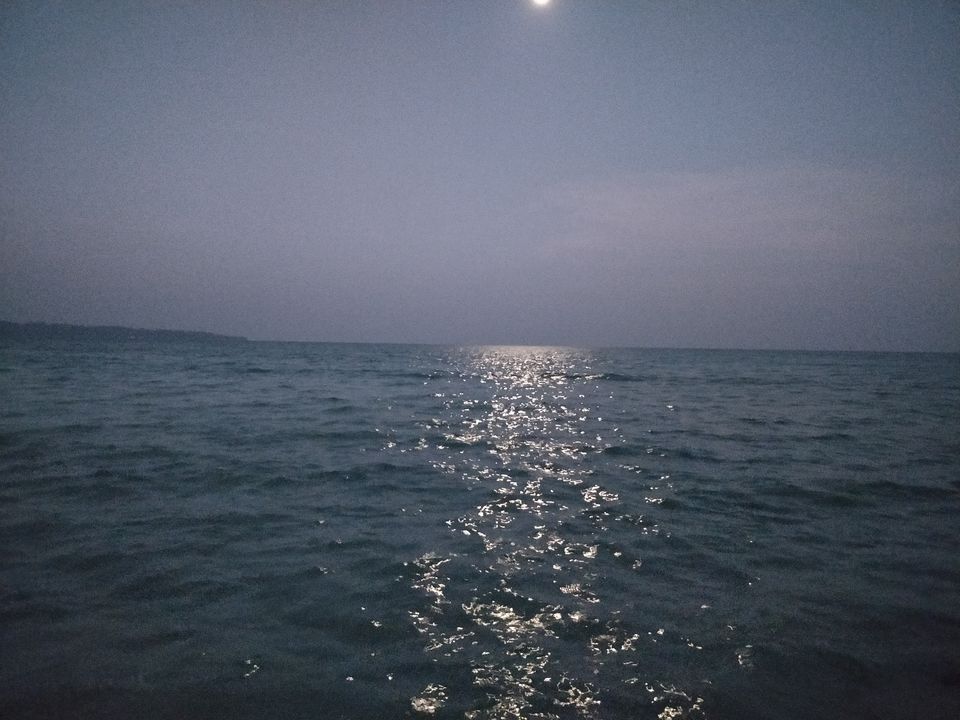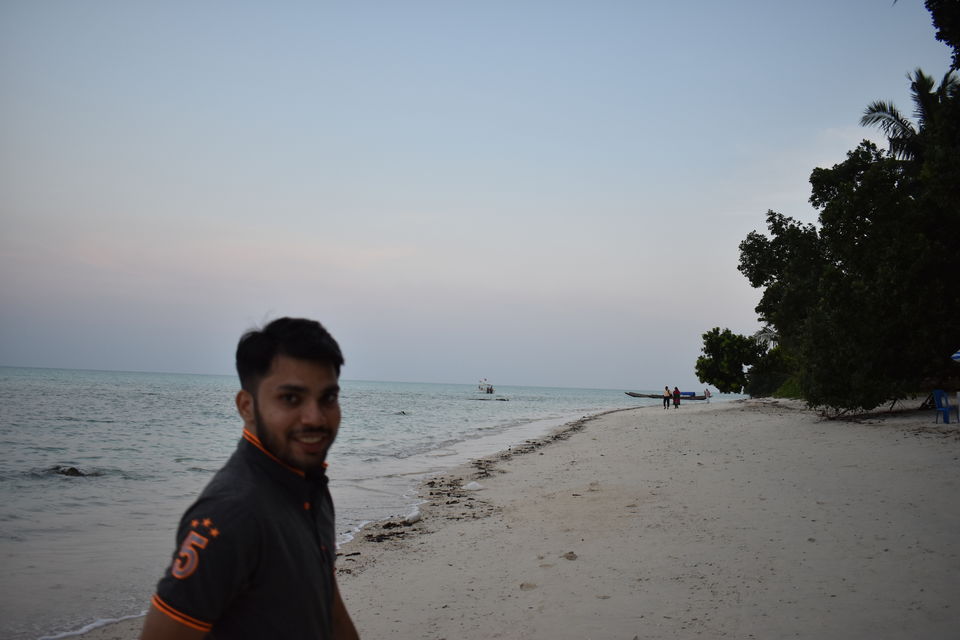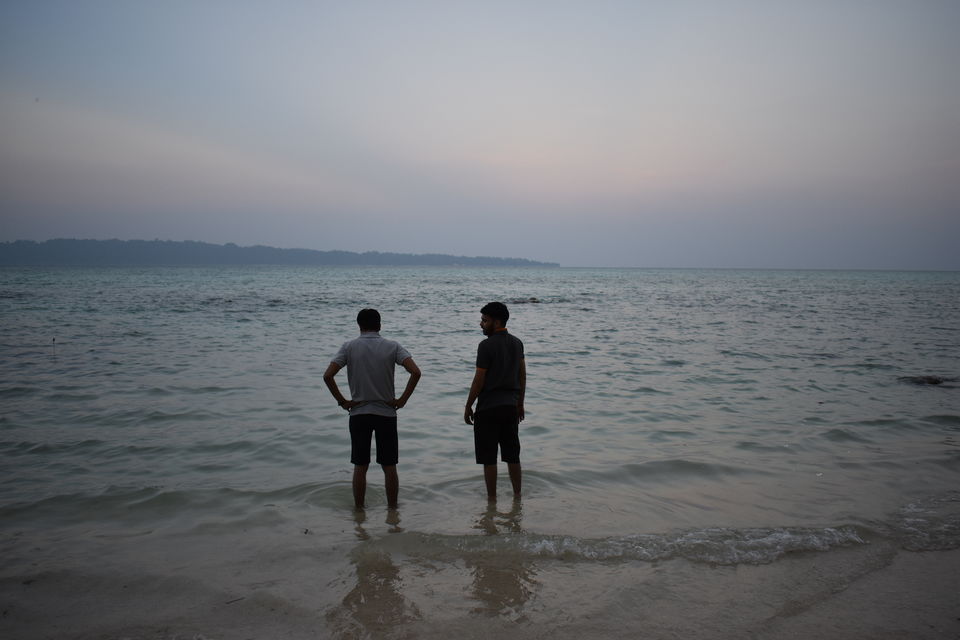 It was so peaceful and calm to hear the wave coming towards beach. Then we went to nearby area, there were many restaurants & resorts, Shops, Tea stalls, and travel agents who provide taxis and two wheeler on rent. As we need a vehicle to explore the Island we hire scooter and we started to gather some information from guy so we can plan our trip there for next couple of days. He suggested us to visit Kalapathar Beach and reach early in the morning around 05:00 to observe the best view of sunrise. He was very friendly guy, gave two wheeler and said that you take it with you to your resort to reach Kalapathar Beach in the morning without delay. So, we took two wheelers with us to resort.
Sunrise at Kalapathar Beach
We got up at 4 AM as we were so excited to witness the Sunrise. Within half an hour we got ready and took two wheelers to our destination which was around 4-5 kms from our resort, it took us 15-20 minutes. When we reached, there were several people was waiting to observe the sunrise but lot of people started to gather as time passed.
We found a place and just sat there for sometime and waiting for the moment. The atmosphere was so delightful as cool air was bumping on to my face and the sound of waves in early morning was unforgettable. As the Sun started to rise, it was looking like that it coming out from the ocean. As Sun rises, it started to strew different colours over the ocean, for moment it was like golden, bright red then bit yellow. It was so awesome to witness the sunrise there, everybody at beach were enjoying the moment and very happy the same I was feeling after watching this phenomenal view offered by nature. As Sun was fully rised it's strong rays began to bother. So we left from there and reached our resort and had breakfast (it was good).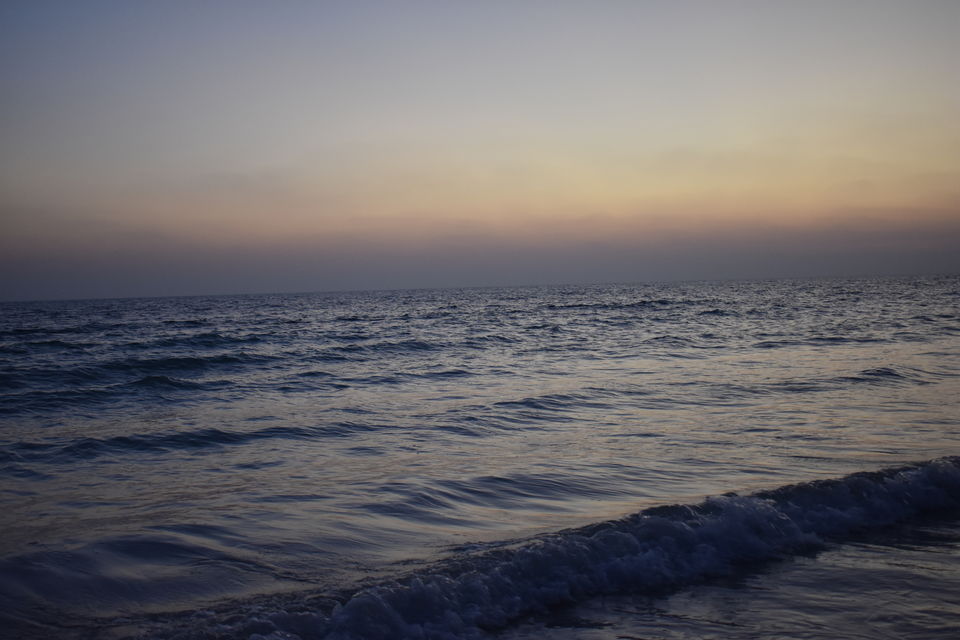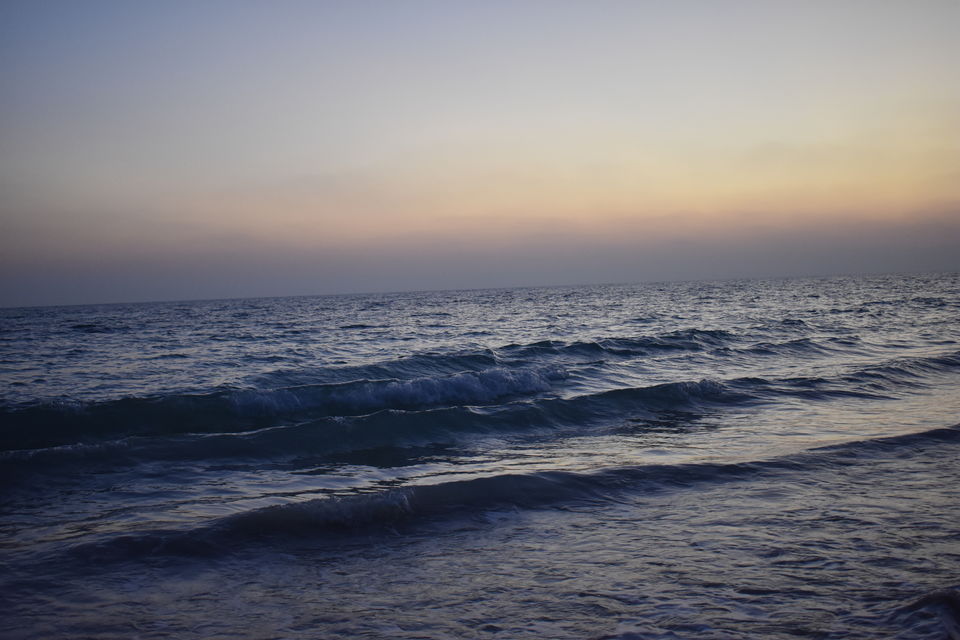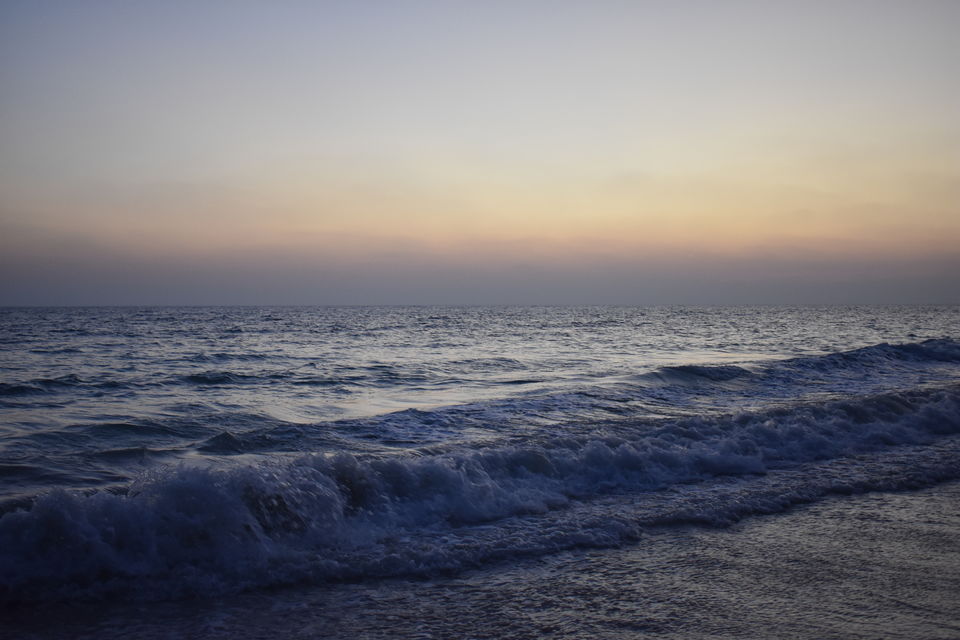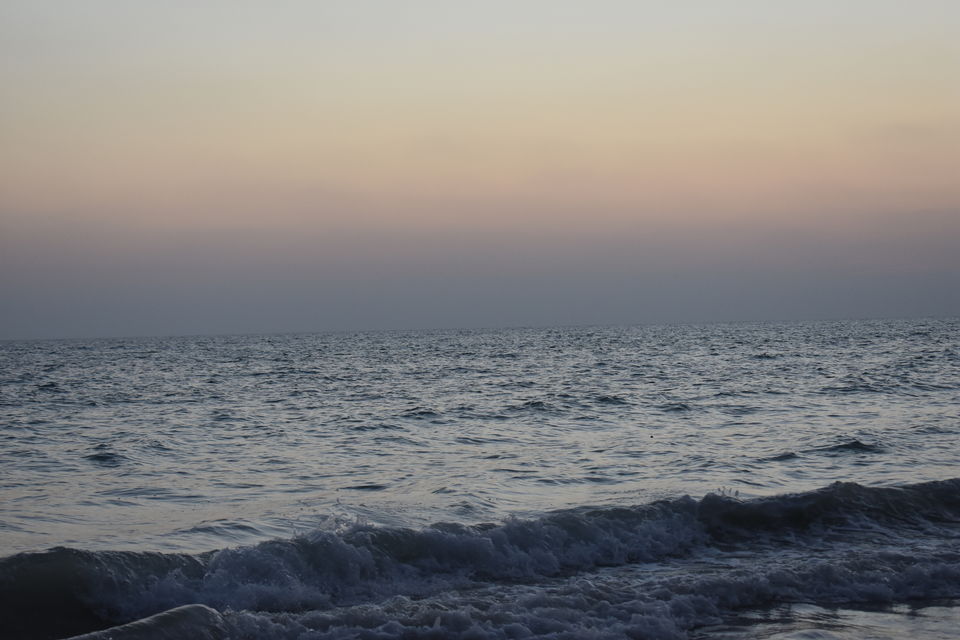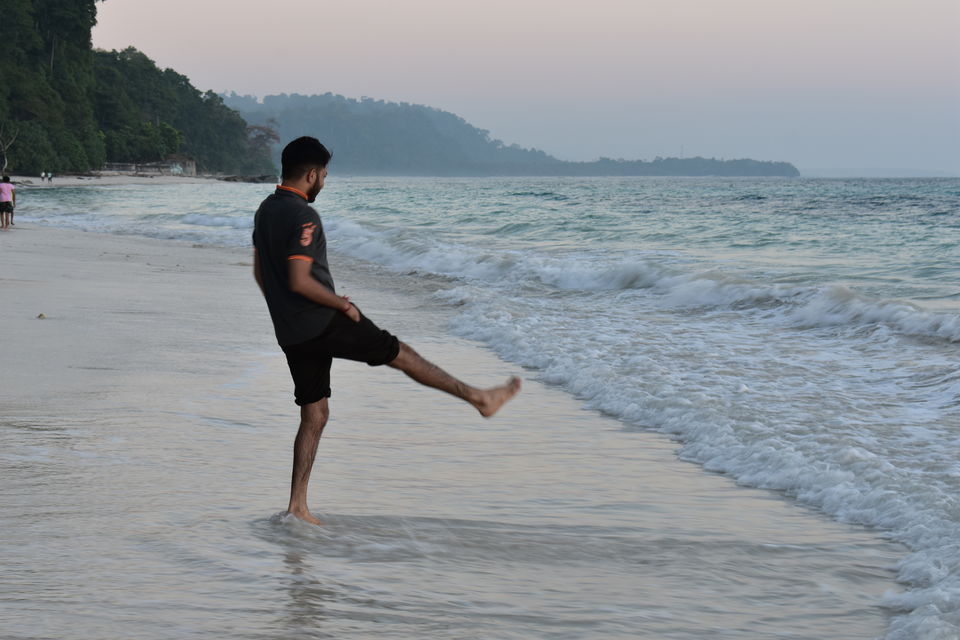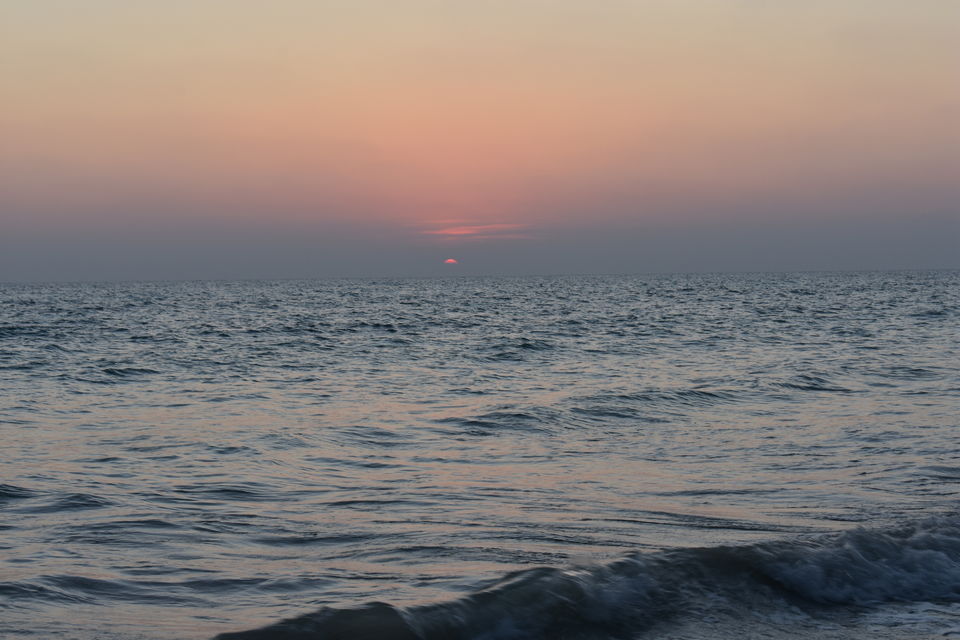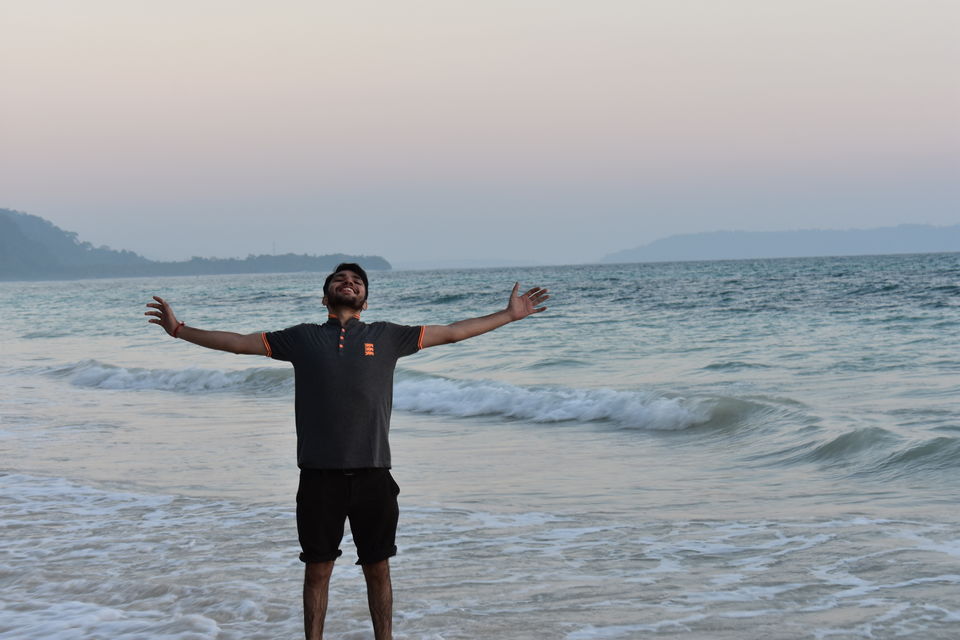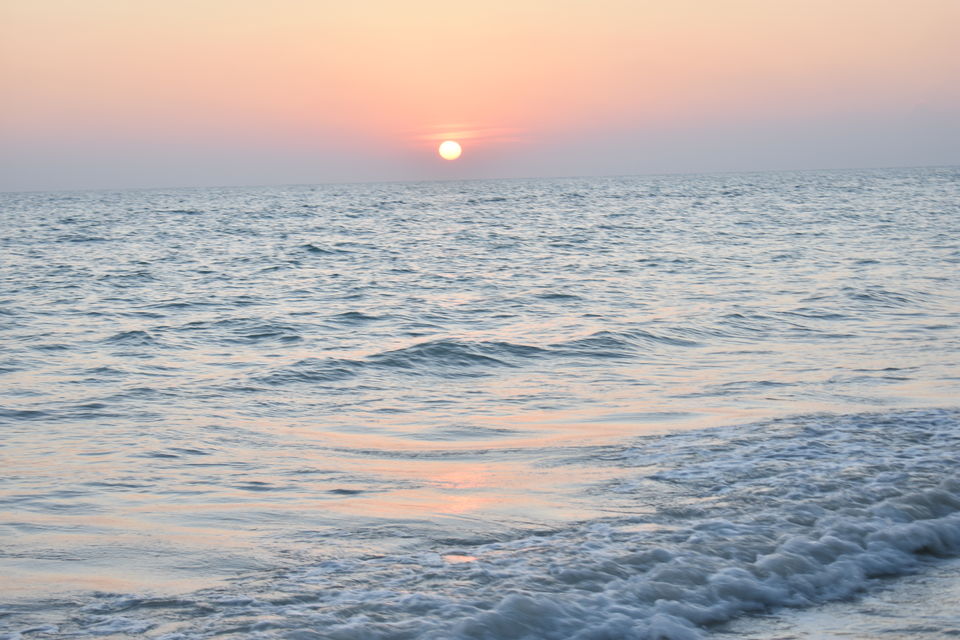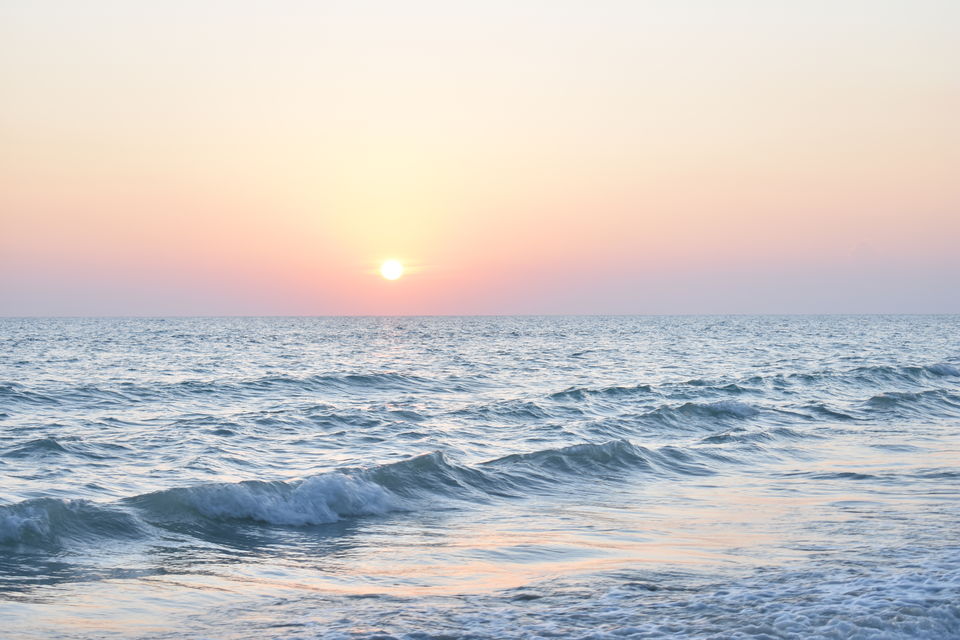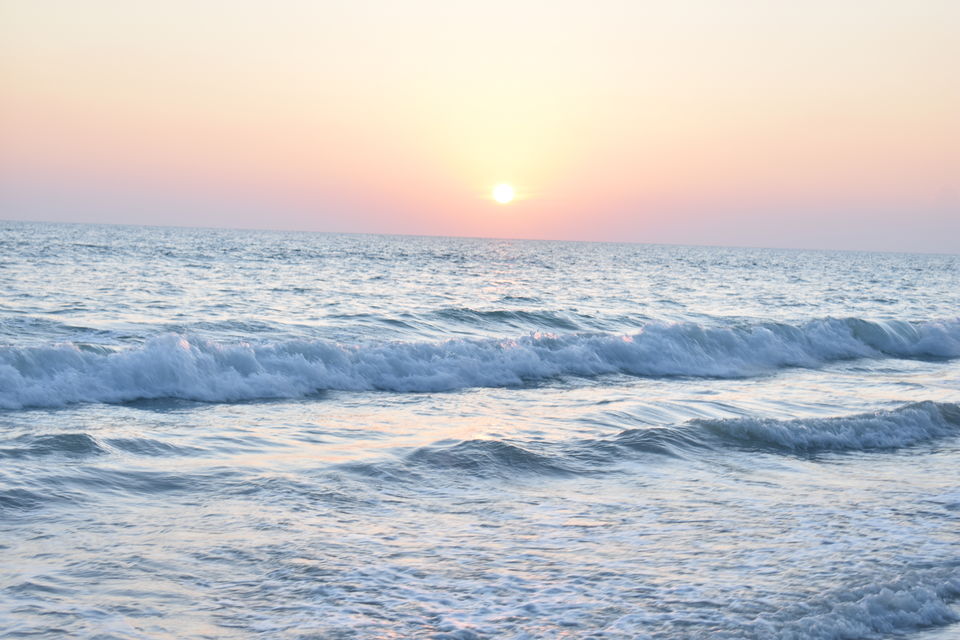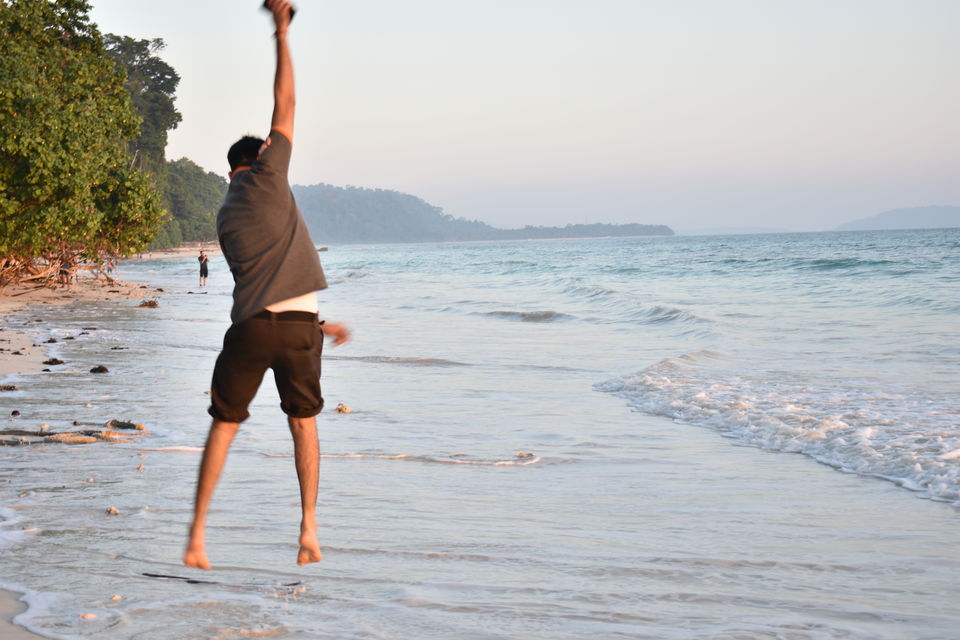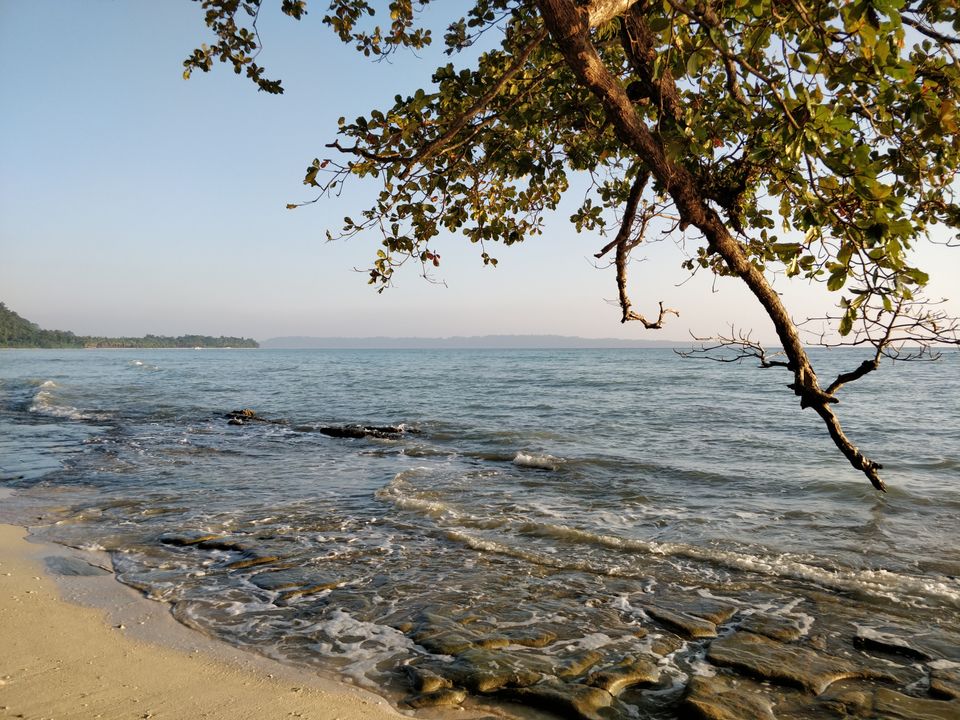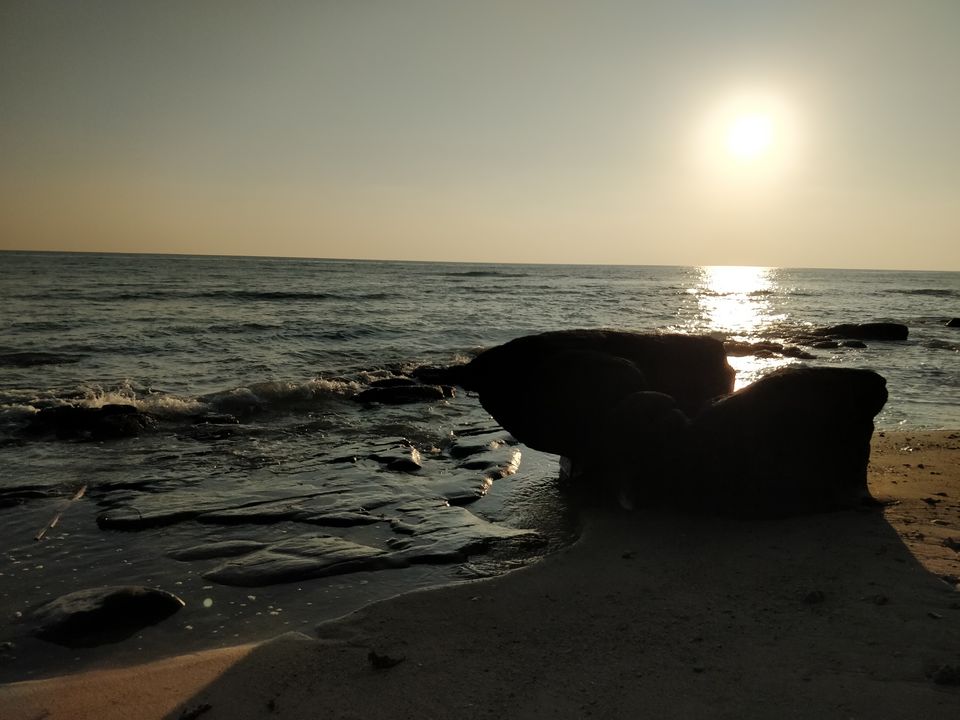 ELEPHANT BEACH
After sometime, we took our scooters and went to Elephant Beach and reached to point where we had to left our scooters in parking (while riding the palce looking so untouched and pure, as there is lot of greenery with clear blue sky with fluffy clouds ), as we need to trek for around 1.5-2kms through mangrove forest in order to reach at the Beach. There are local people there, charge some money to guide through the forest. But trek wasn't that much difficult therefore we just continued by ourselves. While through the forest I was feeling so good and amazed by the flora and fauna, the huge & high trees which I haven't seen before in my life. A day earlier, rain had happened due to that there was difficulty as the surface was muddy and at some places it wasn't easy to cross and you will not b able to save shoes from that mud. On the way, huts were present to sit & have rest. As we were reaching the beach, we saw a pure Green Snake which ran away as it heard sound of footsteps and there was an area which got vanished due to Tsunami in 2004. Finally we reached at the beach around 10.30 AM after 20-30 minutes of trek, that was bolt from the blue when I saw that crystal shining blue water at beach. Then without waiting we ran and jumped into the water, at shallow area of the beach there were lot of obstacles like sharp and big stones, corals were present on the surface which can easily hurt foot, therefore we carefully entered to little deeper area where there were no stone and enjoyed a lot in the water. Although none of us know swimming but we were just trying to get some lessons about swimming 😄. There were lot water sports activities was happening, for which this beach is known i.e. jet skiing, Banana boat rides, snorkeling, under sea walking, scuba diving etc. After spending around 3-4 hours there we return through same trek for Radha Nagar Beach.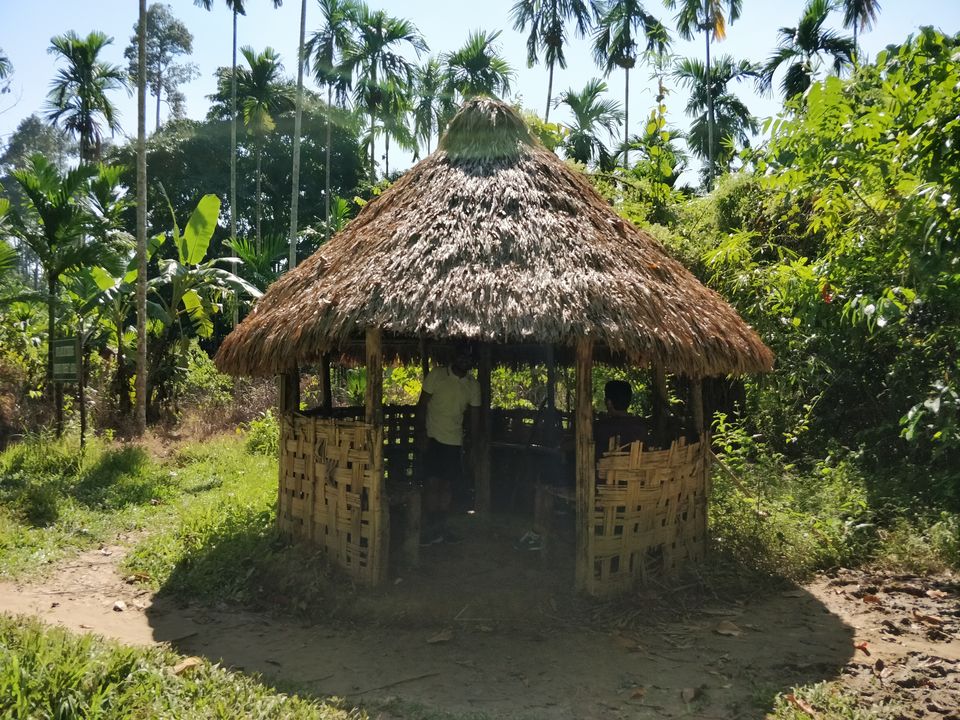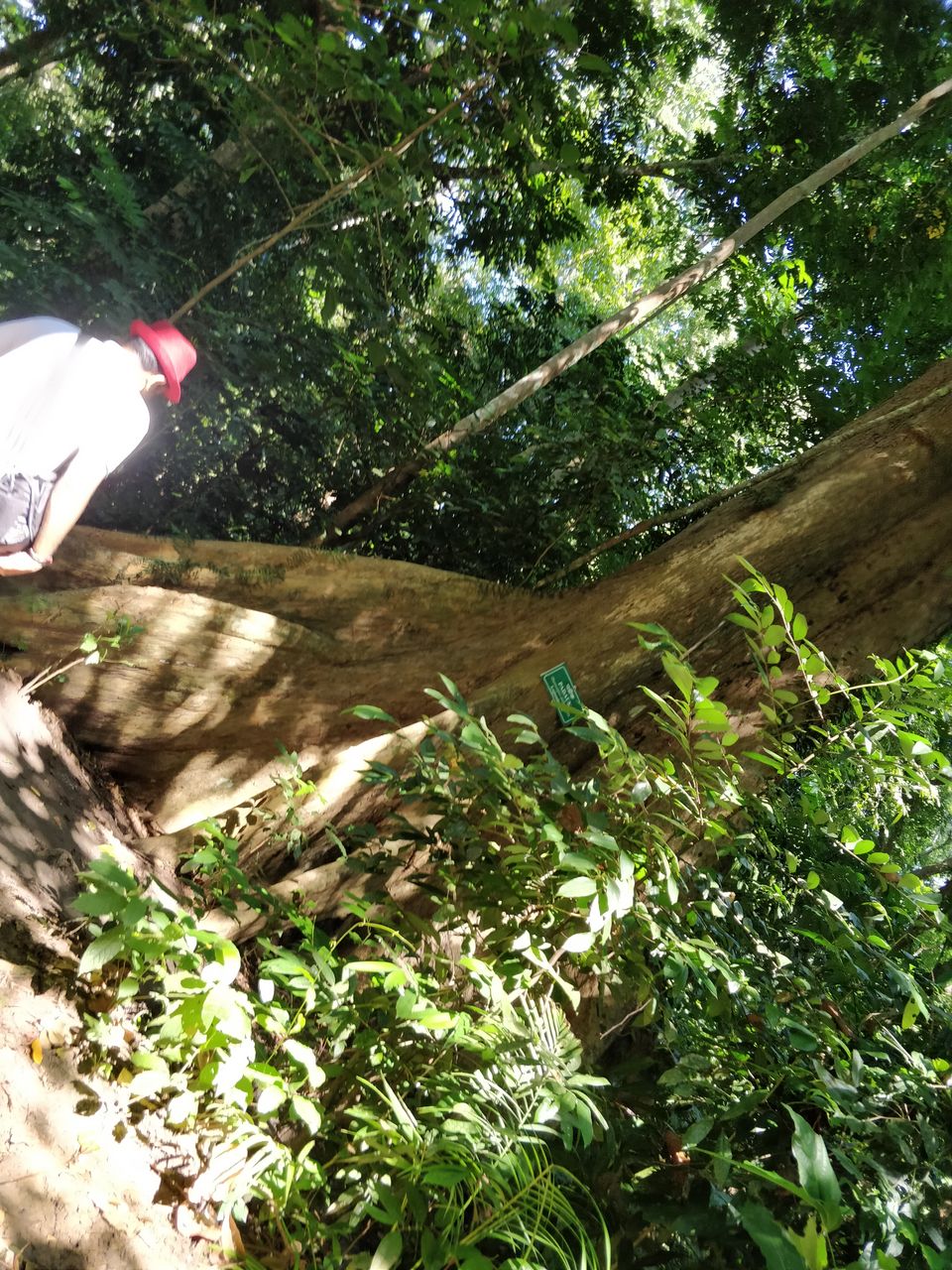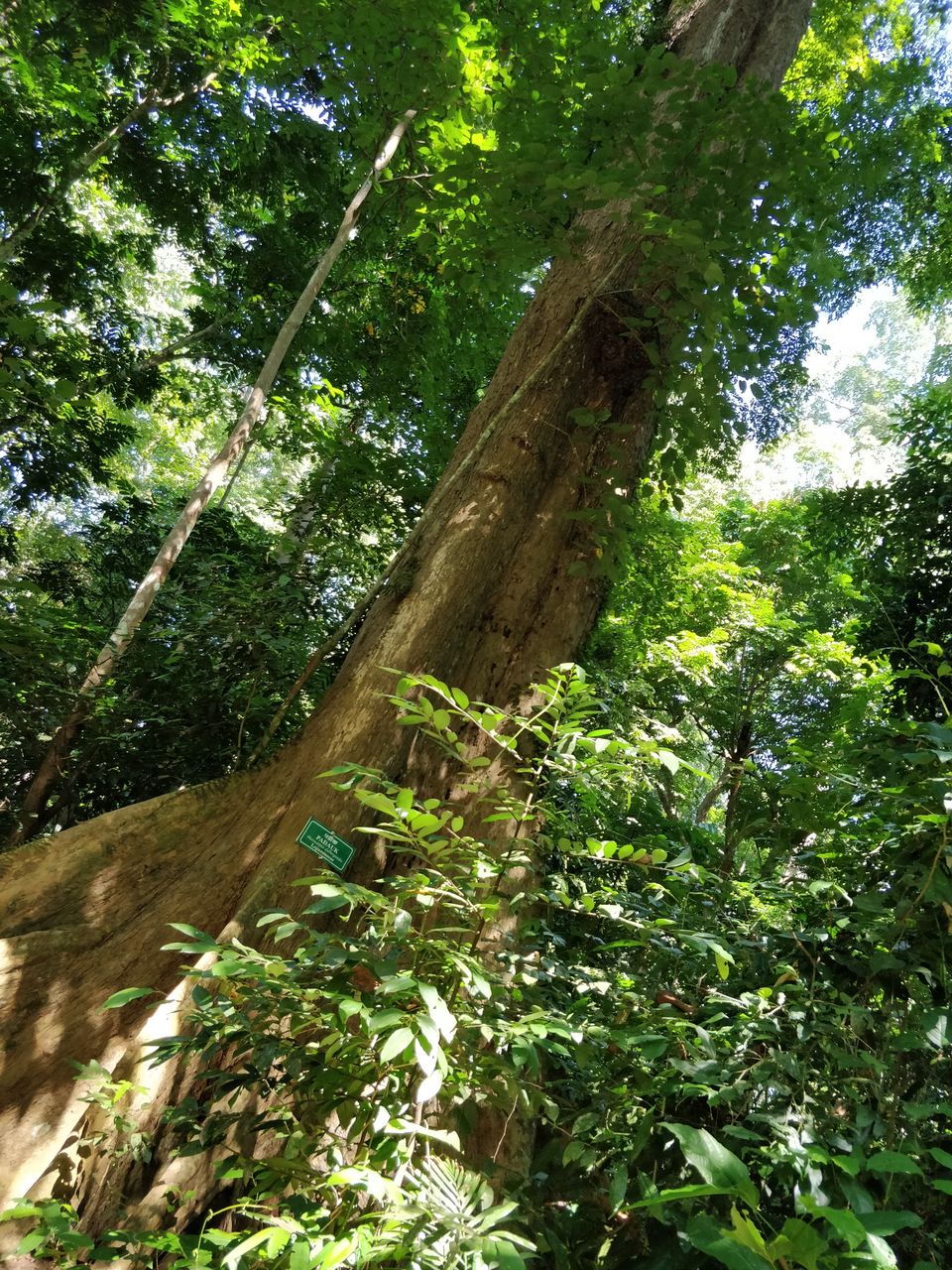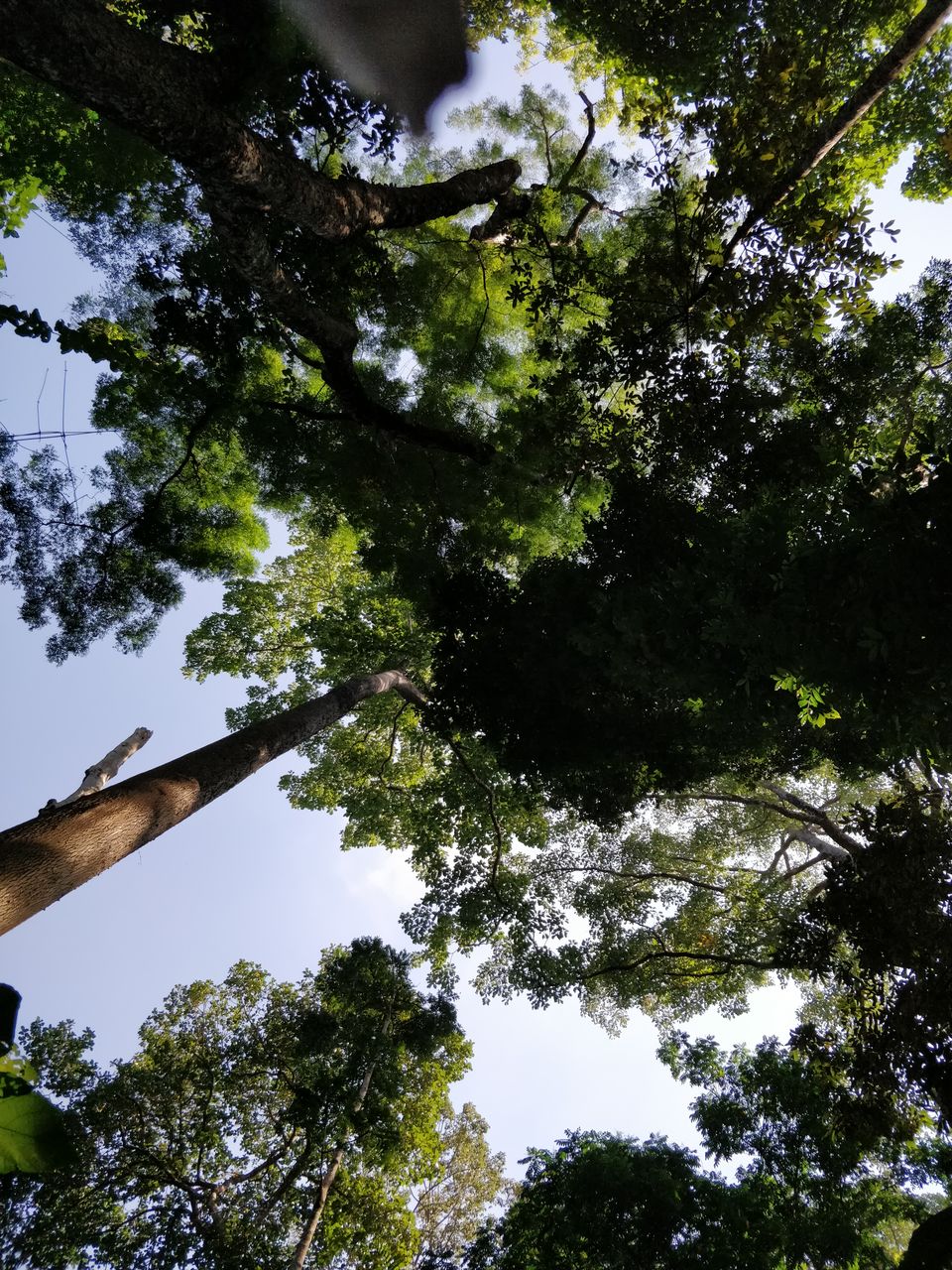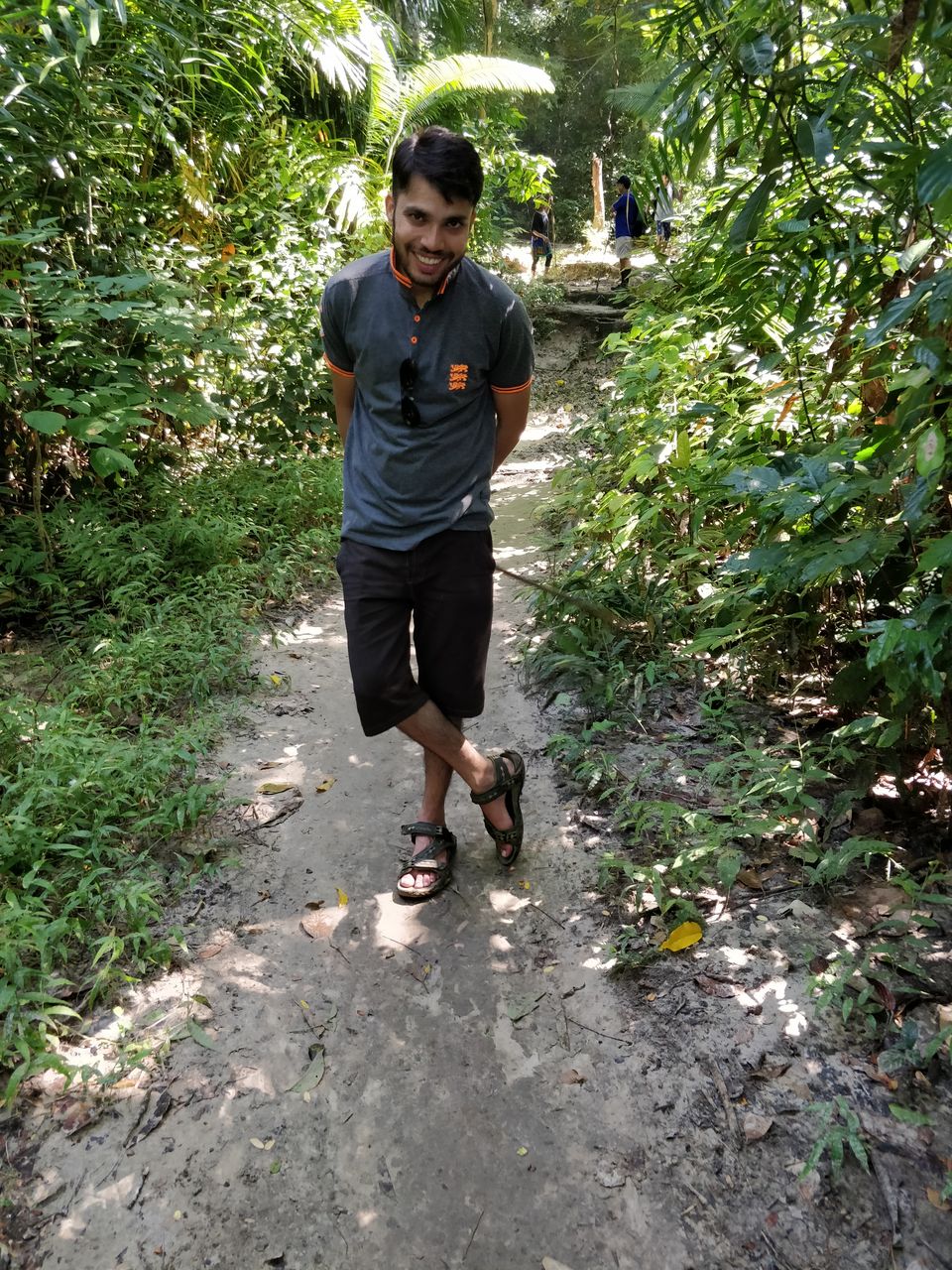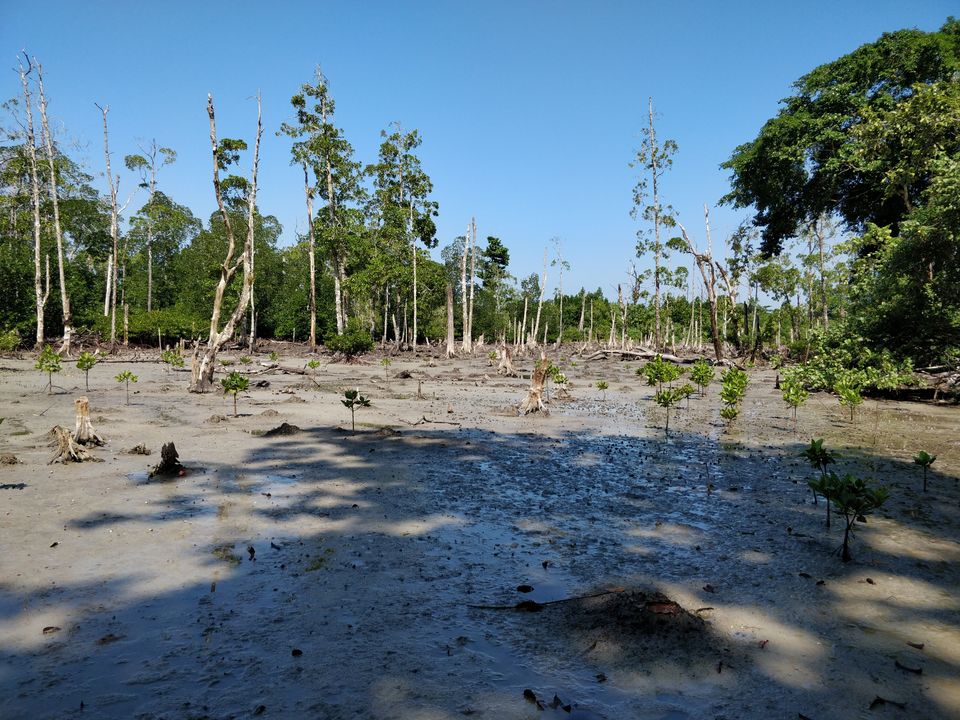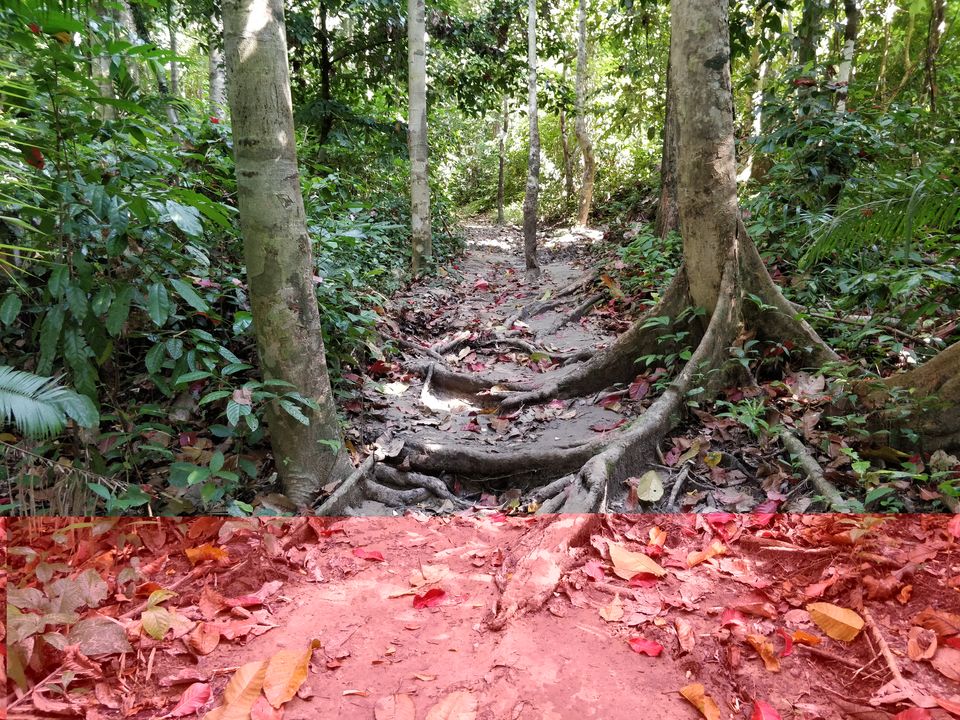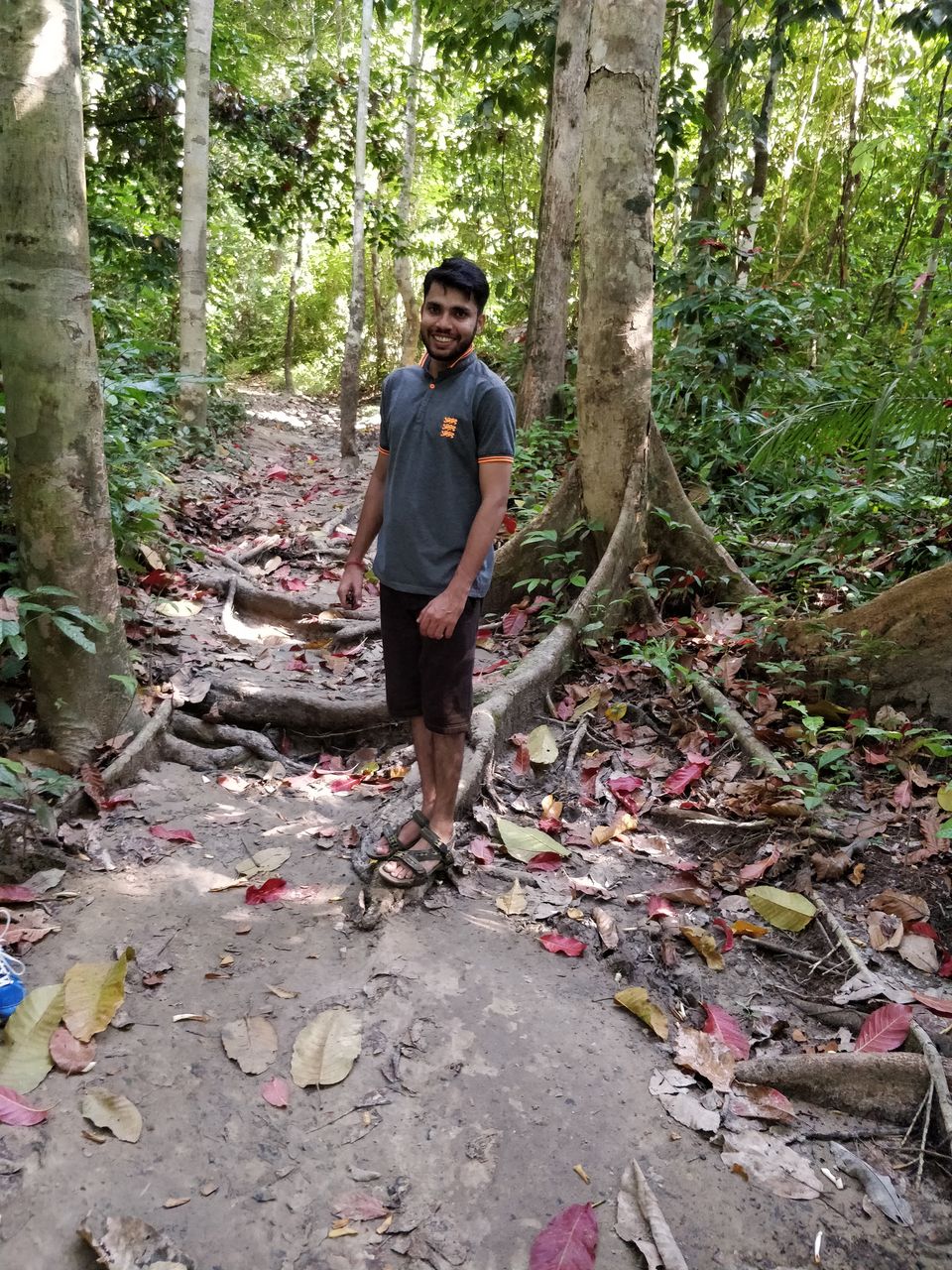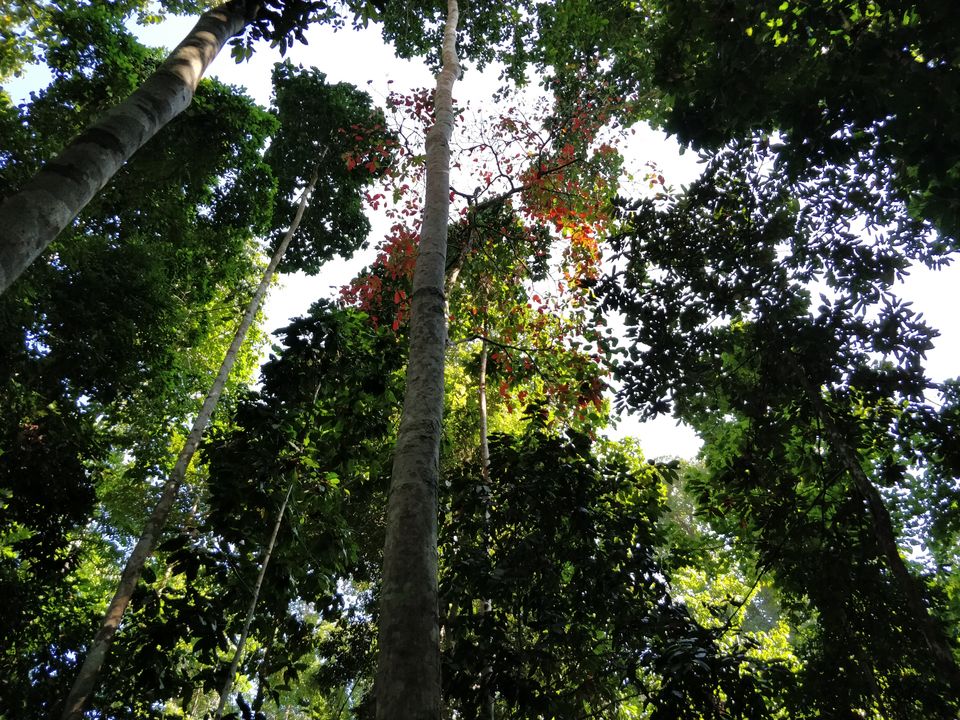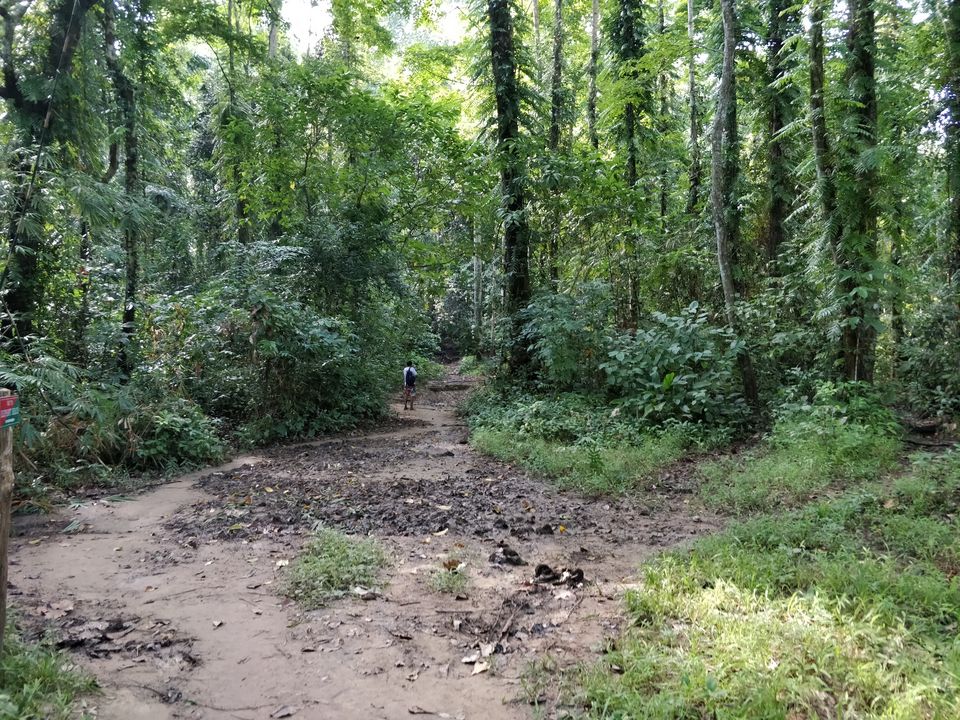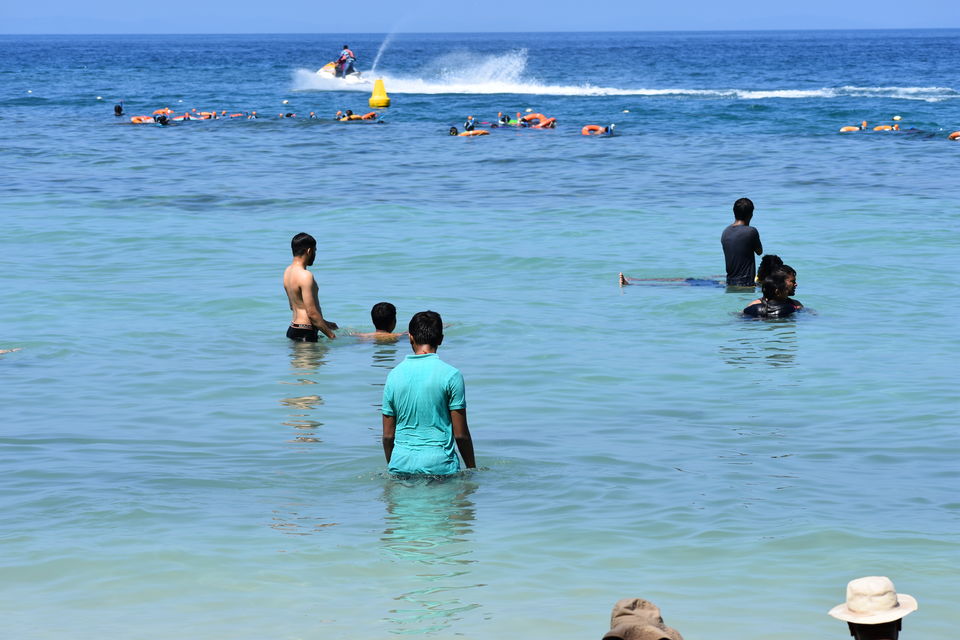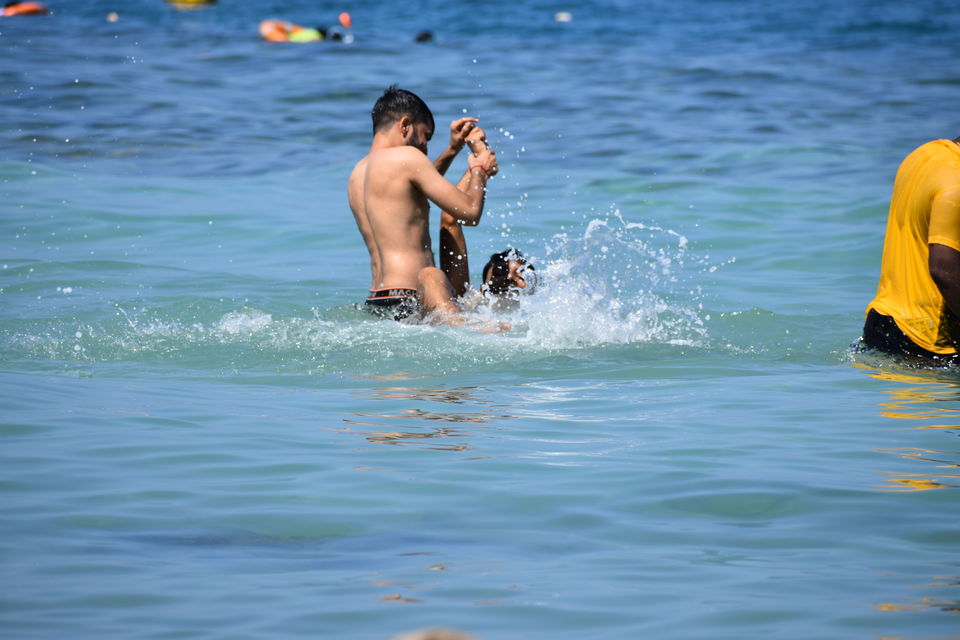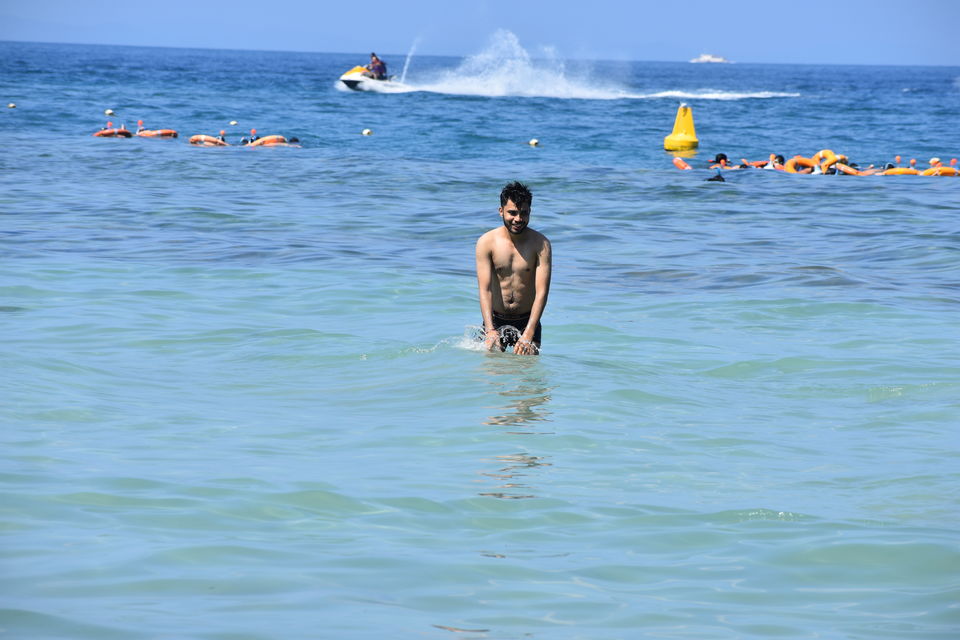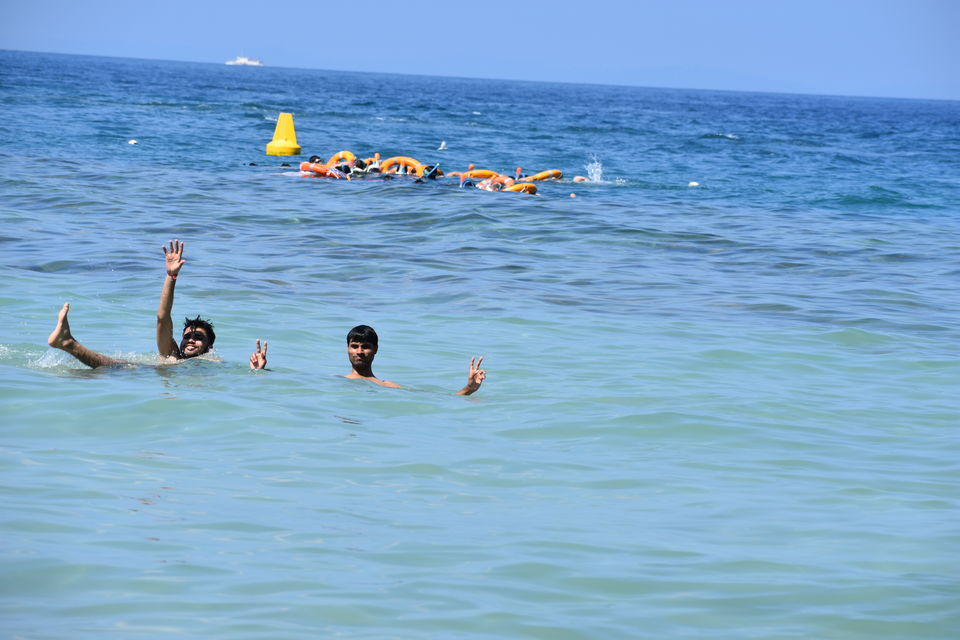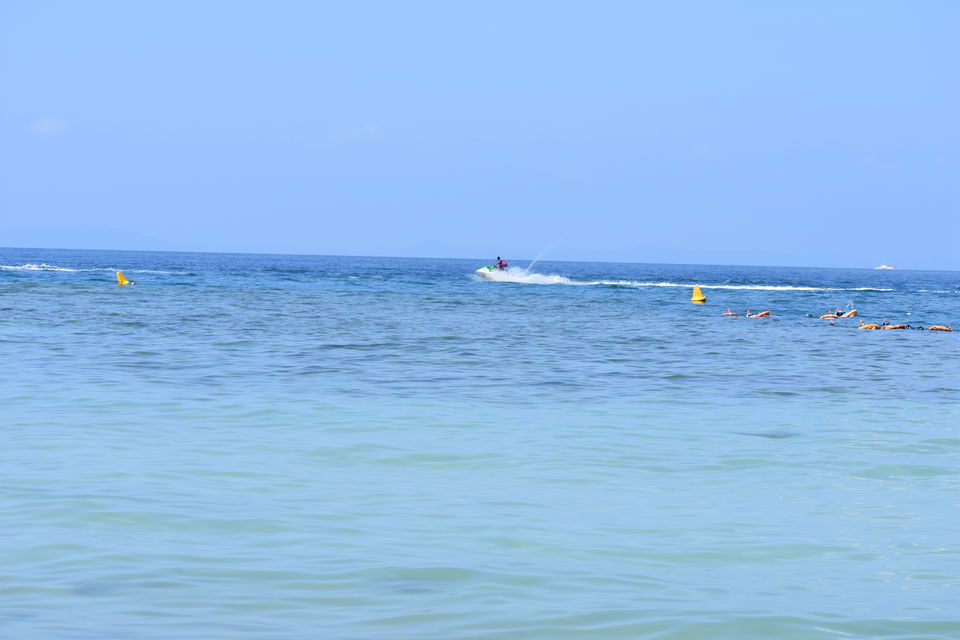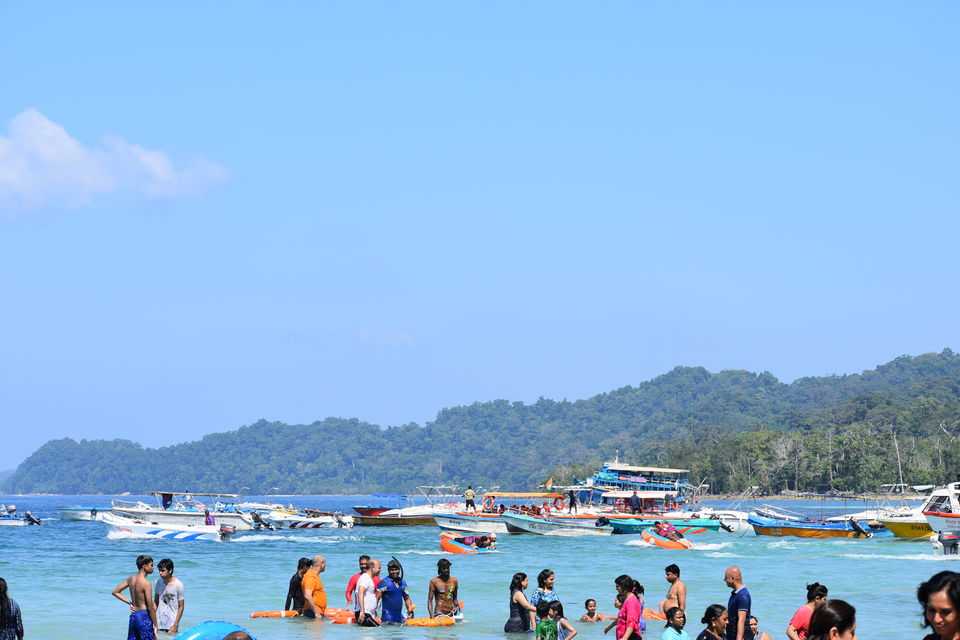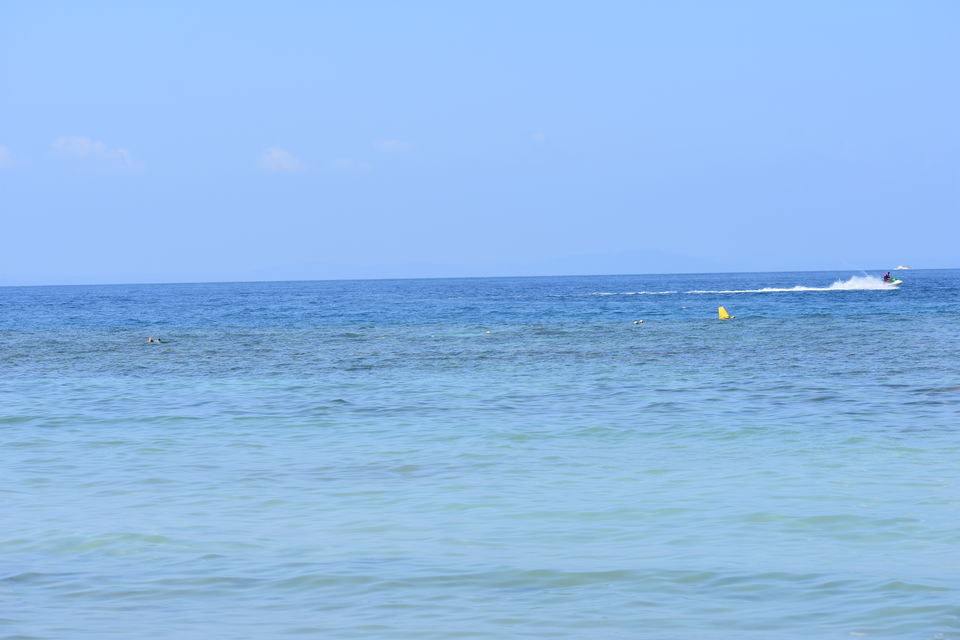 RADHA NAGAR BEACH
It took us only around 20-30 minutes to reach at Radha Nagar Beach from elephant beach. We parked scooter parking and ran to the beach which is among one of the longest and cleanest in Asia. I was feeling so amazing when I reached there it is really so beautiful to see the open sea and a long field with far greenery on the banks wherever you look. So, without waiting for anything, we got prepared and get into the ocean, lots of people was there enjoying the dip into the sea. This beach is not like Elephant beach with obstacles like stones or corals, rather it's surface very smooth and anyone can run into the water without hurting but still needs to be cautious. All of us enjoyed a lot there until the lifeguards came and directed everyone there to come out from the water. I came out little before and sat down there and watching the sunset which turned the whole sky with its colours, it was so mesmerizing to watch. I was feeling that the Sun is in slow motion mode and want everybody there to look how beautiful it is and remember these moments for the whole life. It was really good to see as the Sun was setting down, the rays changing its colours as Sun going down and painted the whole beach with that colour. As it was getting dark we took shower there to get rid from the itching caused due to sand. When we leaving from there we ate some snacks as we were feeling so hungry due lots of water activities, many local food stalls and restaurants (dhaba) are present there on both sides of road. Then after sometime we reached at our resort and took rest.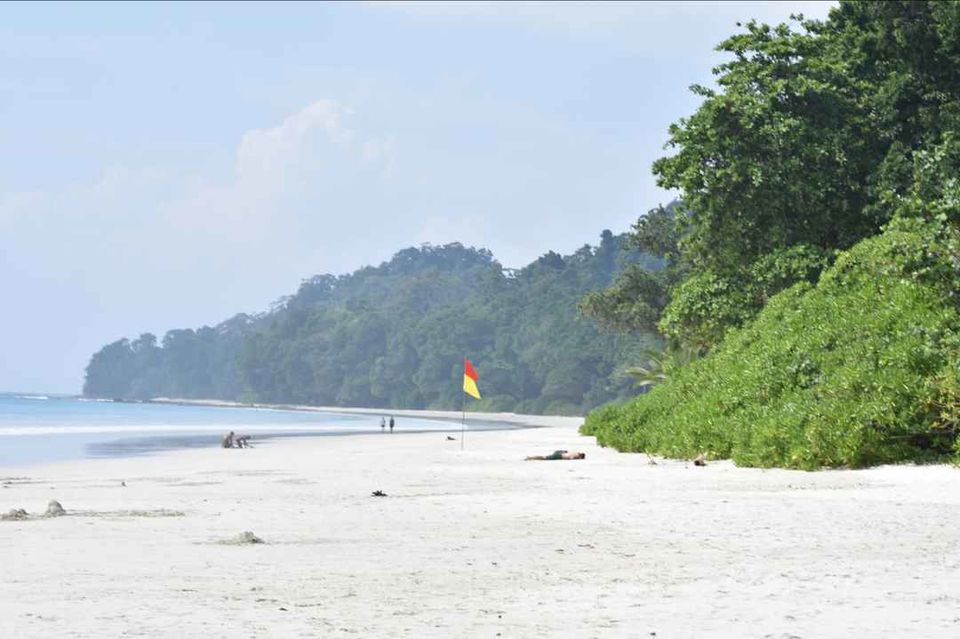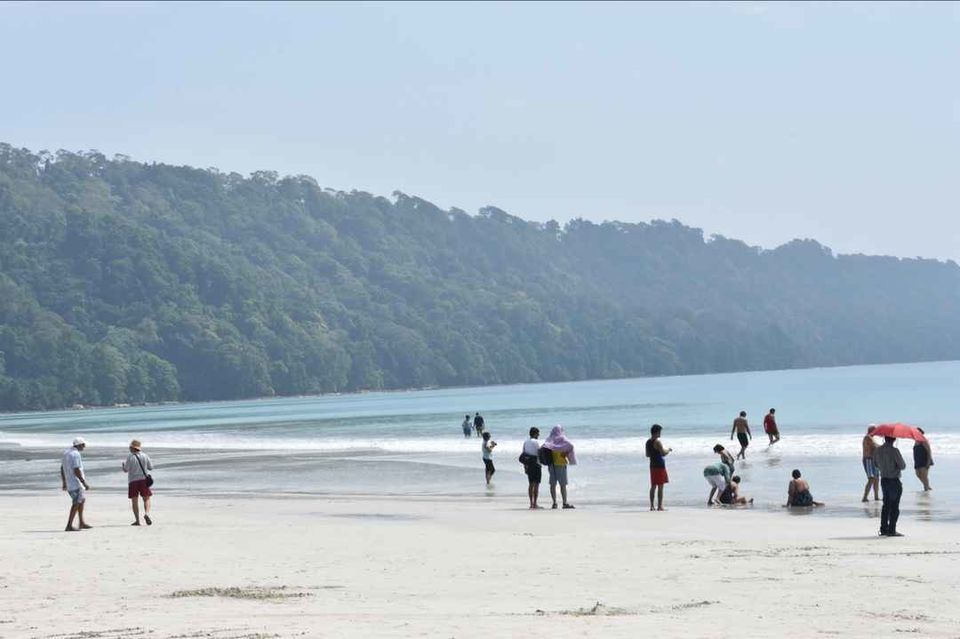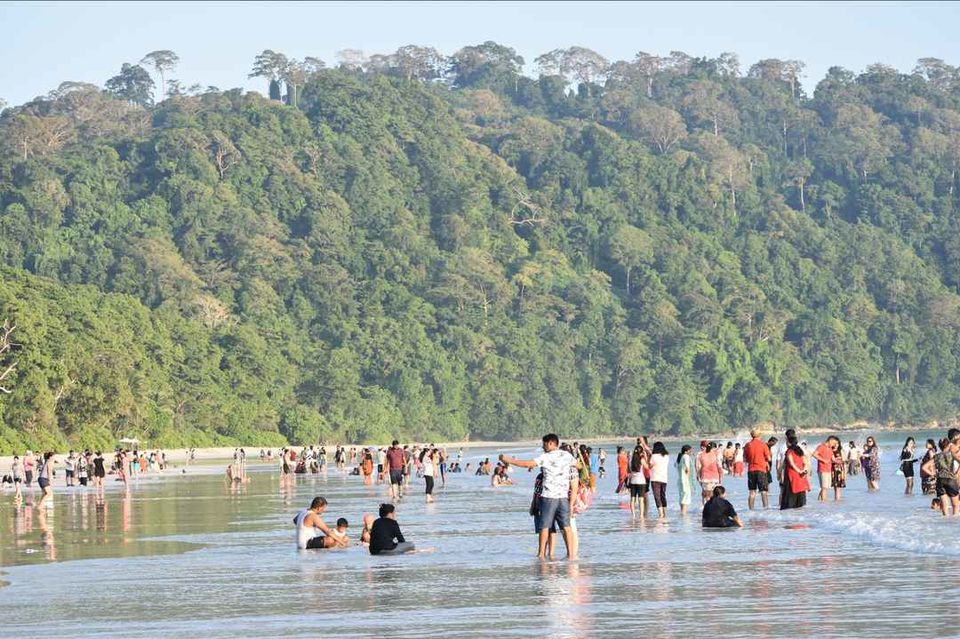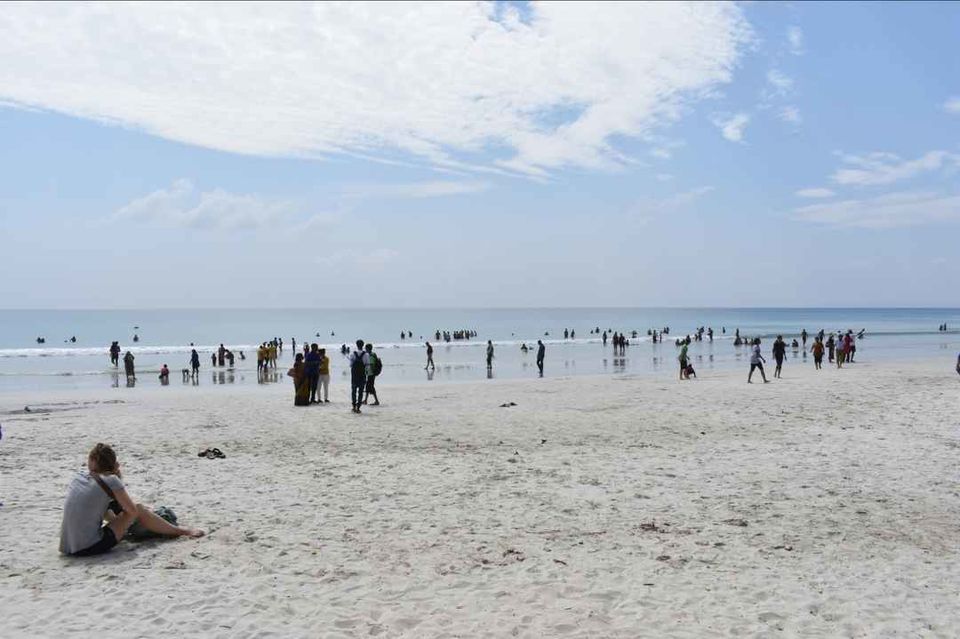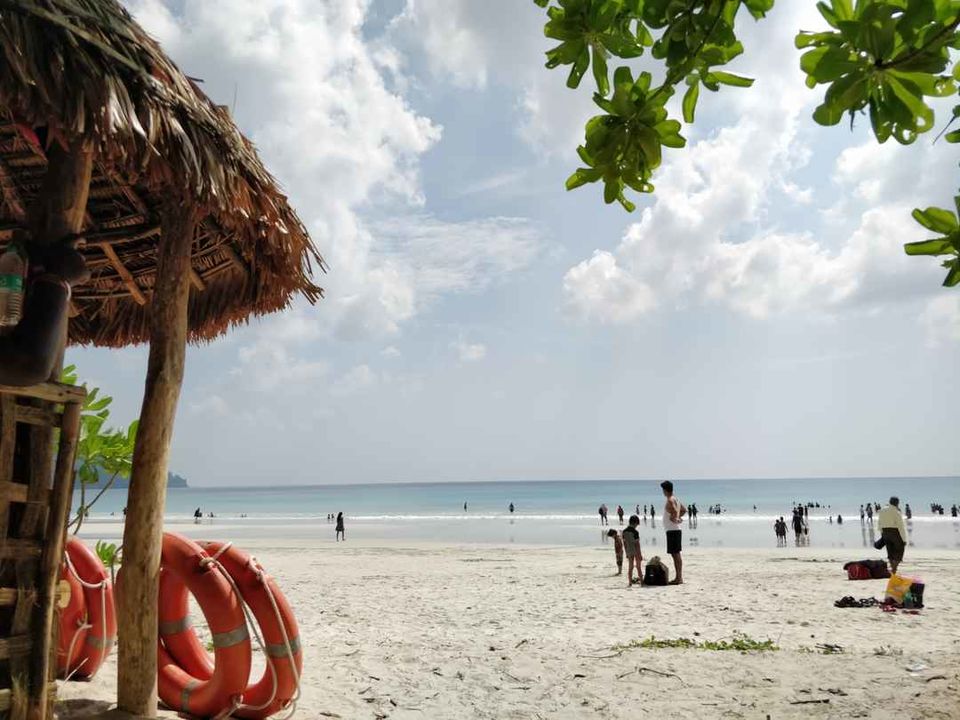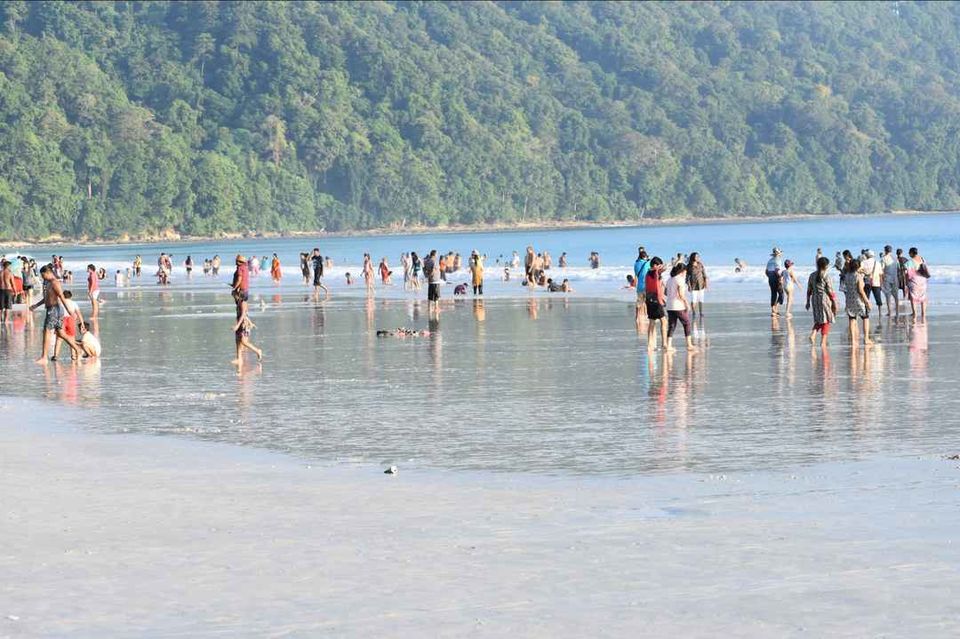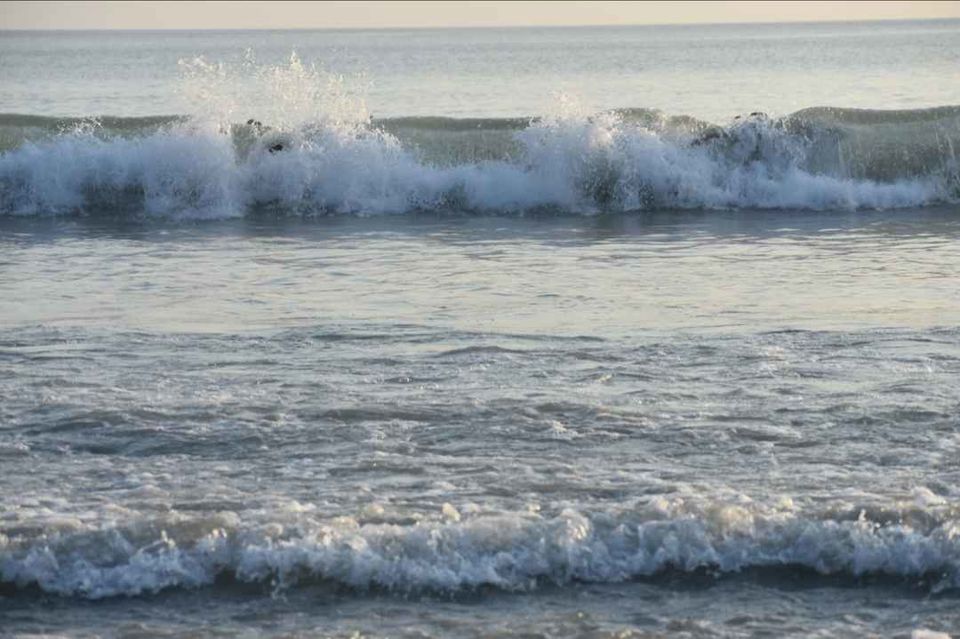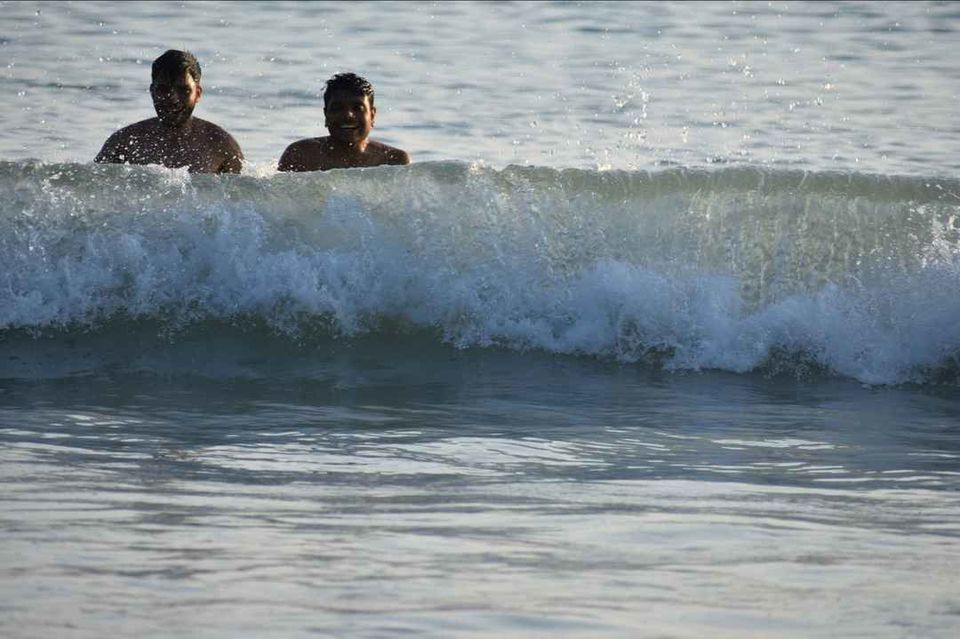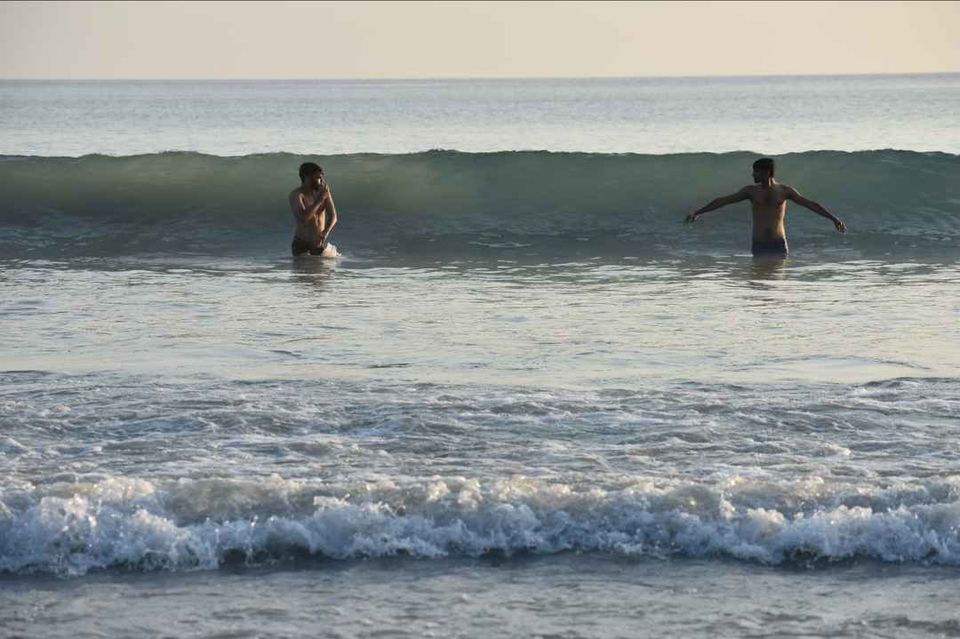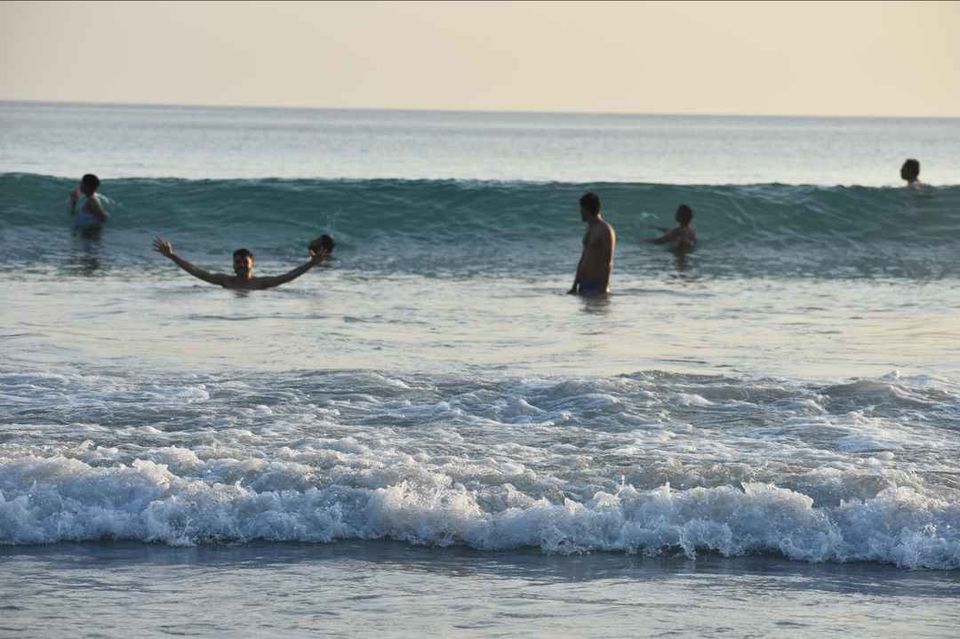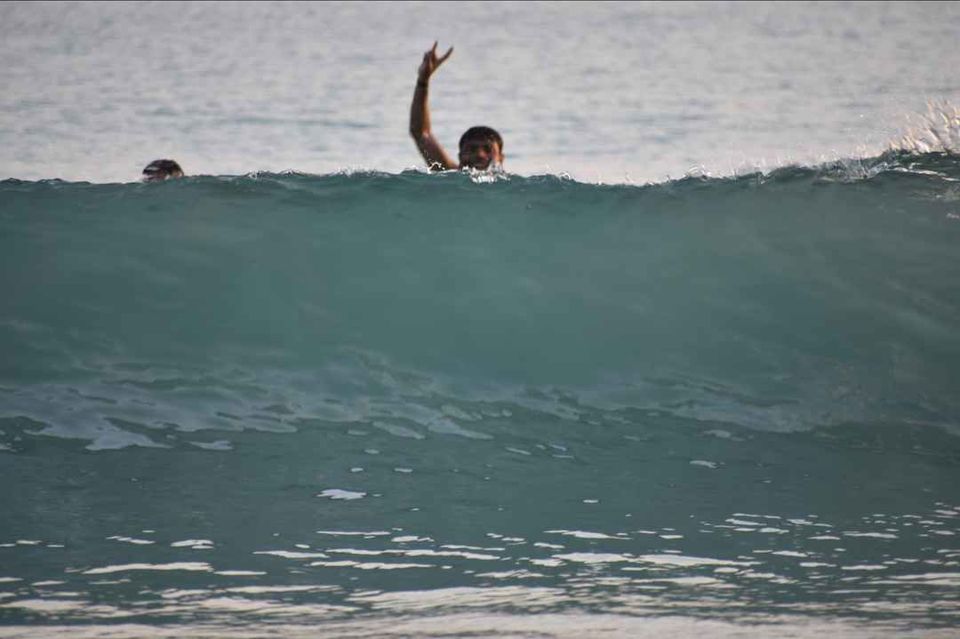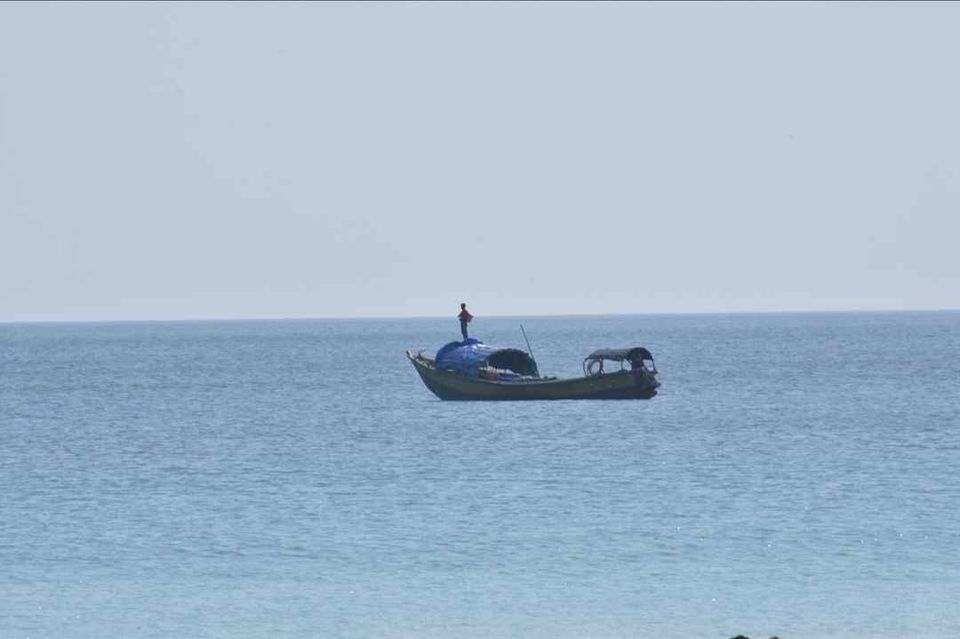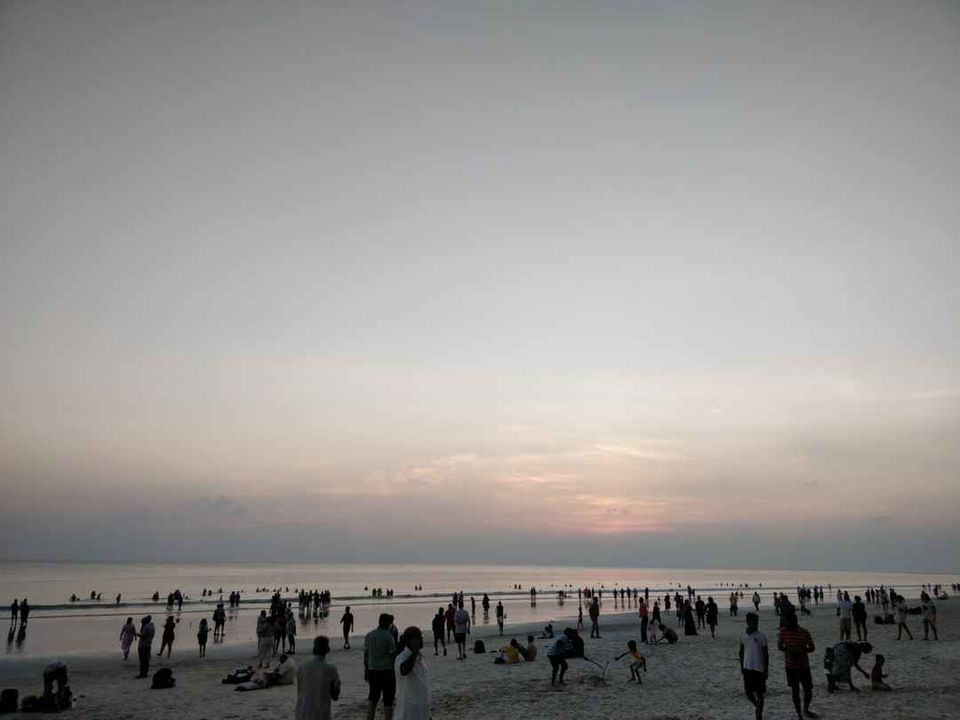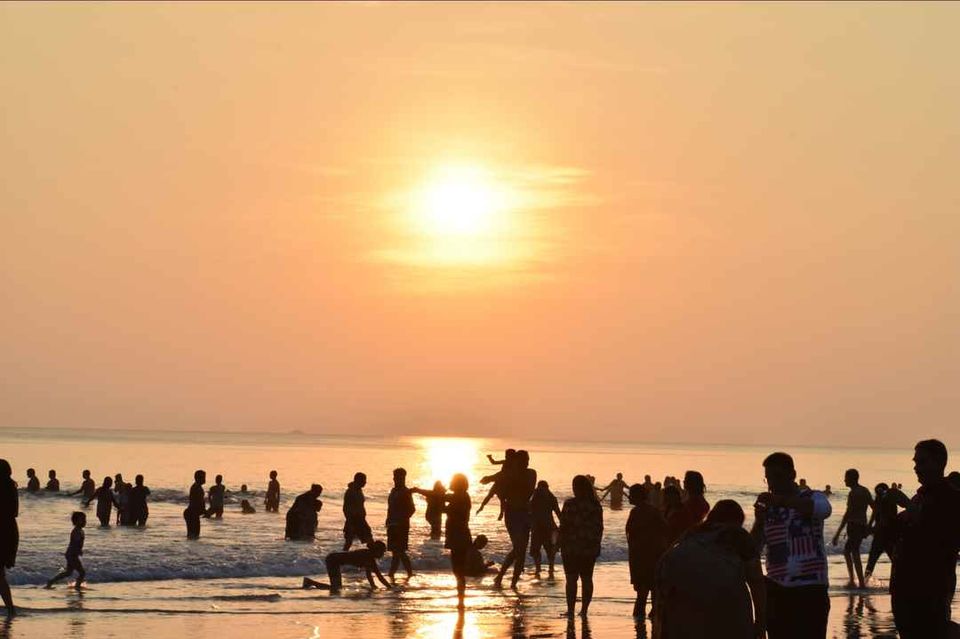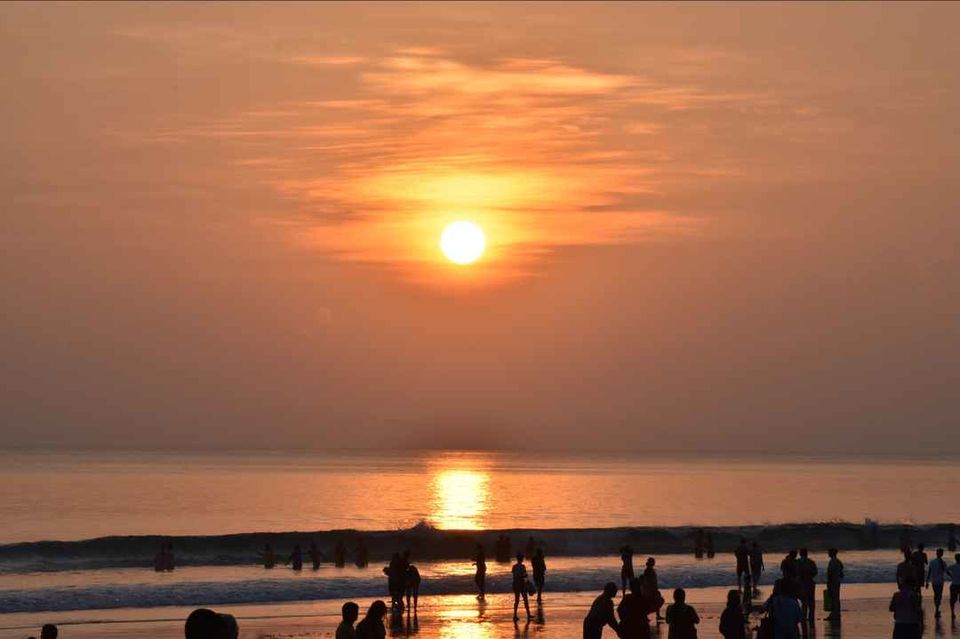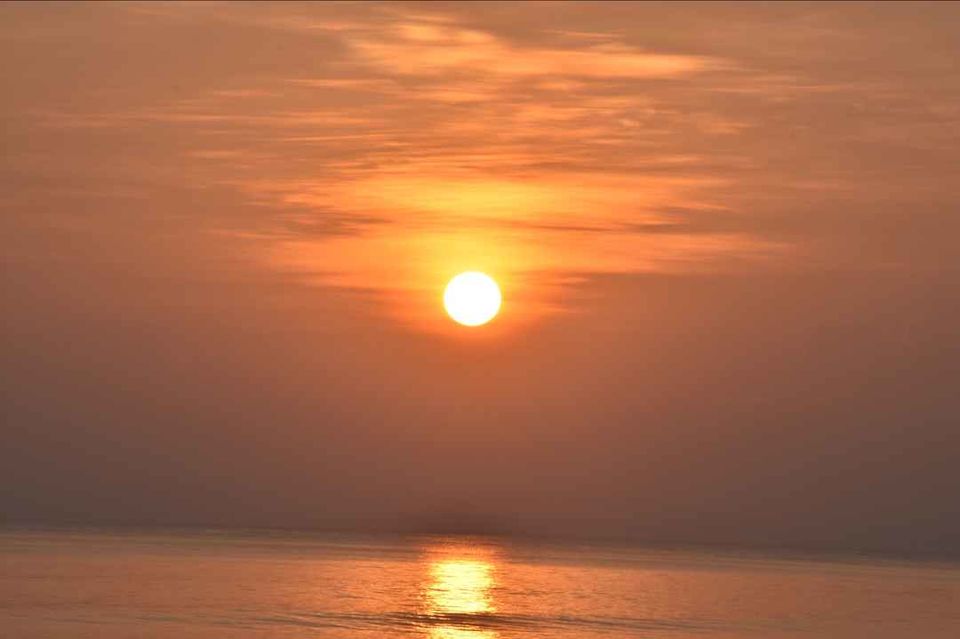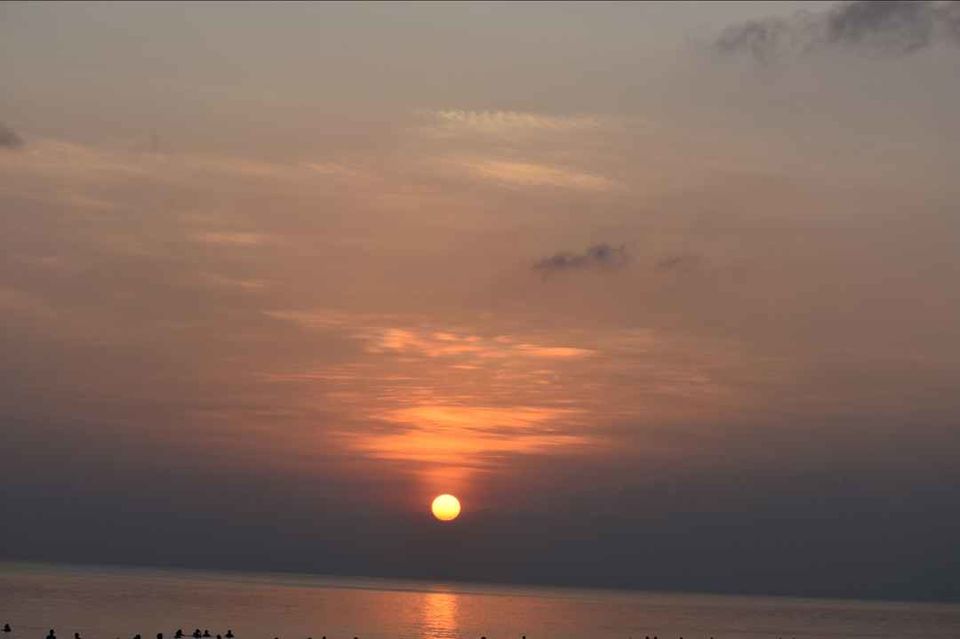 After dinner, we went to return our hired scooters and asked the guy about Scuba Diving as we have one more day left at Havelock Island, he told that early morning is the best to experience for Scuba Diving and he also suggested us the best adventure agent to get most out of this adventure. We decided to do diving in early morning slot as there will be less disturbance in the water (Rs.3500 per head for morning) and hired scooter for one more day, as we would have whole day after Scuba diving and thought to visit Radha Nagar Beach once more.
Scuba Diving
We woke up early and went to Seahawks scuba diving centre, where we wear swimming costumes for scuba diving and professionals took us to Nemo reef dive site. After reaching there, professionals tag oxygen cylinder and diving on our body and gave us basic training for around 25-30 minutes. As we gained some confidence, we were ready to dive. As trainer took me down inside the water, it felt like that I have entered in some other world. Under water marine life is so sophisticated and full of colours which I haven't saw earlier. I saw different kinds creatures and aquatic plants all over the reef. The under water life was so silent and full of vibrant colours. Meanwhile professional shoot some videos and pictures of us also. Under water ambience was really amazing. We came out after 10-15 minutes and went scuba centre and watched our videos and photos shot inside the water, they are great. After that we come back to our resort and took breakfast. Then again we went to Radha Nagar Beach and enjoyed there for whole day.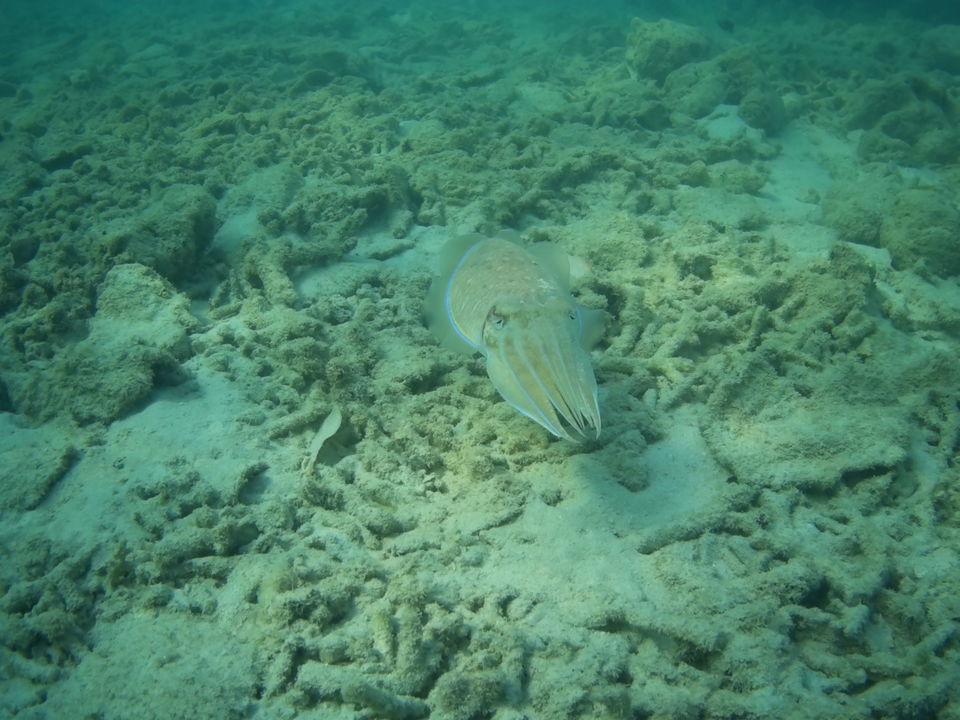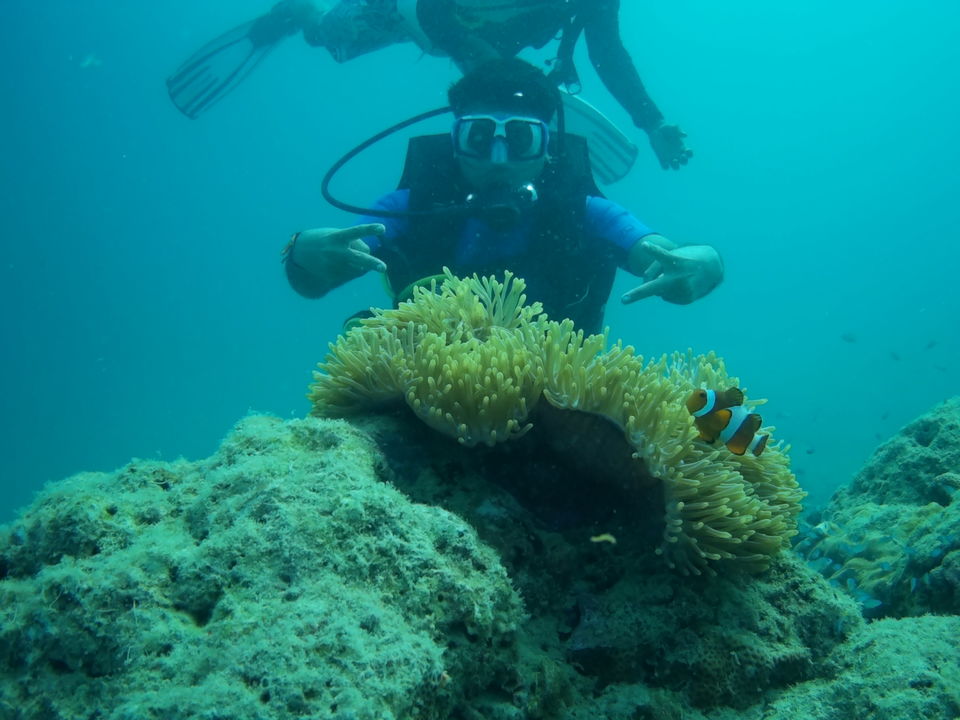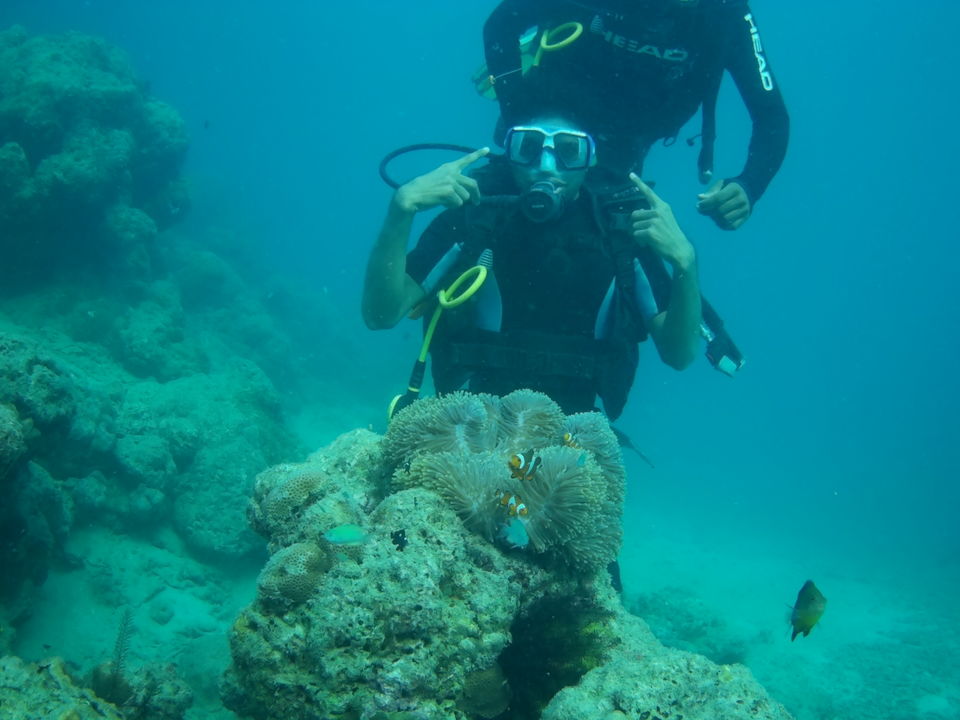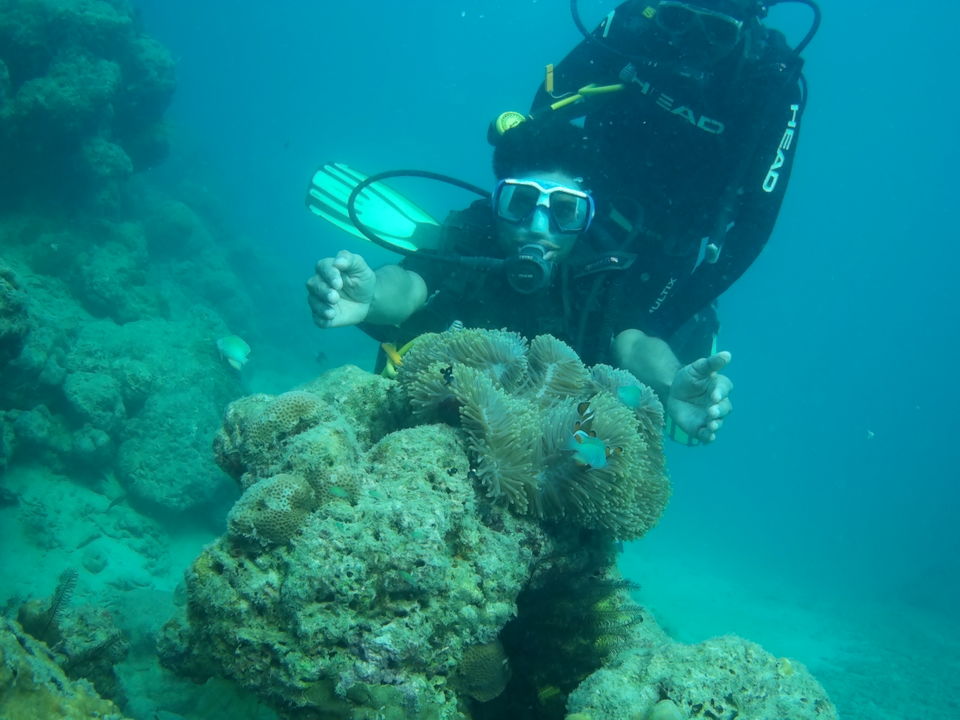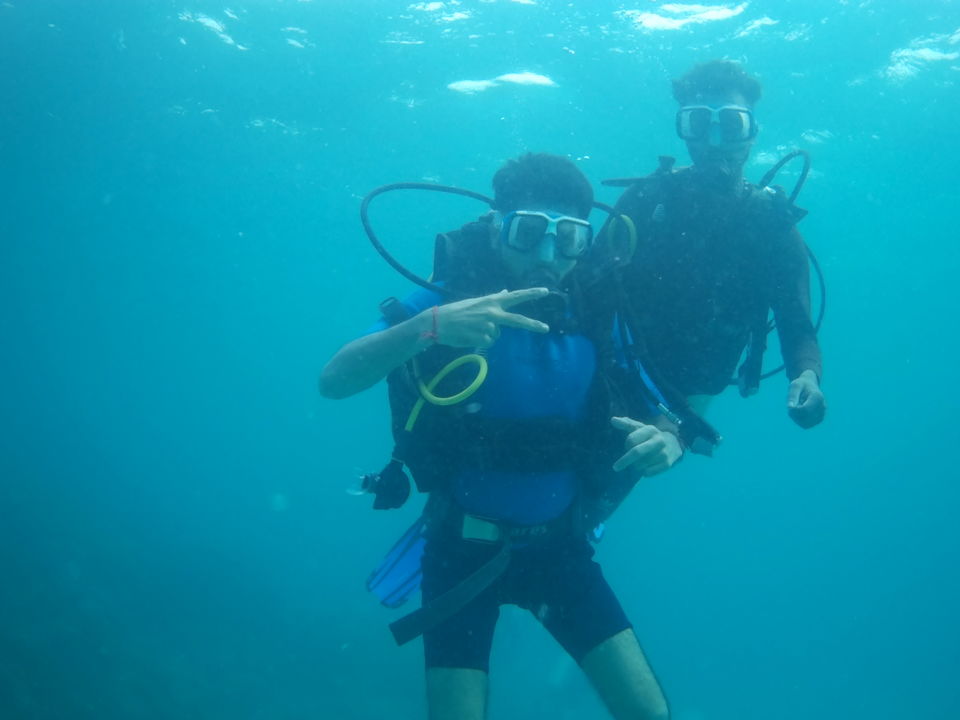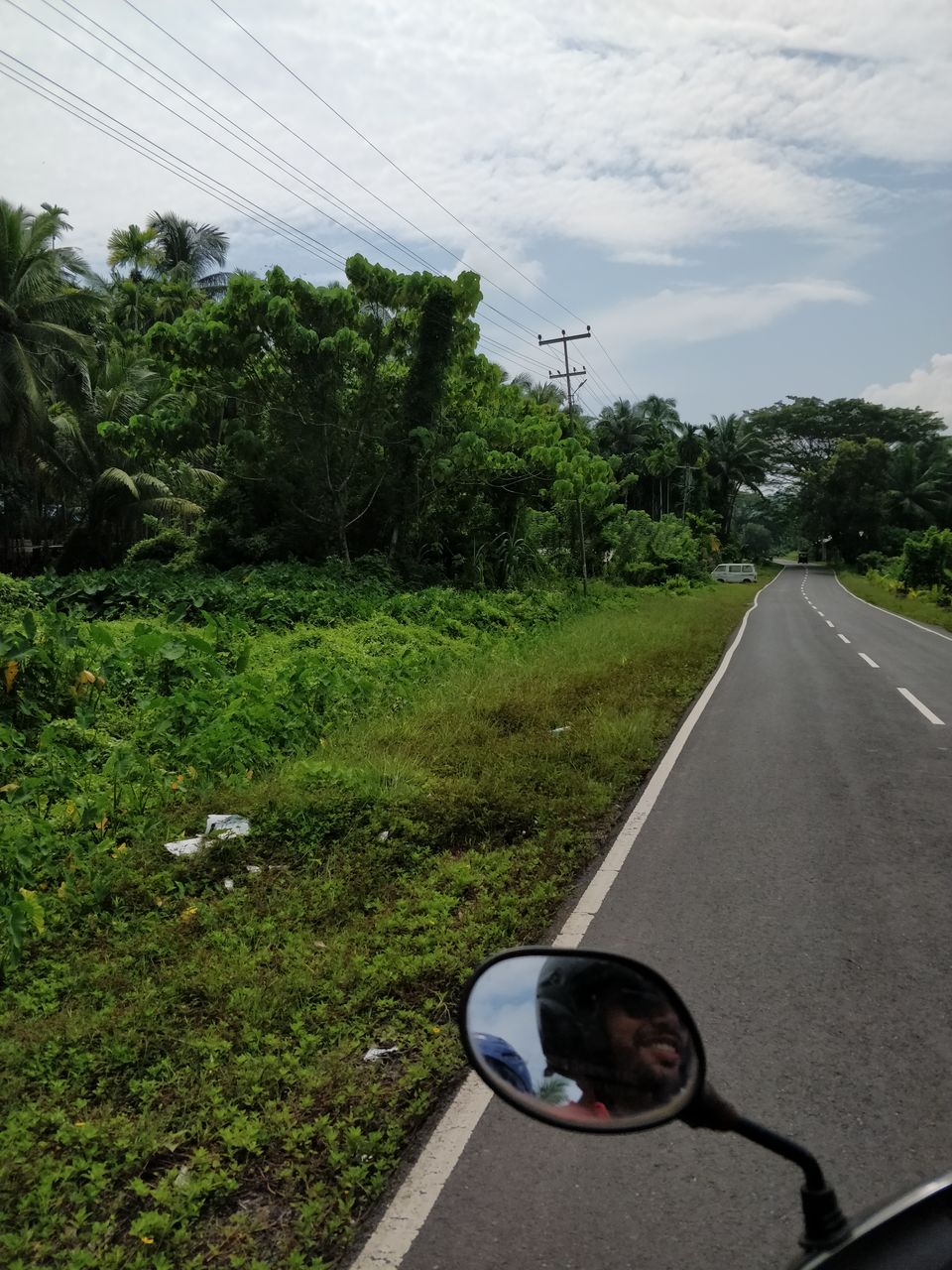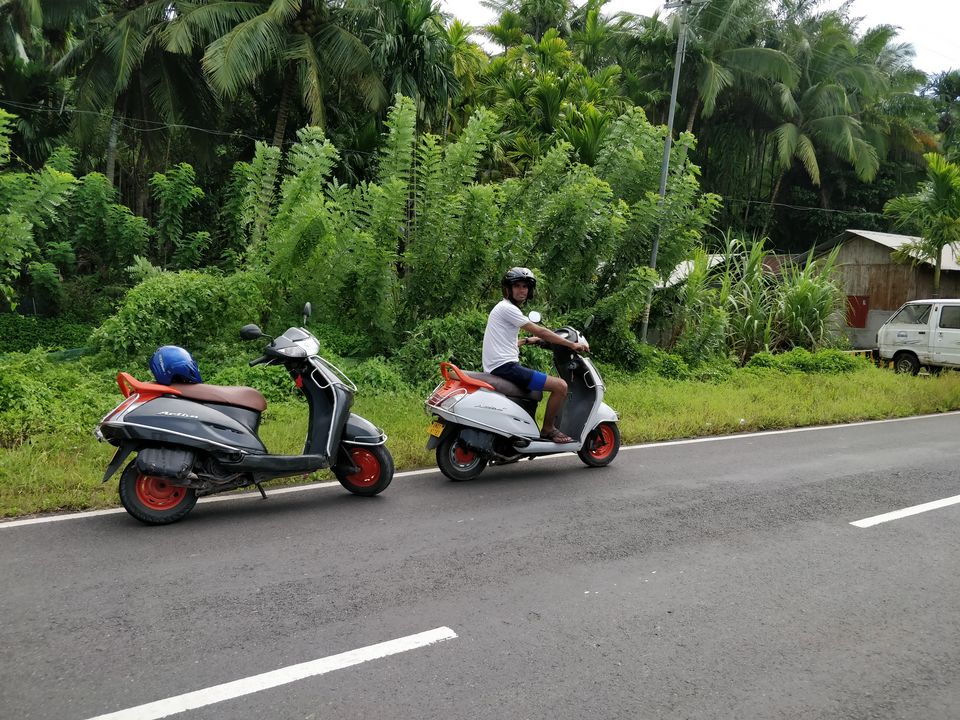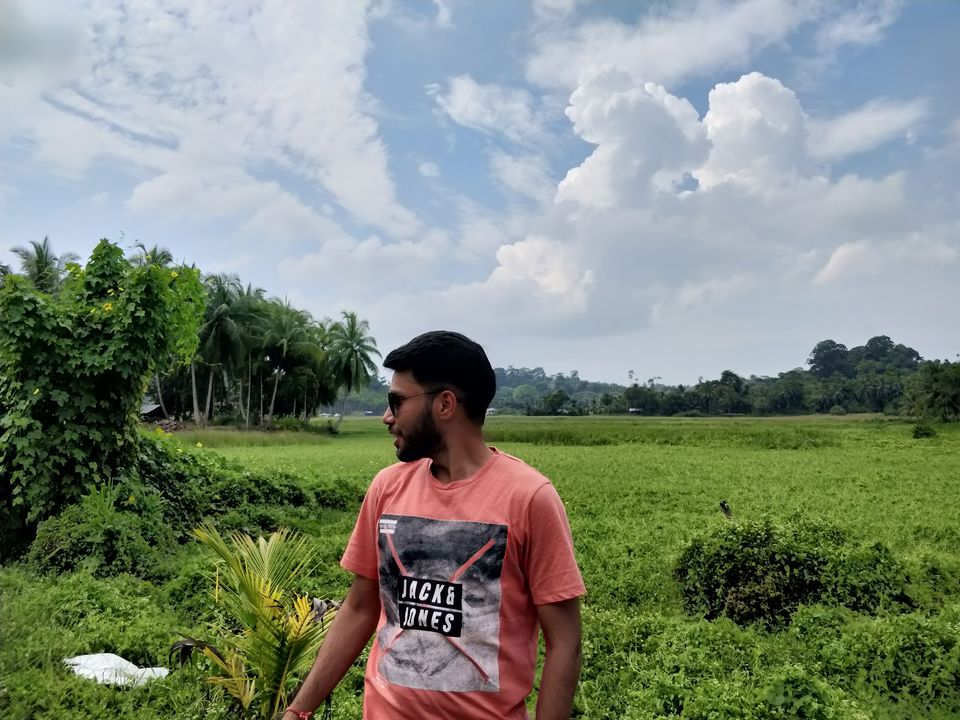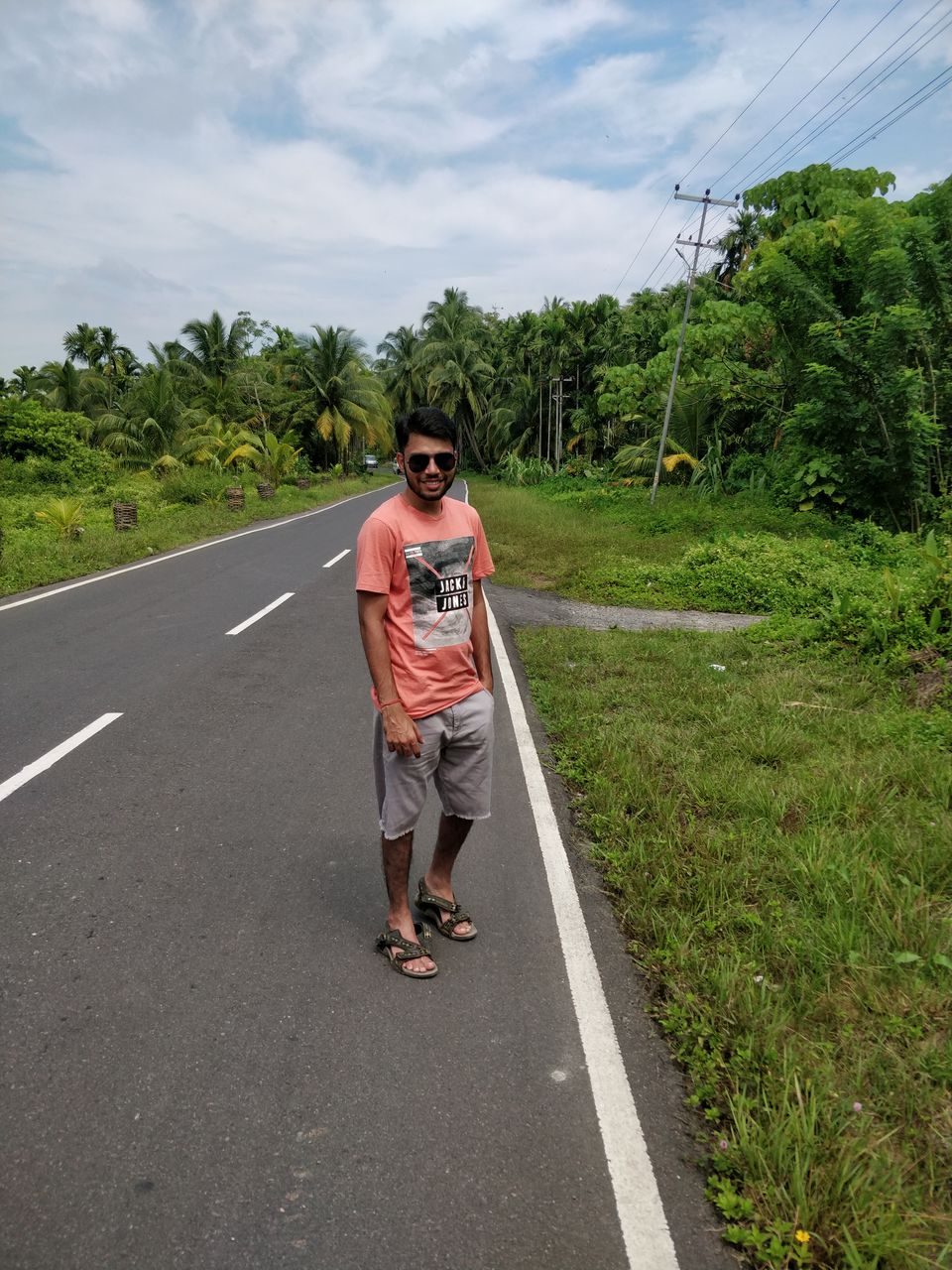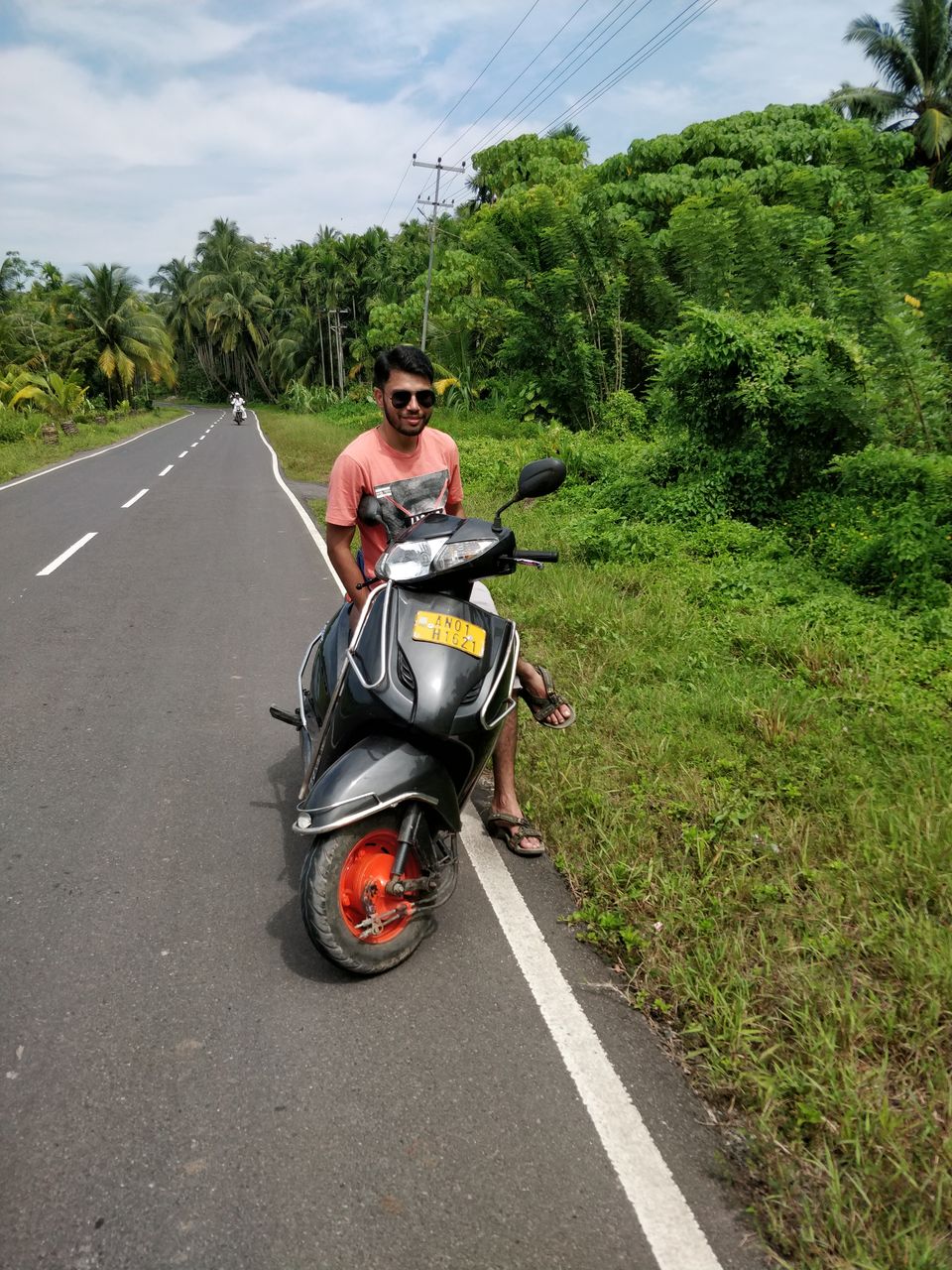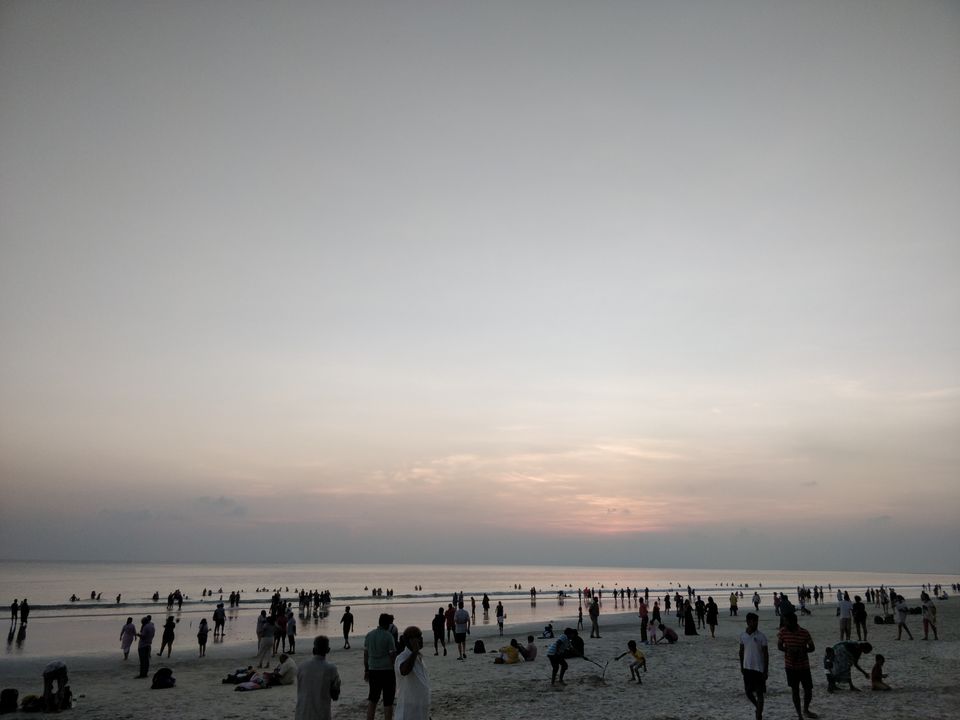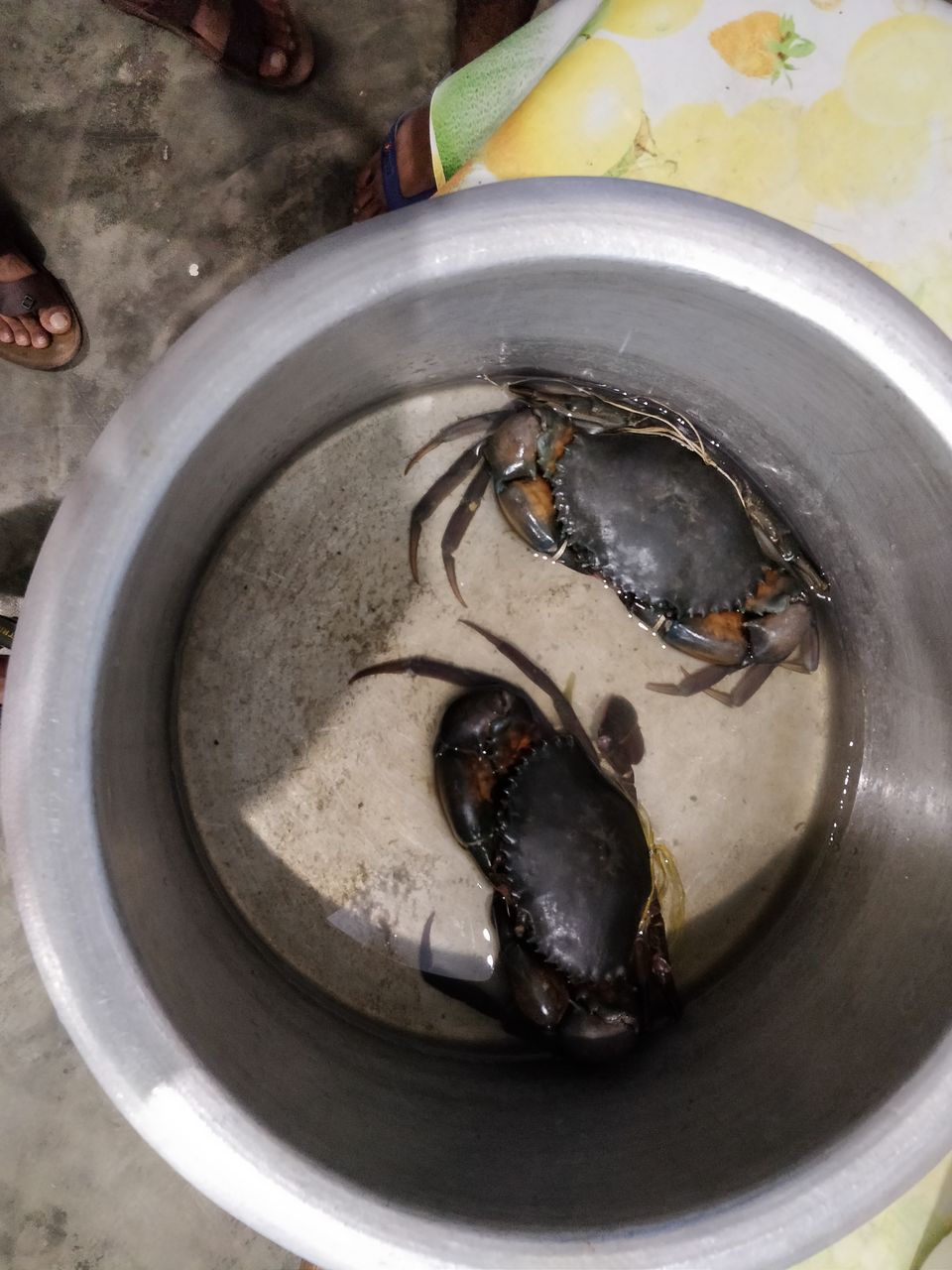 We packed our belongings and we went to nearby Dolphin beach, just utilized and spend remaining time there and enjoyed the view of ocean as our ferry was around 03:00 PM. We could visit Neil Island also but it was not planned earlier.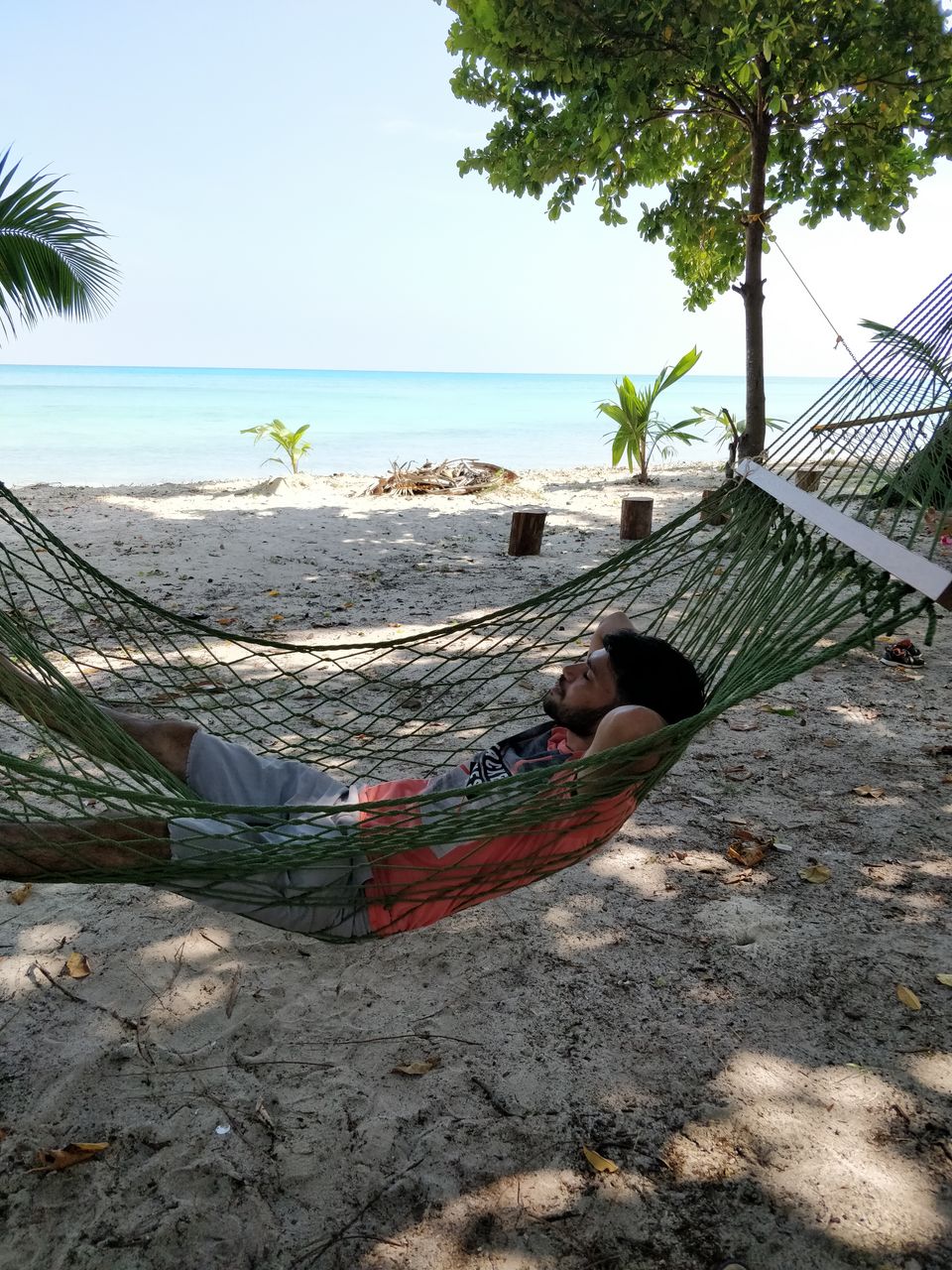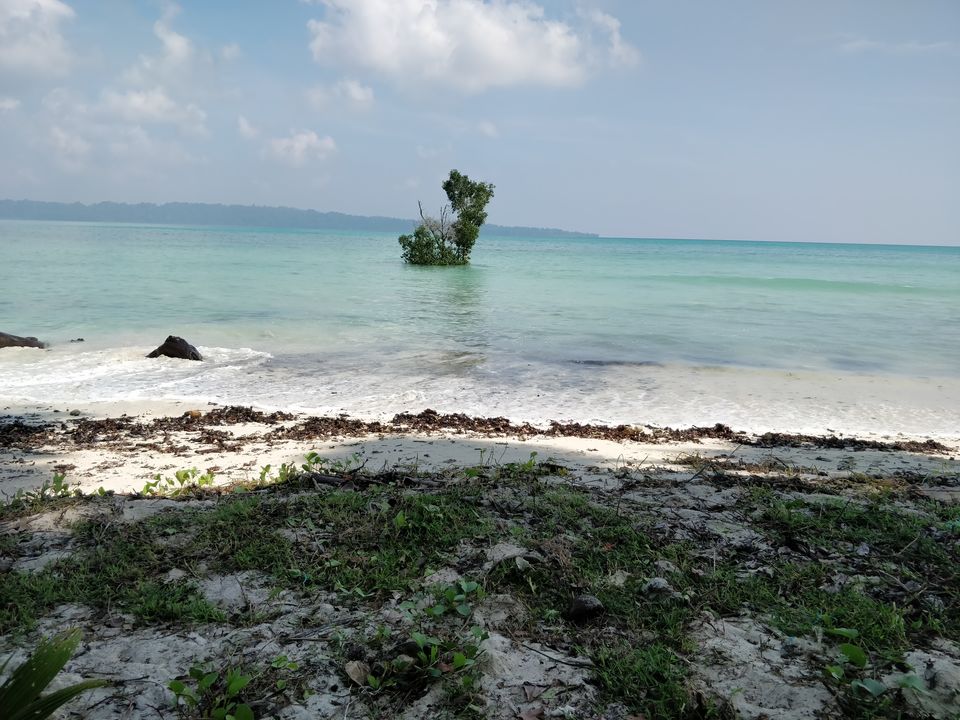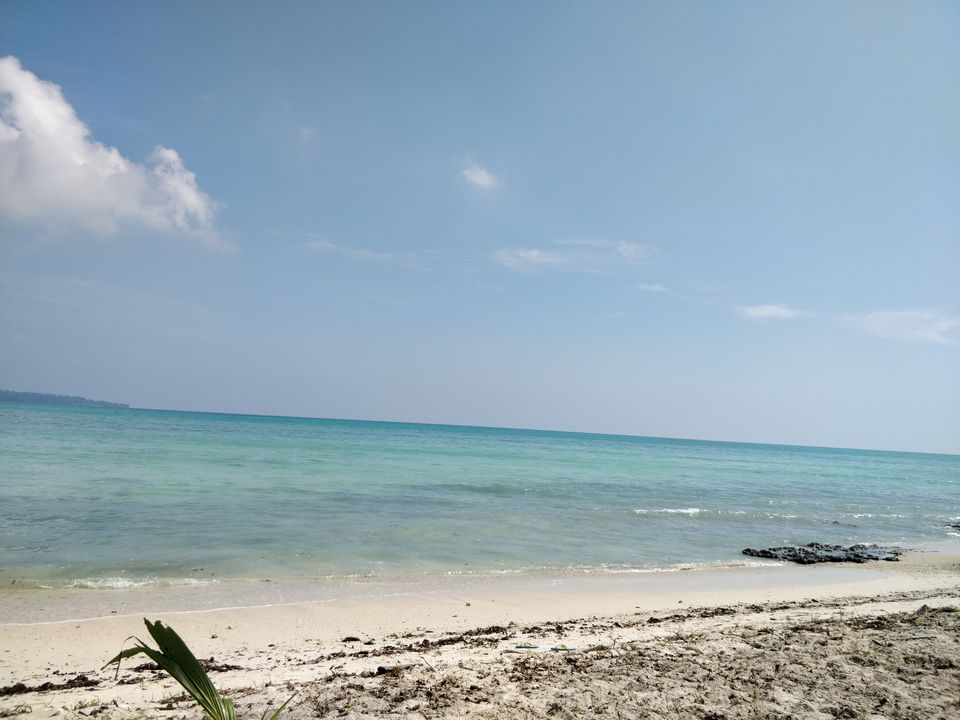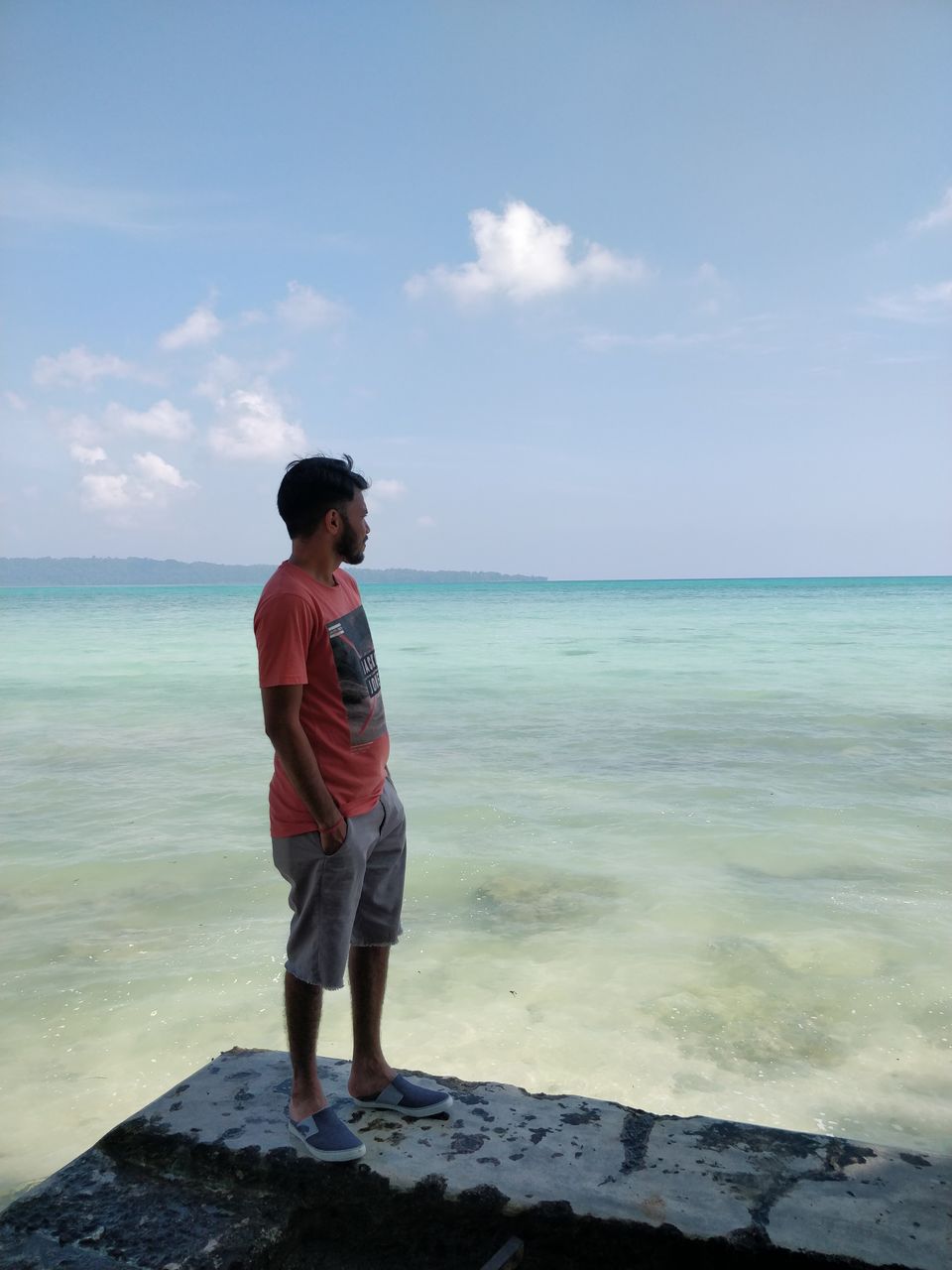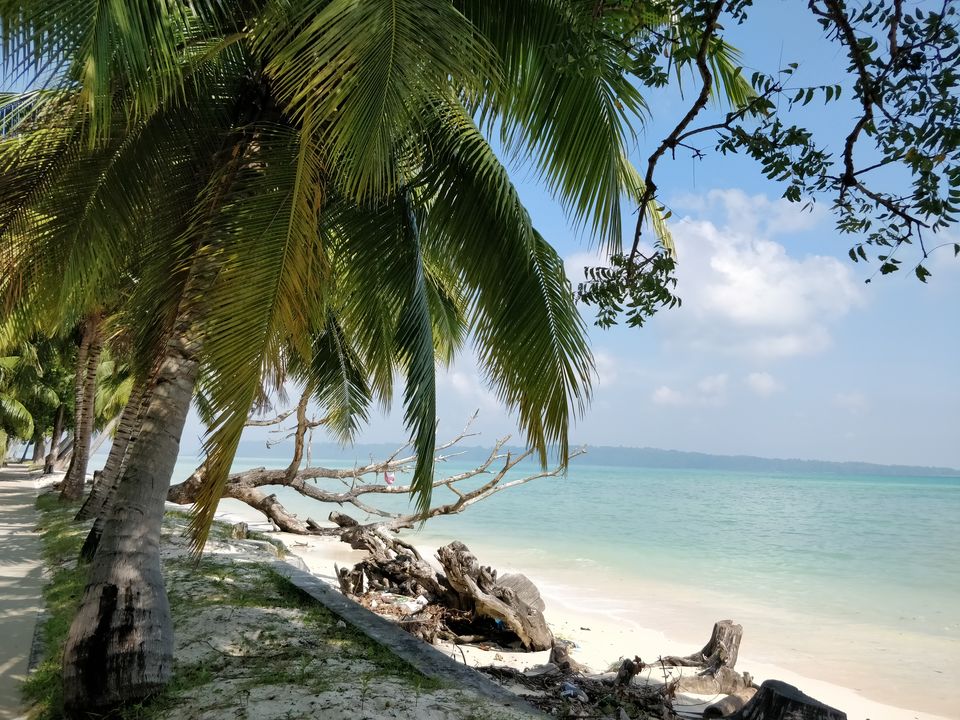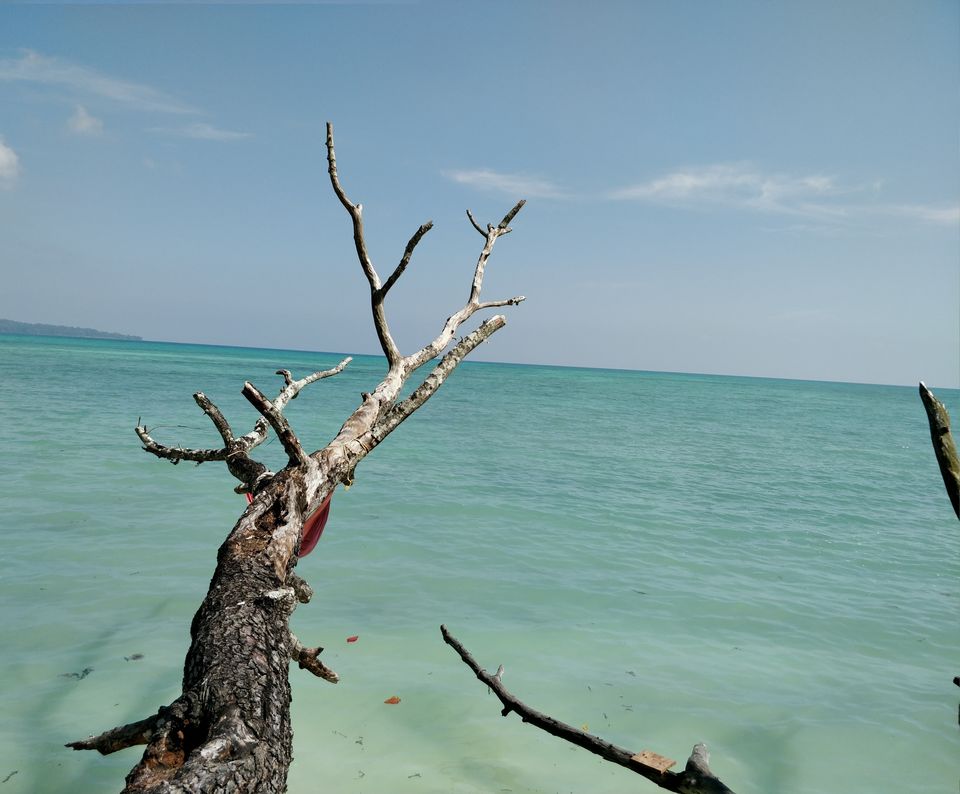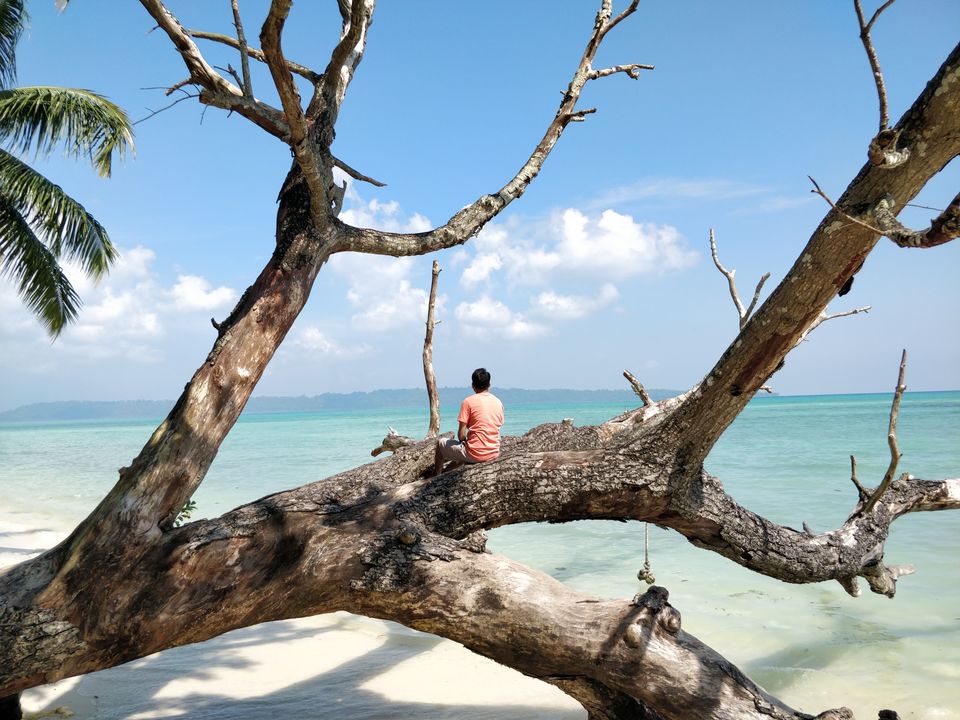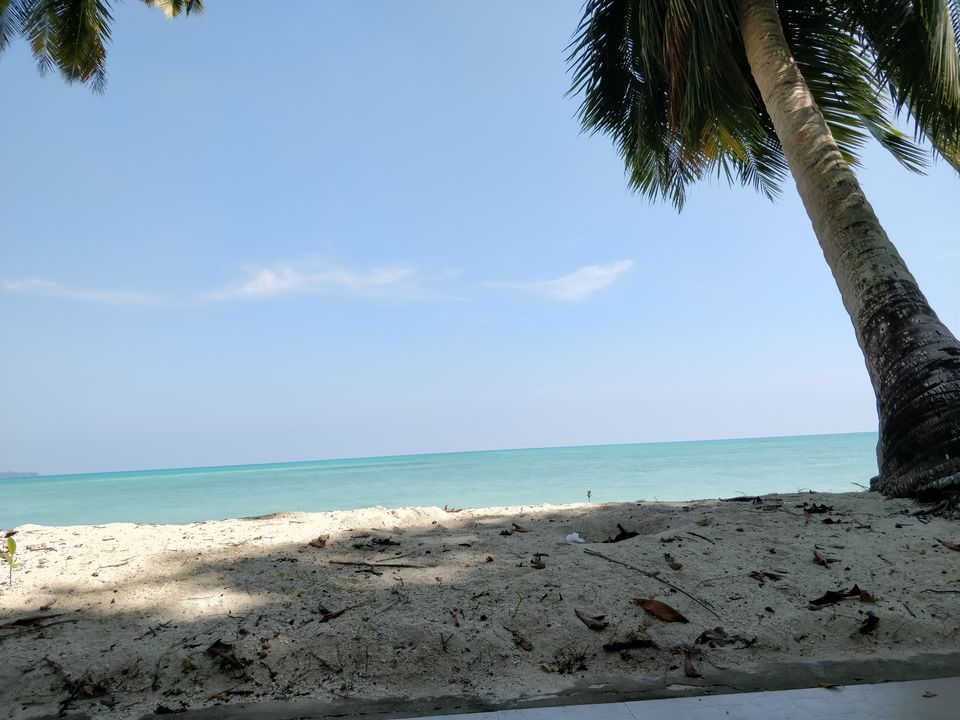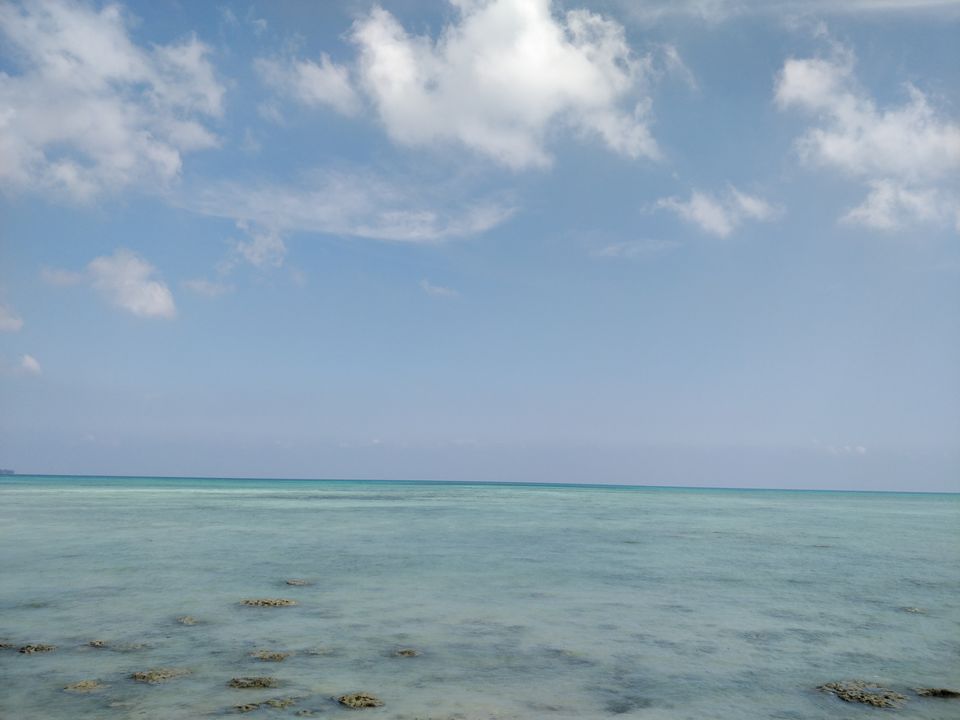 After lunch we left resort to catch the ferry back to Port Blair. We board the government ferry and it was very big in size and it should be called ship instead. While sailing through the ocean, weather changed unexpectedly. It was turning intense but yet beautiful, amazing and alluring. I didn't able stop myself, shot some pics as I love clouds and that time was perfect and enjoyed the time with a cup of tea and snacks. We reached Port Blair in the evening around 7 and reached hotel and took dinner.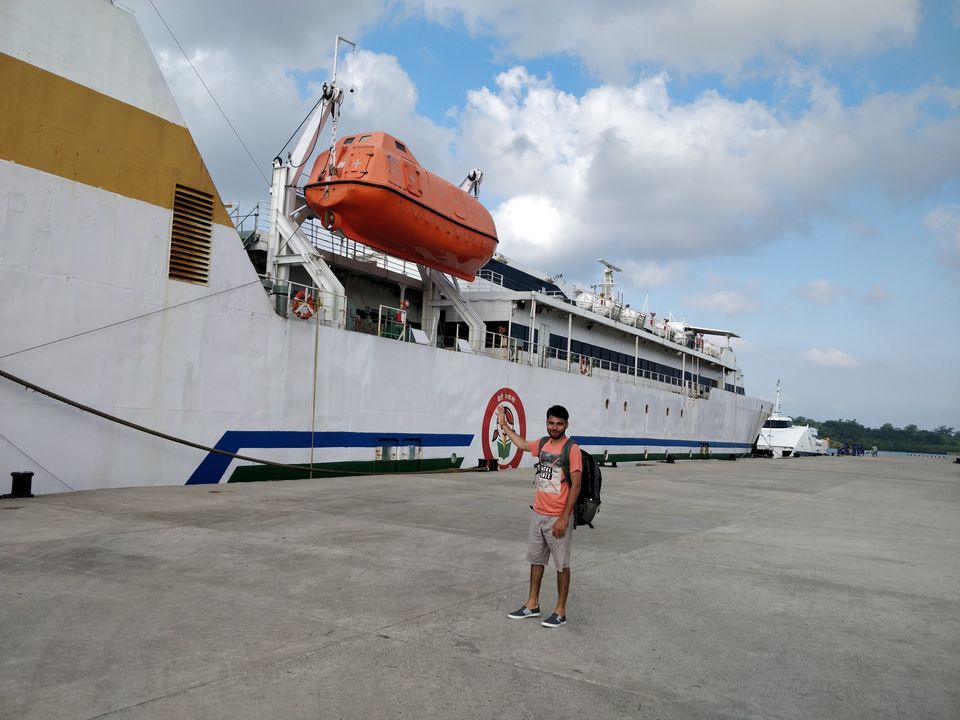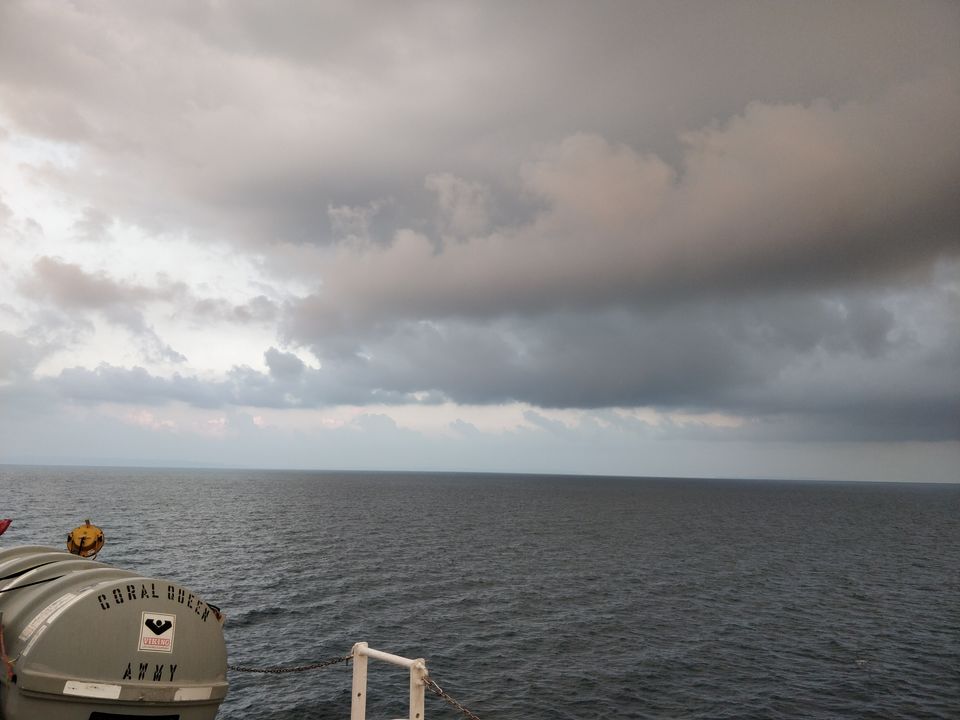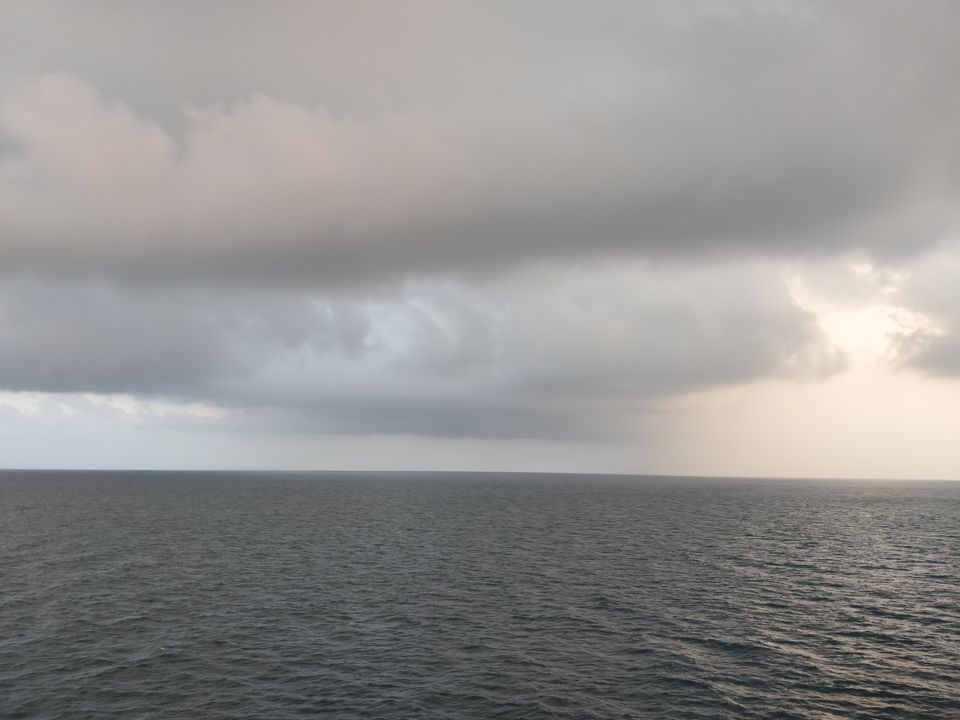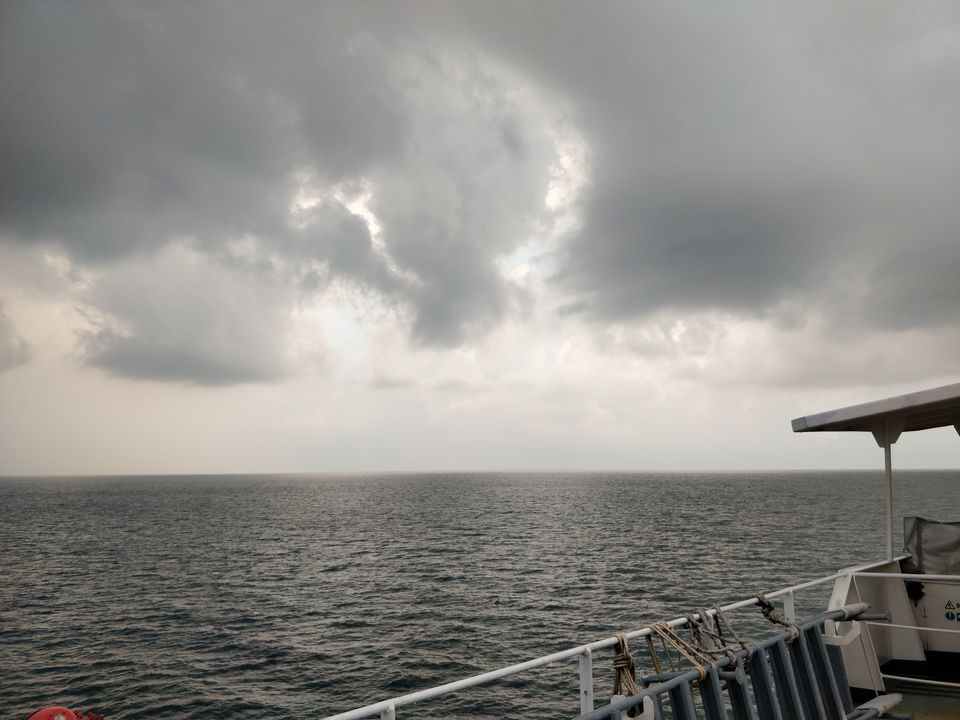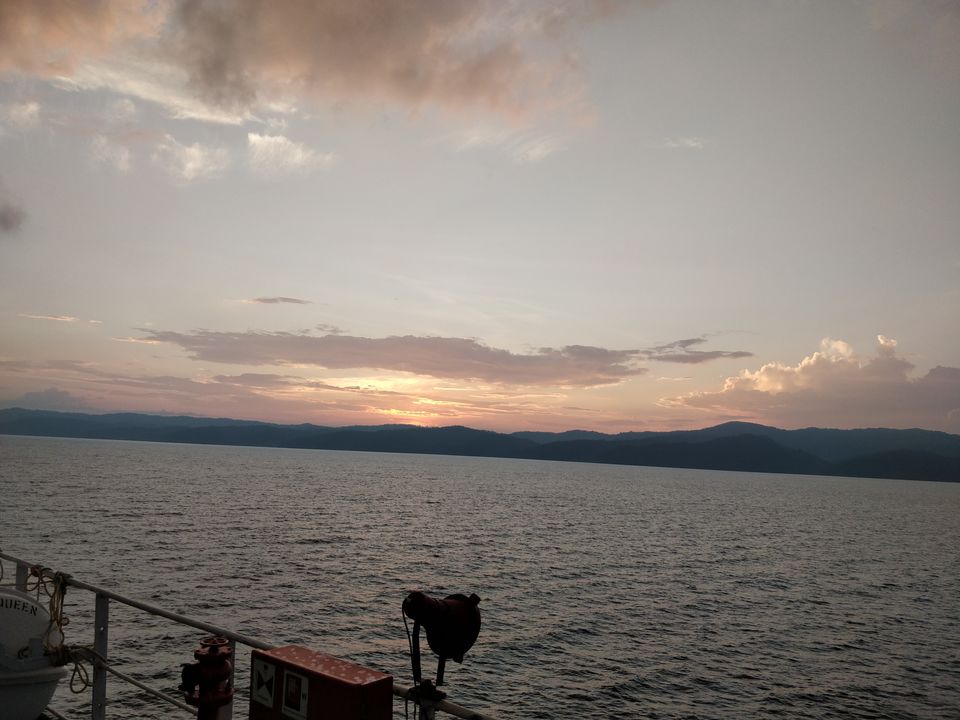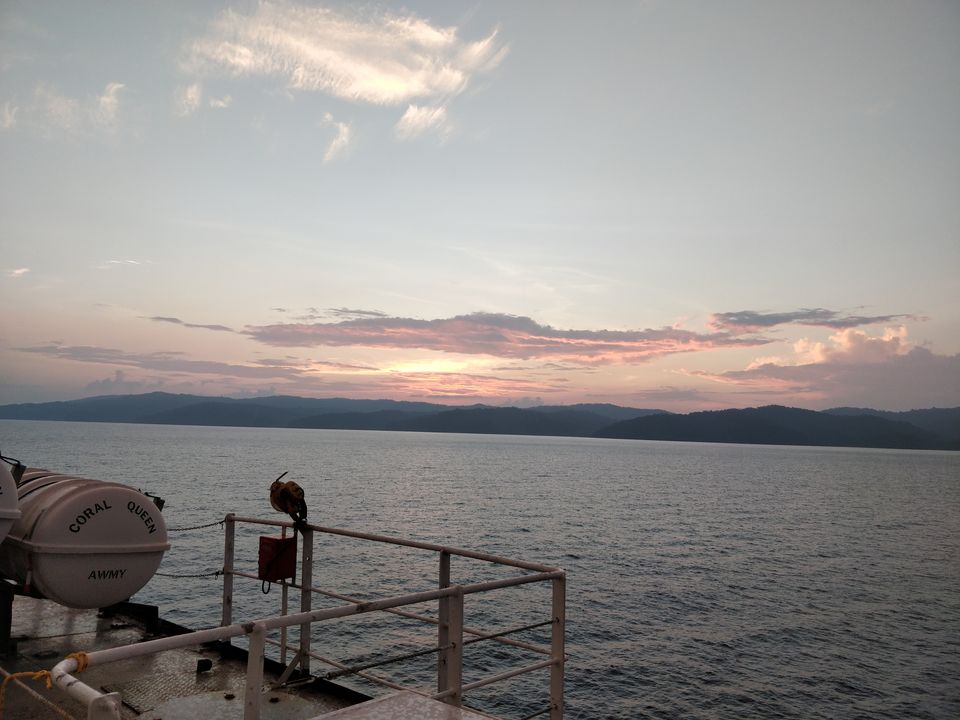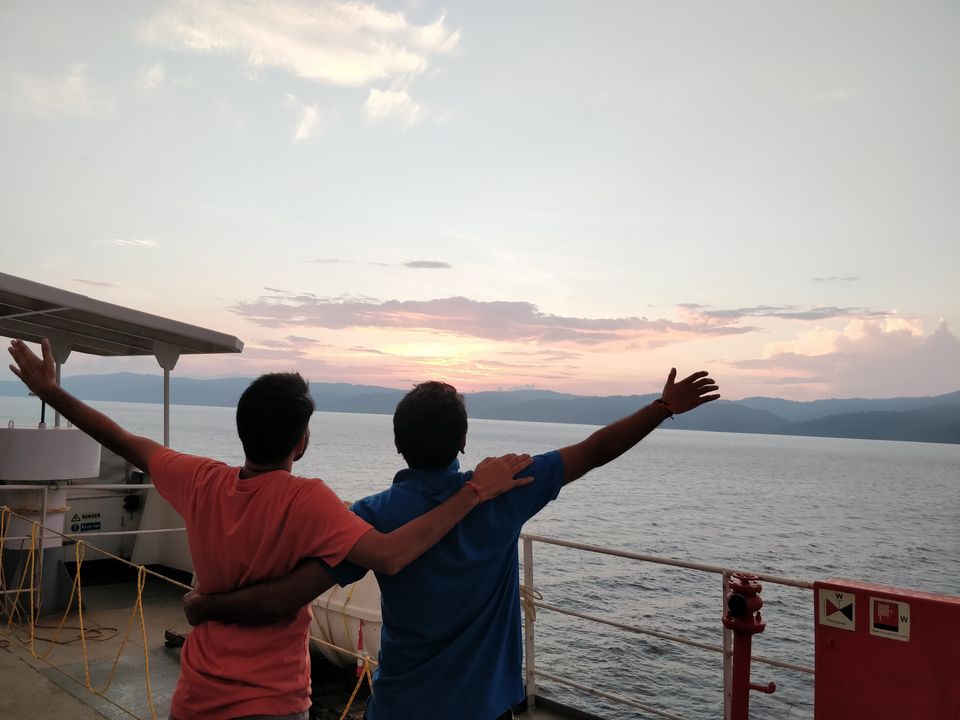 Port Blair sightseeing
After breakfast we decided to visit Cellular jail. We took an auto for cellular jail, after reaching bought entry tickets. The jail campus is now a historic site which used to have seven blocks, but now only three blocks are present. There is a museum also inside the campus where some old things has been showcased with brief information for people visiting to understand that time. We bought tickets for Sound & light show at Cellular jail at the time of leaving the place as we thought that tickets might not be available in the evening. Then we thought of doing Para Sailing at North Bay Island which can be seen from shore and just few miles away but unfortunately boat service was not available as wind was blowing fast and according to local administration had ordered shut boat service due to this. So, we decided to have North Indian lunch as we were missing it. So we searched a restaurant near the Marine museum and food served was very tasty that we were not expecting before eating. After having lunch we went Samudrika Marine Museum that is normal place where preserved species and skeletons are being showcased. From there we went Marina Park it felt like Central Park of Port Blair, we roam there for sometime then we go to Cafe known as Marina cafe inside the park, sit there for some rest also had some snacks with coffee. It was evening now, so we went to Cellular jail for sound & light show. Night show was average, it is like storytelling of things used to happen in cellular jail.