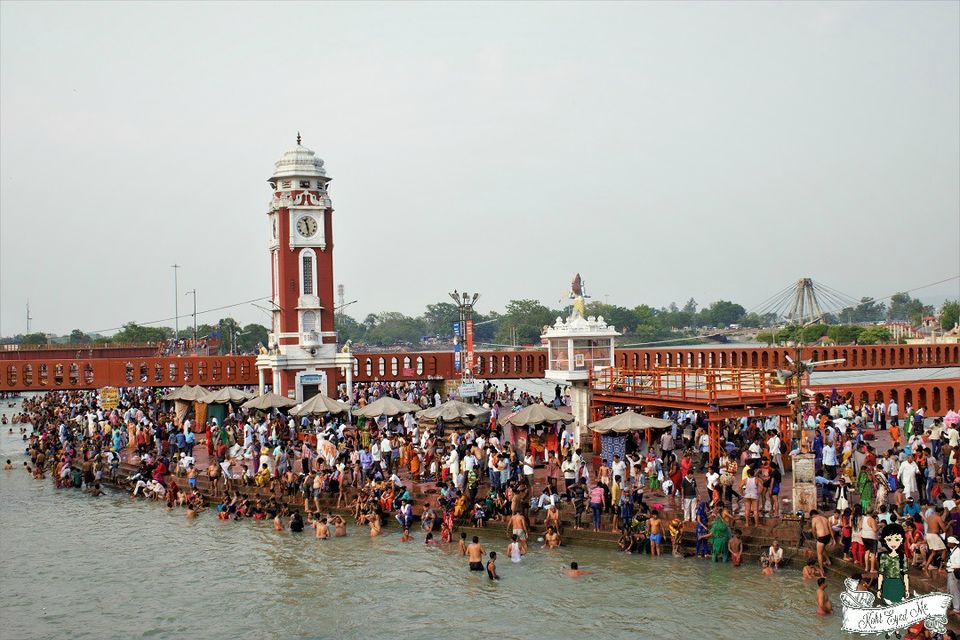 Har ki Pauri meaning the Footstep of God is one of the most sacred Ghats in Haridwar, at the bank of river Ganga.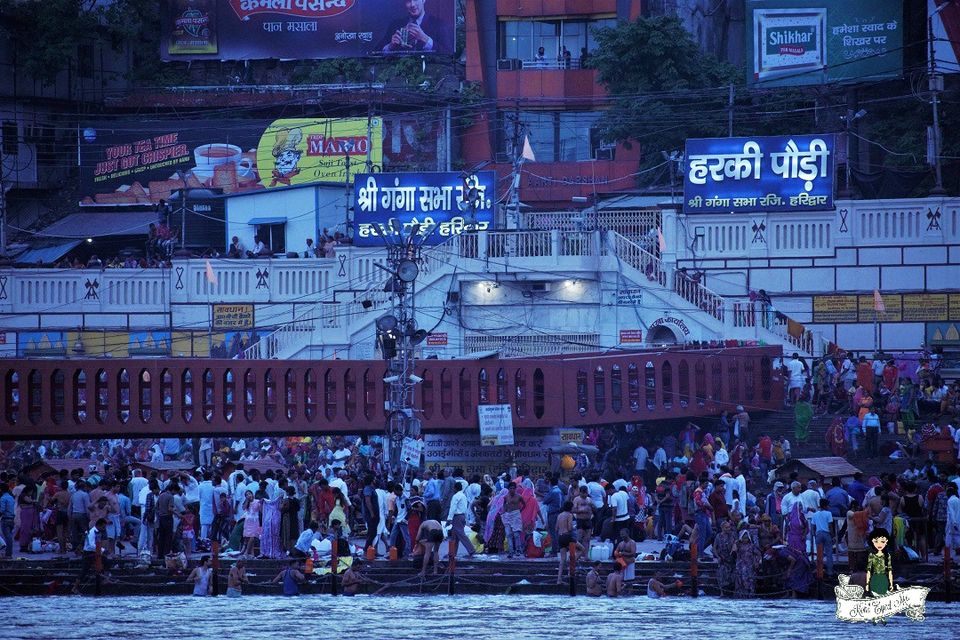 When I visited Har ki Pauri, I was overwhelmed with a sense of serenity and peace. It may or may not be because I know that if you bath in the river, you will be cleansed of the sins in the present and previous lives and achieve Nirvana. The Ganges in Haridwar is clear when compared to Varanasi and I feel, it is best to take a holy dip here if you are concerned about pollution. The holy dip in the Ganges was so refreshing. Even in the hot summers, the water is icy cold. It is not so deep as well. There are iron chains and grills for safety. The changing rooms for women are, however, few.
2. Ganga Aarti
Even if you are only a traveler or a photographer, you do not want to miss this religious prayer that happens in the bank of river Ganga.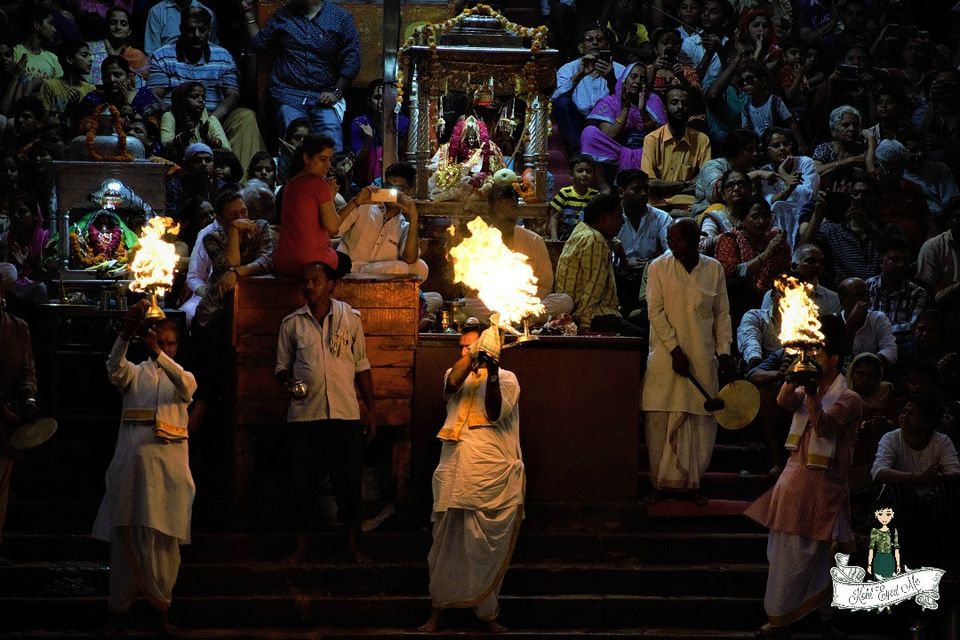 Ganga Aarti in Har ki Pauri, Haridwar is a sight to behold. The priests perform prayers for river Ganga in synchronization, with fire and ringing temple bells. Thousands of tourists and devotees come here every day to attend the ritual. As fate would have it, we had the lucky chance of making it on the day of Buddha Purnima. The Aarti was to start at 7 pm and we found ourselves seated on the opposite bank at 5.30 pm itself. Oh, the crowds were already filling in along both the banks at this sacred Ghat. By 6.30pm, Har Har Gange, Jai Ma Gange started to fill the air. The priests chant live and you can hear them through loudspeakers. I was touched when I heard them ask everyone to promise not to pollute the Ganges. You can find uniformed men managing the crowds and asking for donations and a few, selling diyas (lamps) to be floated on the Ganges after aarti.
3. Get on a Cable Car to Chandi Mata and Mansa Devi Temples
Considered as one of the most sacred cities in India, Haridwar is situated at the base of the Shivalik ranges of Himalayas. Every year trillions of people flock here to pay their respect, take a dip in the Ganges, do pooja and to perform the last rites of their loved ones. Come June and July (the month of Shravan), Haridwar bustles with millions of Lord Shiva devotees, known as Kanwarias who come from far and wide to attend Kumbh Mela, the largest religious gathering in the world. It's a photographers' delight as you can spot some uncommon sights then.
Things to do in Haridwar
1. Take a holy dip in the Ganges at Har ki Pauri
The first thing we did upon reaching Haridwar was to get a combination ticket for the cable car to visit the Chandi Mata and Mansa Devi Temples. These temples are situated on opposite hills and can be also reached by foot. However, the cable car experience was great as we could see the beautiful city of Haridwar and river Ganga flowing amidst it all.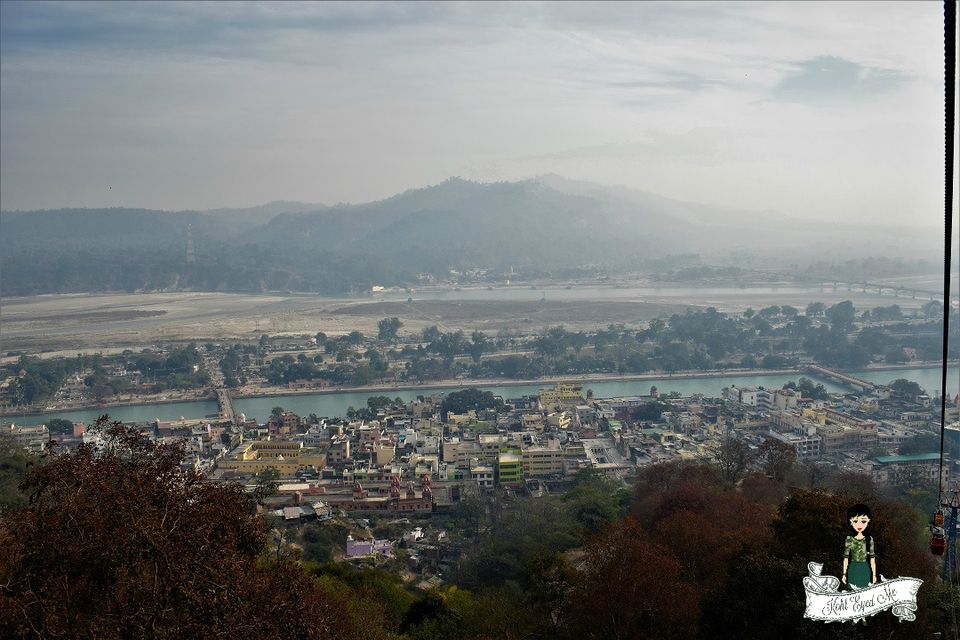 4. Have piping hot Puris and cold Lassi at Mohan Ji Puri Wale
Head over to Mohan Ji Puri wale, the first restaurant at Har ki Pauri, after taking a dip in the Ganges. You ought to try the lip-smacking Puri, Kachori, Halwa, and Lassi.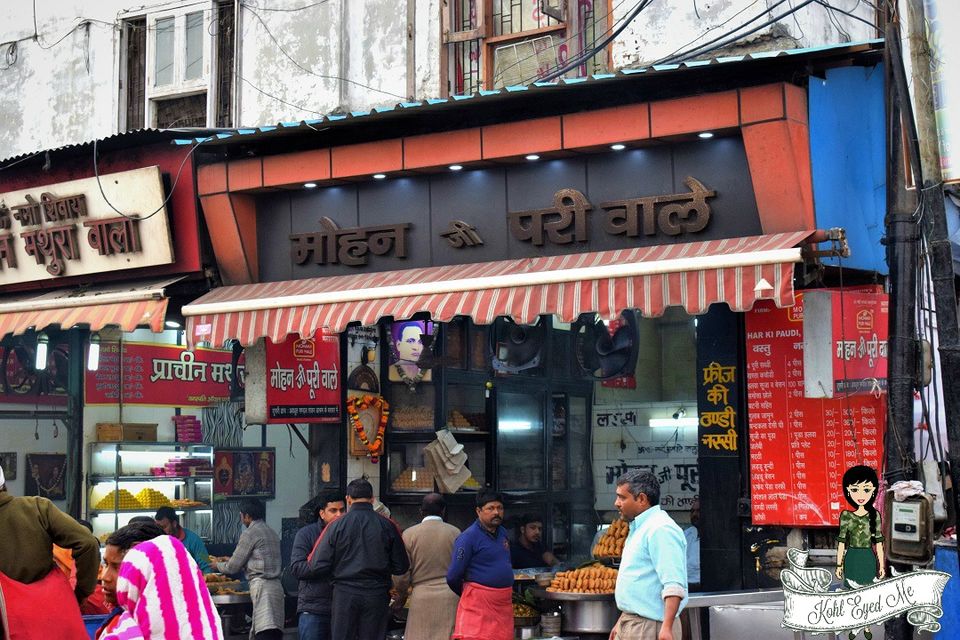 The place is tiny with not many options for sitting though. That doesn't stop the place from being crowded almost all the time. You can spot diners standing outside the joint, having their Puri-Sabzi served on a leaf. They serve excellent coffee during winters.
5. Shopping at Bazaars
The first thing you notice upon reaching the Har ki Pauri Ghat are the colored water bottles hung on the outside of all the shops, in different shapes and sizes, from about a cup to a gallon. You can buy these to carry the holy water of Ganga, to keep at home. It is sacred and is believed to ward off all evils.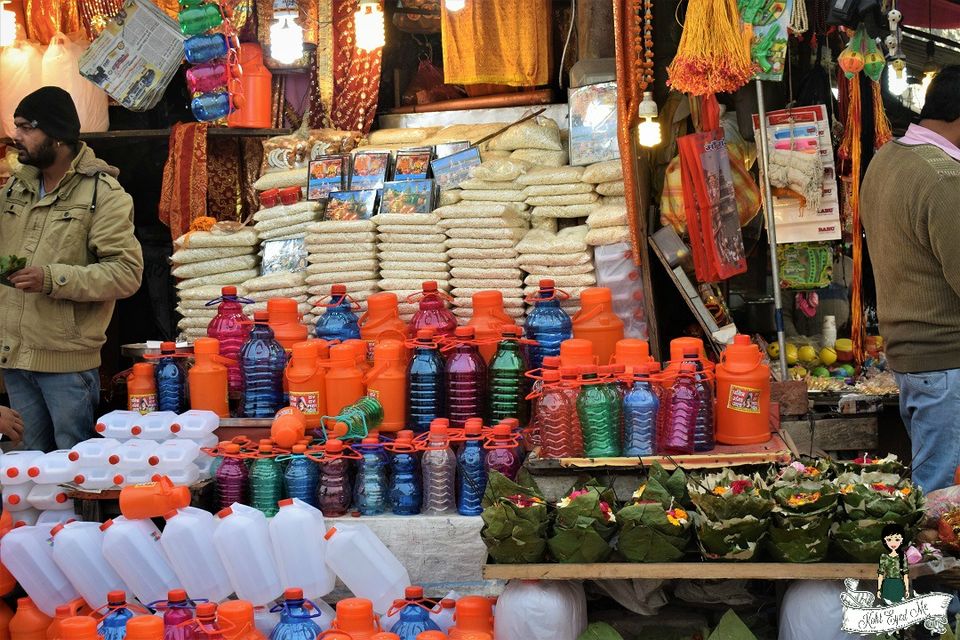 There are several shops where they sell rudraksha, idols, saffron clothes and many other things. You can also find things made of wood, like ladles and items for home decor.
What else can you do in Haridwar
Haridwar is one of the popular pilgrimage centers of India. There are professional Yoga training centers as well. You can also visit the ashrams to know the lifestyle and work culture here.
You can also visit this 100-foot Lord Shiva statue situated on the banks of the Ganges.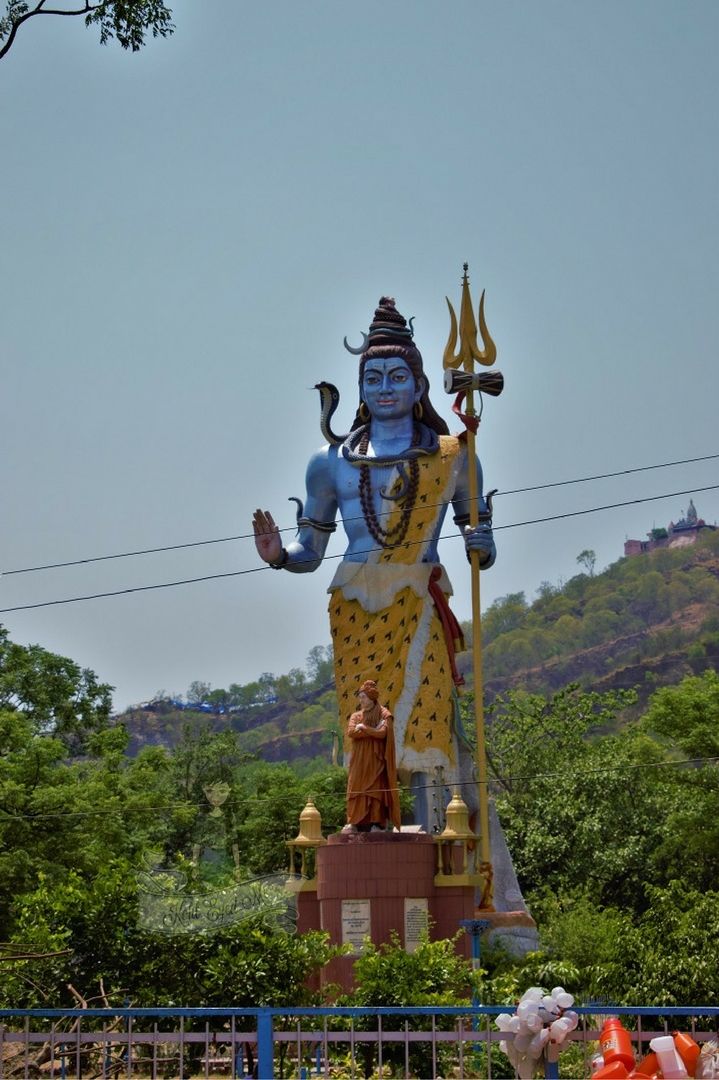 How to reach Haridwar
Haridwar is easily accessible by road from all the major cities in North India. It is about 200 km from Delhi. Hop in a bus, cab or train to reach the place.
Have you been to Haridwar? I would love to know about your experience.