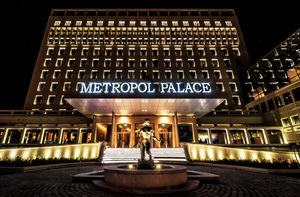 Places to stay near
Hotel Metropol Palace
Cozy flat in center, Spec Discount!
Enjoyable room at the city center
Reviews of
Hotel Metropol Palace
•
1
The Hotel Metropol Palace was renovated in 2012 and features 2 restaurants and elegantly decorated accommodations with free Wi-Fi. It's only 400 meters from the heart of Belgrade and overlooks Tasmajdan Park. It's perhaps the most luxurious hotel in Belgrade and has hosted Belgrade's most esteemed guests. Metropol was one of Tito's favorite hotels, where he held many gatherings, attended by A-list guests, ranging from movie stars to leaders of states. With the recent renovations, it has been modernized, but still retains the luxury setting you would expect from this historical hotel.
Attractions near
Hotel Metropol Palace