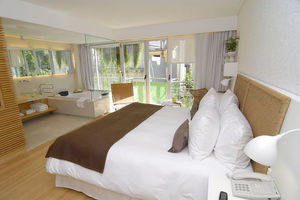 Casa Calma Wellness Hotel Hotel
Places to stay near
Casa Calma Wellness Hotel Hotel
CENTER❤BA! apt. 9 de Julio Ave.
Modern & cozy apartment in Palermo!
Beautiful Room in Palermo Soho
Cozy room in historic building
Beautiful Studio in Palermo Soho.
Reviews of
Casa Calma Wellness Hotel Hotel
•
1
Finding the perfect hotel in Buenos Aires could be a bit traumatic. Either you up your budget and pick a lovely luxury option (Like the Four Seasons that is raved about by the tourists) or you go for more of a bread and breakfast kind of a deal. Between these two options lie the Casa Calma, a boutique, classy hotel that gives you luxury at the best rates. It is cozy, quiet, comfortable and has the best access to the city.
Attractions near
Casa Calma Wellness Hotel Hotel