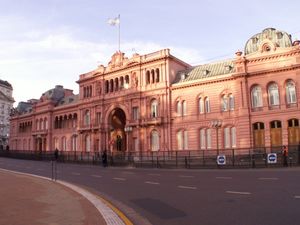 Casa Rosada & The Presidential Museum
Places to stay near
Casa Rosada & The Presidential Museum
Purobaires Hotel Boutique
CENTER❤BA! apt. 9 de Julio Ave.
Modern & cozy apartment in Palermo!
Beautiful Room in Palermo Soho
Cozy room in historic building
Reviews of
Casa Rosada & The Presidential Museum
•
1
There are a lot of historic and politically important structures in Plaza de Mayo, but this one deserves a special mention. If you know of anyone who has visited this city, you will definitely find a picture of this building on them. This is mostly because this lovely rosy structure instantly catches your eye. One of Argentina's National Historic Monuments, Casa Rosada is used by the executive wing of the President of Argentina. It's baby pink colour is what brings the charm and makes it stand out amongst the rest. There is a museum inside that record the history of all of Argentina's Presidents. There is quite a lot of security here but generally the place is quite tourist friendly.
Attractions near
Casa Rosada & The Presidential Museum