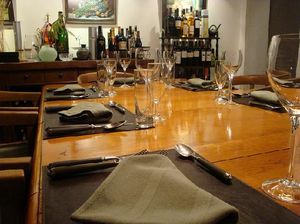 Places to stay near
Casa Saltshaker
Purobaires Hotel Boutique
CENTER❤BA! apt. 9 de Julio Ave.
Modern & cozy apartment in Palermo!
Beautiful Room in Palermo Soho
Cozy room in historic building
Reviews of
Casa Saltshaker
•
1
One of the most unique and adventurous concept of Argentina is Puerta Cerrada, meaning Closed Door dining. This basically means you are invited into a chef's house (a small restaurant looking place) and are served delicacies right from his kitchen. A very personal gourmet experience this concept is very famous in Buenos Aires. Casa Salt shaker has been running for around six years now with two magnificent people, Chef Dan Perlman and host Henry Tapia invite tourists in to taste some dishes created specially for them. The largest group they allow is of 12 people and it is a great cultural and social experience to eat together. You are sure to meet some interesting people and even if you don't, the food is to die for!
Attractions near
Casa Saltshaker