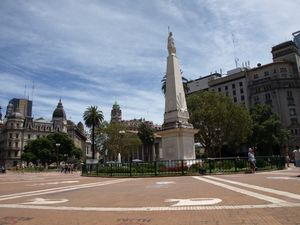 Plaza De Mayo - Talcahuano
Places to stay near
Plaza De Mayo - Talcahuano
CENTER❤BA! apt. 9 de Julio Ave.
Beautiful Room in Palermo Soho
Cozy room in historic building
Beautiful Studio in Palermo Soho.
Recoleta Studio enAyacucho y Melo
Reviews of
Plaza De Mayo - Talcahuano
•
1
Here we were at the heart of this romantic city. Plaza De Mayo is usually the first place tourists visit in Buenos Aires and rightly so. Built in 1850, it is the center of political life in Argentina. A walk around the plaza will alone tell you of the Argentinian pride for their Independence from Spain. Lined with 19th century buildings, and some of the city's major landmarks, a walk down this square is like a walk down Argentina's history. There is much to learn and watch here!
Attractions near
Plaza De Mayo - Talcahuano