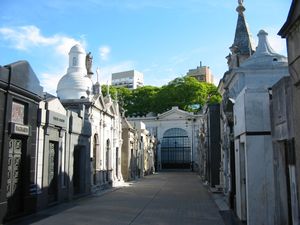 Best Months
September - May
Rank
3 out of 587 attractions in Buenos Aires
Places to stay near
Recoleta
Purobaires Hotel Boutique
CENTER❤BA! apt. 9 de Julio Ave.
Modern & cozy apartment in Palermo!
Beautiful Room in Palermo Soho
Cozy room in historic building
Reviews of
Recoleta
•
1
This large downtown district is enticing when it comes to both history and Architecture. It is the most affluent neighborhood, with chic buildings and expensive hotels. Apart from walking on its wonderful, meandering streets, there are quite a lot of things to do here. The most popular spot here is the Recoleta Cemetery, which is like a huge cemetery. It is amongst the top 10 cemeteries of the world (yes, there is such a list!) and has tombs of many important people, like most of the past Argentinian Presidents and Napoleon's grand daughter. This district boasts of a Parisian style of Architecture and in many ways forms the cultural center of the city. You can find a number of art displays, concerts, plays, cinema etc at the Centro Cultural Recoleta situated here.
Attractions near
Recoleta