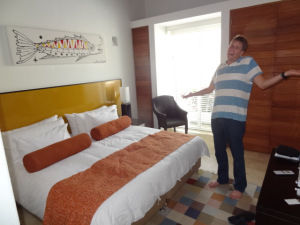 Places to stay near
CASA CLAVER - Calle 32
903apartamento balcon vista al mar
Cartagena, el paraíso del Caribe.
APPARTEMENT EN FRONT DE MER
Quality, Price, View, On the Beach
Reviews of
CASA CLAVER - Calle 32
•
1
Jeff and I splurged on a pretty nice boutique hotel, Casa Claver, within the walled colonial city of Cartagena, which is on the Caribbean coast of Colombia. If you know us, we usually stay in crappy quaint hostels or homestay type places — that is how we afford to travel. Since it's our honeymoon, we figured we'd step it up. We booked their smallest room, but upon arrival were told (in Spanish) that we were upgraded to a two bedroom/two bath suite with a full kitchen and living room too.
Attractions near
CASA CLAVER - Calle 32