So when my husband and I set off on an indefinite overland adventure starting in Colombia, I had trouble letting go of the detailed planning at first. Our first three weeks were carefully planned - 6 days in Bogota, 6 days in Salento, and 7 days in Medellin.
A Change of Plans
But when we got to the Caribbean coast, something strange happened. We were sitting in Mamallena hostel in Cartagena, and noticed an advertisement for a new location that they just opened in Rincon del Mar. "What if we went there?", I mused to my husband.
We did about 1 hour of research and found out that:
1) Almost nobody travels southwest down the coast to Rincon del Mar.
2) Part of the journey there would require us to ride on the back of a motorcycle taxi while balancing our backpacks.
3) There is a grouping of picture perfect and little known islands an hour by boat from Rincon called the San Bernardo Islands. You can only make the journey if the seas are calm enough for the small lanchas to pass through the open waters.
For the first time in my life, I decided to make an impulsive travel decision. And to add to that, we were heading to a very undeveloped area with little to no information. This must be what an adventure feels like!
How to Visit this Remote Paradise
There are only a handful of guesthouses in this mostly un-touristed and tiny fishing village. I highly recommend staying in Mamallena Hostel, Rincon del Mar. The manager was friendly and helpful, the rooms are basic but comfortable, and the price is great. Plus the hostel is directly in front of the water, with it's own common hangout area on the beach.
This town was one place I have felt truly out of my comfort zone. Locals are not used to tourists so it feels very different from other tourist destinations. It was amazing to see a little village operating as it would have decades ago, not catering to the whims of travelers. However, once you make an effort with locals, they're friendly to you as well. The kids run around all day, ask you your name curiously, and play games on the beach.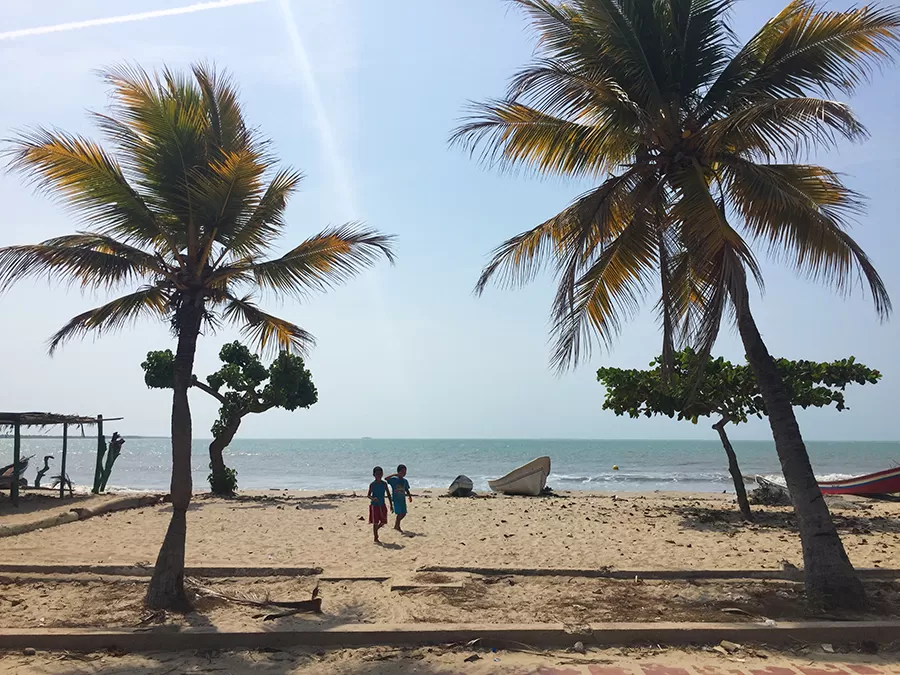 Getting to the San Bernardo Islands
You can arrange a day trip to the San Bernardo Islands from Rincon del Mar, or arrange to stay overnight and be brought back the next day. The cost of the day trip tour is very reasonable at 40,000COP pesos per person.
Be sure to arrange the trip as soon as possible when arriving. The boats can't make the journey if the sea is too rough, so it's best not to leave it to the end of your trip in case there is bad weather.
The day trip will take you to three of the ten San Bernardo Islands. Each one is unique and interesting.
I have always been the type of person who over-plans. Holiday weekends, parties, errands, travel itineraries - you name it and I've done too much research and planned everything down to the minute. Oh and I've probably made a back-up plan too.
You'll most likely start in Cartagena, the biggest tourist destination on the Caribbean coast. From there, head to the bus station. It's a bit of a distance from the city center - 45 minutes or more. It's possible to take a city bus, but we opted to take a cab since we had our big backpacks and wanted to save time. The taxi ride was 20,000COP.
Next find a bus heading to San Onofre. The ride will be about 2 hours and should cost around 20,000COP per person. Buses are air-conditioned and comfortable.
Once out at the San Onofre stop, you'll find motorcycle taxis. Negotiate a fare to Rincon del Mar - it should cost between 8,000-10,000COP per person. You will literally get on the back of their bike, hold on to their shoulders and ride 20 minutes down dirt roads to the coast. If you're lucky, you'll get a helmet. They nonchalantly throw your luggage in front of them and balance it between themselves and the handlebars as they drive down the bumpy roads. Getting there is half the adventure!
Spend a couple days in Rincon, swing in a hammock, unplug, and watch the local kids play. It's a truly "tranquilo" place.
Isla Mucura
Mucura is the most touristed island. It has perfect white sand and still turquoise waters. The main swimming area is really incredible with some of the calmest water I've ever seen. You can swim out very far and still be only be waist high in the water. There are also a couple restaurants, hotels, and amenities here.
Santa Cruz del Islote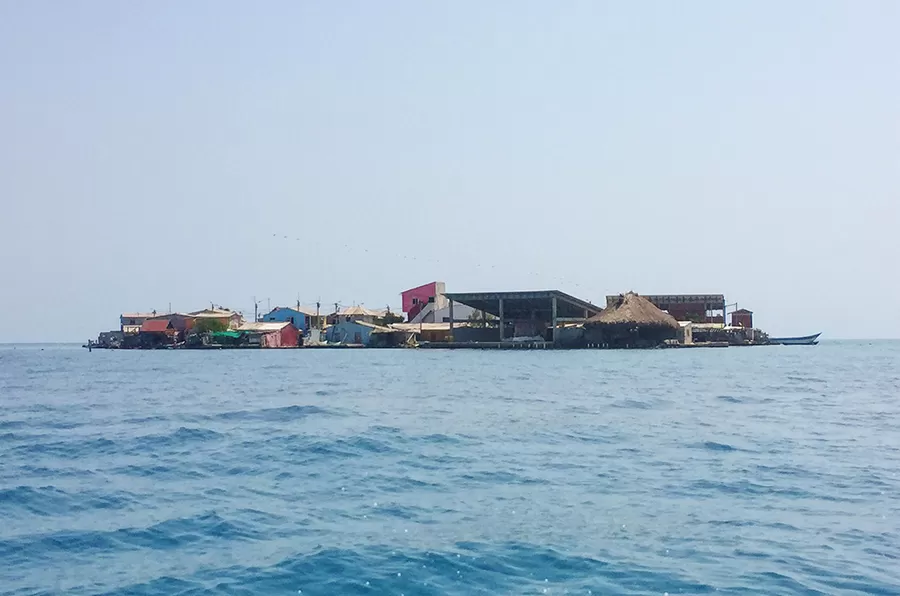 Santa Cruz del Islote is interesting because it's the most densely populated island on earth. It is only ⅛ a kilometer squared (or just over 2 acres) but contains 1,200 people, 90 houses, 2 stores, a restaurant, and a school. Each house is touching the next, the whole island is concrete, and it appears as if almost every square inch is used. There are little walkways and alleyways to walk between buildings, and sometimes you feel as if you are walking through someone's home. Locals were friendly and happy to sell us some paletas (popsicles) from their home so we could cool off on the hot day.
Isla Tintipan
Tintipan was my favorite of the three. It's incredibly gorgeous and very, very quiet. We only saw a handful of other tourists there during our stop. There are several mangrove swamps you will pass through with exotic birds, and the beach is picture perfect. There appeared to be only one restaurant here. We all ordered the fresh fish for lunch and it was delicious.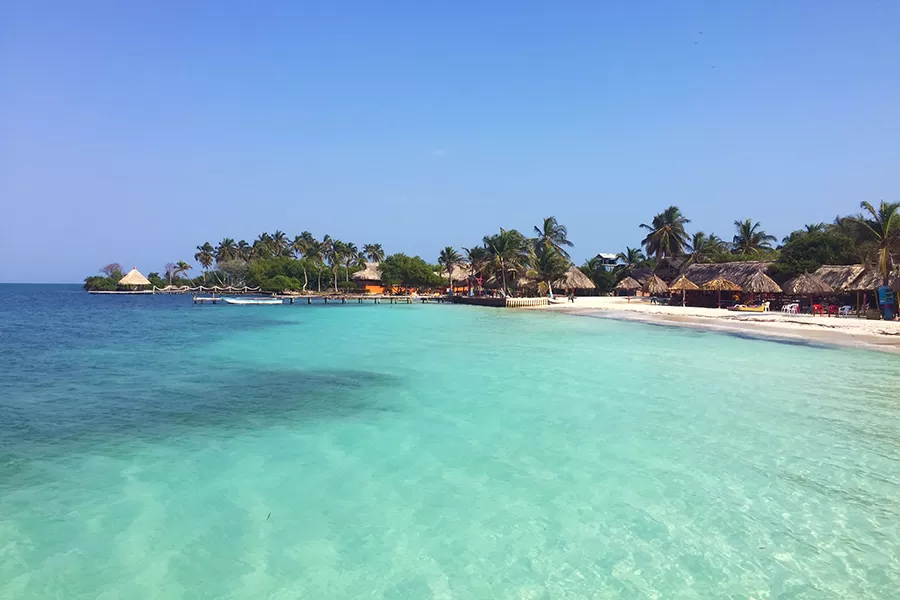 Learning to Let Go
The balance between planning and allowing yourself flexibility while traveling can be tricky to learn. You want to get the most out of your experience, but sometimes you won't know about an amazing place or opportunity until you get there and talk to a local.
This was my first great lesson in learning to let go and go with the flow. And in the process I was able to visit some of the most pristine beaches I've ever seen, as well as learn more about authentic Colombian culture.