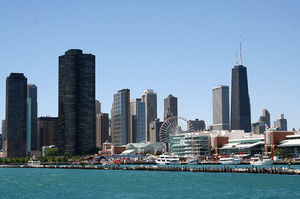 Traveller Types
Families, Couples, Friends
Rank
44 out of 510 attractions in Chicago
Places to stay near
Navy Pier
Cambria hotel & suites Chicago Magnificent Mile
Chicago Heights Apartment
Reviews of
Navy Pier
•
3
A long 3,300 foot pier on the shoreline of Chicago's Lake Michigan, the Navy Pier is a 50 acre play are filled with entertainment, restaurants, activities, museums, and shopping areas which makes it an ideal place to have fun and visit in Chicago. At the time it was constructed in the 19th century, it was arguably the largest pier in the world attracting ships and visitors from all around the world. Inside it is also a Navy Pier Ferris Wheel which is a 150 feet tall structure and looks even more beautiful when fully illuminated in the night.
Navy Pier is sheer excitement! You have boat tours, rides, shopping, food everything. It's a heaven for kids and some of us looking to unleash the child within. The boat tour throughout the city is a good deal mainly if you are short of time. In fall the Halloween decorations are a treat!
Navy Pier was the first place I visited in Chicago.
Attractions near
Navy Pier