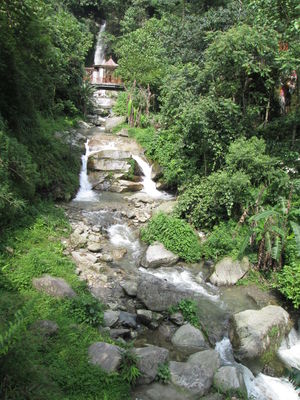 Best time to visit
Months of October and February
Things to do
Sight seeing, Photography
Rank
6 out of 54 attractions in Gangtok
Banjhakri Water Falls
Banjhakri falls is a remarkable touristy spot in Sikkim. There is very popular story behind this spot and its name. The word "Banjhakri" means woodland shaman, now if we separate it further "Boycott" implies primitive and "Jhakri" implies shaman. Shaman is a priest among specific people of northern Asia, viewed as one with recuperating and supernatural forces who can impact the spirits and achieve good and evil. Furthermore, it is these Shamanistic practices that are delineated by means of the dolls in this amusement park. Some of these portray customs, some recuperating ceremonies and others the start process in the life of a shaman. All these are entirely fascinating as is the waterfall that thunders down from a height of say 70 feet. Few facilities have been built for the visitors to go closer to the waterfall and take a shower.This a ideal place for kids to enjoy and is also best for family hangouts.
Places to stay near
Banjhakri Water Falls
Bookman's BnB with café & bookshop!
A beautiful landscape view!
Golden Star Continental & Spa
Reviews of
Banjhakri Water Falls
•
4
Attractions near
Banjhakri Water Falls