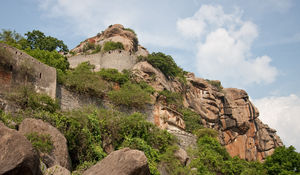 Best time to visit
11:00 AM - 4:00 PM
Open hours
9:00 AM - 7:00 PM
Things to do
history tours, photography
Best Months
September - February
Traveller Types
Friends, Families
Rank
1 out of 1 attractions in Gingee
Gingee Fort
A unique fort in the North Western corner of the Gingee Taluk, this is unique in the sense that the architecture and style of it is very different from that of all other forts of the region. This looks more like a temple from a distance sand it is surprising to see how strong it still stands after withstanding the effects of time asnd natural disturbances even after changing hands from ne dynasty to another. This is not a popular place to visit but to find this out and exploring the location will surely be a memorable experience.
Reviews of
Gingee Fort
•
3
These two forts are around 75 kms apart. A bike trip to the ruins of Alamparai fort along the East coast road is a great experience early in the morning. A not so famous destination, this place offers the perfect tranquil during early mornings or late evenings with a shallow backwater coast along the fort.
The Gingee Fort between Pondicherry and Tiruvannamalai has a magnificent military history. It has seen many rulers acquire it - Shivaji who made it his southern capital, Aurangzeb trying to seize it, the Nawabs of Arcot, the French, Tipu Sultan and the British.The stories, hence, are as colourful as its rulers. Triangulated between 3 hills, the Gingee fort is surrounded by barren hills made of volcanic rock, a dry but nevertheless spectacular scenery. A general feeling of desolation sometimes surrounds Gingee because of its particular landscape, that adds to its very military history. This landscape of barren hills and jagged rocks, makes for a good climb, easy yet adventurous. Apart from the hill fortress, we also visit another hill, Arunachala, more famous for its spiritual past rather than military prowess. Come on the tour for a delectable mix of heritage, culture and a bit of a trek. Have fun shooting, with camera, in this military outpost.
Attractions near
Gingee Fort