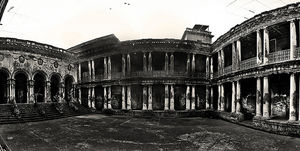 Best time to visit
During Light and Sound Shows
Open hours
Tue, Wed, Fri, Sat, Sun: 6:00 PM - 6:40 PM (Bengali) (november to january) 7:00 PM - 7:40 PM (English) (november to january) 7:00 PM - 7:40 PM (Bengali) (february to june) 8:00 PM - 8:40 PM (English) (february to june) All timings are for light and sound shows
Things to do
Explore history and literature, Enjoy light and sound shows
Traveller Types
Families, Friends, Couples
Rank
19 out of 199 attractions in Kolkata
Jorasanko Thakur Bari
There is hardly anyone who has not heard of Rabindra Nath Tagore and his immeasurable contribution to poetry and literature. Jorasanko Takur Bari also known as the House of the Thakur is where this famous personality had spent most of his life. There are more than 700 paintings in this house which attracts tourists. There are also manuscripts, books and antique items here that can be explored. The history and important events that this place reflects about Rabindra Nath Tagore is commendable. The sounds and lights is an add-on attraction that enhances the entire experience. The vicinity also includes Rabindra Bharti University which was made to impart education. You can also get a detailed knowledge about all the works done by the Father of Literature- Rabindra Nath Tagore when you visit this place.
Places to stay near
Jorasanko Thakur Bari
Next Generation Guesthouse
Reviews of
Jorasanko Thakur Bari
•
3
4) Jorashanko Thakur bari (Rabindranath Tagore's birthplace)How can you be in Kolkata and not visit the birthplace of the man, about whom Bongs just can't stop being obsessed. You may or may not be a fan of his literature or art, but you can't just miss the old school mansion - which is his house, and get a feel of the kind of luxury in which the blue the then blood society of Kolkata, dwelled in. I believe they still have palanquins kept in the mansion, which were owned by the thakurs at that time. The house now serves as Tagore museum , you get to know a great deal about the Tagore family history and their contribution towards the Bramha samaaj .
Rabindranath Tagore was renowned for his contribution in field of poetry and literature. This was the place where he spend most of his life, so it is known as the Jorasanko Thakurbari or House of the Thakur/Tagore .People would be amazed to see 700 paintings, various manuscripts, collection of books and other etiquette items of him. People visiting this place would be spell bounded to see a show which describes history and important events in life of Tagore with effective sound and lights. This place has Rabindra Bharti university which was established to achieve excellence par in field of education. Visiting this place, you would get more updated with workings of `Father of literature'.
The first of the prominent old Bengali residences as one moves northward along Rabindra Sarani (or Chitpur Road, the oldest road of Kolkata) is the Jorasanko Rajbari of the family of Rajendra Narayan Roy. It has a nice colonnaded front with verandas, terraces fitted with delicate castrion grills. In no other street is the synchronicity of the various chapters of Calcutta's brief but colourful history so evident as in Chitpur, renamed Rabindra Sarani. Perhaps no other street can be as clearly demarcated as this into three distinct sections that are coloured by the cultures and lifestyles of its inhabitants. If we begin from Baghbazar, deep north, the stretch up to Ganesh Talkies bears an unmistakable Bengali stamp. From then onwards up to Mahatma Gandhi Road, it could be in the heart of Rajasthan. And the smell (of biryani and attar) and look of the third and last section are redolent of Islamic culture.
Attractions near
Jorasanko Thakur Bari