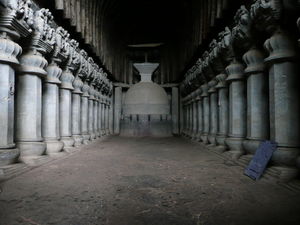 Best time to visit
Anytime when one is in Pune city.
Open hours
8:00 am to 6:00 pm throughout the week.
Things to do
Discover Buddhism and how it was practiced during the early stages.
Traveller Types
Families, Couples
Rank
6 out of 44 attractions in Lonavala
Karla Caves
Situated near Ambegaon on the River Ghod, the Dhimbe is a gravity dam that that is a part of the Kukadi project and is now a famous tourist destination the city of Pune. The place is maintained by the Government of India and is visited by many locals and as well as tourists. The Dam opened in the year 2000 and is a part of a five site dam project in the same region. The total capacity that this dam can hold is about 38,0000 km3. The place is vast and makes for a great day out. There is a 5 MW powerhouse at the foot of the dam.
Places to stay near
Karla Caves
A Cosy Small Family Cottage
A Cosy Small Family Cottage
Fully Furnished A.C. 1BHK apartment
STARiHOTEL Toll Plaza Lonavala
Reviews of
Karla Caves
•
1
In between Lonavala and Pune is this ancient rock-cut cave that houses Buddhist shrines. The place is amazingly peaceful but most filled with tourists who spend time taking pictures and enjoying the beauty in and around.
Attractions near
Karla Caves