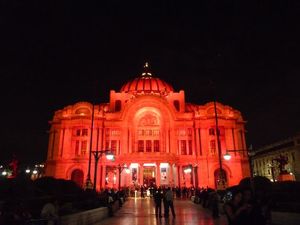 Contact
51 30 09 00 . 2528
Traveller Types
Couples, Friends
Rank
2 out of 420 attractions in Mexico City
Places to stay near
Palacio de Bellas Artes
Small room near Bellas Artes
Heart of Condesa, all you need.
Reviews of
Palacio de Bellas Artes
•
1
The Fine Arts Palace is not hard to spot at all. It is a breath-taking building even during the daylight. But when we passed at night, with the red lights, was just even more jaw dropping. Eventually, it did not used to be illuminated before, but I think you will all agree with me that whoever brought the idea, did the right thing to attract more visitors. It is a great place to ponder over some famous paintings.
Attractions near
Palacio de Bellas Artes