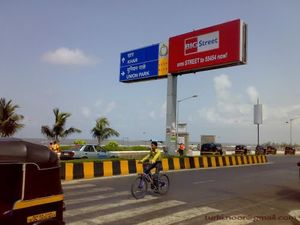 Carter Road
This is a road stretching along the seaside and is a favorite hangout place for the locales and also a place for morning and evening walks. It is in Bandra locality and thus is surrounded by a number of sea facing buildings and bungalows most of which belong to the high society people and celebriries. The view of the sea and the cool sea breeze automatically makes the environment romantic and refreshing here.
Reviews •
3
Great places to hang out, good restaurants. Next to the sea so offers great view.
The super delicious Bandra Dessert Christmas Crawl to celebrate the holidays will be going down this Sunday, Dec. 20, 2015 through the stretch of the infamous Carter's Road at Bandra West.
Carter Road and Juhu Beach North of Bandra Bandstand you will find Carter Road. Its a stretch of 1 km. This place is mainly for them who love to go to Coffee shops and Restaurants. Many Bollywood film stars live in this area. If you will go to Joggers park in the morning then definitely you will see some known and famous faces from Bollywood. If you will drive for another 4 km you will reach the famous area mainly known due to the home to non other than BIG B ( Mr Amitabh Bachchan). Also presence of Beach in this area makes it more electrifying. Beach is beautiful but crowded. Many Eating outlets. But it is very costly and not worth also. Entry fee: NIL Recommended length of Visit: 1-2 hrs(Depends on your mood :) ) How to Reach: Just 2 kms from Bandstand; easily walkable. For Juhu take Auto. Beach is around 4 km from Carter road. If you going directly to Juhu then get down at Santacruz station and take Auto(Rs30) and then from Juhu go to Carter Road. Tips: Go in the Evening
Attractions near
Carter Road