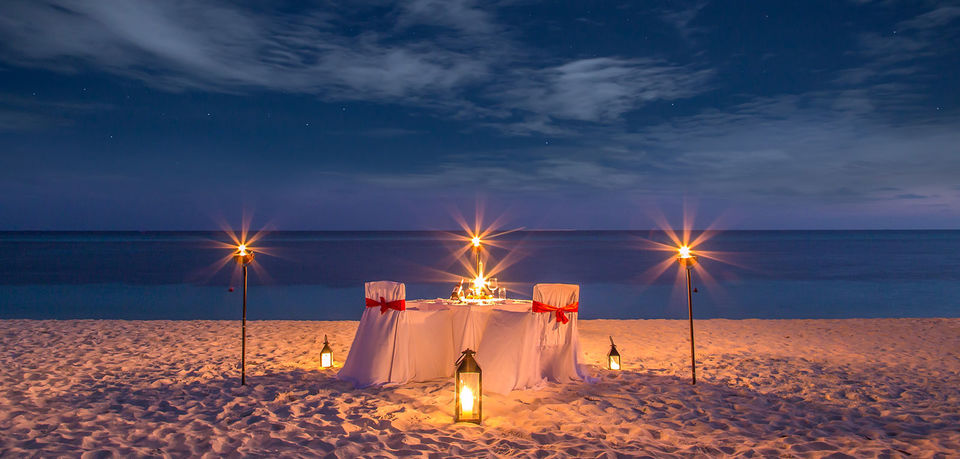 Looking for romantic places in Mumbai for couples? I strongly believe that exploring new places with your partner is the most romantic and thrilling exercise in a relationship. Travelling and roaming around, enjoying those little numerable things like watching a sunset together, feeling the ripples of waves touching your feet, sharing ice-cream from a single cone after a tiring day, a long evening walk along the seashore, a plate of bhel puri or chaat or a music concert can add a lot of memories and bonding in a relationship. It's time you go to one of the best places to visit in Mumbai with your girlfriend!
Here is a list of few places in Mumbai for couples to explore together :
1. Marine Drive
Remember "Wake Up Sid"? The movie made this spot remarkable for quite a few as a favourite romantic spot in the city. The place is well lit up with calm sea breeze. It's a brilliant idea to take your girlfriend out for a late-night coffee at Marine Drive as you sit there and the breeze hits your face. Towards the north of Marine Drive is the popular Chowpatty Beach, which attracts attention of food junkies. This is one of the most incredible romantic places in Mumbai.
How to reach: The nearest local station to the Marine Drive is the Churchgate Station.
Timings: The best time to go to Marine Drive is at night when you can spot the 'Queens Necklace' which is actually a crescent shaped impression of street lights.
2. Worli Sea Face
Whether it is the rising morning sun on the eastern horizon or the setting sun in the majestic Arabian Sea, there is no better place to visit in Mumbai with girlfriend. With an amazing view of the sea link, this is also the best place to visit in Mumbai with friends.
How to reach: The nearest railway station to the neighbourhood is Mahalaxmi, while Elphinstone and Lower Parel are also the nearest railway station from Worli.
Timings: The best time to visit the Worli Sea Link is at late night when the traffic is minimal and the drive is absolutely beautiful.
3. Madh Island Beach
Looking for a getaway from the humdrum of city life with your partner? Head to this romantic place to visit in Mumbai called Madh Island Beach will leave you spellbound with its beauty and calmness. Coast lined by mangroves, calm waters, soothing scenery, Madh Island provides few other optional private places for couples in Mumbai. Erangal, Madh Fort and St. Bonaventure can also be visited with your loved ones, also one of the best places to visit in Mumbai with friends.
How to reach: The nearest railway station to the beach is situated at Malad district. Once you reach the Malad station, you can opt for local transport to reach the venue.
Timings: Enjoy sunsets at the Madh Island beach.
4. Bandra Fort
Featured in the Bollywood movie "Dil Chahta Hai", Castella de Aguada, also known as the Bandra Fort, is popular for the view of the Bandra- Worli sea link from the fort. A visit to this place in Mumbai can ensure a qualitative time with your girlfriend. In Mumbai, this is an ideal place to visit in Mumbai with your girlfriend.
How to reach: Bandra bandstand is easily reachable from Bandra railway station, 15 minutes by bus/auto or about 30-40 minutes if walked through the linking road.
Timings: The fort is open from 6am to 7.30pm.
5. Juhu Chowpatty Beach
Juhu Beach is one of the most famous and most visited beach in Mumbai. This is one of the best places to visit in Mumbai with friends. A long walk along the seashore, watching the sunset along the lighting of the city, feeling the breeze on your face and waves rippling across your feet, some romantic time with your partner enjoying very delicious Golgappas, Chat masala, Bhelpuri, Ragda pattis, Dahi puri, Faluda, Kala Khatta gola and a long list of food items can ensure you the best time with your partner.
How to reach: This beach can be reached from Andheri, Vile Parle, Santa Cruz west railway station. From here, you can take an auto or local bus to Juhu beach.
Timings: The beach stays pretty crowded throughout the day. If you want to ditch the crowds, go to these beaches early morning to catch a glimpse of the beach at its best!
6. Nariman Point
With the breath-taking view of the Arabian Sea, and various brands located in this fine exquisite area of Mumbai, Nariman Point is a clean and sophisticated place for a romantic date. If you dont have a date, this is one of the best places to visit in Mumbai with your friends. if you do have a date, take a walk with your partner from Marine Drive which is a stretch of 2 km and enjoy the fresh coconut juice.
How to reach: Marine Drive, Gateway of India, Churchgate are closest to Nariman Point.
Timings: This place is open through the day.
7. Carter Road, Bandra
Carter Road is a well known hangout spot alongside Bandstand Promenade, a jogging track, a park and additionally a Lovers Point. Carter Road attracts a lot of couples and singles, as it has a culinary line full of elegant restaurants and cafes. Enjoy the romantic sunset and drinking roadside coffee at Carter Road along with the weather, which is perfect to make your evening romantic with your girlfriend in Mumbai, or a relaxed afternoon making it one of the best places to visit in Mumbai with friends as well.
How to reach: Khar Railway Station , Bandra Marshall Railway Station are the very nearby railway stations to Carter Road.
Timings: Carter Road stays open all the time, and there are many restaurants that stay open till late hours in the night.
8. Mumbai Chota Kashmir, Goregaon
Chota Kashmir is located inside the wide area of the Aarey Milk Colony in Goregaon East. There is small lake with plenty of row boats and paddle boats, attractive lush green gardens, colorful flowers, lotus pond, and plenty of places to relax. One can also enjoy boating here. It is one of the most widely visited romantic places preferred by couples in Mumbai.
How to reach: It is 32 kms from north west of the city center with Goregaon Station is the closest railway Station.
Timings: The garden is open between 9am and 6.30pm. Entry charges for Garden is only Rs 15 per head.
9. Hanging Gardens
Hanging Gardens, also called Pherozeshah Mehta Gardens, are terraced gardens situated at the highest point of Malabar Hill. One can enjoy sunset from this place. It is made on a water reservoir and is a favorite spot of people willing to spend some peaceful time with their partner. This is a famous romantic place in Mumbai. The splendid green vegetation and animal shaped hedges make this spot unique. Visit this place in Mumbai with your girlfriend for a splendid evening.
How to reach: The Grand Road Railway Station is the nearest station to the gardens. One can board a local train from Charni Road Station (West), located close to the gardens from where it takes only around 20 minutes to reach the place.
Timings: The park is open from 5am to 9pm everyday.
10. Palm Beach Road, Navi Mumbai
Absolutely perfect for a late night drive and a monsoon drive, Palm Beach Road is one of the most beautiful and exclusively chosen spots by couples. This corner of Mumbai can be romantic when visited with your partner.
How to reach: The most important and crowded station is Panvel is the nearest.
Timings: This road is open throughout the day, and comes as a refreshing change from the rest of the city.
11. Nehru Centre, Worli
As they say, music can thrill every individual and is a part of every heart, this place with your partner can definitely soothen your relationship. Listening to some Indian classical performances like the great Pt. Shiv Kumar Sharma with Ustad Zakir Hussain in a sensational jugalbandi can be an option for spending some quality time with your partner too.
How to reach: The Centre can be reached by public transport i.e. train, bus, taxi or private vehicles. It is situated on Dr. E. Moses Road between Mahalaxmi Railway Station on the South and Worli Naka on the North at a distance of about 1 km from either end.
Timings: Check out their website for details about the next event happening here.
12. Adlabs Imagica and Aquamagica
The amusement parks opened by the Adlabs group in Khopoli is a day trip for everyone in the city. Even closer, if you live in Navi Mumbai. The rides and the excellent food court ensure that the place oozes lots of potential for a 'romantic date spot' for a couple.
How to reach: Khopoli Station is just 20 mins from Adlabs Imagica and Aquamagica. Also there are direct stations from Dadar, CST, Thane, Kurla stations.
Timings: The amusement park stays open from 10.30am till 7pm.
One can also visit Jhangir Art Gallery in Kala Ghoda, NCPA in Nariman Point, Prithvi Theatre in Juhu, Canvas Laugh Factory in Lower Parel, Sanjay Gandhi National Park in Borivali, Karnala Fort in Panvel and Colaba Causeway in Mumbai with your girlfriend for a romantic getaway.
So where are your taking your partner tomorrow?
Live your beautiful story at these places for couples in Mumbai give your partner a reason to smile with a memorable day.
Do not forget to share your experiences!!
Frequent searches leading to this page:-