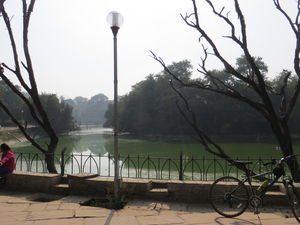 Best time to visit
12:00 NOON – 5:00 PM
Open hours
6:00 AM – 6:00 PM
Things to do
Relax and refresh yourself amidst the greenery and beauty of the place.
Rank
72 out of 370 attractions in New Delhi
Deer Park
Another beautiful nook in the Hauz Khas Village, this place is known for its extraordinary natural beauty and the greenery. It is an immensely detoxifying place away from the pollution of the city. the park is a favorite of morning and evening walkers and also for people who want to escape the hot summer afternoons. The animals here are left to roam in their natural habitat and the view of them from a far away distance is blissful. The Pind Balluci Restaurant is another attractive reason for which you would visit the place.
Places to stay near
Deer Park
Quiet comfort in green surroundings
Safe & Cosy B&B near City Centre
Jugaad Hostels PrivateRoom-SouthDel
Reviews of
Deer Park
•
3
The Hauz Khas complex is just the perfect spot to spend your day exploring city with an epic historical past. This complex in South Delhi houses an age-old water tank, a mosque, the tomb of Feroz Shah and an Islamic seminary. The Northern side of the complex is connected to the Hauz Khas Market and Delhiite exploring the market area often sit and relax at the ruins of the complex to enjoy the evenings on the quiet side of Hauz Khas. Taking a stroll around this serene complex is one of the best things to do in Delhi.
Escape the daily hustle bustle of life and soak in the serenity and calmness of this place. Deer park is one of the most beautiful parks of Delhi and a perfect place to chill out if you're searching for peace in this clamorous city!
Nice garden, with Hauz khas village at back. Nice lake,lot of greenery.
Attractions near
Deer Park