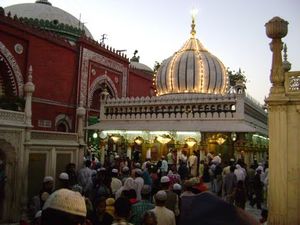 Best time to visit
8:00 AM – 11:00 PM
Open hours
5:00 AM – 10:30 PM
Things to do
Pray, Listen to traditional qawwalis The monument has been featured in a number of famous Bollywood films too.
Best Months
September - May
Traveller Types
Friends, Families, Solo
Rank
59 out of 370 attractions in New Delhi
Hazrat Nizamuddin Darga
This is the mausoleum of one of the most famous saints of the Muslim history who was known as Khwaja Nizamuddin Auliya. Situated in the West Nizamuddin area of Delhi, the monument receives a footfall of thousands of Muslims every week along with quite a number of Hindus and Christians too. The other famous tombs in the same complex are of the famous Mughal poet Amir Khusro and Mughal princess Jehan ara Begum. The tomb of Inayat Khan is also nearby. The locality around the place is also named after the famous sufi saint and has been divided into two parts- The West Nizamuddin area and the East upper Railway area. The western part where the mausoleum is situated has a buzzing marketplace also which is dominated by mostly Muslim vendors. This is a heritage area of the city and the other famous attractions situated nearby are the Humayun's Tomb, Chausath Khamba, Mirza Ghalib's Tomb, Barakhamba and Sabz Burj.
Places to stay near
Hazrat Nizamuddin Darga
★☞ The historical Center of Delhi !
Bnb room 4 near metro and airport
Quiet comfort in green surroundings
Safe & Cosy B&B near City Centre
Reviews of
Hazrat Nizamuddin Darga
•
4
Attractions near
Hazrat Nizamuddin Darga