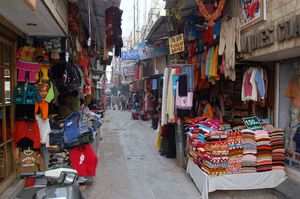 Best time to visit
11:00 AM – 5:00 PM
Open hours
9:00 AM – 11:00 PM
Things to do
Shopping More details: The Jhandewalan Metro station is the nearest from here.
Traveller Types
Families, Couples
Rank
78 out of 370 attractions in New Delhi
Karol Bagh
Karol Bagh is termed as the "Shopper's Delight" in Delhi. This is mainly because it is not a specialized market and you almost get whatever you ask for out here. this is also the ideal place for simple readymade garments and yarns. Earlier this place was only known for locally made garments, presently inner labels and designers have also chosen this place to showcase their collections in boutiques.
Places to stay near
Karol Bagh
Superior Double AC With Breakfast
★☞ The historical Center of Delhi !
Stay in a true Delhi neighbourhood
Bnb room 4 near metro and airport
Reviews •
2
The popular Karol Bagh market has something to offer every kind of shopper and boasts of a range of products.
It is one of the oldest shopping centres in Delhi. From big air conditioned showrooms to the dainty small shops, the market offers variety in clothes and footwear.
Attractions near
Karol Bagh