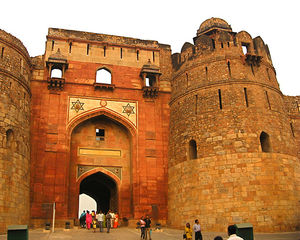 Best time to visit
11:00 AM – 3:00 PM
Things to do
The nearest metro station is the Pragati Maidan metro station. Ideal for history buffs
Budget
Rs 5 for Indians Rs 100 for foreigners. Charges for video photography are applicable.
Traveller Types
Families, Friends, Couples
Rank
38 out of 370 attractions in New Delhi
Purana Qila
This is yet another of the Mughal gems and a clear picture of the standard and grandeur of the Mughal designs and styles. It was started by Emperor Humayun but later taken over by Sher Shah Suri. Later Humayun again captured it from Sher Shah's son. The Purana Qila is said to have been built at the banks of the River Yamuna when it had not changed its course and guarded the estate of Indraprastha, mentioned in the Mahabharata. This is also the only monument that has not been named after the one who built it as all the structures inside this was named and renamed with the transfer of ownership every time. The main motive behind the initiation of this monument was that Humayun wanted to build a city on his own. There are three main gateways inside the fort namely Humayun Darwaza, Bara Darwaza and the Talaqui Darwaza. Among these the last one was always closed. The other famous structures inside the Purana Qila are the Qila-e-Kunha Masjid, Sher Mandal observatory and a small museum.
Places to stay near
Purana Qila
Superior Double AC With Breakfast
★☞ The historical Center of Delhi !
Stay in a true Delhi neighbourhood
Bnb room 4 near metro and airport
Reviews of
Purana Qila
•
10
Attractions near
Purana Qila