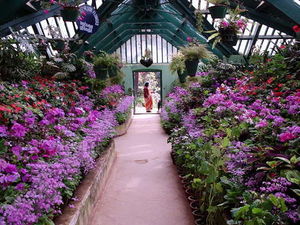 Best time to visit
11:00 AM - 4:00 PM
Open hours
8:30 AM - 6:00 PM
Things to do
relax, photography
Budget
Admission- INR 20, Still Camera- INR 30, Cam corder- INR 75
Traveller Types
Families, Couples
Rank
8 out of 67 attractions in Ooty
Rose Garden
Originally named as the Government Rose Garden or the Jayalalitha Rose Garden after the name of the Chief Minister of Tamil Nadu, this is a wonderful place to spend time in. This garden is spread over a hilly area and it is an extremely beautiful and romantic place. You should best visit this place during mid- summer to find the roses in full blossom. The different colours and the sweet fragrance of the flowers are just awesome. This place is perfect for spending time during the afternoons on the lush green fields of this rose garden.
Places to stay near
Rose Garden
Reviews •
3
Rose garden - It is a 20 acre land, that grows variety breeds of Roses and other flowers too. Tamil Nadu Horticulture Department maintains this garden. It is seen on the slope of elk hills.
Though not as big as botanical garden this place holds its own magic. Ideal for photography,relaxing walk
The Rose Garden exudes nature's beauty. There are so many kinds of flowers, plants, and rose art. A mural of elephants made entirely of flowers lies at one of the corners of the garden. Just a pleasant stroll through the park, or resting on the grass patches, the Rose Garden is a beautiful and serene environment to soak in nature's wonders.
Attractions near
Rose Garden