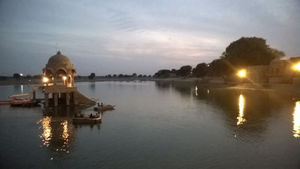 Best time to visit
October to March
Things to do
Photography, nature viewing
Gadisar Lake
The original purpose of creating this lake in the city of Jaisalmer was to meet the water requirements of the increasing population. It was built by King Gadi Singh and thus the name Gadisar Lake. The lake being so beautiful, had to be accepted as a pious place of worship and so were built a number of temples in the precincts of the lake. Out of the all the temples the most popular is the Krishna Temple alsodo known as the Tilon ki Pol. This was built by an officer of the king known as Tila in spite of the king's contempt. He later placed the idol of Satyanarayan or Lord Vishnu inside this temple. The temple could be caused no harm even after a number of trials. At present the lake does not serve the original purpose, but is one of the primary attractions of the city. Also during the winter season, many migratory birds come here and serve as a visual treat for all those who visit the lake.
Places to stay near
Gadisar Lake
The Surya Paying Guest House
Golden Marigold Hotel - welcome!
Reviews of
Gadisar Lake
•
14
Attractions near
Gadisar Lake