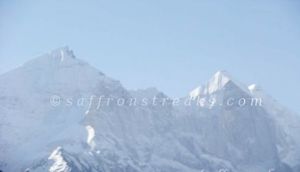 Traveller Types
Friends, Families
Rank
1 out of 14 attractions in Uttarkashi
Gangotri Glacier
Gangotri Glacier ice mass is found in Uttarkashi District, Uttarakhand, India . This ice mass, one in every of the first sources of the river, is one in every of the most important within the Himalayas with Associate in Nursing calculable volume of over twenty seven kilometers. The ice mass is concerning thirty kilometres (19 miles) long a pair of Land over around up to four km wide, round the ice mass square measure the peaks of the Gangotri cluster, as well as many peaks notable for terribly difficult ascent routes, like Shivling, Thalay Sagar, Meru, and Bhagirathi. It flows roughly northwest, originating in a very basin below Chaukhamba, the best peak of the cluster. Gomukh, which is concerning nineteen km (11.8 mi) from the city of Gangotri, is that the precise supply of the Bhagirathi watercourse, a vital tributary of the amazing river.
Reviews •
3
The 30.2-km-long Gangotri glacier, the second largest among the 6,500-odd small and large glaciers in the Himalayas and which feeds the perennial Ganga. Gomukh, the terminus or snout of the Gangotri Glacier, from where Bhagirathi River originates, is one of the primary sources of the Ganges River. The place is situated at a height of 13,200 ft in Uttarkashi district in the state of Uttarakhand, India. It is one of the largest in the Himalayas with an estimated volume of over 27 cubic kilometers. It is a popular Hindu pilgrimage site, along with Gangotri, as well as trekking destination. Mid April to Early June and September to November are the best months to visit Gangotri glacier and enjoy nature. You must carry warm woolen clothes and good pair of shoes to protect yourself from the cold weather of Gangotri glacier. Your trek to Gangotri glacier will begin from Gangotri temple, 17Km away.
The next day was when the explorer in me woke up and took me to the Gangotri glacier where i had the adventurous pleasure of trekking for 18kms and on reaching the top the only reaction my body was capable of giving was my jaw dropping. After returning that night was literally the best because what's heaven other than extremely cold climate outside and an extremely warm blanket besides you.
The morning sun brought some warmth in the otherwise chilling valley and when the first rays of sun kisses the peaks of Bhagirathi, the God's beautiful creation came into full life. For the next few minutes we marveled at this beauty.
Attractions near
Gangotri Glacier