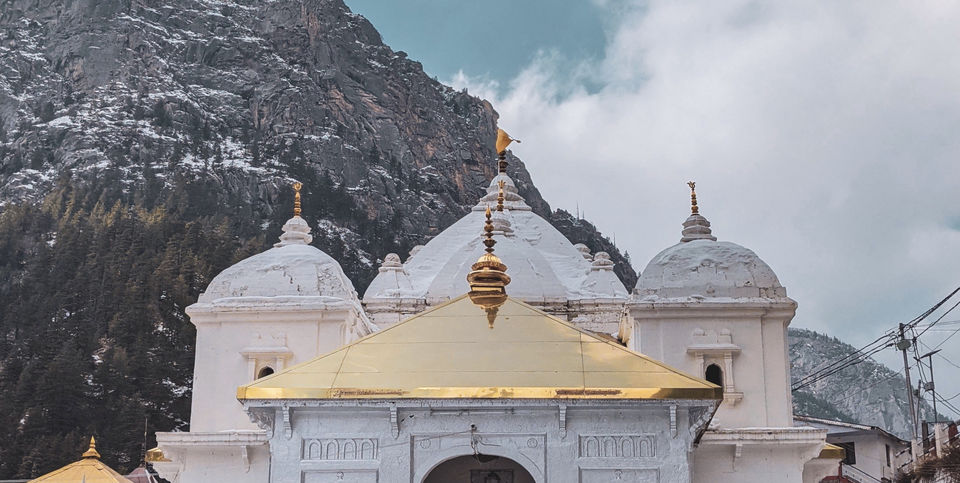 A snowy landscape ornated with a temple devoted to the greatest river goddess in India, majestic mountains carefully powdered by fresh snow and a gushing Bhagirathi flowing in the vicinity were few of the first sights that greeted me to the religious town of Gangotri.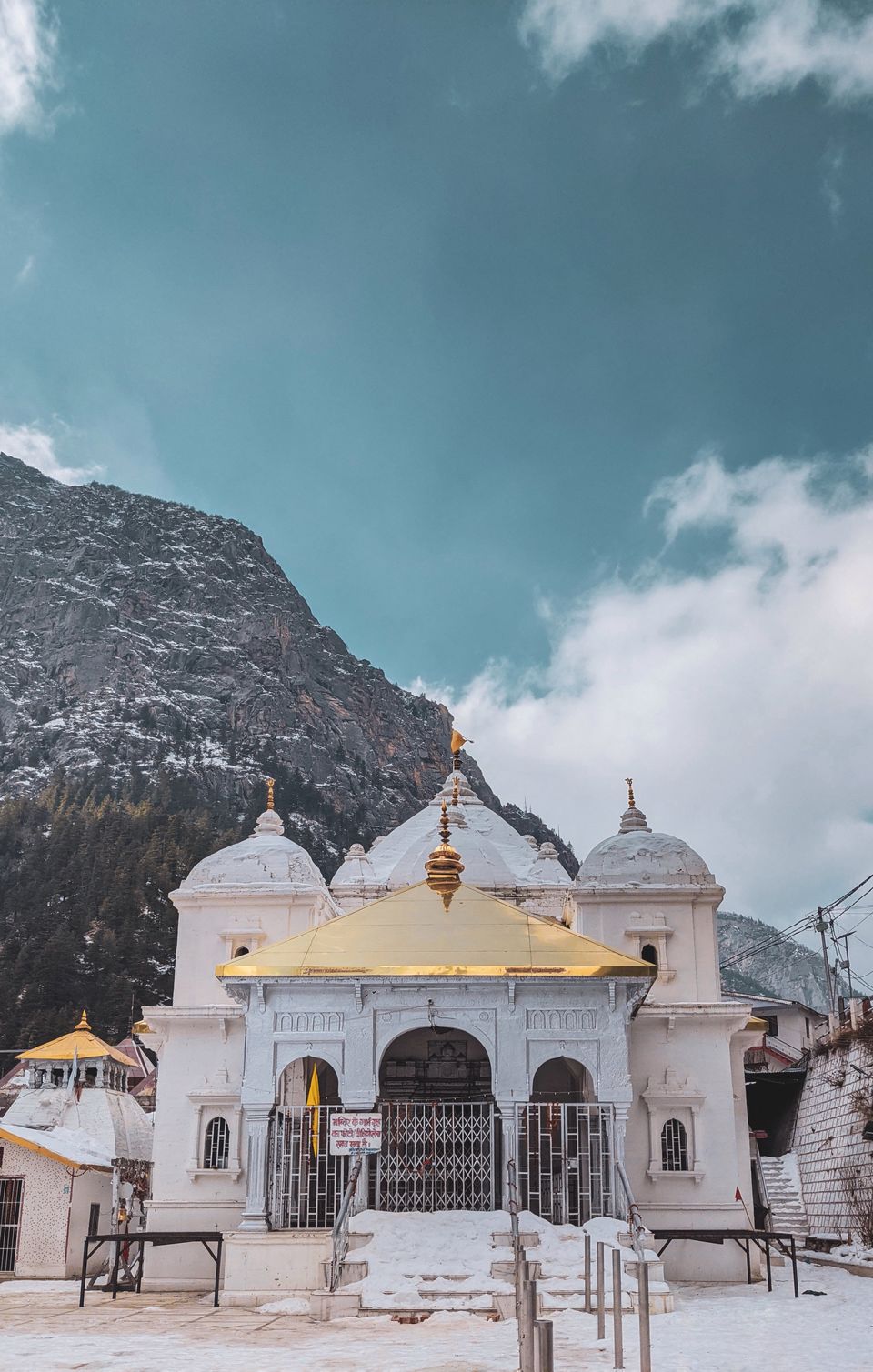 Situated in the Uttarkashi district of Uttarakhand, Gangotri is one of the most widely known and highly revered pilgrimages among Hindu devotees, which has also gained prominence in the trekking circuit for its Gaumukh-Tapovan trek. And needless to emphasise, 'divinity' and 'beauty' come together at Gangotri like nowhere else!
Gangotri was one of the destinations that had been etched deep in my memory since I was a little girl, travelling to Badrinath and Kedarnath for my summer vacations with me utterly devout parents. I remember how my grandmother had elaborately explained the importance of Char Dham Yatra (four abodes of God) for everybody practising Hinduism. It is also then that she related stories of Chhota Char Dham Yatra ('the small four abodes') to us, exciting us furthermore since we were to pay obeisance to two of those abodes. Therefore, when I planned a trip to the beautiful Army cantonment of Harsil, it was only an imperative that I visited Gangotri to unveil the charm for myself.
Every year, thousands of pilgrims and sadhus visit Gangotri to pray and meditate but seldom does anybody venture after Deepavali celebrations. The doors of the temple are chained, all the guesthouses, ashrams and shops are vacated. Everybody migrates to lower regions for one reason – cold. And that is exactly when I decided to explore an undisturbed Gangotri.
It was a chance of events that I landed at Harsil after a precarious drive through patches of black ice and snow-covered roads. The first small tea shop that I visited, I met a family who had just come back from Gangotri that day. Much like most of the people in the hills, they went all the way to arrange the same driver for me who had taken them. And I was all set for a 24 km long joy ride along the meandering Bhagirathi River.
A scenic and peaceful drive through the villages of Dharali and Bhaironghati finally led us to the silent town of Gangotri. What had been peaceful up until that moment turned into something eerie as soon as I alighted from the car.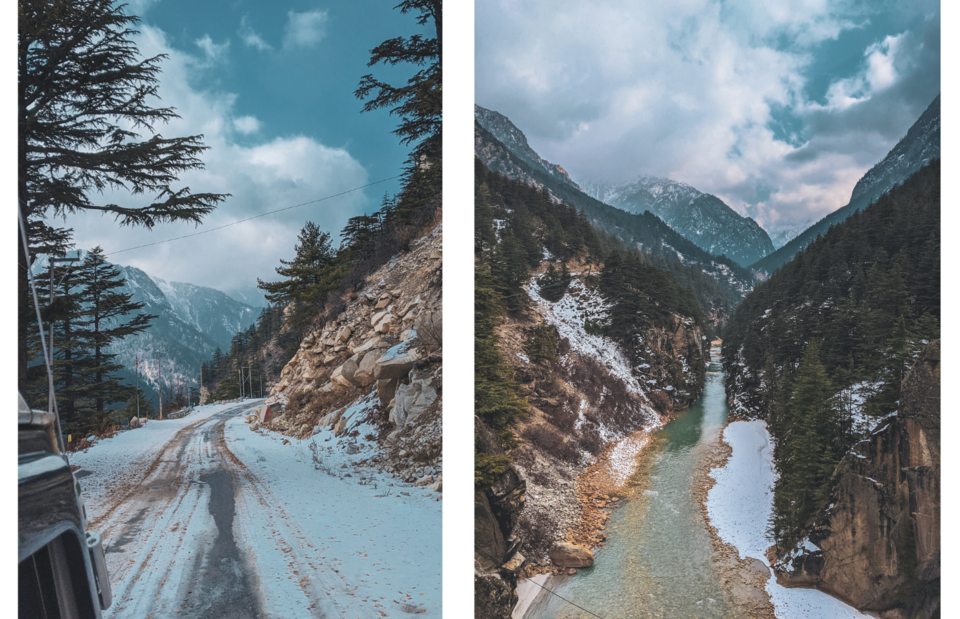 To find a secluded, undisturbed place in the wild seems like a beautiful idea but to walk alone through carefully shut shops, locked doors, and ice-covered streets is another thing. I was not just in Gangotri, but the ghost town that the unforgiving winter season had turned it into. Icicles dropped low from the sheds of the houses, staircases were covered with snow, and there was not a soul in sight to give me company or direction.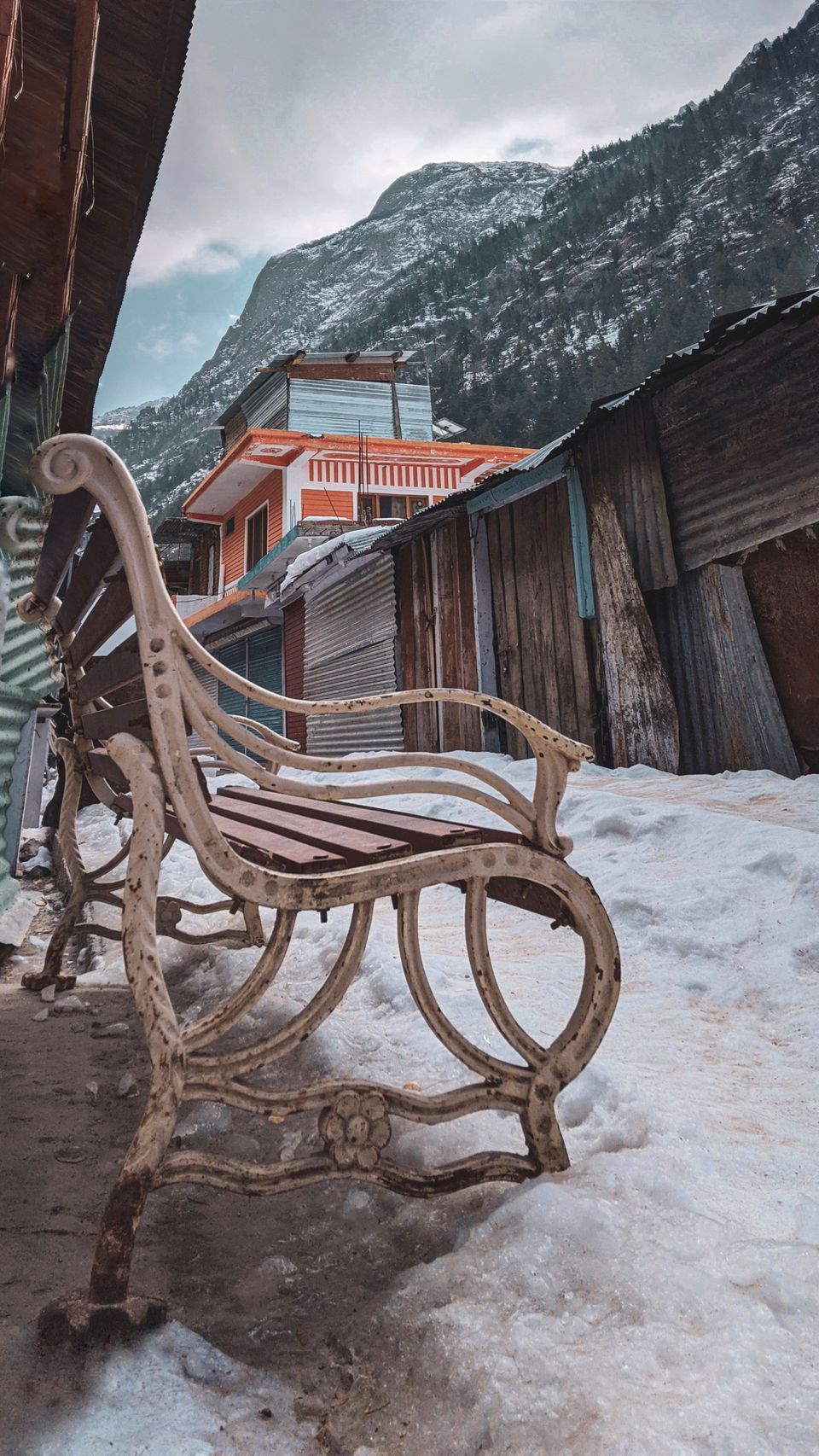 Following whatever signs I could fathom, I kept walking the lonely streets of the town to make my way to the main shrine. Reading the signboards of dhabas and ashrams, I could only imagine how the town would have been filled with devotees. As I kept walking, I couldn't stop thinking about how the streets would have come alive with the chants and prayers of the pilgrims in the peak season. As my thoughts gave me company on that lonely morning, I arrived at the gates of the temple, which, to my surprise, were open and oddly welcoming.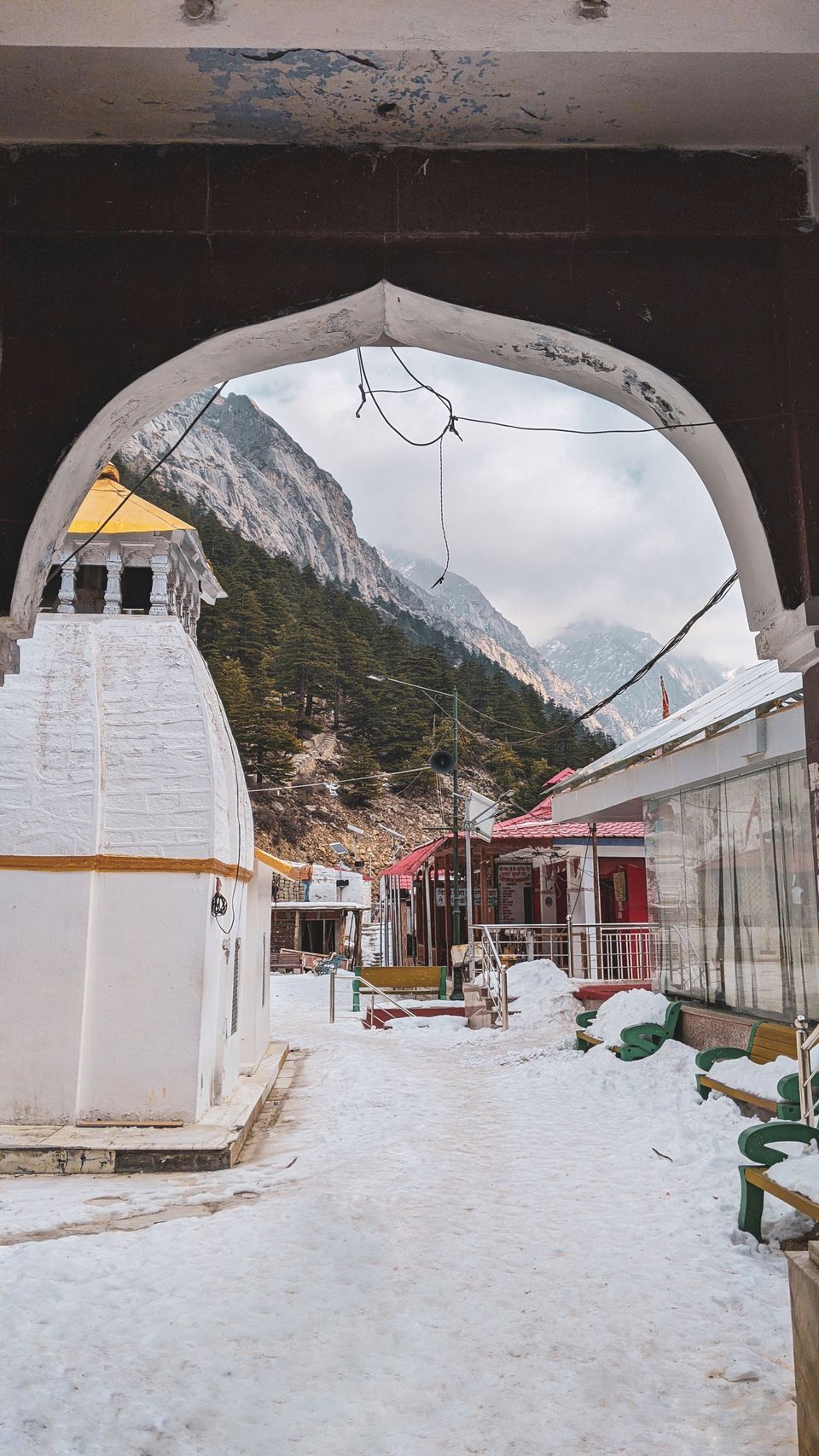 As I overheard some voices and noticed some sort of commotion inside the temple office, I heaved my first euphoric sigh of relief. To my utter surprise, I was greeted by the temple's priest and a fellow tourist. Panditji was kind enough to help me with a piping hot cup of tea – might I mention, the absolute need of the hour – and accommodated me close to a burning angithi. He then began narrating the reality of Gangotri during the winter season – how everyone migrates from the town, how the shrine partially gets submerged under the snow, and how only a handful of sadhus stay in their kutiyaas. Perhaps it was the tea, but I'd like to believe, it was these stories that truly warmed me with the divinity that the place held. I was charged with humility and gratitude for having made it to the main temple even in mind-numbing cold, at a time when only a few dare to visit.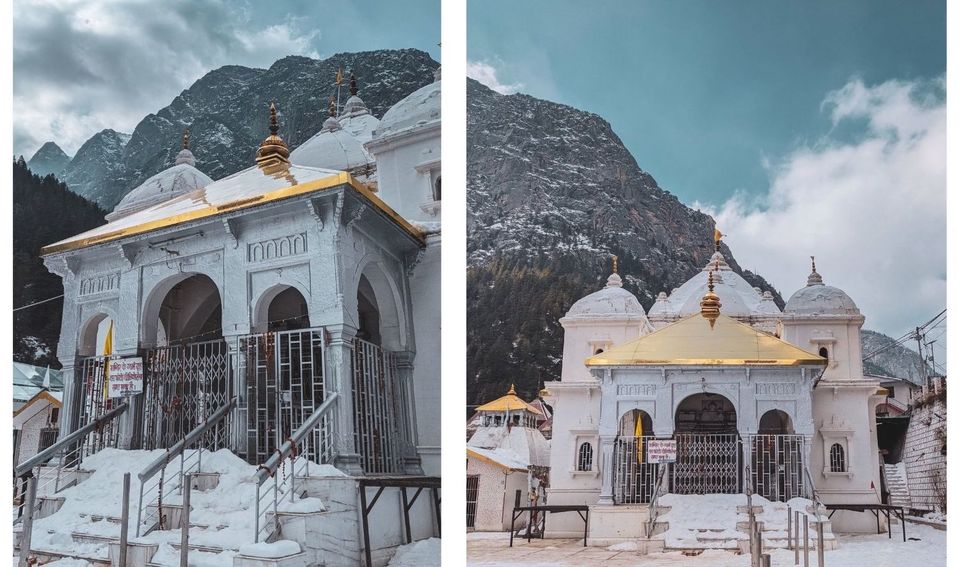 Bidding adieu to the generous panditji, I decided to go around the temple, pay my deepest obeisance and get a fill of gangajal for my family back at home.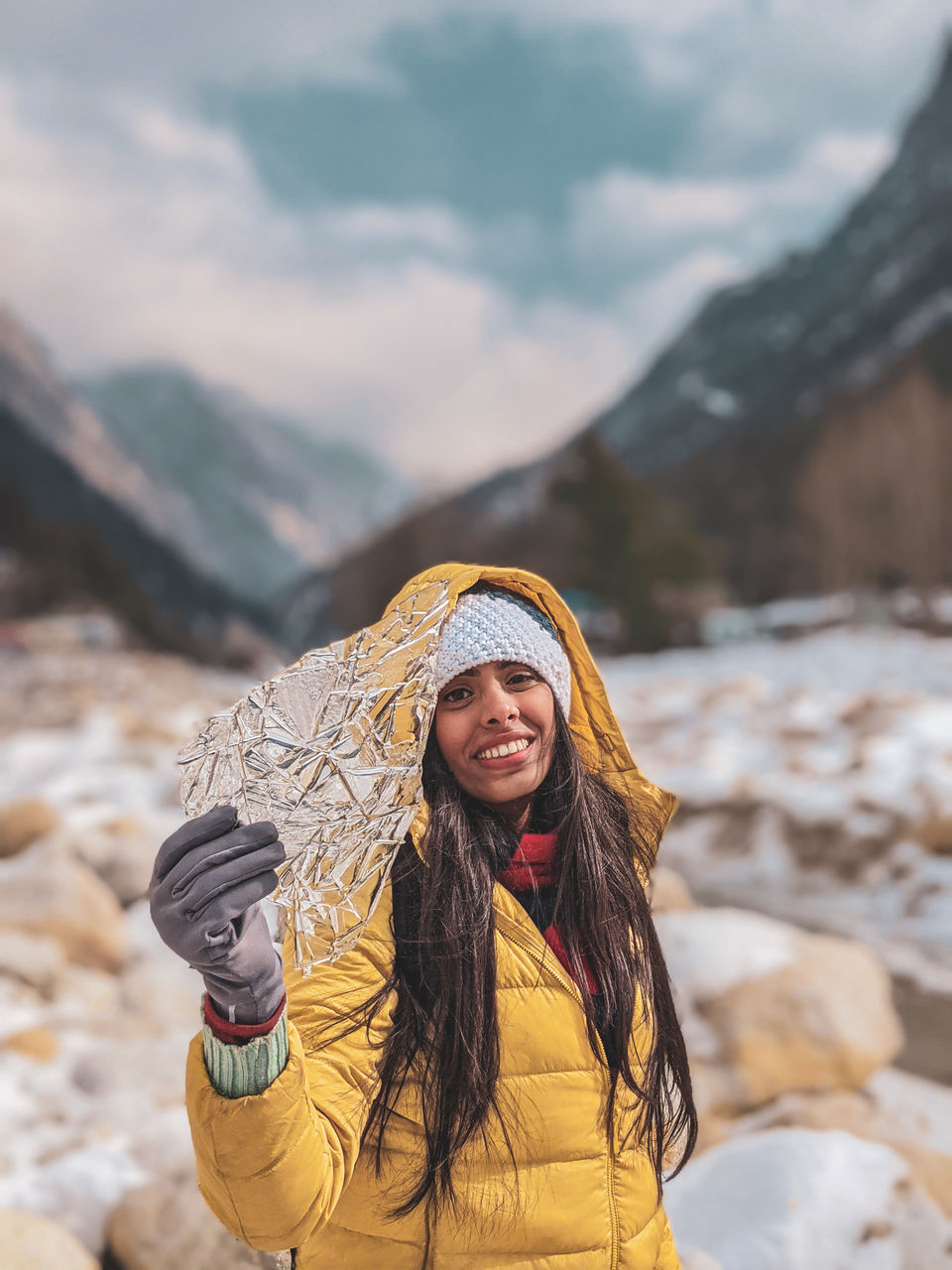 By this time, a handful more of devotees had arrived, which instilled me with the confidence to explore the town just a bit more. Following the roughly written directions, I headed over to Suryakund.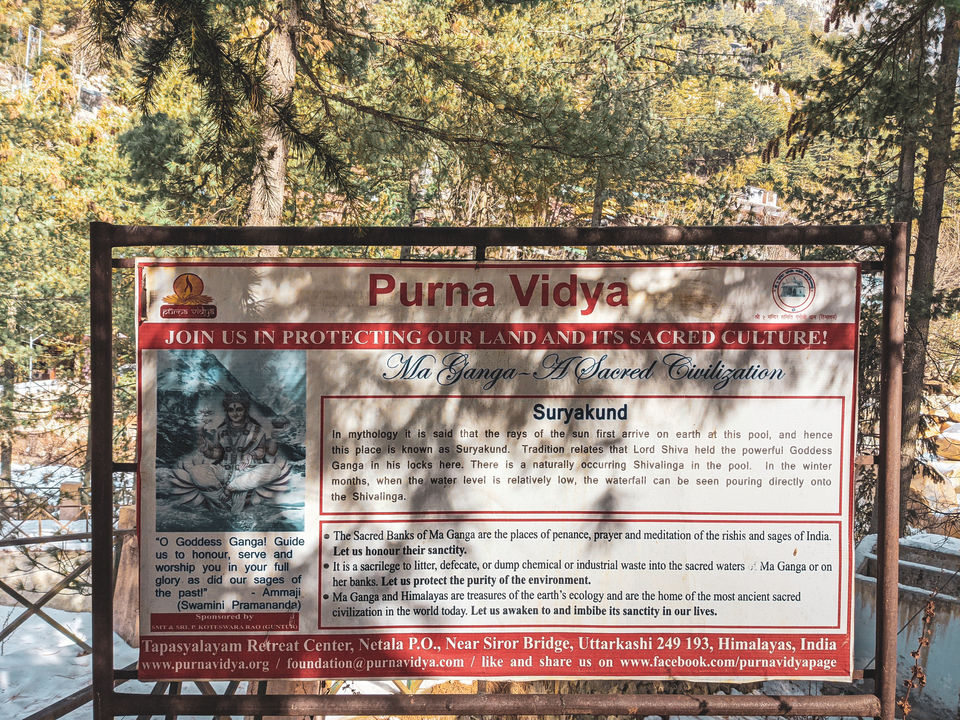 In Hindu mythology, Suryakund is of notable significance, for it is believed that the rays of the sun shined first at this pool on our planet earth. It is also said that since Lord Shiva held the powerful Goddess Ganga in his locks here. There is also Jalmagna Shivalinga at Suryakund visible only during the winter season.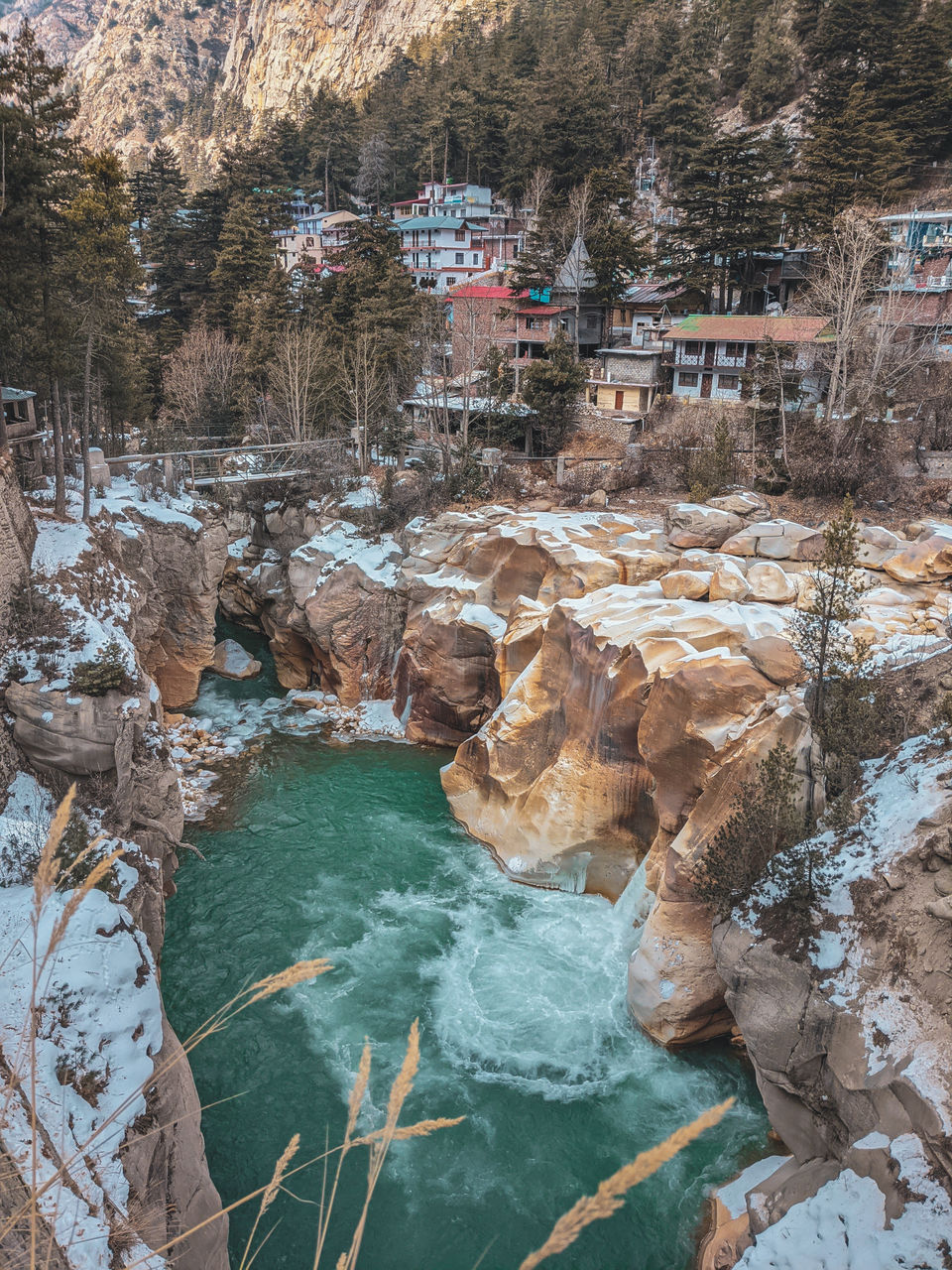 I might not have been able to spot the majestic Shivalinga, but Suryakund left me spell-bound. The fast-flowing river from Gaumukh had cut the stones so magnificently through its flow to make this pool of eternal purification appear all the more stunning.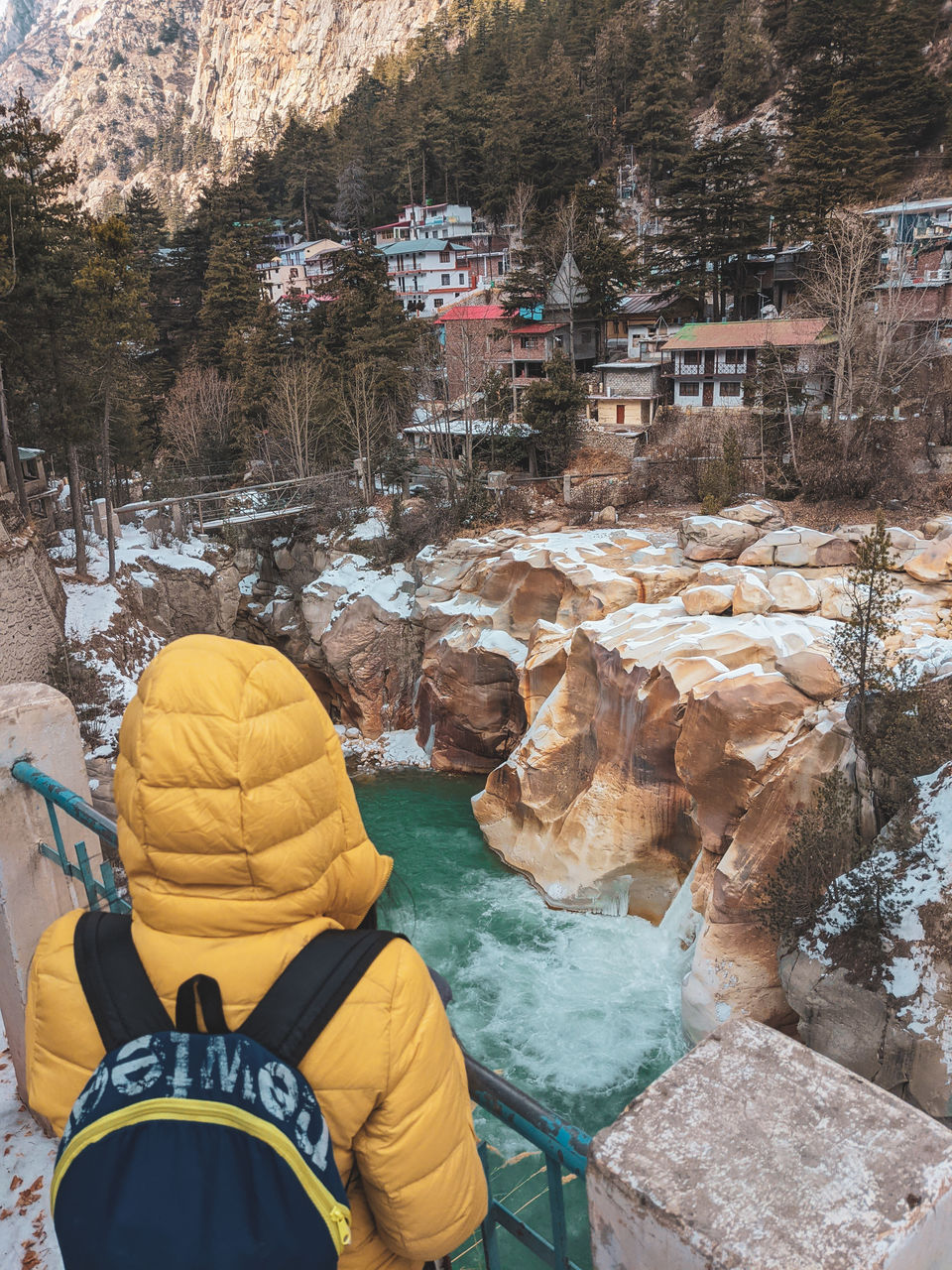 Despite running low on time, I succumbed to the itch to visit Gaurikund through the snow-covered lanes of the town. If Suryakund was an easy find, Gaurikund was somewhat its opposite.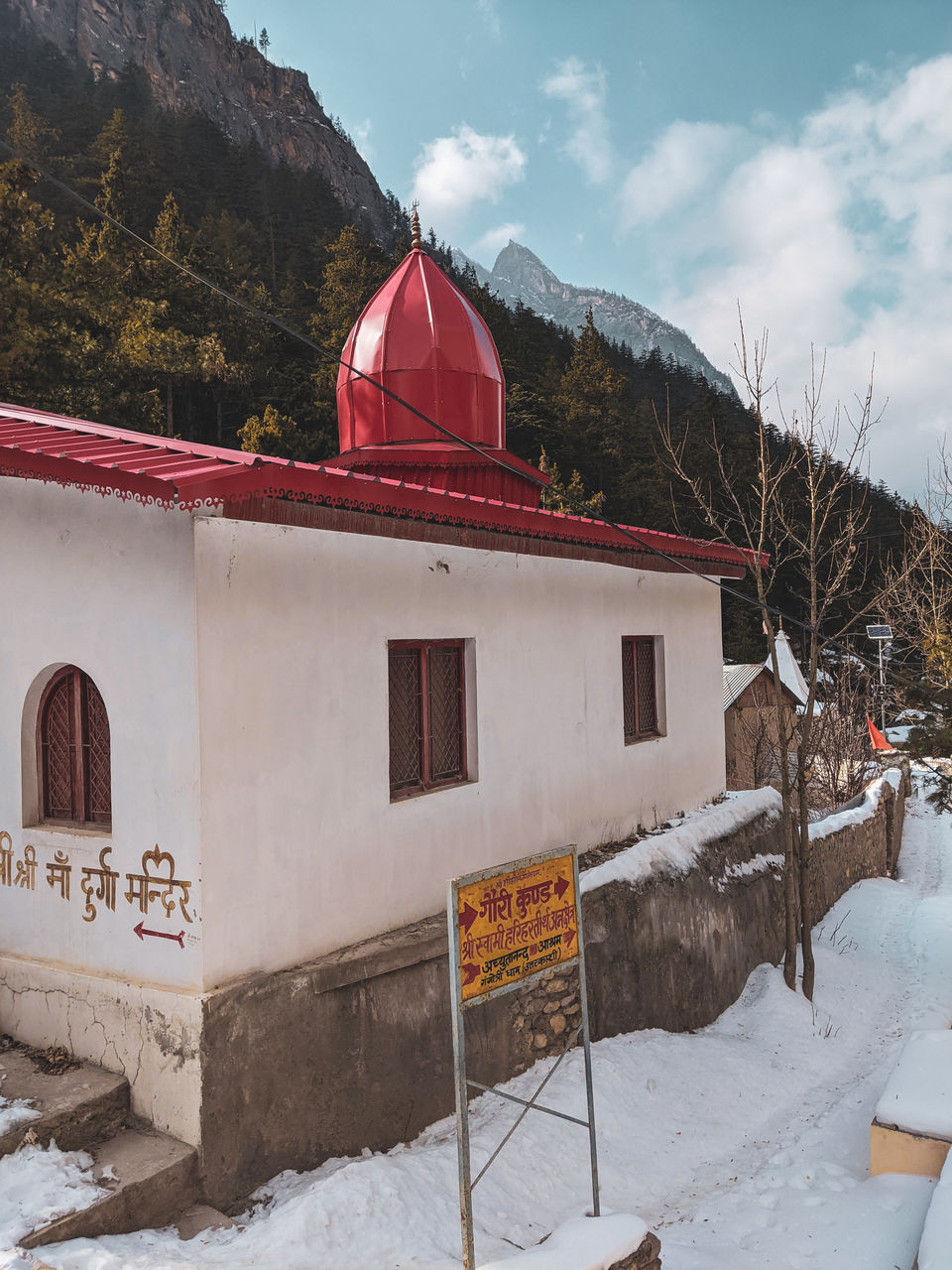 The signboards were sparsely placed, even few of the houses had submerged under the snow, which meant climbing down (or slipping through) snow patches.
The view from Gaurikund was like staring straight into the wilderness. Undisturbed, serene and accompanied by the sound of the harmonious waterfall there.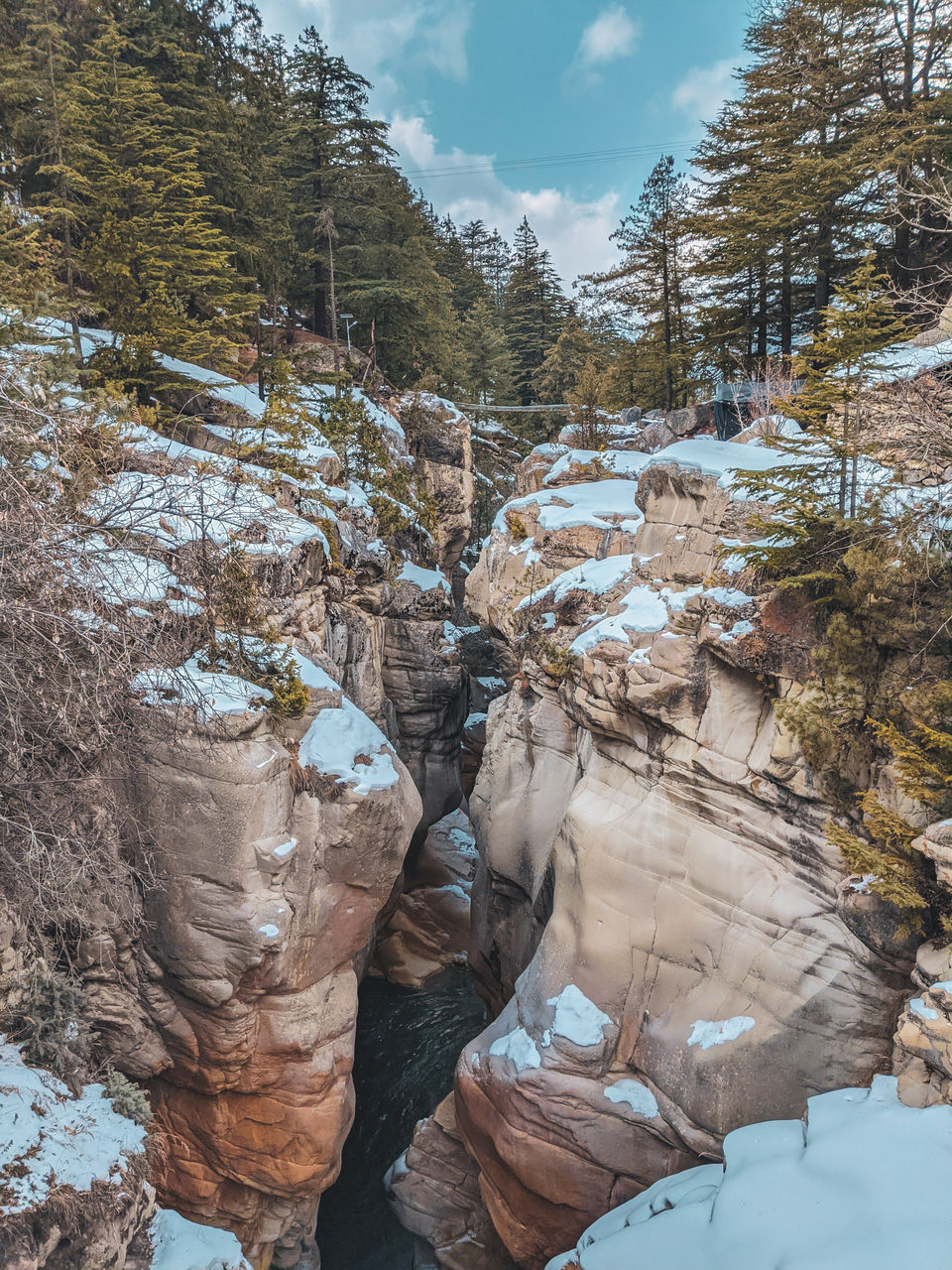 Having had my share of adventure for that day, I rushed back to my taxi lest I got lost in the snow to fend for myself, and with no sign of mobile network.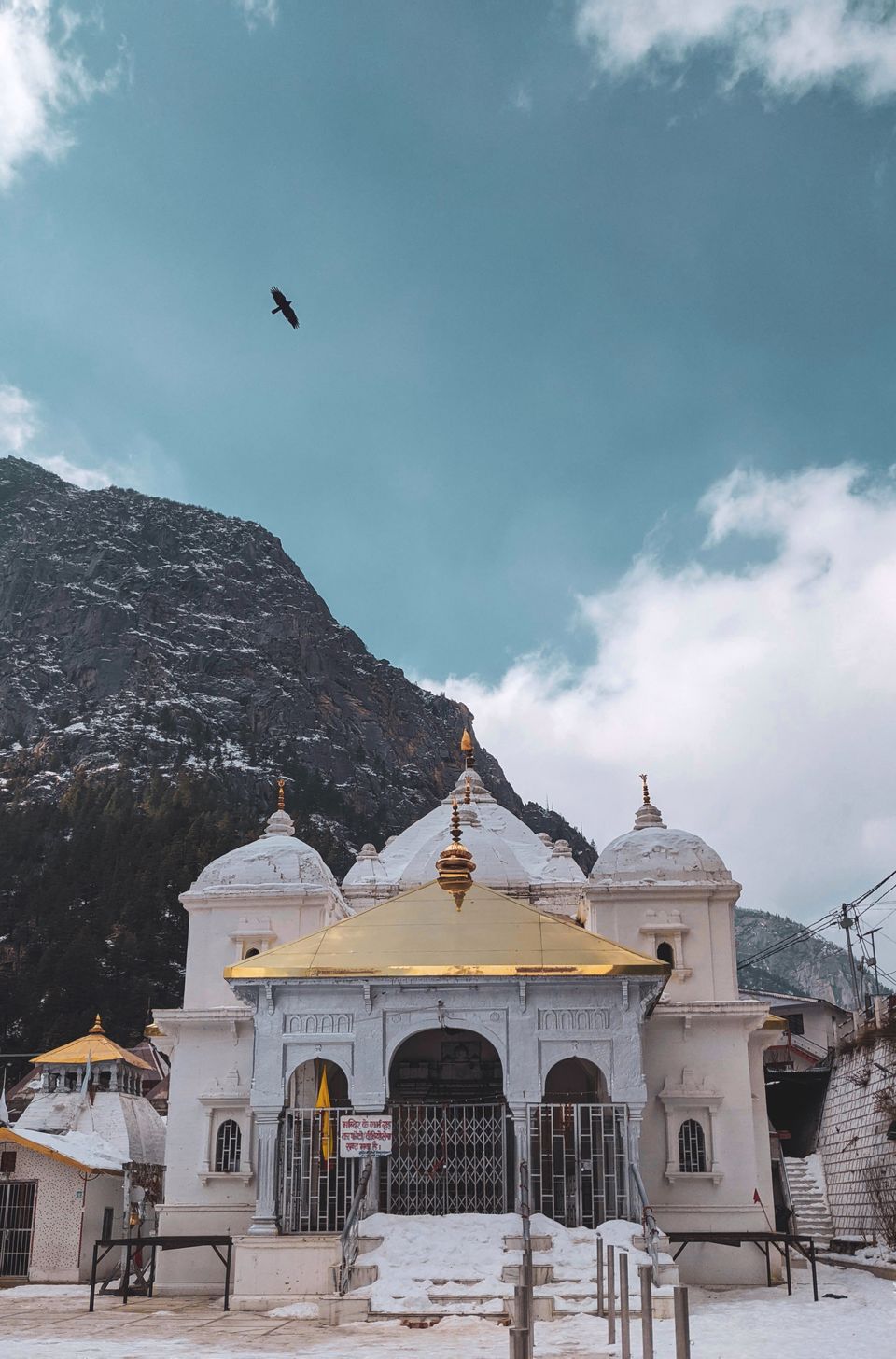 This was my experience in the frozen Gangotri, filled with moments of fear and respite. If you liked this piece, you can check out the rest of my work here. Have a similar gripping tale to share? Go ahead and pen it here to earn redeemable Tripoto credits!