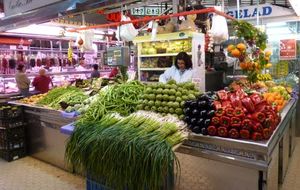 The Central Market of Valencia
Places to stay near
The Central Market of Valencia
Cercano a la Ciudad de las Ciencias
Cosy, clean & sunny room.
SUNNY ATTIC AT MERCADO + 2 BIKES
R4 Habitación individual con Wi-fi
Room at old city (Central Market)
Reviews of
The Central Market of Valencia
•
1
Open Mondays to Saturdays from 7.30 to 14.30, Valencia Central Market is a perfect example of what a good market should be, it is almost hard not to find anything that you need, from fresh vegetables, fruits, meat, fish, herbs, fresh bread and many more! I was told that the fishermen usually go out to sea on Monday, so Tuesday is the best day to go to the market to find the freshest catch in Valencia, and he was not wrong. As a lover of seafood I truly enjoyed looking and admiring how fresh all the products are, it's hard not to get overwhelmed or get too carried away, an exciting place to be specially if you're a foodie like me! The traders are friendly and always willing to help, though quite hard to communicate as many of them only speak Castellano or Valenciano. But, I have never found this a problem, even when we first moved here, it is not hard to point at what you want, a little Spanglish and hand signals usually breaks the ice. Foodie or not, Valencia Central Market is the perfect place to view local produce and soak up the atmosphere while having a cortado or two. Or in my case, three glasses of my new favourite albariño wine, a morning well spent.
Attractions near
The Central Market of Valencia