Like all great travellers, I have seen more than I remember, and remember more than I have seen.
There are moments in our lives, when we travel from reality to our dreams. Ones, the thought of which take us away from the mundane. But we come back, chuckle a bit, and say to ourselves,"someday my friend". I had the same experience over and over again. Sitting in office, typing something I don't remember now, I took off from reality to a thought of solo backpacking trip somewhere outside India.
Little did I know that this fire would not douse easily, as I spent my next few months planning the trip. With a traveller in my heart, I boarded my flight from Mumbai to the first stop, Amsterdam.
Amsterdam
Amsterdam was nothing short of a fairy tale town for me. The beautiful gabled houses with rhythm of windows spanning building facades, flowered deck watersides, people riding bicycle with their easy going attitude, and the rich art and history it holds are few of the things that made it a special destination for me. It was as if someone had brought a story of a beautiful city to life.
As I walked out of the airport, the feeling of being alone in a foreign land suddenly kicked in. I was staying with a friend in Amstelveen which was lush green with perfect setting to call it home. The best way to explore Amsterdam is to take a free walking tours. One can also rent a bicycle to ride around the city or use the tram system which covers major attractions.
As I started my day, I first visited Museumpline which is known to house some of the amazing museums such as Van Gough Museum and Rijksmuseum. It is huge open garden with museums all around it and a pool at the end. There was a flea market on Sunday and lot of people were out enjoying, dancing, and having a good time.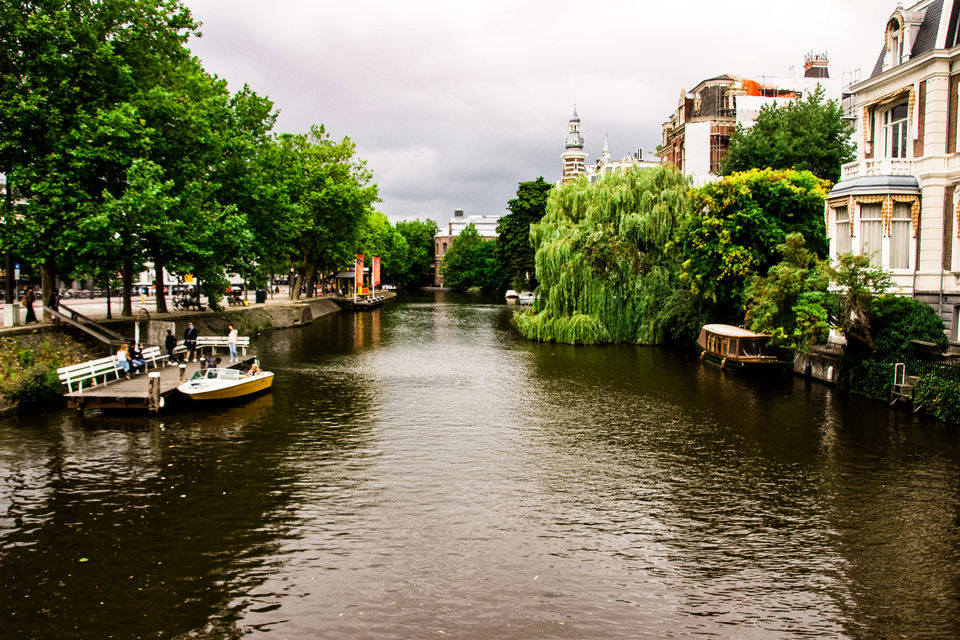 From there, I made my way to the canal. It runs across the entire city and also provides a good means to explore the area. One can also board the canal tours offered and soak in the beauty of the city on a boat with good food. I also ventured into the tulip museum which provides a beautiful history of tulips in Holland. It is located in a room inside a tulip shop and the charges are nominal.
Making my way through alleys and small lanes housing quaint eateries, I reached Spui Sqaure. The colorful gabled houses across the canal with bustling cafes made it a good place to sit and relax. From there, I made my way from Dam Square which houses Madame Tussauds to the Centraal munching some delicious batata faritas or potato fries. The Centraal or Centrum is home to some of the interesting museums, charming and high end shopping area, and fantastic entertainment. One will also find the magnificent canal ring at the Centraal.
After a bit of exploring and making my way through local market areas, high end shops, I decided to visit the famous the Anne Frank Huis (House). There was a huge line to get in to see the place which houses various events of Anne and the holocaust. But the thought of doing a slow walk through the house with the crowd pushing from behind did not interest me much.
Next day, I decided to explore a nearby area called Zaanse Schans or wind mill village. I took a bus from Central Bus station to Zaanse Schans which was a 30 minutes ride. It is a small village with working wind mills near a canal, a huge lush green land and an entire area set in old times with dummies in the model houses to depict the life that existed in earlier time. I visited few of the working windmills on some nominal charge. There was a small eatery and a souvenir shop but what really excited me was the cheese shop where fresh cheese was being produced. The entire shop was smelling of cheese which may be a turnoff for some but I had a great time. After strolling around the area and near the windmills, I came back to Amsterdam.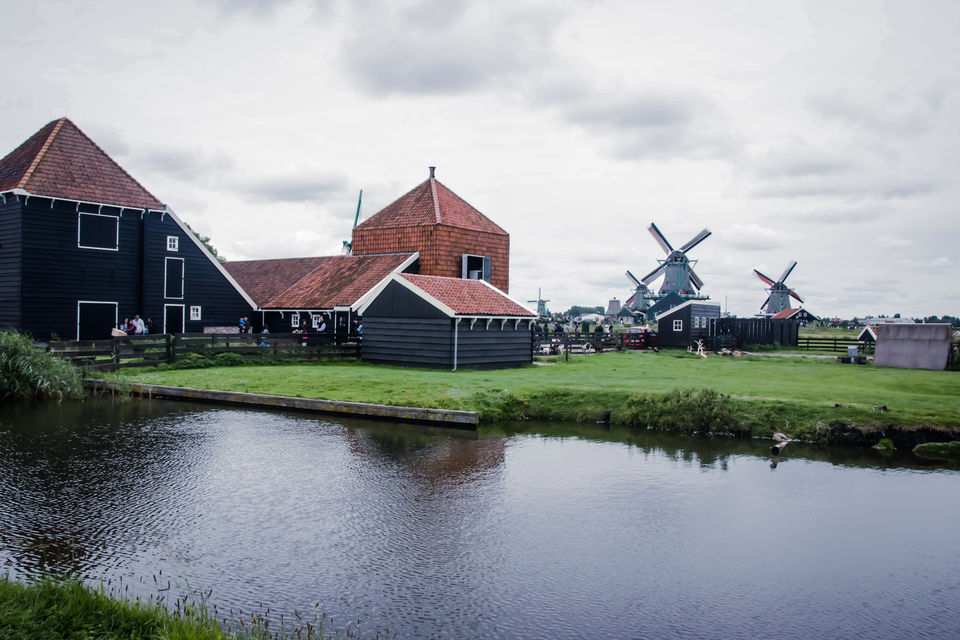 The last place I visited was the famous red light district. It has somehow managed to keep the seediness away with being a major tourist attraction. During the day time, it is like any other part of the city with the only give up being the sex signs everywhere. In the middle runs the beautiful canal, and on the sides are the shops lit in red with beautiful women in Monroe getup seeking your attention from behind the window panes. The area truly comes to life at night with gawking tourists walking slowly as they stare women in the window while going from bar to bar. I soon bid the Monroe I found in Amsterdam farewell as I made my way to the closest tram station and was soon on my way to home.
The time I spent at Amsterdam gave me some of the best memories to cherish forever. It was an experience of a life time as I promised to visit this fairy tale town again. It was time to leave Amsterdam and though my flight wasn't comfortable, the charm of my next destination made up for the discomfort.
Barcelona
Barcelona was my entry point to Spain and I fell in love with the city. There was so much to see and plethora of activities to engage in. But, I had only 2 days to spend here and decided to cover the maximum of the city before moving out. On my arrival, I took a two day unlimited metro and bus pass from the tourist information counter at the airport. Barcelona offered a lot in terms of history, art, culture, beaches, and the delicious food. The city boasts of the architectural marvel of the Spanish architect Gaudi.
I started with the famous Roman Catholic Church La Sagrada Família, designed by Gaudí. It is huge structure and is difficult to miss. As I entered, I was greeted with different coloured glasses on both sides of the main hall facing the Christ. The architecture of the church and its towers was worth admiring as I spent my next hour exploring the different parts of the church.
Thereafter, I made my way to the Gothic Quarters which is located at the heart of the city. It is called so because it used to be the Roman village and thus has some remnants of its glorious past. The entire area was around 4 blocks with the narrow, winding streets that create a labyrinth. As I walked in these lanes admiring the history and architecture that exists so beautifully in the city, I reached right in the heart of the district. There is the huge Cathedral with a stunning courtyard full of plants and oddly geese. At the end of it are some good restaurants and bars to treat yourself while you relax and enjoy the surrounding.
My trip to Barcelona would have been incomplete without visiting the famous and most beautiful street in the Spain, Las Ramblas. Famous and infamous for many things, you will find almost anything you wish for somewhere along the Ramblas, if not on Las Ramblas itself. There is an abundance of restaurants, cafes, live sketch artists, live performance, flower and craft stalls, fashion shops and many more. The best part which I loved was the La Boqueria market, also known as Mercat Sant Josep, a world renowned indoor market. The moment I entered, I was in for a treat. The market was full of candies, sweets, fruits, spices, meat and fish products (Oh the food!). At the end of it were some bars which served delicious cuisines and amazing drinks. It was full of people and yet somehow everyone was able to reach their desired shops with no problem. I treated myself with some of the delicacies and went out to explore the rest of the street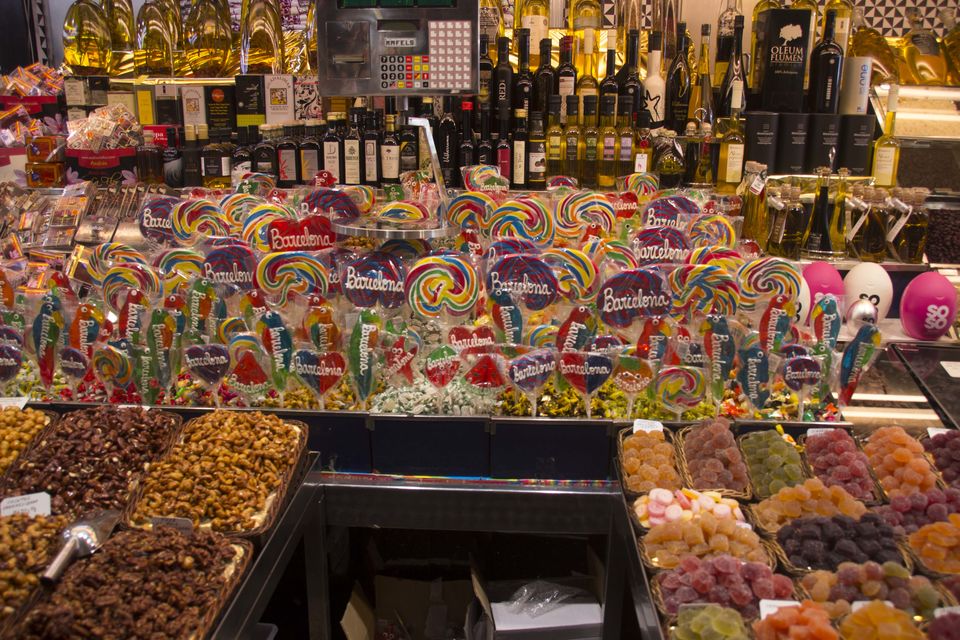 I then made my way to the nearest beach / port area at the end of the street. After exploring the city and gorging on the food, the best way to relax is siesta all day on its famous beaches and get a good tan.
Next day, I ventured into Park Güell. The park contains amazing stone structures, stunning tiling and fascinating buildings. At the top of Güell park is a terraced area where I got a wonderful view of the park and of Barcelona City. The vibrant colours of the tiles are truly breathtaking. At night, I went to see the magic fountain of Montjuïc's. The magic fountain is a spectacular display of colour, light, motion, music and water acrobatics as I found a comfortable area to relax and admire the beauty Barcelona is.
There are a lot of other places to explore and many a good restaurants to treat your taste buds and indulge in fine Spanish cuisines. There are various walking tours to try different Spanish cuisines and explore the history and culture of Barcelona or Catalunya.
Though two days were not enough to squeeze in the highlights of Barcelona but, it was a great start to the beautiful and one of my favourite country outside India. After thanking my host for his hospitality and requesting for a photo which he happily agreed to, I reached the nearest bus station to catch a bus for my next destination.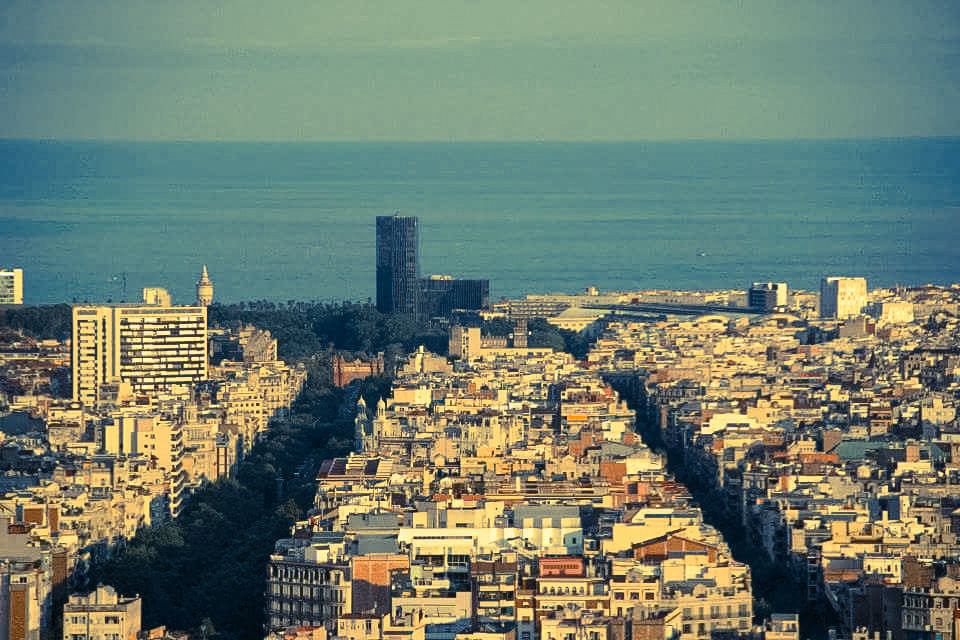 The bus journey was good with the water on one side and clear field on the other. So far I my vacation was going better than I expected. I was really looking forward to the rest of my trip.
Valencia
Valencia, almost forgotten sister amongst the shine of Barcelona and Madrid, provides a harmoniously combine the remnants of its farthest past, with the most innovative and avant-garde buildings from the new millennium. It is a sort of laid back city which offers a Roman past harboured in its down-town area and the advanced massive architectural project called The City of Arts and Sciences.
It was easy to visit the down-town area as I had already purchased the unlimited metro and bus pass. My host helped me with the areas to visit and how to reach there. The down-town area boasted of the Gothic architectural buildings and cathedrals with a lot to discover by walking or cycling. It was easy to rent a cycle and roam around in city, but I preferred to walk. There was the famous Valencia Cathedral, The Barri del Carme neighbourhood, The Mercat Central and a labyrinth of streets all displaying Spanish-style buildings with large balconies and windows. There were a good number of restaurants where I enjoyed mouth-watering cuisines when I got a bit tired of walking. It was a good way to relax and engage in a chat with locals and other tourists while I enjoyed the beauty of Valencia.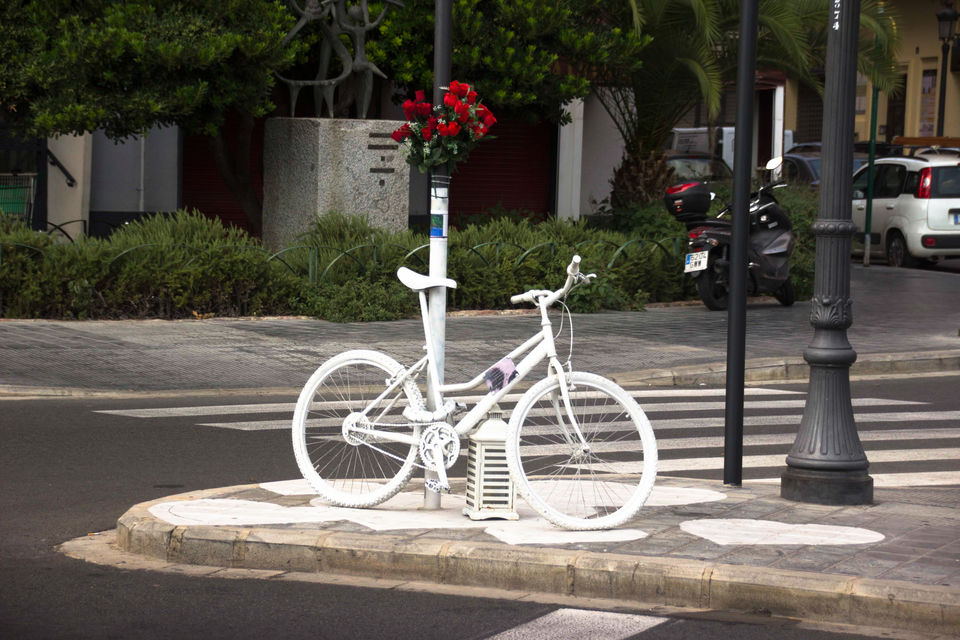 After roaming and admiring the gothic buildings and cathedrals a bit, I decided to make my way to the City of Arts and Science. There was always something different to explore at every place I visited as I made my way to the City of Arts and Science. It was a marvel to see the massive structures in this place. One will find a Science Museum, a Planetarium, an IMAX cinema, an Aquarium and, the Arts Museum. It was more than I could ask for as my next 4 - 5 hours were going in to explore and enjoy all that lay ahead of me.
The best parts about the entire project were an IMAX Cinema, planetarium and laserium which resemble a giant eye. The design resembles an eyelid that opens to the surrounding water pool. Other amazing areas in the project involved a landscaped walk with plant species indigenous to Valencia, a covered plaza for concerts and sporting events, an opera house and performing arts center, an interactive museum of science that resembles the skeleton of a whale. There was a small café and sitting area where a stage was set for some performance near the pool. Walking inside the city surrounded by the glass façade buildings with unique structure made me feel as if I have travelled to a future city.
But what I enjoyed a lot was an open-air Europe's largest oceanographic park. Every building inside the structure represents different aquatic environments. There was so much to explore and learn about the habitat of different marine species including dolphins, belugas, sawfish, jellyfish, starfish etc.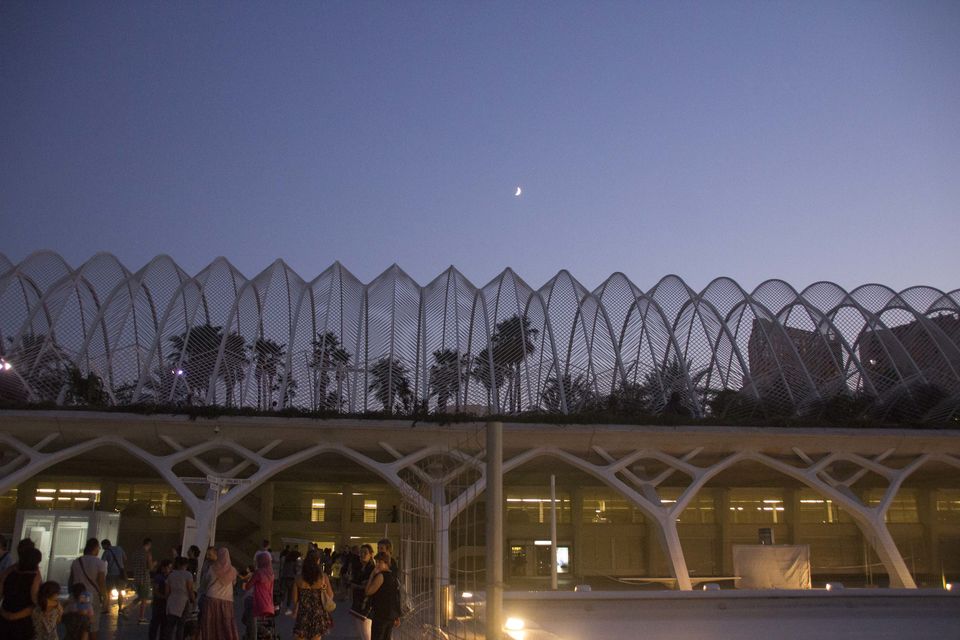 Later, I sat near one of the pools, interacted with locals, took pictures of them and enjoyed the beauty of this place.
Before I left Valencia, I had a nice talk with my host and we discussed a lot about the culture in India and that in Valencia, about people and their perception about studies, the job scenario etc. Our interaction made me realize that there is a lot that the world doesn't know about India and a lot we don't know about the world as he explained me the way of living and working scenario there. I soon bid them farewell as I reached the train station for my next destination.
It was a short visit to Valencia as there is so much to see in this beautiful city. I couldn't cover La Tomatina which is held in the neighboring Bunol and I vowed to come back for this. As I was waiting for my train, I watched people see off their loved ones not ready to let them go. I also wanted to stop myself in this city and spend some more time but I did not have that luxury. But the thought of train travel and my next destination kept my spirits high.
Madrid
My train ride to the capital of Spain was relaxing. The view outside gave me a good time to relax and cherish my trip so far. The instruction given by my next host helped me reach her home without any problem. As I entered my room, I saw suggestions on what to eat, were to go, guides and maps of Madrid. The best of everything in a very informative manner was kept there. It was more than I could ask for as I instantly sent my host a message thanking her for all this.
There are a lot of places to visit in Madrid that can suit ones preference. I stated with Plaza Mayor, a central plaza in the city of Madrid. It was bustling with people and have restaurants and cafes at all sides to give you a good taste of Spanish cuisines especially the tapas. I made my way through tourists and street artists and reached Teatro Real or simply El Real, an opera house, as it is known colloquially. I wanted to go for a Spanish opera but couldn't get a ticket to the place.
Behind it was Palacio Real de Madrid, the official residence of the Spanish Royal Family at the city of Madrid, but is only used for state ceremonies. It was a magnificent building that boast of amazing interiors, and a well-trimmed garden. After spending some time there, as I was walking back, I saw a street artist playing music on different wine glasses filled with water. The music he created was entertaining and made up for my long walk.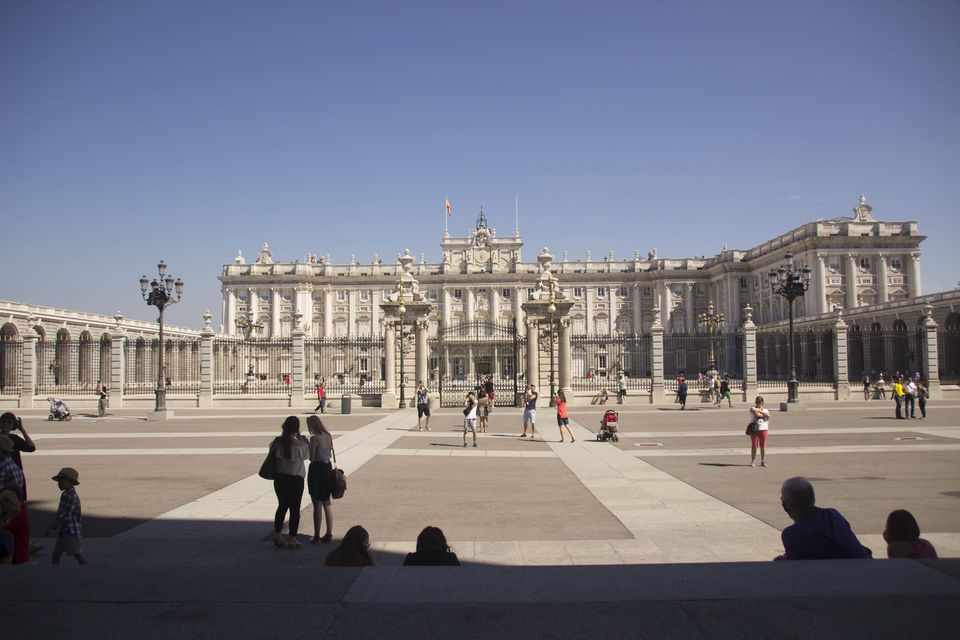 I then decided to visit one of the famous café in Central Madrid, Chocolatería San Ginés to try the popular chocolate con churros (hot chocolate and churros). One cannot complete Madrid without trying these. There was a 15 minutes waiting which was worth the pleasure of tasting the delicious churros dipped in hot chocolate with some fresh orange juice. A gentlemen playing music at the side and singing in Spanish made my evening more memorable.
The other areas that I visited included El Retiro or Buen Retiro Park. A magnificent park, filled with beautiful sculpture and monuments, galleries, a peaceful lake and host to a variety of events. My favorite was Crystal Palace, a glass and metal structure in the shape of a Greek cross. Next in line was Temple of Debod, an ancient Egyptian temple. It is dedicated to the gods Amon and Isis. There is great history on how it came to Madrid. The back side opens to a beautiful view of sunset.
On my last day in Madrid, I visited a famous flea market, El Rastro de Madrid or simply el Rastro. It is held every Sunday and public holiday. A variety of products (new and used) can be found in this market.
Madrid was the end to my journey in Spain. I had a good time and every moment made me fall in love with Spain. The language, food, people all made this trip a memorable one for me. As I boarded my flight with memories to cherish forever, I eagerly waited to visit the last destination of my journey.
Lisbon
The moment I stepped out of airport, I know this city will offer me something which no other city did before. The sheer beauty of the city and the balance between commercial and tourist life made it one of the amazing places I ever visited. My host helped me with the place and showed me around the house. She suggested me the places to visit in and around Lisbon. We talked a bit about each other as I introduced myself. To my surprise, she was from Valencia and came to Lisbon for studies. I told her that I visited Valencia before coming here and was really happy to visit it.
There was a lot to see in Lisbon and I wanted to cover as much as I could. I started with São Jorge Castle, a Moorish castle occupying a commanding hilltop overlooking the historic center of Lisbon and Tagus River. There was a labyrinth of roads uphill to reach the castle. There was a tram ride near the Rossio Square which goes through the internal parts of Lisbon where one can witness the daily life of old style Lisbon.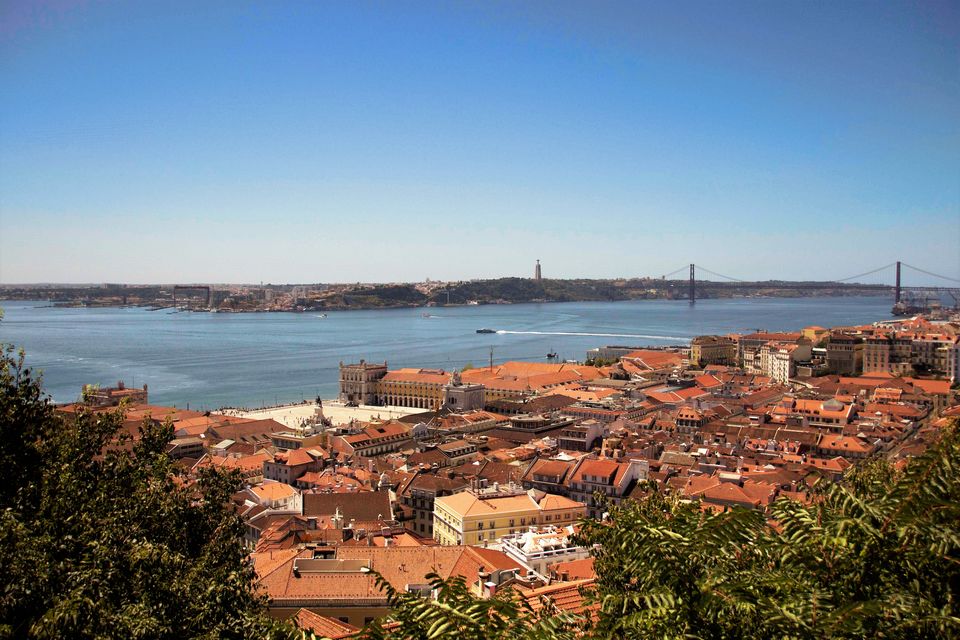 The streets leading to Praça do Comércio or Commerce Square (Also known as Terreiro do Paço or palace yard) are filled with restaurants, cafes, and shopping stores. The mosaic tiled streets with bustling crowd comes to life in evening when people walk out to this place to enjoy, dance and relax. The Commerce square situated near the Tagus River, is a huge plaza with cafes on three sides and the Tagus River on the fourth side. The night time was peaceful with moon blooming to the full and waves hitting the steps.
The next day I decided to explore a town called Sintra. Sintra is known for its many 19th-century Romantic architectural monuments, and is a UNESCO World Heritage Site. The entire town had a free wifi to encourage tourists. There was a lot to see in Sintra from Castelo dos Mouros to Pena National Palace and the Sintra National Palace. The architecture of the palaces, the building and the way everything was kept to depict the everyday life that was there in past. What really caught my sight was the colorful Pena Palace. It seemed like a palace from a story come live. However, nothing matched my excitement of being at the west most part of Europe, Cabo da Roca. There is a lighthouse with a small café to sit and enjoy the breath taking view of the endless ocean.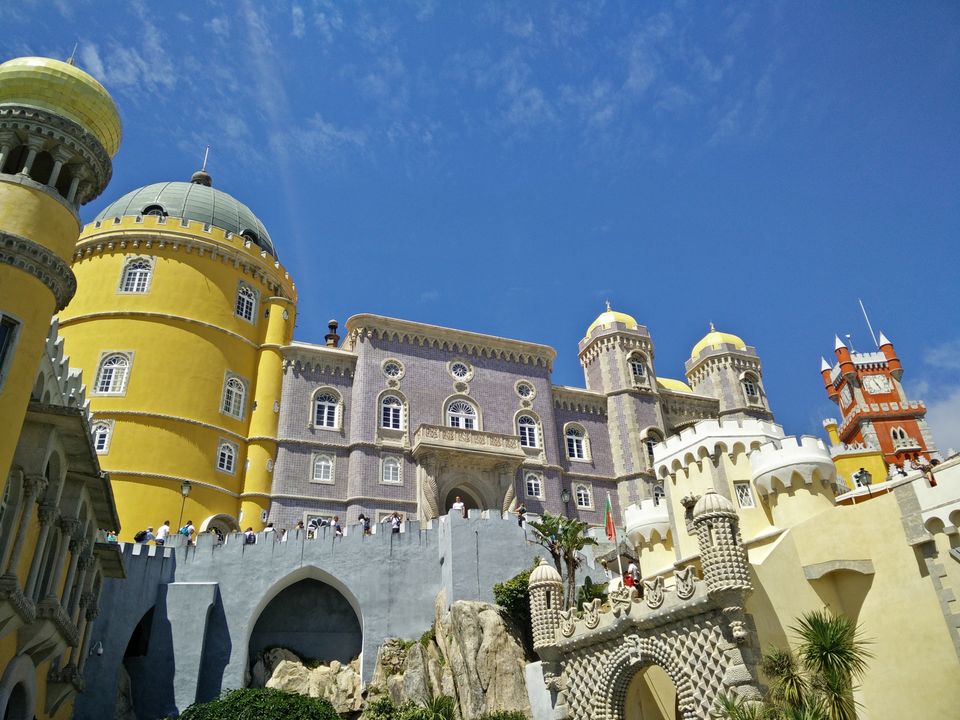 After coming back to Lisbon, I decided to visit Belem as my host suggested. From the famous Belem Tower to the Jeronimos Monastery - Vasco da Gama's resting place, to the Discoveries Monument -with carvings of the world's explorer both sides of the monument, there was a lot to explore. The pavement in front of the monument is decorated with a mosaic representing a compass with the map of the world charting the routes taken by the Portuguese explorers (Amazing isn't it!). There was something to learn and take away with myself from this place. It was a beautiful mix of art and history surviving till date.
All the walking made me hungry and I reached the famous Pasteis de Belem, to try their famous custard tarts or pastries. These were nothing short of little bundle of heaven as I enjoyed them sitting near the river cherishing the places I visited in my journey so far.
It was my last day of an amazing journey which started with a dream I dared to fulfill. Finding my way from one city to another, meeting some amazing people, getting to know the culture, food, art, and the history left me richer than I was before. I was happy that I did a lot more than the usual. Admiring the art work at Amsterdam, the beauty of church at Barcelona, the magnificent science in Valencia, the beautiful life at Madrid and the amazing history at Lisbon was an enriching experience. Sitting there near the Tagus River one last time, I realized that travelling is not to fulfil a bucket list we all make. It is a learning that makes us mature with every step we take, admire the difference with every place we visit, bring us closer to people we otherwise would never meet and, makes us more humble as we breath and respect a culture far different then what we live.
With all that and a promise to never let this hunger die, I kissed the city of Lisbon, all the people I met, and my travel adventure farewell until next time as I made my way to pack my bags for my flight back to Mumbai.
Until next time...for a new adventure :)
Frequent searches leading to this page:-
Europe honeymoon tour packages, Europe honeymoon tour packages from Delhi, Europe honeymoon tour packages from Mumbai, Europe honeymoon tour packages from India, top things to do in Europe in winter, best things to do in Europe in winter