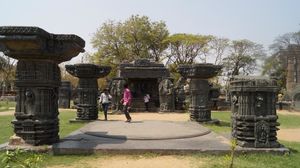 Traveller Types
Families, Friends
Rank
4 out of 20 attractions in Warangal
Places to stay near
Warangal Fort
OYO Rooms Ambedkar Circle Hanamkonda
Reviews of
Warangal Fort
•
3
After spending some time in the temple, our next stop was to visit Warangal fort or more precisely its ruins. Even before the name Warangal, the city was called Ekasila Naragam indicating single rock city. The Fort now contains the ruins of the stone monuments from the single granite rock.
Warangal fort - This places is in ruins form but maintained well by Archaeological survey of India (ASI). Fort was commissioned by king Ganpathi Deva. It has beautifully carved arches and pillars that surprised us. Also, has four main ornamental gates to welcome. One can find a Shiva temple with statue of Nandi and many more idols of Hindu Gods like lord Ganesh, Vishnu, Shiva. The extensive rock carvings on the pillars and arches will leave you mesmerized.
From there, we headed back to Warangal city, and visited the "Warangal Fort". All the heritage of Kakatiya Dynasty is being reserved there with great concern. The place was full of sculptures and carvings of the Warangal Fort.
Attractions near
Warangal Fort