Telangana is home to some really beautiful, ancient forts and citadels that lie scattered around the state. While some of them are within the major towns and cities, some of them lie in the middle of forests away from the crowds. Most of these lie around and within Hyderabad and can be visited on day trips from the city.
So next time you'll Hyderabadis get bored on a weekend and don't want to go too far away from the city, you should consider paying a visit to one of these forts. And for architecture buffs and history nerds from everywhere around the world, these forts have plenty to offer!
The Medak fort, which lies about 100 km from Hyderabad in Medak was built by the local Kakatiya kings is one really beautiful fort with its complicated architecture. What we should look out for in this 17th century fort is all its entrances (also named 'dwarams') with lions, elephants and other carvings in the form of Simha Dwaram, Gaja Dwaram and others. The mosque that was built in the fort by the Qutub Shahis is a indication of the culture blend that existed in the Telangana area with its Nizams and the Kakatiya rulers.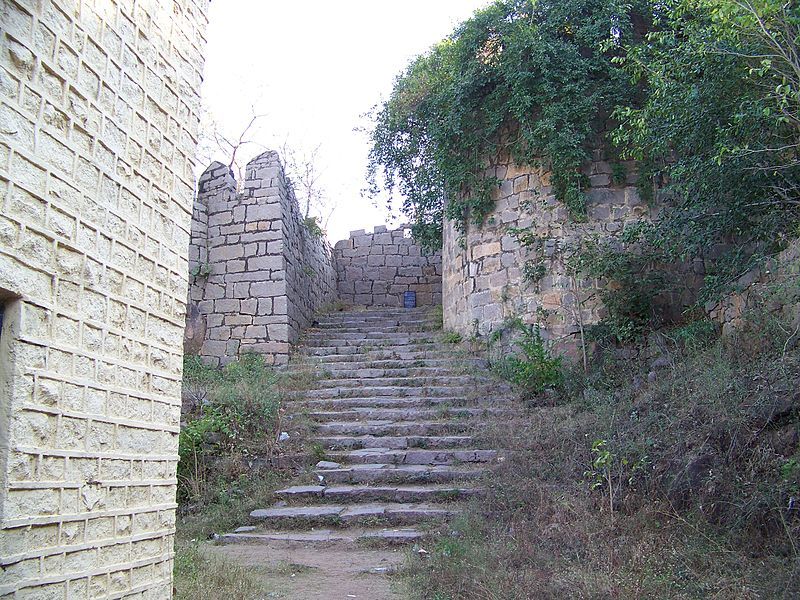 Where is it : Arabgalli, Medak
How far is it from Hyderabad : NH44 takes you here in about 2 hours if you are driving from Hyderabad.
Timings : 9:00 am to 7:00 pm
Built by Rani Rudramadevi while she ruled the Kakatiya kingdom in the 12th century, this fort in Warangal draws a lot of visitors every day for the beautiful temple-ish architecture that it was built in. There also happens to be a Shiva temple within the fort. 45 huge towers (of which only some remain as of today), many stone steps, a nandi, lots of beautiful carvings of birds, garlands and mythical animals over them – there's all of this and plenty more to the Warangal fort.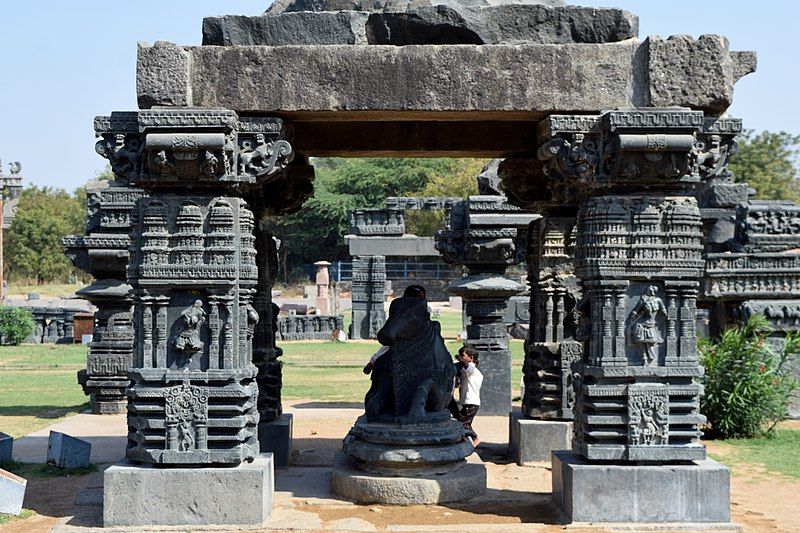 Where is it : Mathwada, Warangal
How far is it from Hyd : A three hour long drive from Hyd on the NH163 gets you here
Timings : 9:00 am to 8:00 pm
The massive and beautifully constructed Khammam fort that stands strong in Khammam even to this day has actually been built as early as 9th century A.D by the Kakatiya Kamma kings. Post their rule, this fort has been a citadel for many rulers such as the Qutb Shahis, Bahamani Sultans to Krishna Deva raya and many others. The many doors and windows, the Nethi bavi, Zafar well and the many secret passage ways (which are not so much of a secret anymore) are all to watch out for once you are here.
Where is it : In the heart of the Khammam city on the Fort road.
How far is it from Hyderabad : It is about a 3 and a half hour drive away from Hyderabad via the NH65 road through Suryapeta.
Timings : 10:00 am through 6:00 pm
Yet another fort that lies in the outskirts of Hyderabad at nearly an hour's drive away from the city is the Rachakonda fort that was built in the 14th century by the Velama kings during the Kakatiya rule. It was later occupied by the Bahamani sultans and later on by the other rulers of the area. Today, it lies isolated with its stunning architecture and its vast spread. After driving for about an hour and a half away from the city you will find this fort in the middle of nowhere amidst trees and shrubs that surround it. There will be a little bit of a trek for you to explore this fort and all the areas around it.
Where is it : In Rachakonda, Telangana
How far is it from Hyd : About an hour and a half is how long of a drive it takes to reach this fort through Choutuppal and the villages of Nalgonda.
Timings : Since it lies in the outskirts and there are no gates, it is open all through the day.
This one's a small fort that is located on a hill-top not too far from the main city of Hyderabad. This fort was actually built in the 10th century by the Chalukya rulers. A small trek through the hills leads you to this stone structure with a lot of history to it. There are many beautiful ponds within the fort and a temple of Lord Hanuman. A short drive is all it takes for you to reach this tiny town of Bhuvanagiri and this beautiful structure that stands here is totally worth a visit.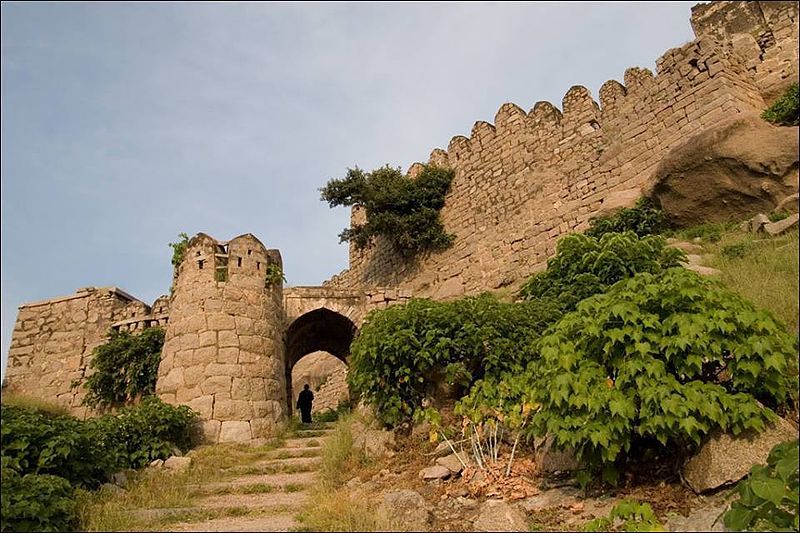 Where is it : In Bhuvanagiri, Telangana
How far is it from Hyd : An hour's drive from the city through Nalgonda takes you to this fort.
Timings : 10:00 am to 5:00 pm
The Nizams built this architectural marvel in the 1500s and today, it may not be protecting us from invasions but it continues to astound us with all its history and beauty. This fort is located within Hyderabad and in the outskirts so you can take a trip to the fort easily any time of the day. It is in fact one of the major tourist attractions of the city. While you are here, you should not miss out on some of these structures within the fort such as the Qutb Shahi Palace, Fateh Darwaza, Rani Mahal and Durbar Hall.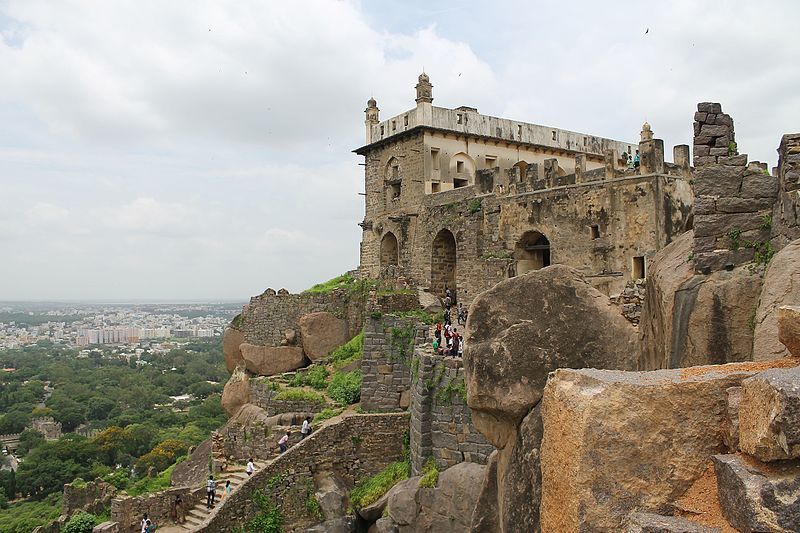 Where is it : It is located in Ibrahim Bagh in Hyderabad
How far is it from Hyd : At a 12 kms distance from the main city, you can reach here in an hour's drive from pretty much any corner of the city.
Timings : 9:30 am to 5:30 pm.
The Gandhaari Khilla is a massive stone structure which was built within a forest near Mancherial in Hyderabad that is believed to be filled with medicinal plants and herbs. It is known for the Mahankali Jathara (a local festival) that takes place within it each year drawing in a lot of crowds during those days. This fort was was actually built by the local tribal people (with the help of their Kakatiya kings) during the days of the Kakatiya rule in the 12th century. The forest and the fort are definitely worth paying a visit – if not for the healing ability it supposedly has but for its history and architecture.
Where is it : Bokkalagutta, Telangana
How far is it from Hyd : This fort is actually quite far away from Hyderabad and it takes you about 5 hours to reach here if you want to drive.
Timings : 9:30 am to 7:30 pm
Have you been to anyone of these forts? Do you know of some other great forts in and around Hyderabad. Here's where you can share about it all!
Why should English readers have all the fun? Tripoto is now available in Hindi.