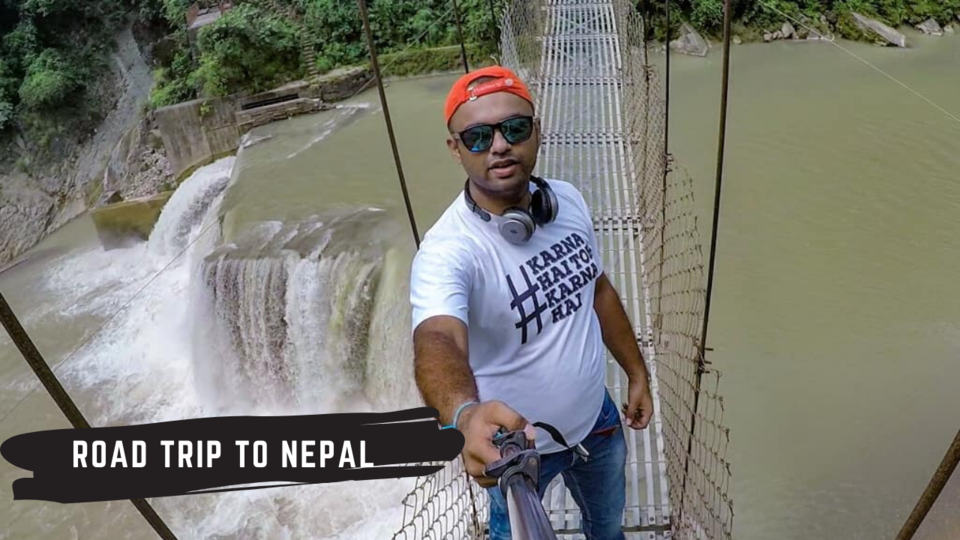 i Celebrated my 25th birthday riding my bike to kanyakumari all the way from Kanpur,so it was obvious that my 26th would be celebrated traveling as well.
And that's when the plan was made to do a small car trip to Nepal,doing a circular drive covering pokhara and Kathmandu with my family.
Entering Nepal through Sanauli Border the first thing you would notice is that,it doesn't feel any different than India.
Since It got late we stayed near the border for the night and then took of to pokhara the next morning.
The road to pokhara is amazing and moving a bit ahead we found this amazing waterfall.
And although the narrow bridge did look scary,we did end up climbing it.
Driving through these roads we were at pokhara where we roamed through the market and tasted some amazing food while celebrating my birthday.
Next morning the first plan was to see Pokhara from up above and there I was sitting on an ultralight flight enjoying the city from a bird's perspective.
This is a definitely recommended thing to if you happen to visit pokhara.
Next we visited a local waterfall,did some shopping and explored some more spots in the city before continuing ahead to Kathmandu.
Kathmandu was a lovely city as well,and our first spot was The famed Pashupatinath temple,which is a historical marvel in itself.
From there we ended up going to bouddhanathstupa which is place like no other having both relics of hinduism and buddhism at the same place.
From here we got an amazing view of Kathmandu and exploring the city for the night we headed back through rains and lovely curved roads.
This was how we did a small 5 day road trip to nepal from Kathmandu.Sorry for the lack of photos,because I did this trip as a break so shot only few times.
Total budget of the trip ended up being 30 k when for 4 people including everything(except the adventure right)
Hope you loved this short blog.
For more travel and experience stories follow me on my insta instagram.com/khiskabanda and youtube - youtube.com/khiskabanda
Frequent Searches Leading To This Page:-
A weekend road trip to Nepal, how to reach pashupatinath temple, pashupatinath mandir nepal history in hindi, importance of pashupatinath temple