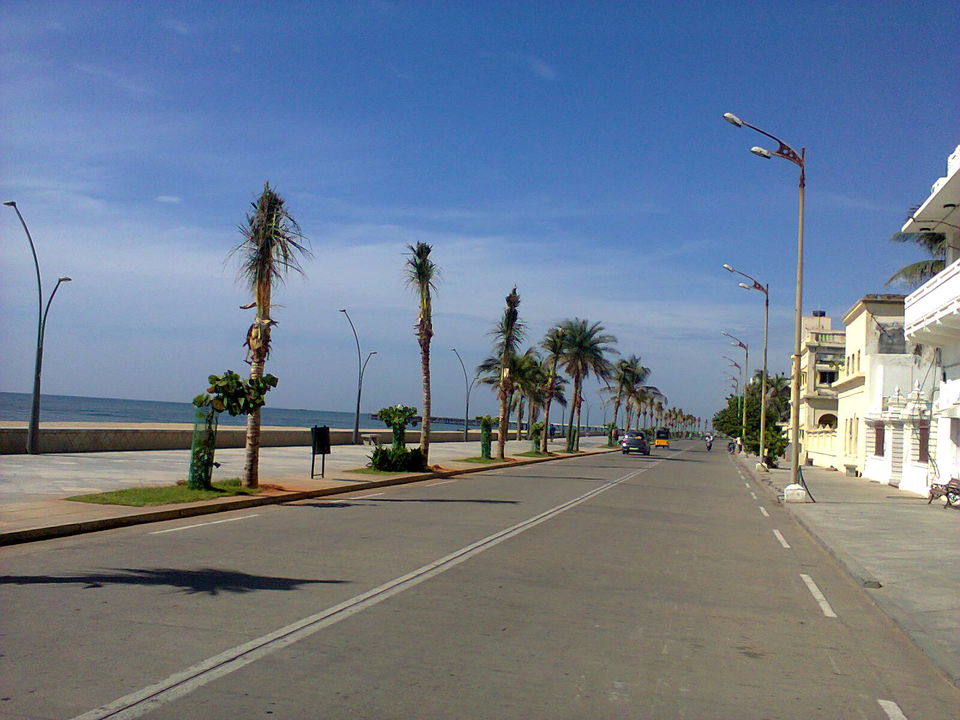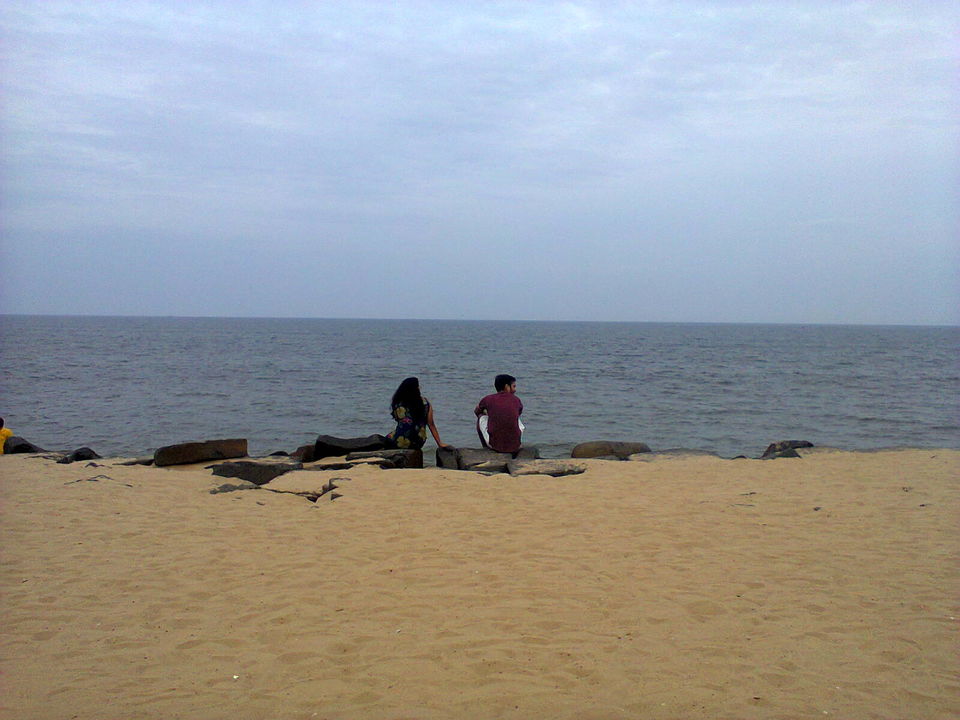 1) It's very clean, serene and litter-free, literally. There is an array of dustbins installed at every short distance and guess what, they are used often by the regular beach goers as well as by the sporadic tourists. Though I wouldn't deny that there are some beer bottles and some slippers lying here and there under the rocks but they are quite few and far between when compared to other popular tourist destinations of India. No wonder, our country is yet to come to terms with our PM's desperate and frantic calls for cleanliness.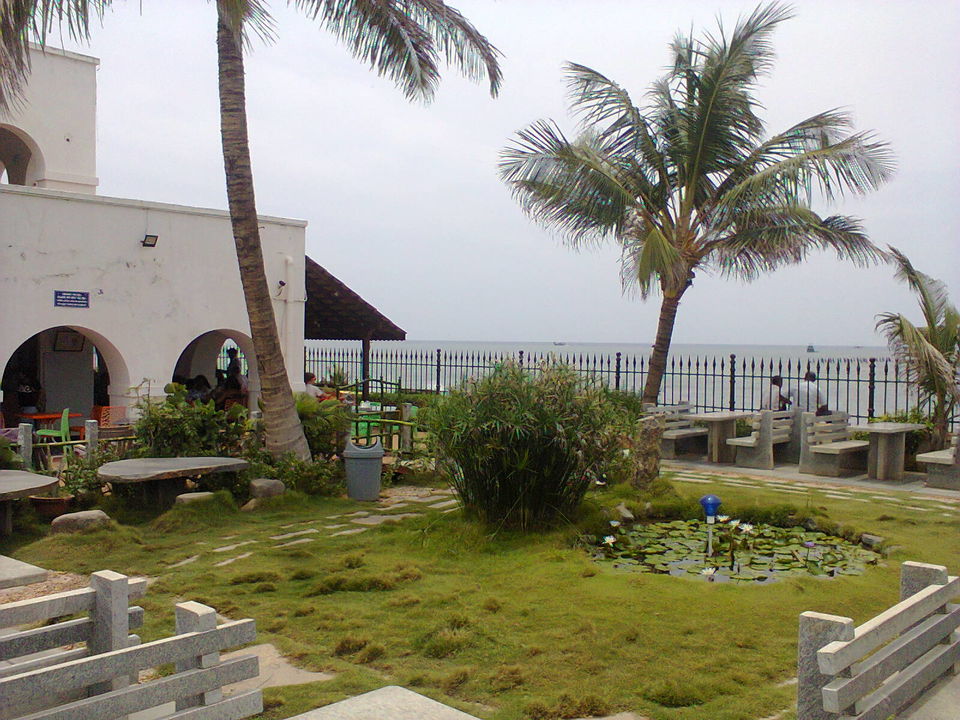 2) Its famous 'Le Cafe' that is open 24X7. Yes, it's true. There is a cafe, that too run by the Pondicherry Tourism department, that has its doors open to tourists round-the-clock. It serves delicacies such as croissant in variants of French, cheese and almond; south Indian staples such as Idli, Vada; delicious cakes; tea, coffee, juices, fresh lime soda and hot chocolate, among other mouth-watering dishes. To be honest, food is not out of the world, but its ambience and proximity to the beach makes up for it.
The tourists can be seen till late in the night chatting, while a group of youngsters can be seen clicking selfies while an old couple would be having good time over a cup of coffee or two.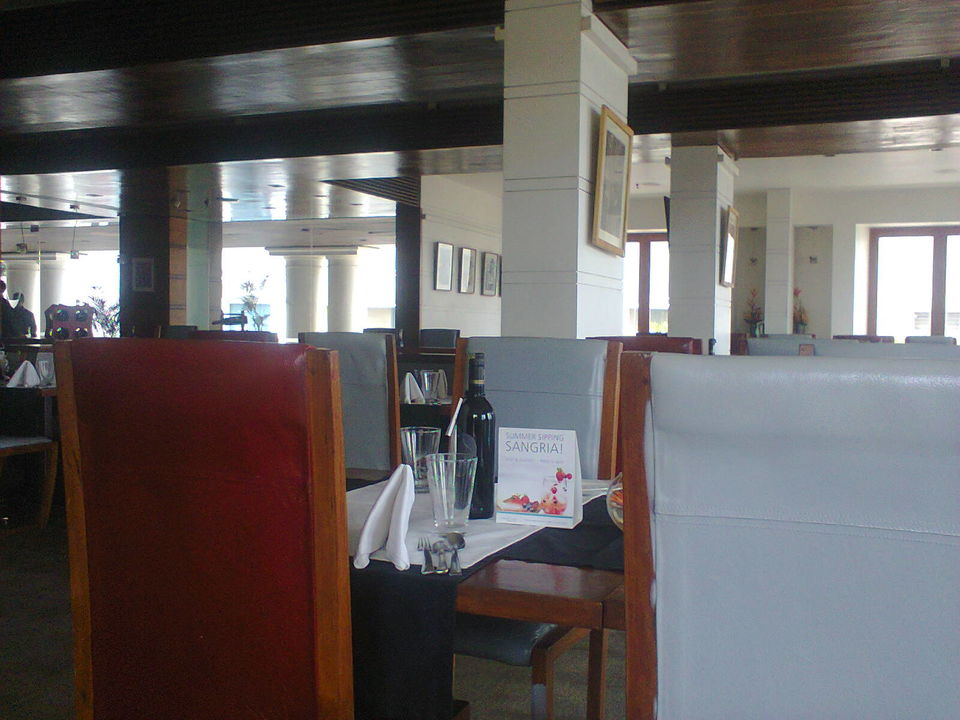 3) Some fine dining places too dot the beach. Not only a 24X7 beach cafe, there are a handful of fine dining places for the upwardly mobiles and those who want to sit near the sea but not at the sea side to avoid heavy winds or, disheveled hair, may be. There is a place called "Promenade" that serves nice pasta, masala tea and fresh watermelon juice, among other beverages including hard drinks, of course. But for all this, brace for loosening your strings. Everything comes at a price, mind it. Besides food, the place is a cultural potpourri in true sense of the word. The manager Arundhati belongs to Calcutta, while rest of the staff hails from Darjeeling (don't dare to call them Bengalis if you want to spare yourself Bimal Gurung's ire) while a chef from Thailand flies down often and customers swoop down from all the places worldwide.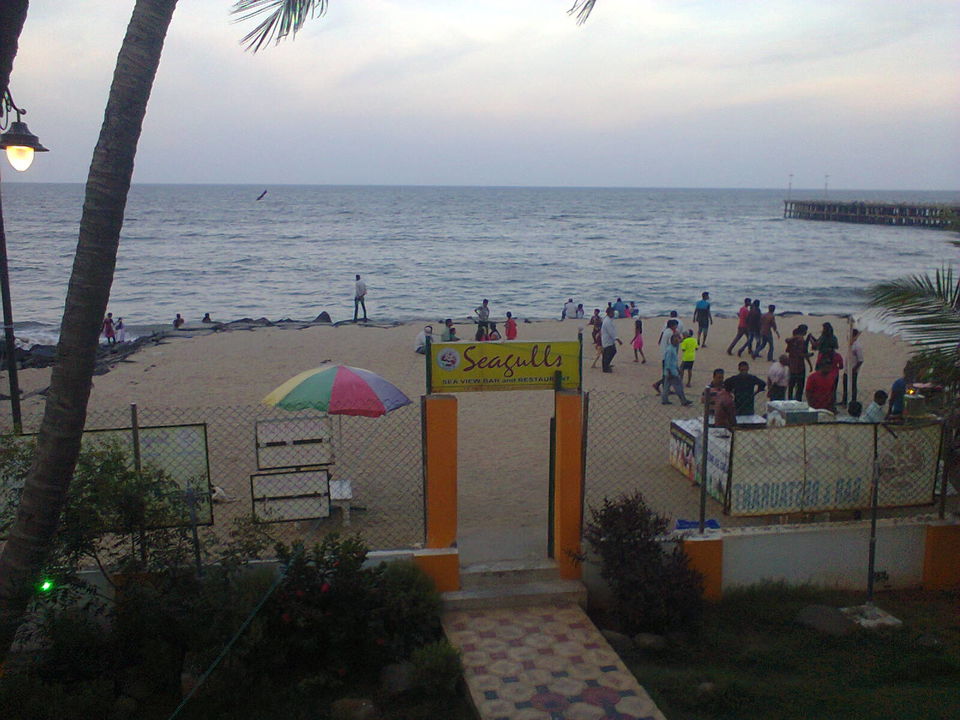 4) Nice rooftop restaurants. Those who relish panoramic view of sea can experience 'Seagulls' that is located on the corner opposite to 'Le Cafe'. The place serves hard drinks and north Indian food, among other cuisine at a reasonable price. Gaping at the high sea over a glass of beer is a splendid treat to the eyes, isn't it?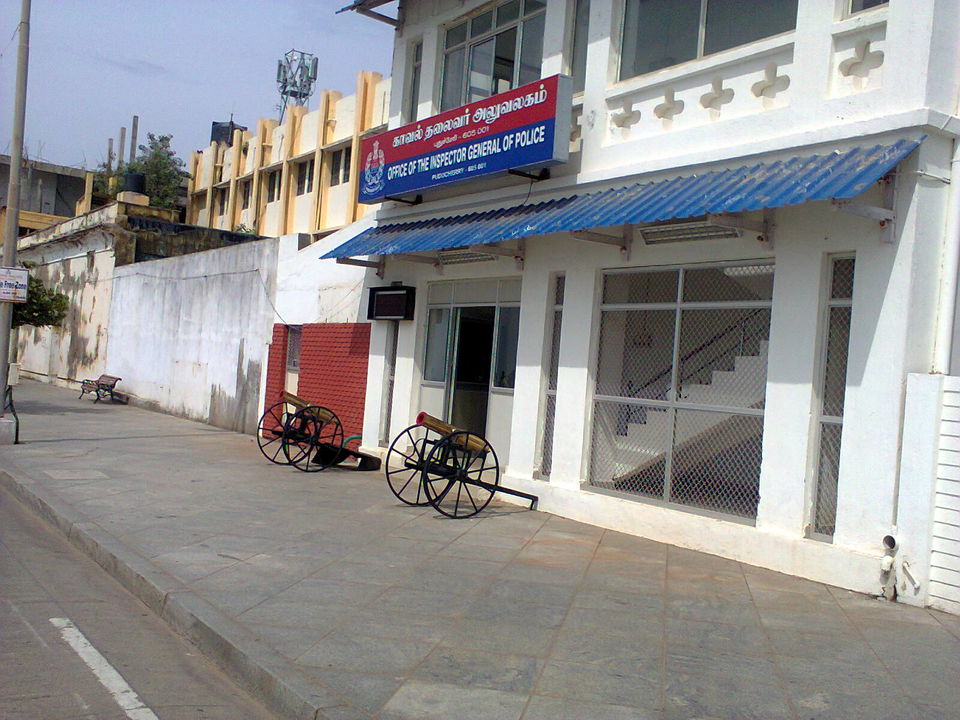 5) Security is water-tight. "The place is safe." It's not a government's hollow statement but a reality. One can spot the sea-facing offices of most high-ranking officials of Pondicherry. The inspector general of police, chief secretary and police headquarters are situated at a stone throw's away from Le Cafe. One may guess that the senior bureaucrats and IPS officers get tempted to visit the office daily for the scenic surroundings that they can access from their office window while conjuring adequate deterrent to the trouble makers at the same time! What an idea sir ji?!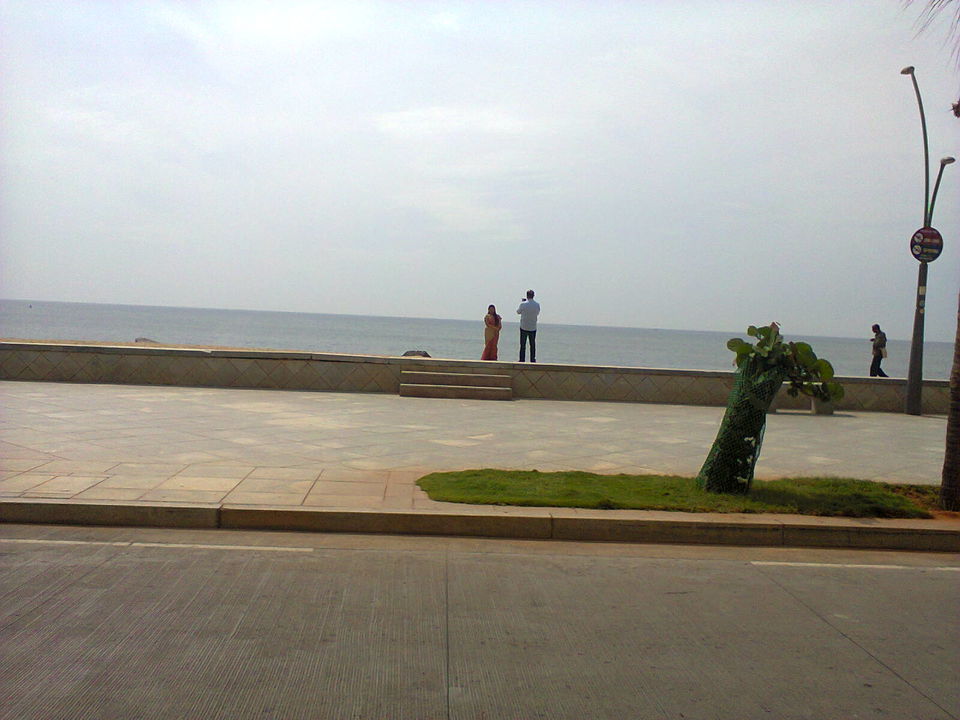 6) It's a family beach. It's common to see sari-clad (even hijab-clad) women being clicked by their husbands, brothers or by their other family members at the beach, which draws a large number of families from all over. Since the beach's sand and water are separated by huge rocks, it's unfeasible for the girls (aspiring to get down to their bikinis) to run around the beach with their boyfriends (even girlfriends too, after all we are living in the LGBTQ-era!). The huge black rocks restrain such aspiring revelers from jumping onto the water. There is little or no scope to "get set wet" at this beach.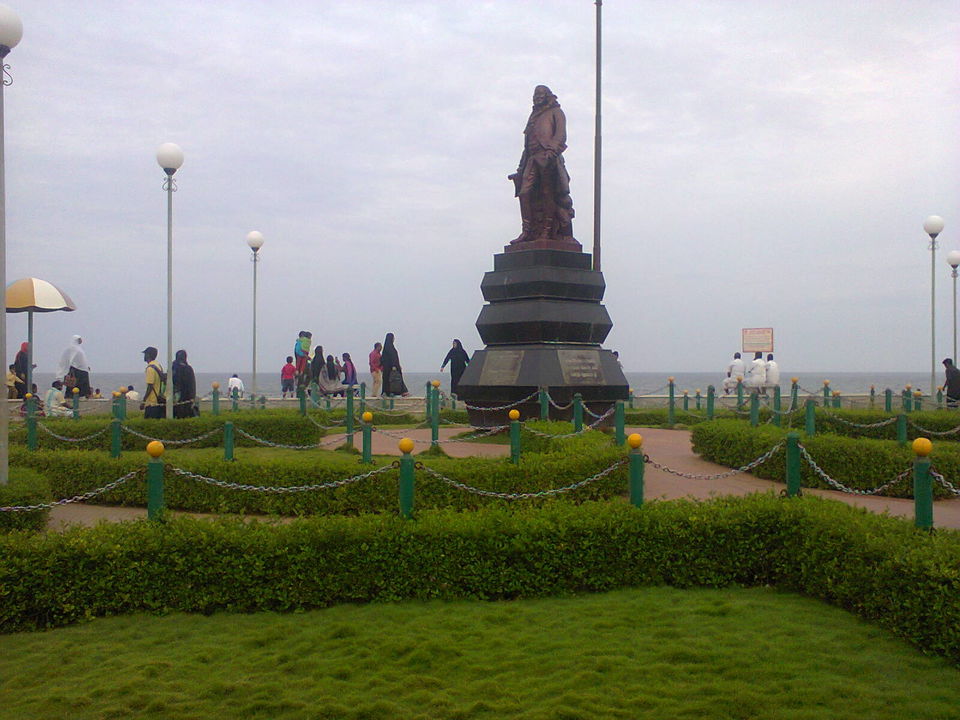 7) A date with French history: As Pondicherry was a French colony till 1954, one can find some traces of French culture and heritage at the beach. There is a massive statue of Joseph Dupleix, former governor general of India. Close to it is an office of French educational institution. Some cafes and restaurants at the beach serve French cuisine too.
One can also visit BR Ambedkar Manimandapam (memorial) on the beach road. There is also a basilica of sacred heart of Jesus but that is located around 10-minute walk from the beach towards the Pondicherry railway station.