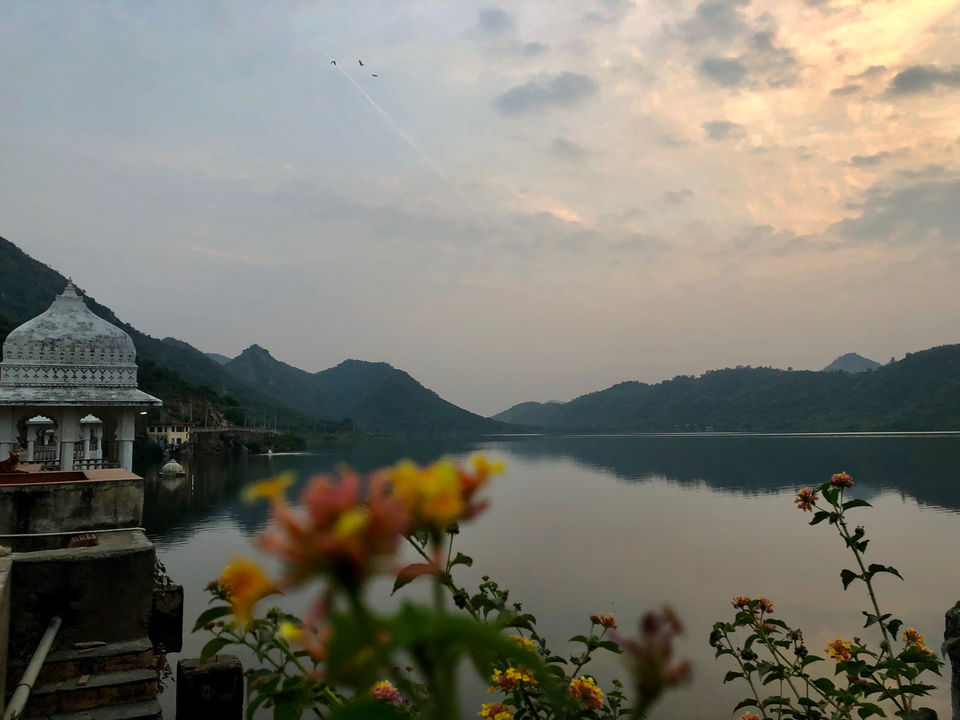 No matter how hard you try, you can not be at all the places that you wanted to be at once.
So its better to enjoy the moment that you are in right now rather than thinking about the places that missed.
because there is no better joy than sitting on the bank of Ambrai ghat and repeating your good old memories :)
So it all started last week when I was in Jodhpur for a weekend trip. I really liked that city.
So most people I met there was either coming Jaipur or Udaipur.
Heard a lot of good thing about Udaipur from them. So I decided to do Udaipur next.
In this post I will be sharing all things you can do in Udaipur if you have 3 or 2 days. I haven't found any such detail on tripoto when I was looking for perfect 3 days itinerary so I thought I will write to help people to get an idea what they can do in the City of Lakes.
I started my journey from Gurgaon. I took a train to Udaipur. There are two train that connect Udaipur from Delhi(Chetak and Mewar Express). I took Chetak. It start 8 pm from Gurgaon and reach Udaipur 7:30 Am. Journey was comfortable. The best and easy way to reach Udaipur from Delhi. Journey was convenient and train reach Udaipur on time.
Although there are buses from Delhi too. But you get a 3A ticket @1000 while the bus takes around Rs. 1400 and more time to reach.
I already booked Zostel already. So I took an Uber from station. Believe me Uber are much cheaper in Udaipur than the local Auto rickshaw(150 Rs.).
Zostel is located near the popular spot of the city Chandpole.
Hostel is not going to be a problem. All the hostel be it Moustache,go stop or bagpacker panda are located in the old town which is near to both Ambrai and Pichola.
So I checked in and freshen up ,Then start exploring the city all by myself. I started waking in search of point where I can sit near the lake. After walking 2-3 km randomly I ended up near a place Called 'Dhudh Talai'. It is an ideal point for chilling near the lake and doing nothing.
However you can take a boat ride in Pichola.
You can also go to Karni Mata temple by rope way or by hiking.
Then again I took the same route back to Zostel.
On my way back I went to Gangaur Ghat. It's near Bagore ki Haveli( famous for its folk and puppet show).
I had coffee at Edelweiss. They have a cozy space to sit and chill.
Then I came back to Zostel. Watched sunset over from there rooftop restaurant and then in the night I along with some friends that I made in zostel went for dinner at Natraj Dining hall near Railway Stn.
Cost for the day
1. Uber from Railway stn. To Zostel - Rs. 49
2. Bunk bed at Zostel — Rs. 800-2 days
3. Coffee at Edelweiss— Rs. 100
4. Thali@ Natraj Restaurant - Rs 240
5. Auto to and fro Natraj(Sharing) - Rs. 100
6. Delhi - Udaipur- 3AC Chetak Express- Rs. 1100(Travel time ~11 hour)
So the next day I have a whole list of place that we planned to visit.
Thanks to Zostel, I made some friend last night. Most of them were travelling solo. So we had a group.
So a list is drawn by one of our friend in the group and we decided to follow that.
Next morning
We went to Jheel cafe for our breakfast. Awesome place, great view and delicious food. Had pasta and sandwich there. Highly recommend place.
Then I took an Ola Bike to The ropeway point, as we decide to visit Karni mata temple.
This temple is famous for their rat and a spectacular view of the whole city.
We took a ropeway to reach there. Planned to go there early as there is more crowd in after noon. So more will be the waiting time for ropeway. Same goes while coming down.
We stayed there for an hour or so. Then we decided to go to Sajjangarh fort.
We took an auto from the ropeway stn. Took around 30 mins to reach at the entry gate of fort. Auto will take you to the main gate only. Then from here you have to take another shuttle to reach the fort( around 3 km). You have to pay separately for that. If you have a vehicle you can take it till the top( pay only parking charge).
So we reached the fort around 4 pm. Chilled there for a while.
From Sajjangarh fort you get a 360 degree view. Whole town and all the different lakes you can view from the top.
Fantastic spot for photography.
Then we decided to go to Badi Lake for sunset.
Now badi lake is around 6 km from Sajjangarh.
Again we took an auto for that.
So badi lake is like the place lesser visited by the tourist as the lake is situated at outskirts of city plus you don't get transport to reach there easily. It's kind of remote and also there is no restaurant nearby.
But if you like pure nature this place will not disappoint you.
See Famous like Pichola lost there charm as all of its shore are occupied by either hotel or restaurant.
But when you visit Badi lake you see a totally different image. There is nothing there except Water, green mountain and silence.
It's so peaceful that you can sit there whole day doing nothing.
It is totally different from the city.
We missed the sunset though. But it was nice to be at the lake.
Then we asked the same auto wala to drop us back in town as next was to go to Bagore ki Haveli for their popular folk and puppet show.
The tickets here are limited so please plan accordingly.
It's an one hour show. It was nice though.
Then we went to dinner near the Pichola at a restaurant. Had a beer. Food was delicious.
After that we went to Ambrai ghat.
From there you can see the city palace,lake palace and Jagmandir in there glory, shining bright in twilight.
Ideal spot to sit and relax and repeating good old memories.
Cost for The day.
1. Breakfast at Jheel Cafe - Rs. 400( Pasta and Drink)
2. Ola Bike to Ropeway- Rs. 20
3. Ropeway ticket- Rs 130
4. Ropeway to Sajjangarh(Auto) — Rs 200
5. Sajjangarh entry fee - Rs. 70 + Shuttle to fort and return- Rs 90
6. Fort entry to Badi Lake. - Rs 200 (for auto) to be shared among 5 people.
7. Badi lake to Bagore ki Haveli- Rs 280(Auto)
8. Bagore ki Haveli evening show ticket- Rs 90
9. Dinner at lake shore Restaurant- Rs600 Per person including Beer.
PS- If you want to catch sunset from the top of the hill near Badi lake. Ask for Bahubali Hills it's around 2 km from Badi lake. So that's all together a different point. See we mistook that hill view point will be near to Badi lake but it was not, it's difficult to hike. Apart from this I highly recommend to take your own vehicle to Badi lake, there is no transportation in that vicinity and the Autos are no easily available. If there is any auto you will have to shed more money because you will be in no position to bargain( this is what exactly happen with us).
Nevertheless Badi lake is beautiful, one can easily spend a day sitting around the Lake given you have your own vehicle and food with you. Perfect picnic spot.
On my last day, I decided to explore the local area, so basically Zostel is located in chandpole which is like centre of the city.
There are many ghats nearby.
I started my day having breakfast at Jheel cafe. Usual Toast and Espresso.
Then luckily one my friend was kind enough to show me around the best part of the city.
We went to Fateh sagar lake. Fateh sagar lake is popular among local people.
It's a huge lake spread across the city( Pichola is said to be the biggest lake of Udaipur but the water level of Fateh Sagar is more making it an ideal spot for all the water sports). You can find number of water sports activity happening in the lake and also there are many small restaurant near to lake where you can enjoy an evening munch.
I tried cold coffee(Rs.70) at Sai Sagar cafe. It was nice and tasty.
Then we took a circuit of the lake , it took us around 20 min by scooty to cover the whole lake.
Locals usually come here for morning walks.
Also you can get a cycle at rent, which I believe is the perfect way to enjoy the beauty of this lake but due to time constraint I couldn't.
Then I went back to Zostel. Took my backpack and booked an Uber to The airport and fly back to Delhi.
Udaipur is a very big city which have many things to offer. I cannot visit the nearby place like Chittorgarh, Kumbhalgarh etc yet I couldn't see all the points in the city.
From my experience I think when visiting keep these things in mind
1. Auto here are expensive. So if you are travelling alone and wanted to visit outskirts places of the city like Badi lake, Bahubali hills and Sajjangarh palace etc, you should hire an activa they are easily available and cost around 300~400 per day. Doing so you can spent more time at the places and easily move around the city but if you are in Udaipur for a day or two better to take Ola Bike and Uber whenever possible. If not Try to share auto rides it will save your money( you will find people at hostels which may be having same itinerary as yours)
2. Food is a bit expensive in Udaipur as compare to Jodhpur. Being situated near the lake. Every restaurant is a bit pricey, but gives you a soothing view of the lake.
3. You will find no restaurant near Badi lake. So if you are planning a day trip please take food with you and try to be back before dark as it's a wild life area and there is no network connectivity.
Still if you have any more doubt or question you can DM me. I will be happy to help you and clear your queries.