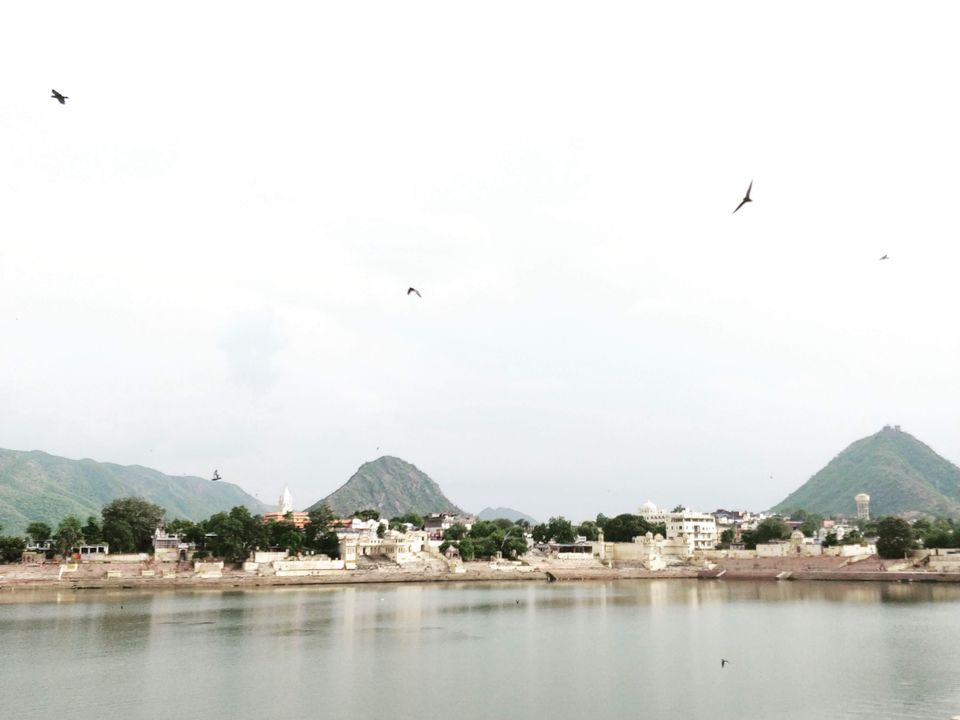 I'd been wanting to go to Pushkar since epochs but for some reason or the other it couldn't materialize. After coming back to Delhi for my job, the first place I packed my bags for, was Pushkar. Also, it couldn't be more opportune, as it was my birthday weekend and I was accompanied by my two best friends.
We took the early morning Shatabdi to Ajmer which is one of the easiest and pocket friendly ways to reach Pushkar. Food is served in the train but eat it at your own risk as we don't want to get sick during the trip, do we? I was lucky that with me was a friend who's diagnosed with carrying her household on a trip. She pays for extra luggage for a two day trip and carries everything one could possibly need. So food was not a problem.
On reaching Ajmer, we headed straight to Pushkar, which is a 45 mins drive from the Ajmer station and checked into our resort which we had pre booked on Make my trip. Here's a tip: book well in advance to get a good deal. On reaching the hotel, we requested for an update and luckily got it. After having lunch and freshening up, we left for Pushkar market. It's an area starting from the famous Brahma temple and spawning the semicircle around the lake. It's one of the most vibrant local markets I've seen. It's touristy, yet not touristy.
Things to buy at Pushkar market:
1. Rose: The pleasant fragrance of rose will titillate your olfactory senses as soon as you enter the market. You can buy rose water, rose sherbet, rose incense sticks et al.
2. Itra/Attar: You will find a variety of perfumes in fancy little bottles having long lasting aroma.
3. Silver jewelry: Brilliant designs, intricate craftsmanship and reasonable prices are the hallmarks of silver jewelry in Pushkar.
4. Clothes: From block prints to hippie clothes, you will find them all.
P.S. Don't forget to haggle.
After exploring the market, we went to Nirvana Cafe and believe me not, I'd the best pizza of my life here. This vibrant rooftop cafe, provides Lebanese, Mediterranean cuisines among other delicacies. We had a tough time choosing the place to eat as we were spoilt for choice here. It was pretty late as we got done with dinner and had to walk narrow alleys to reach our vehicle. But, the city felt pretty safe with no ogling eyes and indecent remarks on three girls walking at 10 pm at night. We went back to our resort and partied.
Next morning, we got up late and went to the pool. After spending some time in the pool, we left for the Brahma Temple. After visiting the temple, we decided to go on a street food sojourn. For people who are yet to go to Pushkar, do not miss the kachoris and malpuas here. Poha is also very famous but we missed it. We tried a few mishthaan Bhandars in the Halwai gali. The food was really good. Post lunch, we sat besides the lake at one of the ghats and contemplated life. The weather was very pleasant throughout with brief spells of rain.
Around dusk we left for Ajmer and visited the dargah. We were fortunate to witness a qawwali performance by rustic voiced qawwals. The experience was surreal. We had booked seats in Chetak Express which couldn't get confirmed. Therefore, we took a sleeper bus from Ajmer to Delhi. Took us a little over eight hours to reach Delhi. The highlight of the bus journey was my cake cutting at 12 in the bus with the phone torch light aping as a candle.
The experience of visiting the quaint town of Pushkar was immensely satisfying. There is no other city which provides such an amalgam of spirituality and hippie culture. The confluence of the two cultures will surprise you every moment with a hustle bustle of locals, foreigners, tourists and will make you fall in love with Pushkar.
A must go. So khud ko thoda sa push-kar and explore Pushkar.