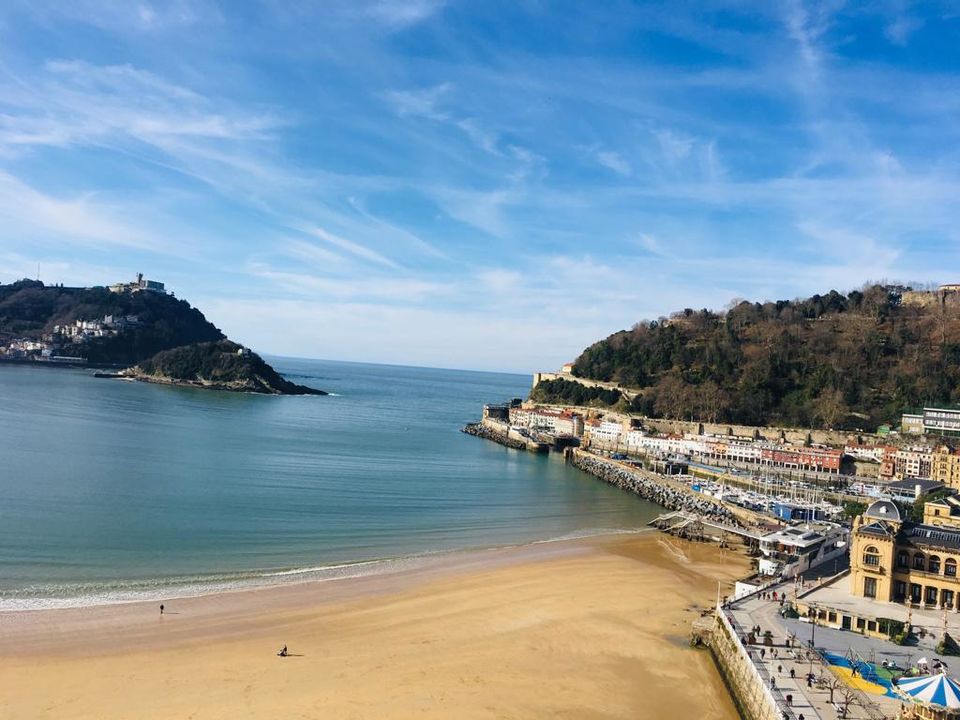 Before coming to Bordeaux, France, I surfed for my weekend trips on internet. As I was going to live in South West of France, Spain and Portugal were my target places to explore. Spain is the only country in Europe which has desert, mountains and beaches. And one city from Spain which excited me the most was San Sebastian. San Sebastian has been given a title of 'Best city for Summer Vacations'. Simply because of its astonishingly beautiful beaches surrounded by two photogenic mountains. With an island exactly in the middle of those two mountains just provide the icing on the cake. San Sebastian also gives you the experience of water and adventurous sports like surfing, kayaking, boat trips, go-karting, and what not.
That weekend finally came when my friend working in Sweden was in Tudela for his business trip, I was in Bordeaux and San Sebastian was the destination for both of us. The hotel was booked – courtesy my friend and his multi-national company and I booked my Flixbus from Bordeaux to San Sebastian. The last 2 hours of the journey to San Sebastian will remind you of 'Safar Khoobsurat hai Manjil se bhi' the lyrics from the song 'Ae dil hai mushkil'. You usually listen songs or read a novel while travelling but those two hours will make your eyes out. But wait my friend, don't underestimate the destination too soon.
San Sebastian is a small city with the habitats of around 188k living in the area of 61 sq. km. You can literally reach the other end of the city within 30 minutes. So there is no need to take a day bus pass (unless and until you decide on getting drunk). Just like before I had made the list of spots which I wanted to see. So after reaching in the afternoon of Friday, we decided to go to one of the three beaches Playa de Ondarreta. It is the beach from where you can get insanely beautiful view of Santa Clara Island sitting in the middle of two mountains. Like a year old baby girl peacefully sleeping in between her parents.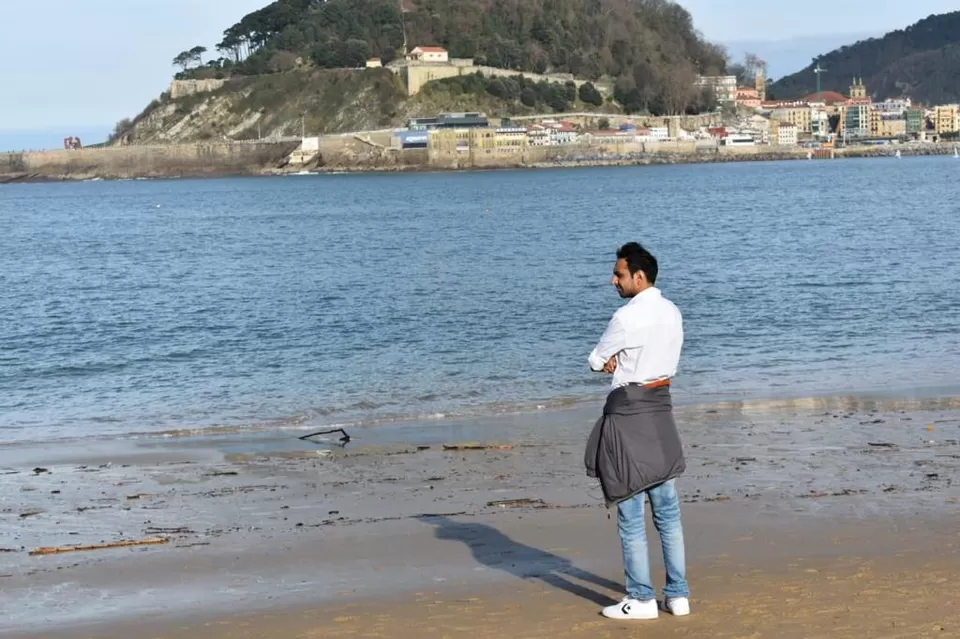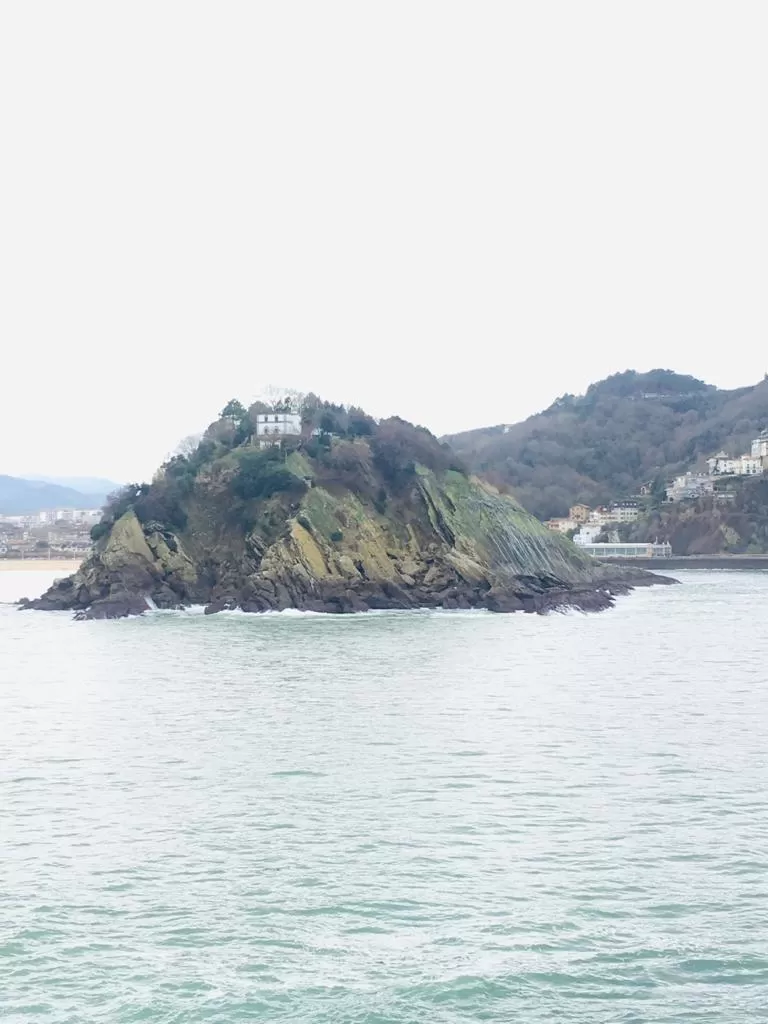 Just at the end of Playa de Ondarreta, you will find a wind-comb (spot where wind and sea meets). This Peine de Vinto is a profound dialogue between art and landscape. The fusion between fierceness of the sea and the strength of the iron structure has made it the place of meeting both for tourist and locals. One more and best spot to explore on the west side of Playa de Ondarreta is the mountain Monte Igueldo. The walking route starts from the Miramar Palace located at Playa de Ondarreta. The architecture of this palace is more of a British than a Basque Country, embraced by the gardens. After passing Miramar Palace, the route continues along the Ondarreta beach. With every step, Ondarreta beach and Playa de Concha beach will give you immensely beautiful views. And at the same time Santa Clara Island will reveal itself to you, allowing you to get almost 360 degree view of the island while you go up to the mountain.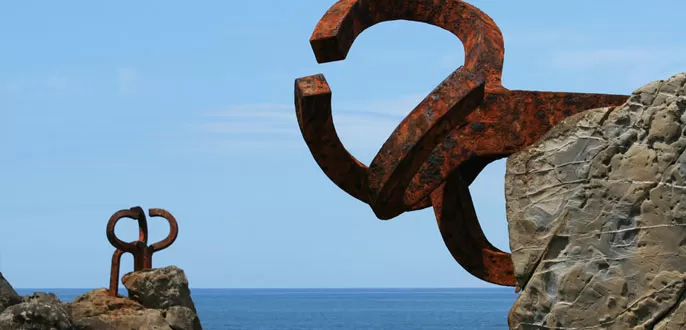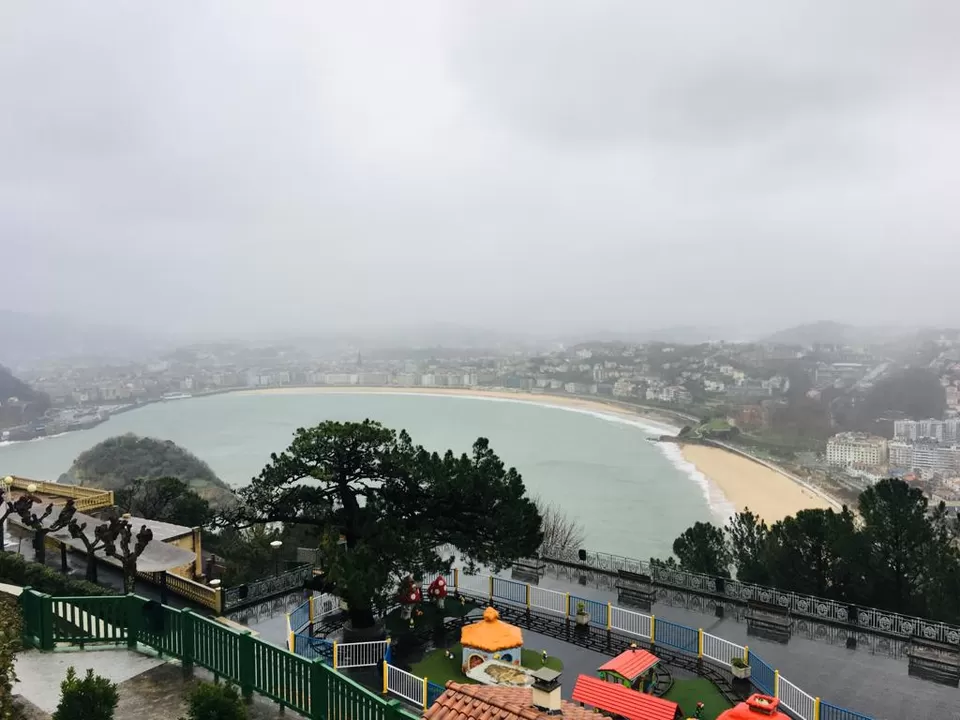 To complete this walk back to the ground, I had heard there was nothing like travelling like Fanicular Railway. But due to my bad luck, that train only works in summer. So I came down walking through the road capturing more and more of Santa Clara Island and the scenic beauty of San Sebastian.
At night me and my friend went to enjoy the nightlife of the city. The best way to enjoy is to visit the Boulevard Street in the old town. Well unlike a song Boulevard of Broken Dreams, this street is not lonely or empty and the this city never sleeps. There you will find the cascade of bars ready to serve you Spanish wines, Sangria and Pintxos. We both had a rule of having only one drink and one Pintxos in one bar starting from the start of the street and let's see where we stops if we somehow able to see. And I only realized it after waking up in the morning or afternoon you can say. There is one most famous pub named Bataplan on the Concha Beach which usually opens at 1 am at night. This is the most famous pub for people who wants to continue their party till the morning. The entry tickets are always available on their website.
On the second day, we went to La Parte Vieja. It's the place of so many spots like Playa de Concha, Plaza de Gipuzkoa, Santa Maria Church, Plaza de la Constitucion and Aquarium Museum. Near to this place you will find the second mountain Monte Urgull. Its again 1 km walk to the top of the mountain La Mota Castle is located. The aquarium museum is also a so called historical museum where ships, cruises and weapons of famous sailers are immortalized. Playa de Concha is the beach where people mostly do water sports like kayaking, boat ride to Santa Clara Island. All these sports are only available to do in summer. But you will still find professional or local people doing kayaking.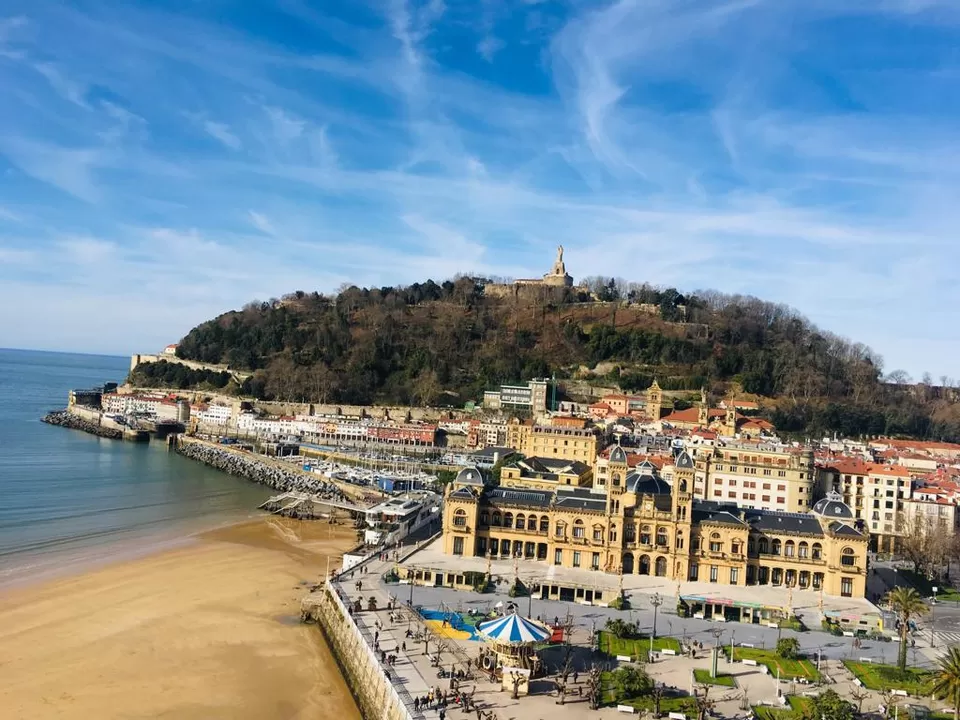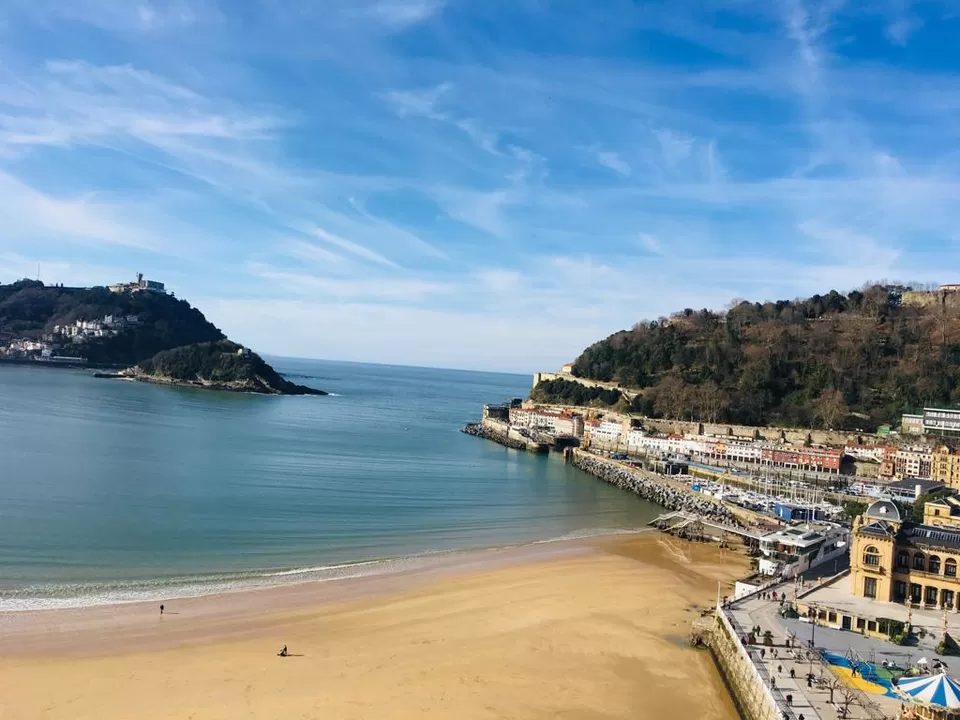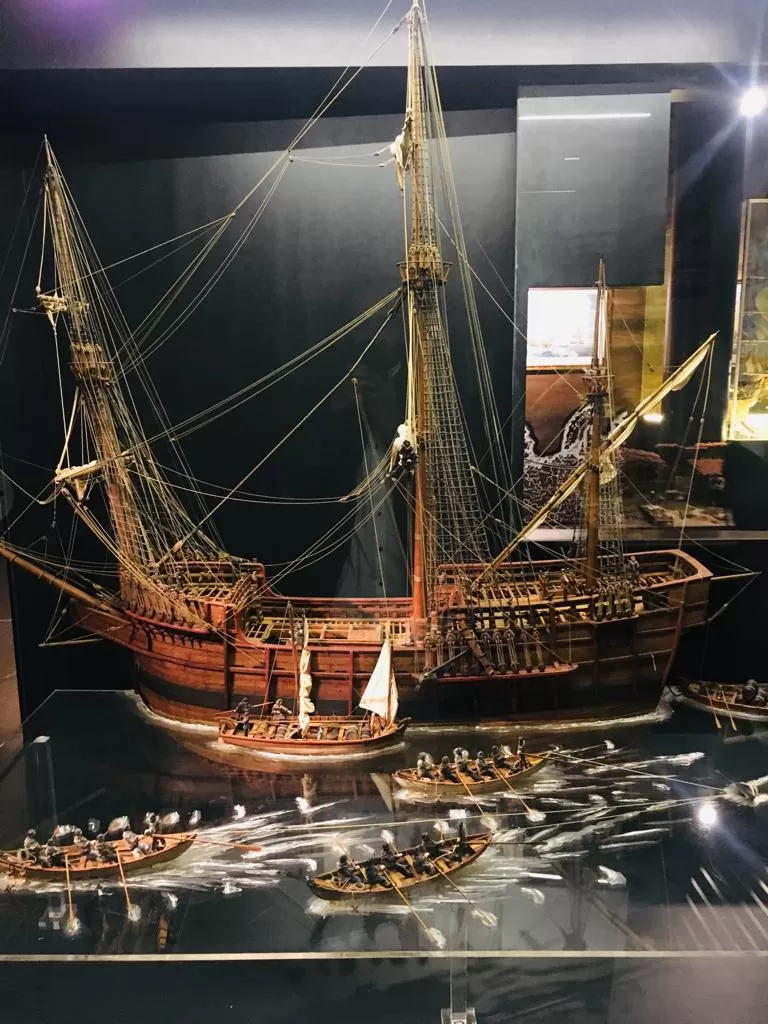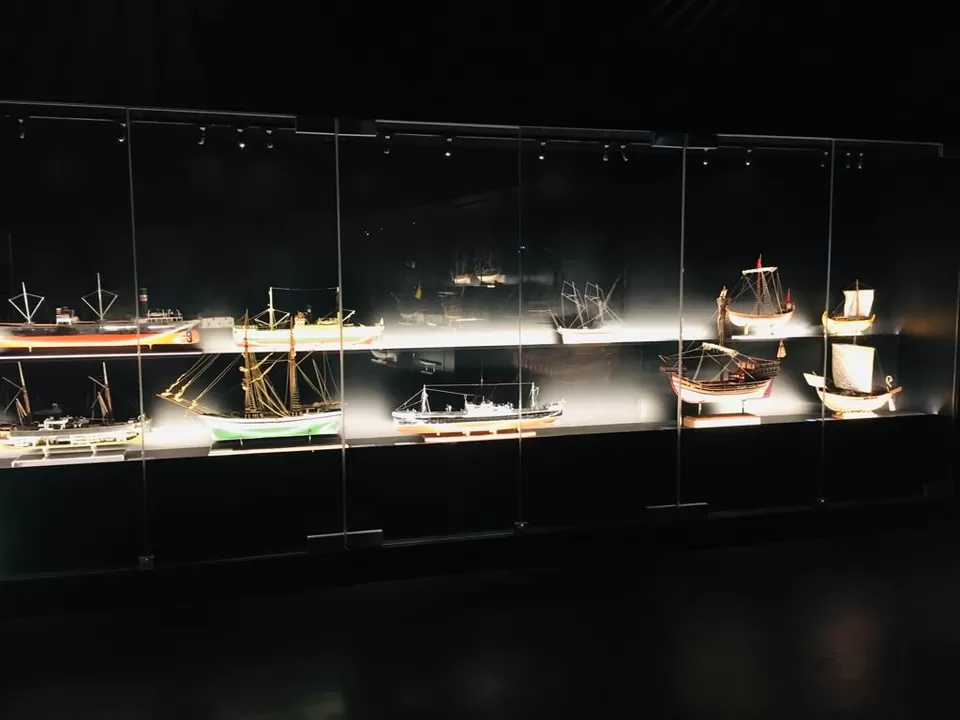 On the third day before returning to the Bordeaux, we visited Playa de la Zurriola. To reach this beach you have to cross River Urumea and go the other side of the city.
I may be back from San Sebastian but its beautiful beaches, mountains, Santa Clara Island and the coffee house present at the top of the island is still calling me and I am hoping to reunite with this beautiful city once again in my life.
Feliz Viaje
Gracias