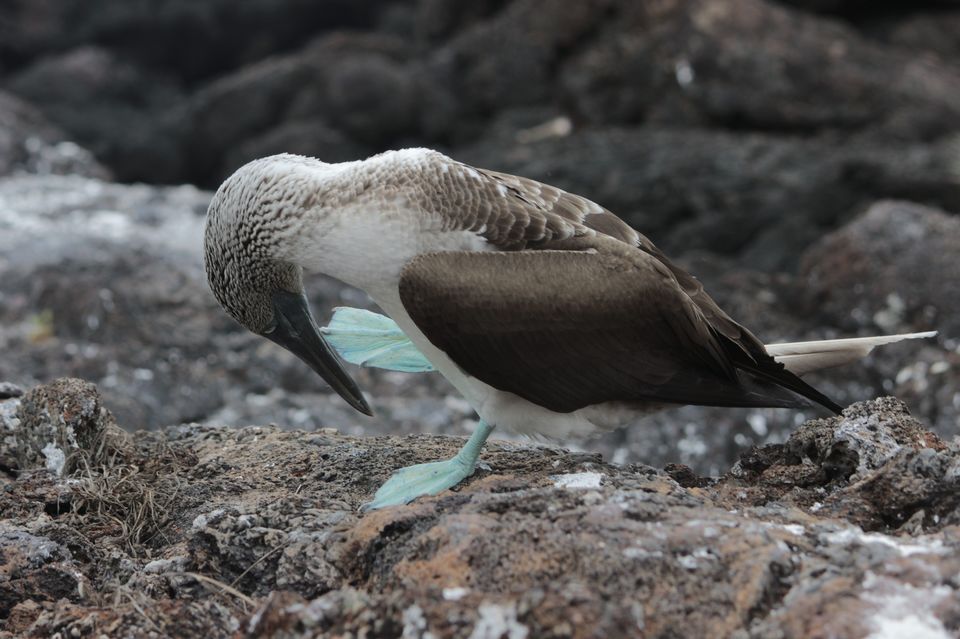 A chain of islands in the remote reaches of the Pacific Ocean inspired a man to give us 'The Theory of Evolution'. Also known as Darwin's Eden and the Wild Wild Wonderland, the Galápagos Islands are truly unique and remarkable. Here, humans, animals, birds, marine beings and plants all live in harmony. You get to swim with sharks and stingrays, spot penguins, admire the blue of the blue-footed boobies, get up close to the sea-lions and seals, awe at the colours of rainbow crabs, witness the grace of giant tortoises and observe many other members of the animal kingdom.
A Week in The Wild Kingdom
I spent a week between the three main islands of Galapagos - Santa Cruz Island, Isabela Island, and San Cristóbal Island. A week is a decent time to experience and admire the majestic beasts of the underworld as well as our land-dwelling cousins.
The airport that serves Santa Cruz Island is actually in Baltra Island. From the airport, a combination of bus and boat (US$5) took me to the primary tourist town of Puerto Ayora in Santa Cruz Island.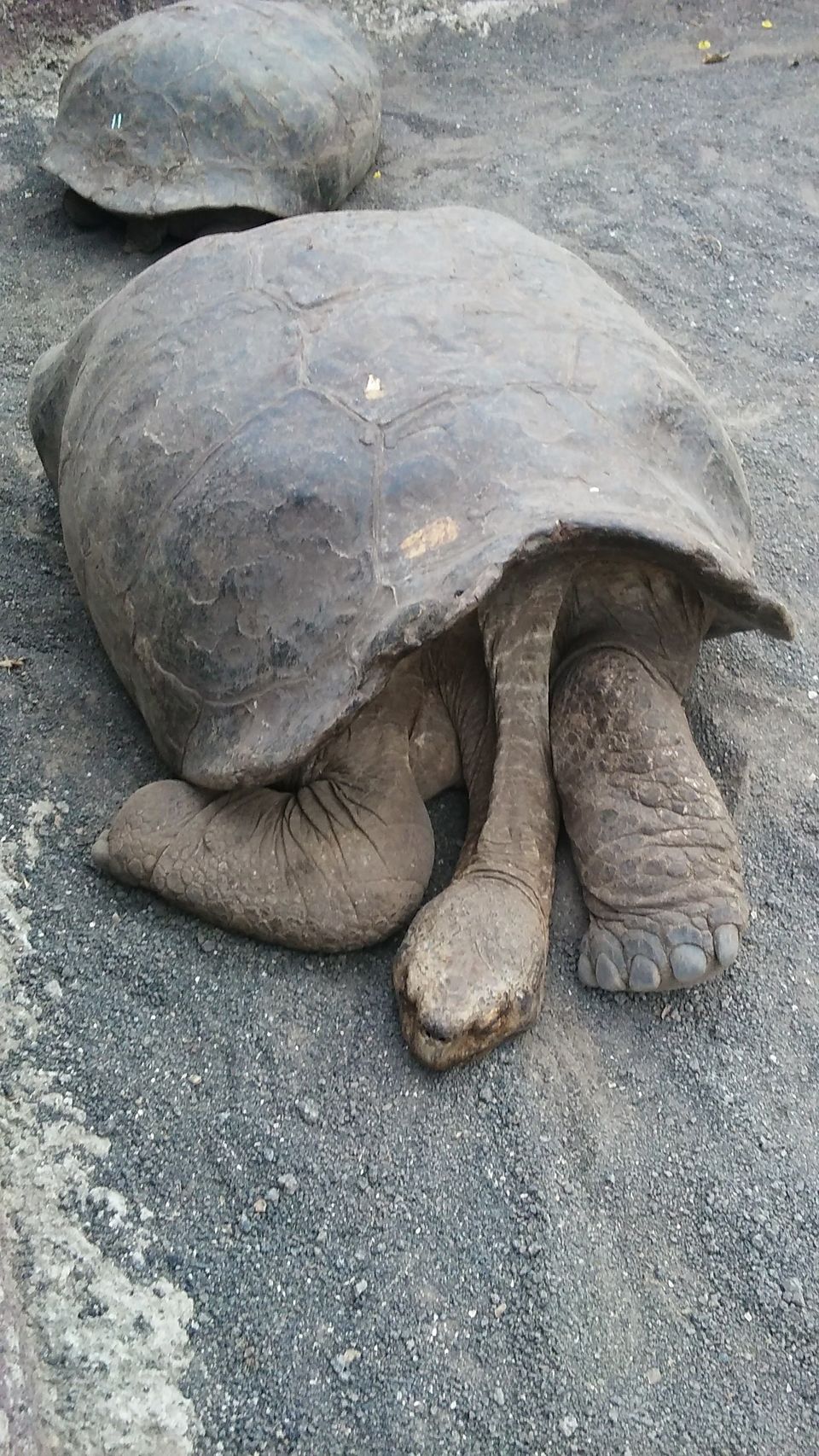 After checking into my hotel, I headed straight to the Charles Darwin Research Station to get face to face with the gentlest and one of the giant-est reptiles - the Galápagos tortoise. They are the largest living species of tortoise on the planet. Their size is beyond imagination but it is their gentle nature that really warms the heart. From there, I went for some snorkeling at Playa de la Estacion (free). The water was murky and I didn't really see anything.
On the second day, I walked 2.5km to the finest stretch of golden sand and turquoise water around Puerto Ayora, Tortuga Bay (free). Tortuga Bay has two beaches, the first one you encounter is good for surfing while the other one Playa Mansa is a calm bay good for snorkeling. Snorkeling around the mangroves is a unique experience and you stand the chance to see white-tip sharks close to the mangroves. Snorkeling mask and fins are available for rent at travel agencies in Puerto Ayora.
The real highlight of the Tortuga Bay is the marine iguanas. Marine iguanas are a prime example of evolution and adaptation. Millions of years ago, land-dwelling iguanas drifted out to sea from continental South America to arrive in Galapagos. Due to a lack of food on land, they started venturing into the ocean giving us the evolved species of marine iguanas. To this day, marine iguanas only exist in the Galapagos Islands. On your way back look out for Darwin's Finch and Lava Lizard.
After Tortuga Bay, I visited Las Grietas (US$2), a craggy canyon with crystal clear water. Snorkeling in between two tall cliffs makes you admire the forces of nature at work. 'Grieta' means crevasse or crack since millions of years ago forces of nature cracked the hill into two cliffs that you are swimming in.
How to travel between the islands
There are daily direct ferries (US$30 one-way/US$50 round-trip) from Santa Cruz Island to San Cristóbal Island and Isabela Island. The travel time varies based on weather and ocean condition. It is indeed a bumpy boat ride. Those who don't prefer the open ocean can fly between the islands with one of the inter-island jet carriers.
On my third day in the Galapagos, I took the morning ferry (7am) to Isabela Island. As I disembarked in Puerto Villamil, the main town in Isabela Island, I was greeted by the sight of seals relaxing on benches and beaches.
After checking into my hotel, I went to Playa Isabela to snorkel. As I was meditatively snorkeling in the water, a tiny creature sped by me. I got a glimpse of its black skin and what looked like wings-cum-hands. My curiosity led me to stay still and wait for it to pass again. And pass it did. My heart skipped a beat as a sense of accomplishment pass through it on seeing the Galapagos Penguin, the northernmost penguins in the world. I turned into a child in a candy store. I could ask for no more. Late afternoon and evening is the best time to see the Galapagos Penguin around Playa Isabela.
Having recovered from the euphoria of the Galapagos Penguin, I walked for five minutes to Concha de Perla. The water here is calmer and clearer. I saw a wide variety of colourful fishes and some fellow snorkelers also spotted a stingray. Overall, I really enjoyed snorkeling at Concha de Perla. Snorkeling mask and fins are available for rent right at Playa Isabela. After Concha, I went to book a day tour to Las Tintoreras Islet, the most famous destination around Isabela Island. The day tour costs somewhere between US$80-100 based on the season. Before heading to the hotel, I went to Los Flamencos to see some flamingos in the pond.
Little did I know that my fourth day in Galapagos will be the one I will remember for years to come. The tour boat with 11 other travelers took us to small islets in the Pacific Ocean. One of the many volcanic islets housed one of nature's masterstroke, a blue-footed booby. It seemed like a bird just flew out of an Audubon painting. Giving company to the blue-footed booby were Galapagos penguins. At such moments one realizes the poetry that is life.
The mind had barely processed the beauties of land and flight and the captain asked us to jump into the underworld. We swam amidst colourful fishes searching for Nemo. But, what we found instead was much larger and scarier. I gasped for breath as the guide excitedly pointed to two white-tip sharks swimming barely few feet beneath us. Despite knowing the harmless nature of the white-tips, my body froze as Jaws and all came to mind. Later, we dived in to take a peek at 20 odd sharks resting in an underwater cave. Goosebumps! We also spotted stingrays, turtles, and seahorses. As we got on the boat still digesting what we saw, we were served lunch. Our tour boat got us back in time for me to catch the afternoon ferry back to Santa Cruz.
TIP: If you plan to take the afternoon ferry back to Santa Cruz, confirm with your tour operator that you will get back in time to catch the ferry.
On the fifth day, I took the morning ferry from Santa Cruz Island to San Cristóbal Island. San Cristobal Island is my personal favorite because it is less touristy and more authentic. You can actually feel and experience the Galapagos life here.
After checking into my hotel in the main town of Puerto Baquerizo Moreno, I took a taxi to Playa Loberia Beach (free), home to a large sea lion colony. At this beach, mother sea lions teach their little ones how to swim. Therefore while snorkeling, you are bound to come across sea lion cubs coming close to you to figure out what kind of a creature you are.
I took a taxi from Playa Loberia to the Interpretation Center and walked rest of the way to Mirador Cerro Tijeretas. This is where you can see the frigate birds, known for their inflated red throat pouch, flying in the sky. The bay below the viewpoint is the best free snorkeling in all of the three islands. Crystal clear calm water teeming with colourful fishes, turtles, sea lions, and rays. I spent hours snorkeling here. Also look out for rainbow crabs of different colors on the banks of the bay. On your way back to the town stop by at Playa Punta Carola to witness the sun setting into the Pacific amidst the yachts and boats. Before heading to the hotel, I booked a day tour to Kicker Rock. Kicker Rock day tour costs around US$100.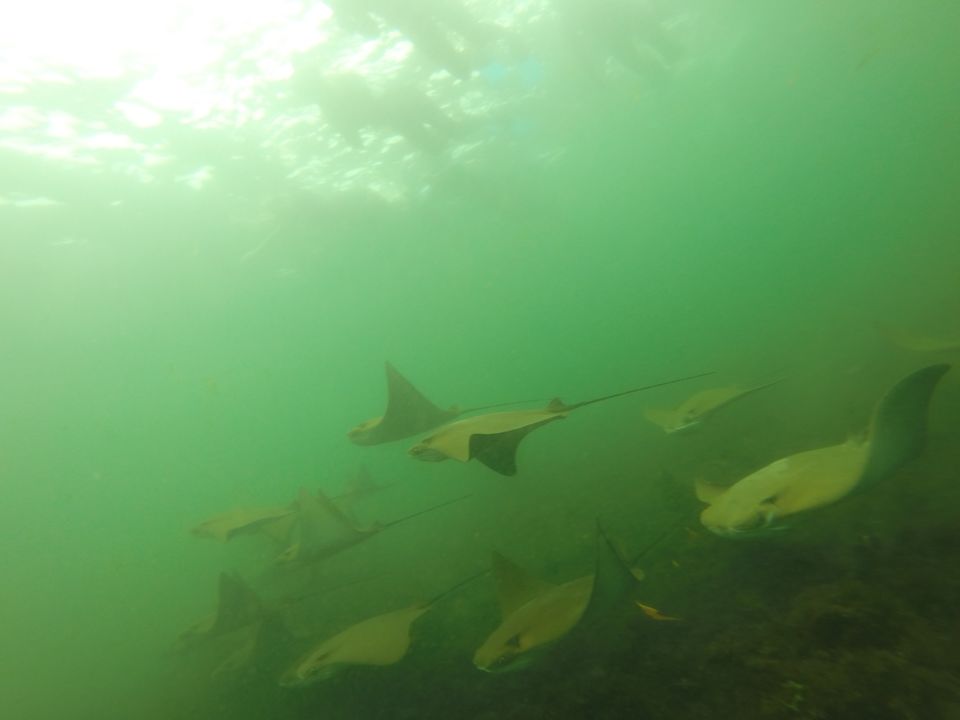 Early next morning, the tour boat sailed for Kicker Rock, a natural cathedral rising out the ocean. We jumped into the ocean near the Rock. Swimming in the cold waters of the Pacific, I suddenly felt the warmth of life and teardrops of joy dropped in the salty water as my breath was taken away by a pod of dolphins swimming next to me. It was another one of those 'life is beautiful' moments. Swimming along, we saw a large school of golden rays swimming synchronously. As we made our way back to the boat, we saw a spotted eagle ray flying majestically in the depths of the Pacific. You can also see Galapagos sharks and hammer-heads around Kicker Rock. Back on the boat, I solemnly admired the ocean and its deep secrets.
Again, the boat got us back to Puerto Baquerizo Moreno in time to catch the afternoon ferry back to Santa Cruz Island.
TIP: If you fly into Santa Cruz Island then it is better to fly out of San Cristobal Island or vice versa. This gives you an extra day to explore.
Farewell the Wild and the Free
On the seventh and last day, I woke up early to catch the bus to the airport. There is only one bus from Puerto Ayora to the Baltra Airport at 7am. There are of course taxis that can take you to the airport. The islands of Galapagos will hold a special place in my heart till I walk and wander this beautiful planet of ours. Follow in the footsteps of Darwin and let the wild wonderland of Galapagos inspire you.
Visa for the Galapagos Islands
Galapagos Islands are part of Ecuador. And, Indians don't need a visa to travel to Ecuador. A tourist card is given on arrival at the airport which is valid for 90 days.
When to visit the Galapagos Islands
The best time to visit Galapagos Islands is from December to June. Temperature ranges between 20 to 30 Celsius and the seas are calmer with better visibility during these months.
How to reach the Galapagos Islands
By air: Round-trip ticket from New Delhi to Quito, Ecuador cost ₹91,816. There are direct flights from Quito to Santa Cruz and San Cristobal islands.
Where to stay in the Galapagos Islands
Casa de Jeimy, San Cristóbal (₹2,225 for double), Hotel Neptuno, Isabela (₹2,008 for double) and Hostal Gardner, Santa Cruz (₹2,781 for double). For more options, check here.
Have you snorkeled with sharks or spotted penguins? Write your own travelogue and share it with millions of other travellers. And subscribe to Tripoto Youtube Channel for stunning videos.