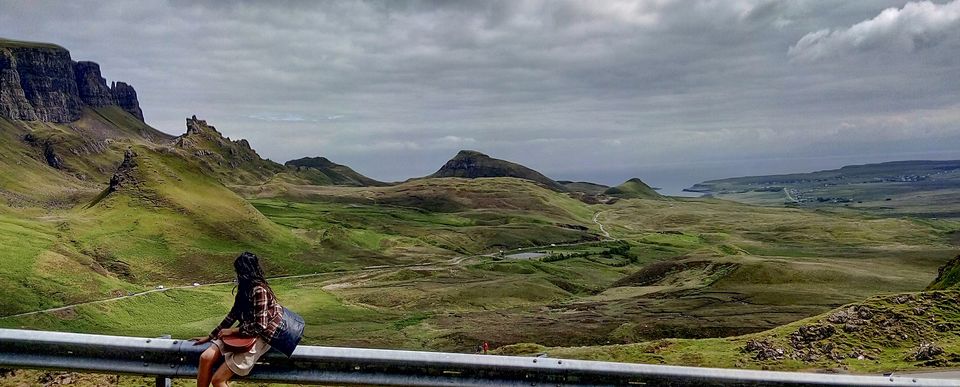 The simple underlined advantage of being in the United Kingdom for any travel buff is the flexibility to visit 4 countries on a single visa. How cool is that?
To avoid fretting over the long Visa procedures for Europe during the busy time of my masters program, I decided to explore the Scottish highlands over three days. Now being a mountain-lover, I really wanted to see the far north and not restrict myself to the capital city and nearby towns. Unfortunately the only option to get there was to drive down and bwam, all of a sudden I regretted not knowing how to drive! So I finally prepared to be a "tourist" for once and convinced myself to book a "3-day highland tour". Little did I know, this would turn out to be one of the best experience of my life!
At 9 am on a slightly overcast Friday morning, a journey of fun, frolics and tales of historical Scotland began from Edinburgh! The tour-guide Andrew arrived in his mini van to drive 20 of us through the highlands and Isle of Skye over the next three days. A most friendly man, it was him that got all of us interacting and by the end of the day, I had made friends with an amazing group of 6 girls from Hong-Kong and we were a team for the rest of the tour! What an amazing time we had, wandering off into all those mountains near which Andrew would park. Here is a series of pictures I created from my visit to Scotland.
DAY 1
Starting-off on the Bonny-Bonny banks of Loch Lomond, we stopped to admire this freshwater lake which is home to 40 islands and a great place for water-sport junkies. Following this, Andrew showed us to a great spot for lunch in the picturesque village of Luss. Since this place was just off the road leading into the highlands, I decided to take a little walk to catch a relaxed first glimpse of the Scottish highlands while the others headed into a traditional pub for lunch. For me, it was an afternoon stroll along a footpath, munching on Scottish shortbread and patiently waiting for the sun which kept disappearing every now and then!