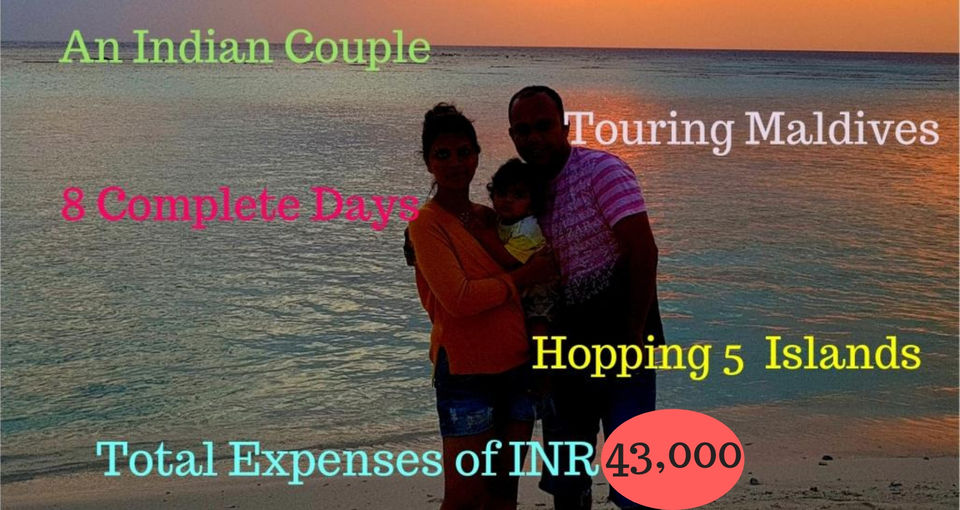 Why we selected Maldives as our new year destination?
We got our son (Ayaan) on 4th January 2018 so it was the 1st birthday for Ayaan on 4th Jan so we thought of planning a holiday so that we can celebrate the new year and Ayaan birthday at a interesting destination. We thought of few hill station like #Manali and #Auli but our boy was below a year old so bearing the December cold weather would have been difficult for him. Coming back to the beach destination #Goa was something like we knew all the streets around as we been to Goa 4 times. Mind gave a option towards #Thailand, but being #December it would be too crowded and we were looking for a calm and quite destination. I have a regular habit of surfing travel app on my phone, suddenly I caught airfare of #Bangalore to #Maldives for 15,000 INR by #AirIndia. Air fare was quite cheap but as per the internet world Maldives was one of the expensive destination looking at the country accommodation and travel, on the other side my heart was pulling me towards the turquoise sea water for which I had a dream to visit long back.
So finally the day 29th December has come to start our journey from #Bangalore to #Male. We were so excited that we started early from home and spent good amount of time at the airport lounge (Thanks to IDFC bank for lounge access).
Ayaan ready for boarding flight.
We opted for #AirIndia to reach #Maldives which costed 32k for 2 adult and 1 toddler. The said flight was scheduled to depart at 2.30 PM and land at 3.45 PM at Male.
The on board meal was really nice (Watch the video for food details and review), before 15 minutes of landing we were astonished looking at the turquoise color sea and the green color islands. Flight landed on time at #Hulhumale airport and we proceeded towards the immigration.
Immigration process was the simplest I have ever seen, we just filled the given form at airport and handed over the form and #passport to the immigration officer and without any delay he stamped out passport.
Now we were out of the airport and we were looking for the ferry point to catch ferry for #Male. The ferry point is 100 meters from the departure gate towards the right side. Ferry tickets are available at the counter (watch video to see the ticket counter) worth 45 INR/ 10 MVR.
A click from the airport ferry capturing the airport flyover
Huluhmale to Male ferry duration was 10 mins and then we walked to our hotel named as Clover House booked thru booking.com for 89 USD per night with complementary breakfast.
Maldives is a expensive country and the food are costly too and on the other side if a vegetarian is travelling to countries to Maldives then it would be tough days. As my wife (Sweta) is a pure vegetarian so we carried some ready to eat food items from #India (Explained in the video).
So it was our 2nd day at Maldives and after spending our half of the life in a jam packed city #Bangalore we didn't wanted to spend time at #Male so we decided to catch the 10am ferry to #Maafushi, we finished our breakfast at 8am and started walking towards the Villingili Ferry terminal, yes the distance was not easy to walk with luggage in hands.
Speed boat at the deep sea
Ferry cost was 240 INR/ 3.25 USD/ 53 MVR. It was a good experience talking to the ferry captain Ibrahim and he made me understand how they judge the sea route and reach to the destinations.
So after a 1.30 hrs ferry journey we reached at Maafushi, it was a perfect sunny day and the white #sand was throwing back the sun rays back on us.
We booked a guest house named as Leisure Boutique thru Booking.com for 45 USD per night with complementary unlimited breakfast. Property was located at a 5 minutes walking distance from the ferry terminal and was a perfect beach front property.
Our unbiased review for Leisure Boutique was 4 star (Watch the video for complete review)
Ayaan & Me selfie in front of Leisure Boutique Guest House
We understood that roaming on Maldives streets during the afternoon was a bad idea so we too rest and started towards #Bikini beach of Maafushi at 4.30 pm and spent the rest of our evening exploring the rest of the island.
Day 2 Expenses was 3750 INR (Watch video till the end to find out the complete expenses details)
So it was a new day for us at #Maafushi and we finished and reached #Bikini beach at 9am. Ayaan was the person who enjoyed the most playing at the shore sand.
For the real feedback about #Maafushi Bikini Beach please watch the video.
As we decided to avoid sun so we rested at room for the afternoon. As it was the 31st night we thought to starts to the streets late evening so we finished our dinner by 9pm and walked to the bikini beach where the loud music was on full show with peoples dancing on the beach.
For the New Year Party 2019 there was no dance floor no closed room.... it was open stage with loud music and open dance floor on the beach.
Day 3 Expenses was 3944 INR (Watch the video for details)
When you are in a island of length 1.2 KM exploring all the ends of the island was a sure plan for me. So I thought to take a bicycle and cover all corner of the island. Please watch the video to know Maafushi island better.
It was our 4th day at Maldives and we were ready to say byby to #Maafushi and ready to explore #Fulidhoo. Our ferry was at 11.30 am (Same ferry which comes from #Male). Cost of journey from #Maafushi to #Fulidhoo was 3.5 USD/ 230 INR/ 53 MVR.
The total journey was of 2 hours but the catch is ferry will in the deep sea for 45 minutes and it was a roller coaster ride for us. (Watch the video for our real experience)
We booked Hotel Malas Island View thru booking.com and it costed us 65 USD/ 4660 INR/975 MVR. We had a good welcome which you can watch in the videos.
Our honest review for Malas Island View was 2 star.
Day 4 expenses was 74 USD/ 5270 INR / 1102 MVR (Watch the video till the end to know expenses details)
and we came to our 5th day of Maldives. It was actually a chilling day a the island was very small.
We got up in a relax mode and after completing our complementary breakfast we went to the bikini beach of #Fulidhoo and spent time at the beach till 2pm. I felt it was a lazy day for us so I am not elaborating in the blog.
When you are in a island of length 400 meters and width of 200 meters exploring all the ends of the island was a sure plan for me. So I thought to take a bicycle and cover all corner of the island. Please watch the video to know Fulidhoo island better.
The date was 3rd January 2019 and we were suppose to leave #Fulidhoo by 1.15 PM to catch the ferry for Felidhoo. I am a kind of person who will love any country cuisine like I felt in love with Roshi and Mashuni (Watch the video to to see my smile looking at the food). Rest of the day was leisure and we checked out of Malas Guest House at 1pm as we were expecting the ferry to reach at 1.15 at Fulidhoo.
We boarded the ferry at 1.30pm and all ready to head towards Felidhoo.
???? ???? ???? ???? BYBY FULIDHOO ???? ???? ???? ????
Ferry tickets were available after boarding the ferry, there was not rush as most of the tourist gets down at #Maafushi. Tickets cost was 1.5 USD per head and Ayaan was freely transferred by #Maldives boats as usual. Boat journey from Fulidhoo to Felidhoo is quite smooth, we saw sand banks and water villas on the way. The first stop after Felidhoo is Thinando and then comes our destination Felidhoo.
Few of Islands from the ferry
The actual arrival time at Felidhoo is 3.30 PM but there was a delay and we reached at 4pm. I booked a guest house thru agonda.com named as Magic Life Guest House. Peoples from the guest house came to receive us at the ferry point. Its a very nice gesture by the Maldives peoples to welcome their guest and they will carry the luggage in a hand pulled trolley (Watch the video).
Magic Life Guest house was at a walk able distance from ferry drop point and in 2-3 minutes we reached the guest house. We we tired after a long ferry journey so be took some rest.
Streets of Felidhoo
Our unbiased review for Magic Life Guest house was 4 stars (Please watch video for the guest house features.)
So after reaching at our guest house Magic Life Guest House we took 2-3 hours rest as we were exhausted after the long ferry journey.
Around 5.30 pm we started from our guest house towards the bikini beach. Magic life guest house is located at a superb location, Bikini beach of #Felidhoo is located at 2 minutes waling distance. While walking towards the beach Sweta found a alive moving Divine Conch (In #Hindi Shank/शंक ), peoples like us staying in a metro city #Bangalore of #India can only imagine or see them on photos. Getting to watch them alive on a public road was really amazing and we felt happy about it. We waited it to move further but it got shared so we thought of moving ahead without disturbing it anymore.
We spent the evening at the bikini beach, the day was a bit cloudy so sunset was not clear. Around 6pm we walked back to the guest house and sipped cup of tea which was offered unlimited by the guest house on self served basis and we #Indians are really crazy #Tea lover. There was no further plans for the day as the island is very small and post dusk you can hardly see anything at the beach.
Click from the under construction ferry point Felidhoo
While I was speaking to the guest house owner about what all a person can do if he/she comes to Feledhoo, he told me that we can watch Sea #Shark at a near by island named #Keyodhoo #Island.
There was no doubt for me to go for this plan immediately, so post dinner me and the guest house owner went to Keyodhoo Island by a speed boat and I spent 2 hours watching the 10-15 sharks(Please watch the video of sharks) from a touching distance and it was one of the amazing thing I saw on our Maldives trip. The cost for watching these sharks was 12 USD (it was the charge for speed boat).
So it was our 8th day of Maldives and unfortunately the last day at Felidhoo and we finished our complementary breakfast offered from the guest house (Magic Life Guest House) side and then we rushed to the Bikini Beach.
Felidhoo bikini beach is one of the best beach I have ever seen because the water is so stable that a non swimmer also can confidently get in, adding to that the water level was below my thighs until I walked 100 meters inside the sea (watch the video to believe the actual beauty).
As Felidhoo is a small island number of tourist are not more than 20 -25 so you get to experience a private beach feeling here. Maldives being a Muslim country tourist can try up their bikinis on this beach only...
We were thanks full to Magic Life Guest House for arranging shades at the shore so that spent 2-3 hours at the beach.
Beach bed with shared by Magic Life Guest House
Being the month of January we were not able to tolerate the strong sun around 12 so we decided to move back to our rooms and fresh up for lunch.
It was the prayer day (Friday) at Maldives so all the restaurants were suppose to open by 2pm. I burnt lot of calorie playing with Ayaan at the beach so I was dam hungry to grab anything I get that time.
Finally I found the restaurant open at 2pm and I took the same Tuna Fried Rice with Chicken Sasses and decided to wait for the angry sun calm down. Meanwhile guesthouse peoples were busy in decorating the dinning area for Ayaan birthday celebration and we finished the celebration around 5 pm(Video will be uploaded next).
After completing Ayaan birthday celebration we walked to the Bikini beach to watch the unbelievable sunset of Feldhoo, so this way we spent our 8th day at Maldives.
So it was our 8th day of Maldives and unfortunately the last day at Felidhoo and we finished our complementary breakfast offered from the guest house (Magic Life Guest House) side and then we rushed to the Bikini Beach.
So this was the day we came to #Maldives to celebrate #Ayaan 1st birthday.
The group click for Indian, Maldivian & Italian.
I was one of the best moment for both of us, I hope Ayaan will be happy browsing his 1st birthday photos when he grows up. We thank to Maldives peoples for the great hospitality. Maldives peoples are as great as their country is.
And finally we were back to India