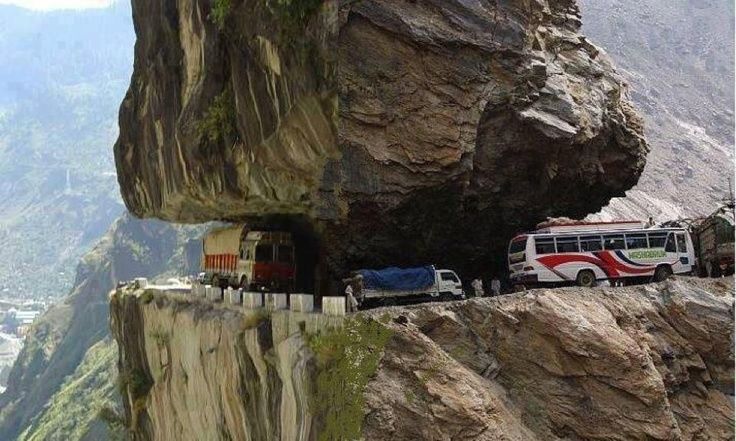 Driving is one of those skills from which most of us draw utmost pleasure until we have to get behind the wheel on a road where we'd rather not even stay inside the vehicle, let alone be the driver. The roads with slopes, where the fine line between adventure and peril gets even finer, and where negotiating the curves makes you feel like you are living on the edge—those are the roads we are talking about.
So, before you start boasting of your driving skills, read on to know about some of the most dangerous roads in India where driving requires more guts than skills. And just in case you got your driver's licence by bypassing the standard procedures, we'd definitely recommend that you don't try this at all!
1.) Killar – Kishtwar road
Wait, did you pronounce the name mentioned above as 'Killer-Kishtwar Road' in your head? Well, we'd not blame you, especially if you just watched the video up here.
Connecting Killar in Himachal Pradesh with Kishtwar in Jammu & Kashmir, this single-lane road has many stretches with loose soil, crumbling rocks, waterfalls, and sharp curves with thousands of feet of nothingness between your vehicle and the valley below. Easily, the most dangerous road in the world, not just India.
Approximate length: 120km
Time on the road: approx. 8-10 hours
When to go: May - June, September - October
Route: Killar – Gulabgarh – Kishtwar
2.) Zoji La (Leh to Srinagar)
11,575 feet above the sea level, Zoji La is a mountain pass on Leh-Srinagar section of NH1 in India. Despite the stunning landscape surrounding Zoji La, the pass's narrow road, loosely-hanging rocks, deceiving weather, and hairpin curves make it one of the most deadliest roads in India.
Add to it the scenarios when you have to drive in reverse gear for several metres to allow another vehicle to pass, and it might unnerve you right now. At Zoji La, it's the ruthless nature that tests your driving skills. One mistake can be as good as fatal.
Approximate length: 10km
Time on the road: approx. 2 hours
When to go: May - September
Route: Sonamarg – Zoji La – Dras – Kargil – Leh
3.) Umling La, Ladakh
At 19,323 feet, Umling La, the highest 'motorable' road in the world, can't be left out of the list of most dangerous roads in India, can it be? Connecting Chisumle and Demchok villages in Ladakh, Umling La road offers unbelievable views, but the path to get there, and severe lack of oxygen tests not only your body but also your vehicle beyond normal endurance levels.
In order to reach Umling La, you may have to make your way through knee-deep water streams and dirt tracks with daunting slopes. If your vehicle breaks down, you might be in for serious trouble, for there may not be another soul for many kilometres. Therefore, it's highly recommended that you procure a 4x4 vehicle with all the essentials.
Approximate length: 105km
Time on the road: approx. 1.5 hours
When to go: September - October
Route: Hanle – Ukdungle – Umling La – Demchok
4.) Manali – Leh Highway
Manali-Leh road, as you might have already watched in videos, offers some of the most picturesque drives in India. However, we recommend that you do not get fooled by the sheer natural beauty. A drive on this road also means coping with deep gorges, sharp curves with almost no railing, falling debris, and heavy traffic.
Add to this the famous Rohtang Pass, followed by lack of fuel stations for a major part of the highway (365km) and a series of twenty one hairpin curves, also known as Gata loops. It's better to do it only if you believe in 'no half measures'.
Approximate length: 475km
Time on the road: approx. 1 day
When to go: June - September
Route: Manali – Rohtang La– Gata loops – Tanglang La – Leh
5.) Kinnaur road
Located on NH-5, carved out of rocks, the road to Kinnaur in Himachal is quite literally a cliff-hanging driving experience. Sharp turns overlooking the deep valley, patchy road, and more vehicles than the road can handle make Kinnaur road one of the most challenging driving routes in the country.
Taranda Dhank, a small stretch on Kinnaur road, is one of the most dangerous stretches on this route and is known to have claimed a huge number of lives in the past.
Approximate length: 130km
Time on the road: approx. 12 hours
When to go: May to mid-July and September to October
Route: Rampur – Sangla – Kalpa – Kinnaur
6.) Three-level Zigzag Road
When it comes to the most challenging roads in India, this 3-level zigzag road near Zuluk village in Sikkim can't be left out. With over a hundred hairpin curves within just over 30km, it is also famous as one of the roads with most hairpin curves in the world.
While the view points on this route offer gorgeous views of surrounding natural beauty, sheer drops along the entire length of this road, the stiff gradient, and the seemingly endless sharp turns can make the best of drivers feel dizzy. Definitely not the one for the faint-hearted.
Approximate length: 31km
Time on the road: approx. 1.5 hours
When to go: March - June, September - October
Route: Thambi view point – Ganek view point – Zuluk– Nimachen
7.) Chang La Pass
Located at an elevation of more than 17,500 feet, Chang La is a high mountain pass en route the 160km long motorable road that connects Leh with Pangong Lake. Experiencing heavy snowfall and harsh weather conditions round the year, driving through Chang La poses real dangers like severe altitude sickness and nausea to drivers, especially the ones who don't prepare themselves for such conditions. The final ascent to Chang La from Leh is quite steep and requires best driving skills.
It's highly recommended you don't drive to Chang La alone, or without adequate supplies of basic medication, food and fuel unless staying clear of life-threatening situations is low on your priority.
Approximate length: 15km
Time on the road: approx. 1 hour
When to go: May - June
Common route: Leh – Karu – Sakti – Chang La – Pangong Tso
8.) Neral – Matheran road
This metalled road might seem like a smooth drive to many of you, but what most drivers don't realise is the steep gradient as the road climbs up to Matheran, gaining an altitude of around 750 metres within just 8-9km.
Tough climb and frequent railing-less curves along with foggy conditions can test the skills of even the most seasoned drivers. So, don't leave caution behind when you are driving on Neral-Matheran road.
Approximate length: 9km
Time on the road: approx. 1 hour
When to go: April - June, September - October
Route: Neral – Matheran
9.) Mumbai – Pune expressway, Maharashtra
Don't be surprised to find this six-lane highway in the list of most dangerous roads in India, for history says that it is one of the most accident-prone roads in the country. The deadly combination of careless drivers, common disregard for basic traffic rules, and increasing number of vehicles with each passing day is riskier than driving [carefully] on the roads in mountains.
If you are driving on this route, your life is at a greater risk than it was on any of the roads mentioned above in this list.
Approximate length: 94km
Time on the road: approx. 2 hours
When to go: Anytime except monsoon
Route: Mumbai – Lonavala – Pune
10.)Besant Avenue Road, Chennai
It's not just the steep slopes, sharp curves, and callous drivers that make for dangerous roads in India, no. Some reasons are just beyond the realms of mankind or nature; probably, supernatural, which make driving on roads even more terrifying. So, if you are the kind of person who can drive anywhere but a haunted road at night, you better not take the poorly-lit, eerie-looking Besant Avenue Road in Chennai.
Regarded as one of the most haunted roads in India, Besant Avenue Road is believed to be frequented by an attacking ghost. Many have experienced getting slapped tightly, or pushed hard by an invisible force while driving on this road after the sunset. It's not funny, is it?
Approximate length: 1.5km
Approximate time taken: 5-10 minutes
When to go: Evening (as long as you are ready to go)
Route: Besant Avenue Road
So, you still believe you can drive anywhere? If yes, great. If no, then tag someone in the comments below who you know is proud of their skills behind the wheel.
And if you've already experienced driving on these dangerous roads of India, share your own story with others here. Subscribe to Tripoto on YouTube and never miss some of the best travel videos on internet.