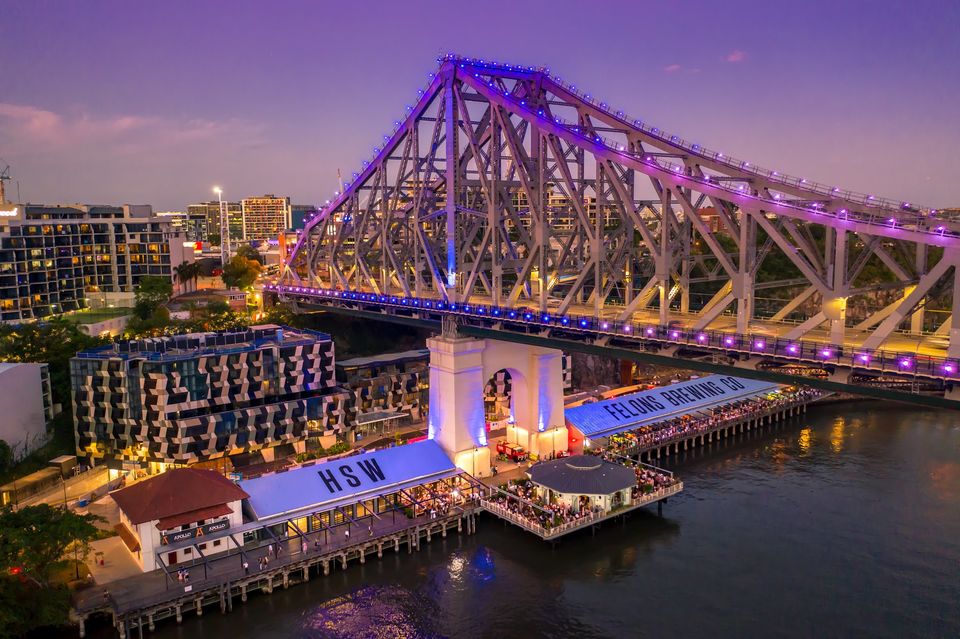 I used to associate Australia only with cricket and kangaroos until I started working on a project that revolved around tourism in Oceania a couple of years back. It was then that I came to know that the spirit of Australia is more vivid and grander than I'd imagined.
The more I explored, the more it surprised me. And if I were to travel to one destination this Indian summer, or the next, or the one after that, it would be Brisbane—the capital of Queensland.
The ultra-modern cityscape has a striking contrast of historic laneways, riverside dining and wildlife sanctuaries. This cosmopolitan city by the beach is also a gateway to the Gold Coast and Australia's theme park Capital.
So before you start planning your holiday, check out these 10 experiences which will make you leave everything and head to Brisbane.

1) South Bank Parklands
If you are in Brisbane and looking for a place to spend your day at leisure, you would not want to be indoors or you might miss the charm of South Bank Parklands, the most popular cultural and lifestyle destination in Queensland.
Located at the southern bank of the Brisbane River, this 17-hectare riverfront is known for swimming facilities, leisure walks, picnic areas, cycling lanes, and almost everything to make your day.
The famous Wheel of Brisbane, or Brisbane Eye, located at the South Bank skyline of the city is a 60-metre iconic Ferris wheel that just adds to the charm of this metropolitan. A must-visit in Brisbane, especially if you're travelling with family.

2.) Brisbane's laneway culture
Talking about best experiences in Brisbane, you can't miss out mentioning the charming laneways of the city, the street cafes, restaurants along the alleys. South Bank precinct of Brisbane is also home to the Gallery of Modern Art, the art museum, and the Fish Lane, which is known for a variety of exquisite street art and neon-lit multi-cuisine restaurants.
Hippie souls exploring the city laneways should definitely visit Brunette Lane to enjoy late night fancy dinings, local coffee labels, wine bars, or even yoga. If you are the kind of traveller who doesn't stop working even while travelling, Bakery Lane and its incubator studios and cafes are your go-to options.
3) Brisbane's evolving food scene
For all foodies and party lovers out there, Eat Street Northshore in Brisbane is the place to be. Every Friday and Saturday from 4.00 pm to 10.oo pm and Sunday from 4.00 pm - 8.00 pm. Eat Street Northshore is full of vibrant lights, live bands, great vibe and some really lip-smacking, multi-cuisine street food and dessert bars. The energy of this place is contagious and overwhelming. No matter what kind of traveller you are, this is a must visit!
Howard Smith Wharves, located on the banks of the Brisbane River in Brisbane city, is a riverfront area for entertainment and lifestyle aficionados. Home to charming cafes, restaurants with views of Story Bridge, and expansive picnic areas make it one of the best places to chill in the city. Make sure you also visit one of Brisbane's many rooftop bars such as Eleven, The Emporium's Rooftop Bar, W Hotel Rooftop Bar among others.
4.) The iconic Gabba Stadium
How can you not think of cricket, especially if you are in this part of Australia? The iconic Gabba Stadium, home to some of the most historic cricketing scripts, is one attraction every cricket lover should visit. For me, this is unmissable.
The huge stadium and the green outfield might just remind you of an exciting match you watched live on TV.
To get a sneak peek of the 'behind the scenes' of Gabba Cricket Stadium, sign up for Venue Tours here.

5) Story Bridge Adventure Climb
This is an iconic structure for soft adventurers like myself who want to get the best views of Brisbane without putting in much effort. And that's why I'd never give it a miss.

An approximately two-hour experience on Story Bridge includes the 80-meter summit from where you get 360-degree views of the swanky Brisbane city. Some of the best pictures of Brisbane on the internet have been clicked from this very site.
6.) Lone Pine Koala Sanctuary
Do you love holding and cuddling furry animals? If yes, you should definitely visit Lone Pine Koala Sanctuary where you not only get to hold the sweet and cute koalas but also hand-feed the kangaroos in watchful supervision of the gamekeepers. All in all, it's a place where you can meet the wild of Australia. Who can resist!
7) Moreton Island
Adventurers, the real action in Brisbane starts here. Go scuba diving, snorkeling, and swimming in the clear blue waters surrounding this picturesque island and witness the underwater life for real. Check in to Tangalooma Island Resort to enjoy quad biking on sand dunes and feed dolphins.
For the less adventurous travellers like myself, relax at the pristine sandy beaches or watch humpback whales in action from Cape Moreton lighthouse site. This whale watching is best enjoyed through Tangalooma's whale watching cruises that operate during June - October.

8) Sirromet Winery
Attention, wine connoisseurs! If you don't settle for anything less than 'premium' when it comes to wine, then you should be heading to Mount Cotton, because that's where the world famous Sirromet Winery is located.
Known for making the finest quality wines using traditional and modern methods, Sirromet's Cellar Door is every wine lover's delight. Delicious cuisines and scenic views on offer at onsite restaurants in Sirromet Winery are like a cherry on the cake.
9.) Mount Coot-Tha
The fascinating suburb in the western part of Brisbane, Mount Coot-tha is the 287-meter hilltop and is Brisbane's highest point.
Here, you can take a tour of Brisbane Botanical Gardens, Tropical Dome, enjoy hiking, mountain biking, horse riding, leisure walks, click great shots, relish a meal at a restaurant on the top of the hill, and even challenge your friends to a visit to Toowong Cemetery.
10) Theme Parks
Theme parks in Australia already have a unique reputation among tourists from all over the world. After all, these are the kind of places which tend to bring out the child in you.
And guess what, Brisbane is just 45 minutes from some of the most famous theme parks like Movie World, Sea World, and Dream World. There you can meet your favorite Hollywood costumed-characters, witness sharks and whales up close, and have fun enjoying water-themed rides.
Best time to visit:
I'd say Brisbane is a year-round destination.
Well, I'd prefer Malaysia Airlines without entertaining second thoughts. Especially when they are offering such lucrative discounts on flight tickets to Brisbane from major Indian cities.

As a matter of fact, Malaysia Airlines have had a great record of treating passengers like guests in star-rated hotels. The only difference is hotels, however luxurious, don't fly.
Did I miss your favorite experience in Brisbane? Go ahead, comment below. And if you are already on a Malaysia Airlines flight to Brisbane, don't forget to share your story with Tripoto community.

In association with Malaysia Airlines.