A sophisticated metropolitan that's brimming with energy, Brisbane is a sought-after destination for experience seekers. The eclectic capital of Queensland is a river city with art districts, celebrated restaurants, lively local culture and an impressive coastline dotted by enchanting islands. But this isn't just why travellers choose to visit Brisbane. The secret to this destination's appeal is its great outdoor adventures, amazing wildlife and easily accessible island getaways that make for an unforgettable holiday.
With temperatures ranging between 15 and 30 degrees Celsius during the summer months, Brisbane becomes the perfect getaway for island-hoppers who are craving the turquoise ocean and its briny breeze, fun activities and abundant nature paired with delicious food and luxurious stays. Here's our guide to the three must-visit islands for a memorable summer with family and friends.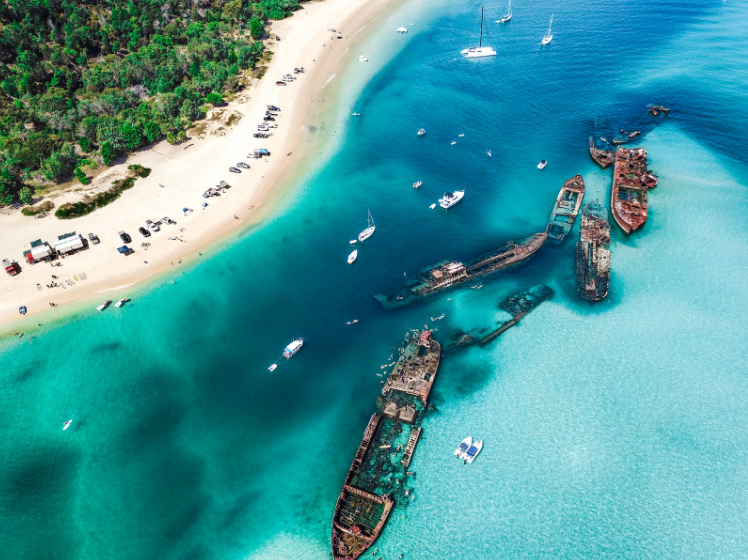 1. Slide down sand dunes, quad bike or snorkel at shipwrecks at Moreton Island/Mulgumpin
A great day trip connected by a 75-minute ferry ride from Brisbane, Moreton Island is the perfect place to live out your adventures for several reasons. The island is home to 15 sunken ships that offer a gorgeous backdrop for snorkel and kayak expeditions, with the chance to get up close to over 100 species of fish and even dugongs, turtles or dolphins, in case you're lucky. Plan your trip here within the months of June to October to gaze at giant Humpback whales! Slide down sand dunes on a toboggan sled and let gravity take you for a memorable ride down at a speedy 40 kilometres per hour! If that's not enough adrenaline for a day, then hop on a quad bike tour to explore the island.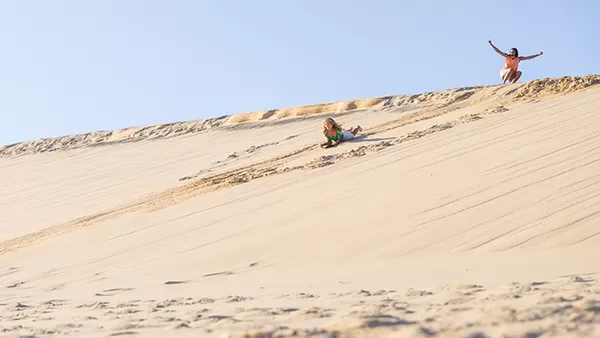 As the sun sets behind the sparkling horizon on Moreton Island, head to the jetty to feed friendly wild dolphins that pop by for a visit every evening.
The stunning landscape here will make you want to extend your stay! Book a helicopter tour for breathtaking aerial views of turquoise waters for a unique perspective or get to higher ground by trekking to Mount Tempest which stands at 285 metres above sea level and affords glorious views of the entire island.
If you prefer a more relaxed pace, book a stay at the Tangalooma Island Resort for a minimum of two nights and lay back on the palm-studded beaches to soak up some sun.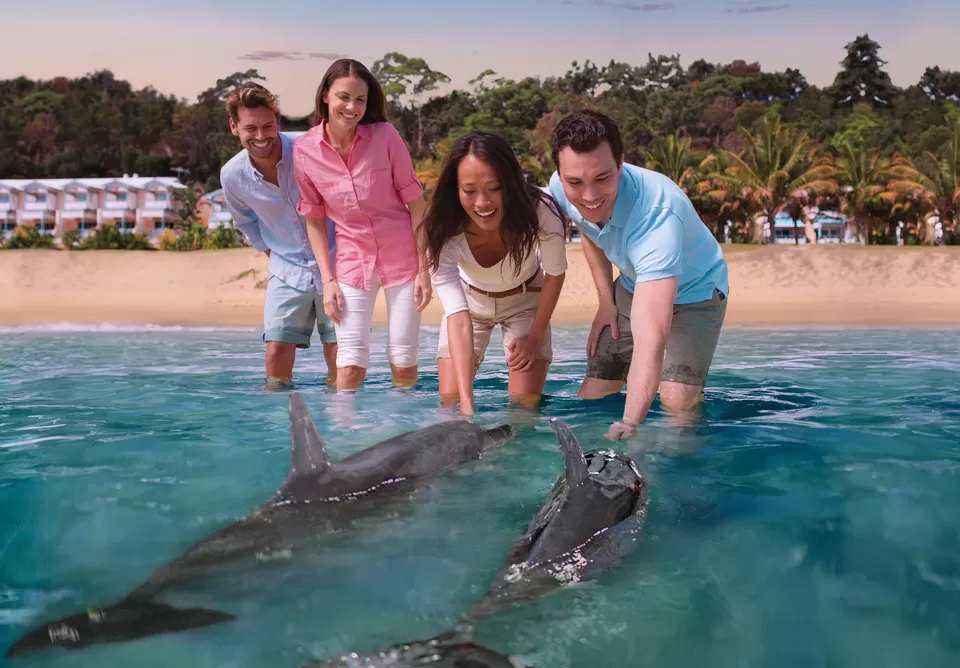 2. Catch a wave and treat yourself to incredible views at North Stradbroke Island
Minjerribah or 'Straddie', as known to the locals, is home to the indigenous Quandamooka people. A popular destination for professional surfers, it is just 40 minutes away by car or ferry from Brisbane and is a sight for sore eyes. It boasts some of the best waves, incredible viewpoints and come migration season, even whale sightings.
If the blue of the waters here tempt you for a dive, then head to Manta Bommie where turtles, reef sharks and inquisitive manta rays will keep you company. Stroll down North Gorge Walk at sunset to catch sightings of adorable kangaroos and wallabies.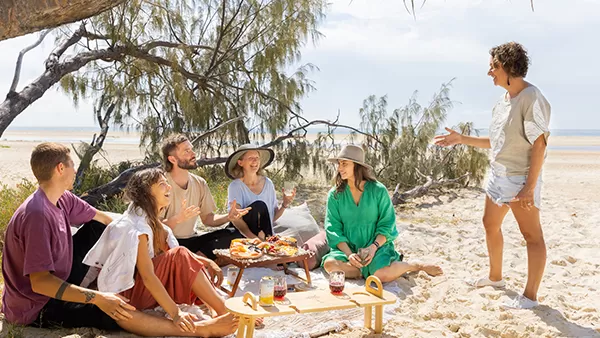 Straddie's abundance of freshwater contributes to its variety of flavoursome seafood cuisine that every foodie will love. Cool off in the summer heat with a chilled beer from the Straddie Brewing Co. which offers local brews that pair perfectly with a beach barbeque or a picnic with freshly-caught produce.
Experiencing the local Minjerribah culture is highly recommended as it is unique to Straddie - register for a Quandamooka tour where you can experience the island through the eyes of the indigenous people at Straddie and leave with a deeper understanding of the local culture and heritage of the island.
3. Come face-to-face with dugongs, emus, kookaburras and more at Bribie Island
As the only Queensland Island connected to the mainland by bridge, Bribie Island is an easily accessible oasis just 70 minutes from the Brisbane CBD. Bribie is separated from the mainland by a waterway known as Pumicestone Passage, stretching 35 km alongside the island.
Head to Pumicestone Passage, a protected marine park brimming with wildlife, where dugongs and dolphins reside and a myriad variety of birds permeate the place with their songs. Walk the green trails of Bribie Island National Park to come across kangaroos, emus, goannas, kookaburras and migratory birds. This marine park is a go-to for barbecue boat hire, kayaking, windsurfing or bird watchers. Jet-ski adventures, paddleboard sessions and salty beach days await at this relaxing oasis.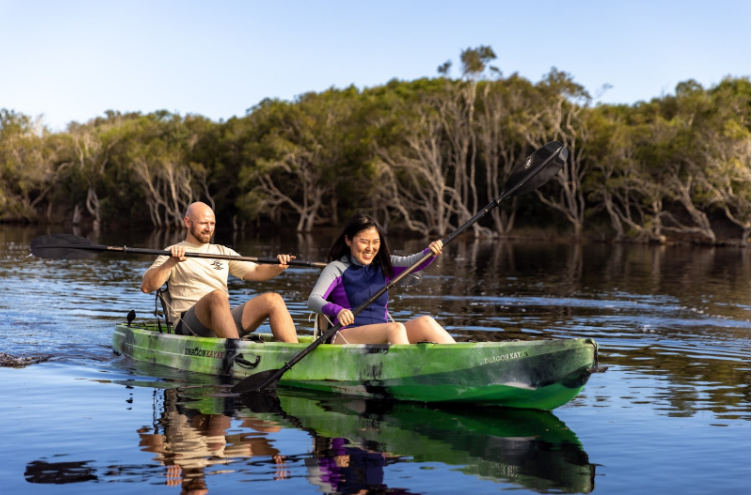 Beyond the water, there are plenty of unique activities to be found. Wander with wildlife along the 3.8-kilometre Bribie Island Bicentennial Trail and experience a kaleidoscope of colour at the Bribie Island Butterfly House. For a cultural hit, browse the island's art gallery and discover Bribie's fascinating history at the seaside museum.
Sticking around? Camp in the Bribie Island Recreation Park, catch the sunset at the Bribie Island Surf Club and enjoy a weekend of 'island time'.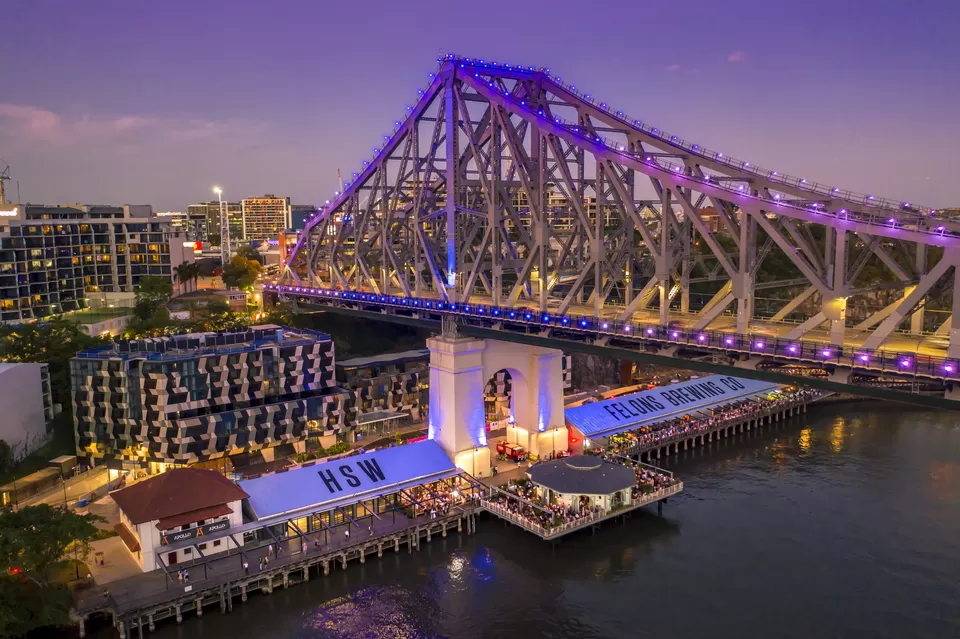 Brisbane is a gateway to an exotic world filled with stunning beaches, astounding wildlife, dreamy sunsets that drench you in gold and waters that make you love 'the blues'. In a world where most destinations are crowded with tourists, Brisbane remains relatively untouched making it an alluring option for jet setters who love being close to nature and living a 'midsummer night's dream' as they fall in love with Brisbane's bounty of islands.
With flights from most of the major metropolitans in India connecting you to Brisbane, you're just a day away from paradise that transforms you from a city dweller to an explorer with an appetite for adventure.
So what are you waiting for? It's time to make the perfect summer dream a reality!
Plan your holiday to Brisbane here.
For the best deal, fly Singapore Airlines to Brisbane all-in fare to Brisbane from Rs 58,000.
In association with Brisbane Economic Development Agency and Singapore Airlines
Ready to travel for free? Earn credits and redeem them on Tripoto's weekend getaways, hotel stays and vacation packages after the pandemic is over!
Find like-minded explorers, learn from expert travellers or become one yourself and help others on Tripoto's Travel recommending Forum!