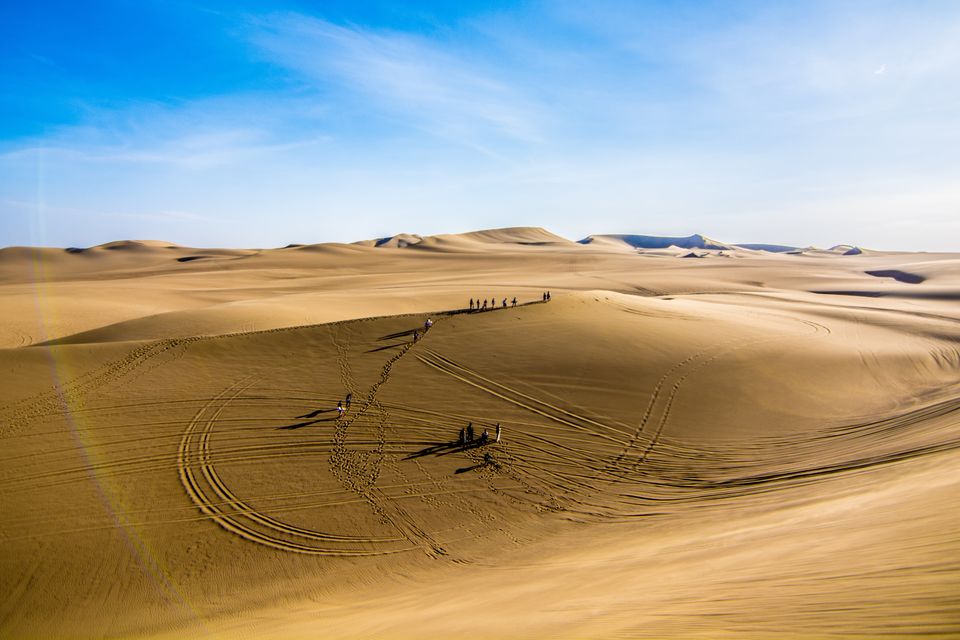 You might have travelled to many a place, but there are times when you get totally consumed by an uncontrollable wanderlust. You feel a strong urge to travel to some unique place to experience something different. So, when you Google '10 best destinations in India', you get hundreds of results, each containing a comprehensive list of places you must visit. That should easily solve a traveller's very first problem: where to visit this time? But that doesn't happen. Most of the results showing places to visit in India make you go through similar stuff over and over and over.
While those might be the destinations that have been major tourist hotspots, you might be that someone who wants to visit a new place! Some place that would leave you in awe of its novelty when it's about the local culture, food, activities on offer, scenery, wildlife, or whatever you can think of!
If that's exactly the case with you right now, you are at the right place. Here, we are going to talk about some of the overdone destinations in India and their best alternatives. So, here we go.
1.) Replace Darjeeling with Mawlynnong
Darjeeling has been known for its gorgeous sunrise views from atop the Tiger Hill and exciting toy-train rides. But due to the ever-increasing number of tourists these days, you might just feel like visiting some place where you can get peace and tranquility that once abundantly blessed this hill station, especially if you aren't bothered about Darjeeling tea.
Mawlynnong, a small village in Meghalaya, can be your best bet in this case. Apart from being serene, beautiful and peaceful, Mawlynnong is officially the cleanest village in Asia. Imagine spending a day in such a place!
Best time to visit: June to September is the best time to visit Mawlynnong as monsoon is at its best, wrapping the village in lush green fauna.
How to get there: Nearest airport is in Shillong (approx. 92 km) and the nearest railway station is in Guwahati (approx. 104 km). You can hire cabs or take a bus to reach the village from Shillong and Guwahati.
Things to do: Explore the quaint little village on foot and go hiking. Also, visit the beautifully engineered living root bridges, the logic-defying Balancing Rock, and enjoy panoramic views from the Sky Walk observatory.
Where to stay: Pumpkin Kharmawshun Homestay and Pumpkin Safi Cottage
2.) Replace McLeod Ganj with Tawang
McLeod Ganj has served quite well as a weekend getaway, especially for those of us who are located in Delhi NCR, and other north Indian cities. We can't, and shouldn't, forget the natural beauty of McLeod Ganj that awed us for so long. However, times have changed now, and so has this little hill town. Triund is barely a trek to fancy and Bhagsunag waterfall is largely a pale shadow of its own during peak tourist season. So, where do we head now?
Thankfully, there is Tawang in Arunachal Pradesh. Perched 2,670 metres above the sea level, Tawang is a less-talked about, yet an astoundingly beautiful hill town bordering China and Bhutan. With spectacular views of the snow-capped Himalayan peaks, gorgeous high-altitude lakes, amazing food, and welcoming locals, it's highly likely that you won't miss McLeod Ganj once you are in Tawang.
Best time to visit: March to September are the best months to visit Tawang as the weather is pleasant and migratory birds flock the famous Penga Teng Tso Lake.
How to get there: Nearest airport is in Tezpur (approx 319 km) and so is the nearest railway station (approx 328 km).
Although Bhalukpong and Udalguri stations are comparatively closer to Tawang, connectivity issues might arise. If you choose to travel by train, it's better to get down either at Tezpur or Guwahati and then drive to Tawang. Buses and taxis are available from, both Tezpur and Guwahati train stations.
Things to do: Once you reach Tawang, there's lot more to do and see than you could in McLeod Ganj. Apart from soaking in the bewitching natural beauty of this sparsely populated region, you can visit the 400-year-old Tawang Monastery, Tawang War Memorial, the picturesque Madhuri Lake, and Nuranang Falls to simply fall in love with this place.
Where to stay: Dondrub Homestay and Vamoose Trail Tawang

3.) Replace Jaisalmer with Khimsar Village
Road trips to Jaisalmer, also fondly called as Golden City, are always such great experiences, for they allow us visiting attractions like the huge Jaisalmer Fort, Gadisar Lake, and Thar Desert. But what if we say there's another lesser-known place in Rajasthan that's less crowded, and is a true embodiment of the arid physiology of this state?
That's Khimsar Village for you–a hamlet in the Thar Desert accessible only by a jeep, a camel, or a horse. This is the place from where you can get an idea of endlessness of the Thar Desert. Perpetually shifting sand dunes making newer shapes all the time, tranquil environs, and sounds you only hear in a desert; that's where you might want to be if you are done with the Jaisalmers and Jodhpurs. And yes, venture a bit farther and you might see an oasis in the desert, literally.
Best time to visit: October to March are the best months to visit Khimsar village as that's the only time when the weather is a favourable.
How to get there: Nearest airport and railway station, both are located in Jodhpur, which is around 98 km from Khimsar. From Jodhpur, one can hire taxis or avail bus services.
Things to do: Journeying into this little village in the great Thar Desert is going to be an awesome attraction in itself. Besides, you can visit the 400-year-old Khimsar Fort, which has now been converted into a heritage hotel. Also, you can enjoy camel/jeep safari, overnight camping in the desert under the starlit sky, or be fooled by the mirage effect. Doesn't it already seem more than promising for an offbeat desert destination in India?
Where to stay: Khimsar Fort and Dunes and Khimsar Sand Dunes Resort.

4.) Replace Manali with Chakrata
If you are irrevocably in love with hills, yet ignoring Manali whenever you are searching for some beautiful hill station, you do need a refreshing change. The popular resort town has been beautiful and will always be so, but someone who's already spent enough weekends here would know how the once-beautiful resort town has now been over-commercialised. However, as the saying goes, "A bend in the road is not the end of the road", there is a place in Uttrakhand you are going to fall for on your next trip.
Chakrata is a small, remote hilly retreat in the Dehradun district of Uttrakhand that sits quietly about 2,118 metres above the sea level, far from chaos, traffic, and hundreds of tourists on any given day. Waterfalls, scenic sunset views, adventure activities on offer, ancient caves, lovely local culture; you will get almost everything you expect from hills.
Best time to visit: March to June is considered as the best time to visit Chakrata as weather is as pleasant as it gets.
How to get there: Nearest railway station and airport, both are located in Dehradun about 113 km and 87 km from Chakrata, respectively. Buses and taxis are available from Dehradun and other nearby towns, but it's recommended that you reach Chakrata before the night falls.
Things to do: Chakrata has a lot on offer for incoming travellers. You can visit the famous Tiger Falls, enjoy waterfall rappelling, climb atop Chilmiri Neck to catch gorgeous sunset views, enjoy overnight camping, leisurely strolls through jungles, and a lot more. And keep your eyes peeled, for nature can surprise you with surreal sights anytime.
Where to stay: Escape Tribal Camps and Green Heaven Resorts

5.) Replace Ladakh with Sikkim
The picture of this beautiful lake looks so much like Pangong Lake in Ladakh, no doubt. But that's the kind of beauty high-altitude lakes in and around Gangtok boast of. And guess what, that's not the only one in Sikkim!
Gangtok is unlike any other state capital city in our country. It's picturesque, peaceful, sparsely populated, beautiful, and resplendent with vibrant culture. Just the kind of 'something different' any Ladakh fan would want. Do it before it becomes Ladakh, we suggest.
Best time to visit: March to May are the best months to enjoy a holiday in Gangtok. And you might guess the reason: the absolutely pleasant weather.
How to get there: Nearest railway station is in New Jalpaiguri, which is about 150 km from Gangtok. Bagdogra Airport, about 124 km away, is the nearest airport to Gangtok. From both these locations, you can either hire a taxi or take a bus to reach Gangtok.
Things to do: You just won't be able to stay indoors when in Gangtok, that's how inviting this place is. Take time to visit famous high-altitude lakes such as Menmecho Lake, Tsomgo Lake, Gurudongmar Lake, and Tso Lhamo Lake, which is the highest lake in India. Besides, you can visit Rumtek Monastery, Baba Harbhajan Singh Temple, Namchi Top and many more. So, be prepared to be mesmerised.
Where to stay: Hotel Dragon Inn and Hotel Sher-e-Punjab

6.) Replace Goa with Daman & Diu
Think of a happening beach destination in India and the very first name that comes to mind is 'Goa'. So much has been written and read about Goa that it already seems like we have just come back from a holiday in the erstwhile Portuguese territory. Perhaps, if there were an award for the most overdone destination in India, Goa would be the front runner! So, is there any other destination that can replace Goan charm? Yes, there is.
Separated by the Arabian Sea, Daman & Diu is a land of secluded beaches that you may now not find in Goa. With scenic beaches, ancient caves, adventure activities on offer, and a soothing environment, the Indian union territory is an amazing alternative for Goa fans.
Best time to visit: November to March is the best time to enjoy a holiday in Daman and Diu, for summers can be extremely hot.
How to get there: Nearest railway stations are Vapi and Veraval, about 15 km from Daman and 90 km from Diu, respectively. One can easily avail taxis and buses from both these railway stations. Both Daman and Diu have airports that are well connected with nearby cities of Pune and Mumbai. Daman and Diu are connected by roads as buses and taxis can be availed very easily
Things to do: If you were mesmerised by Goan beaches, there's every chance you'll be overwhelmed with not just the immense natural beauty but also the cultural richness of Daman and Diu. Places like Jambore Beach for parasailing, Jalandhar Beach for sunbathing, Naida Caves, Gangeshwar Temple, and Chakratirth Beach shouldn't be missed.
Where to stay: Hotel Apaar and Hardys Villa Resort

7.) Replace Hampi with Maluti
Rivers and civilisations have always shared close bonds since the ancient times. One such historic city and UNESCO World Heritage Site, Hampi, sits on the banks of Tungabhadra River and is known for the ruins of ancient Vijaynagara kingdom. But with the constantly increasing number of visitors, visiting this amazing historic city of ruins might come as a dampener to your excitement, especially if you are a history buff looking forward to clicking great pictures of things of the bygone era.
So, there's Maluti, a small temple village in the Dumka district of Jharkhand–a state barely known for tourism. Maluti served as capital city of Baj Basanta dynasty in the 15th century. It is believed that rather than building palaces, the then king Raja Baj Basanta got a number of temples constructed, which now lie in ruins. With over 72 temples in ruins, Maluti is just a great place to be if you want to get into the depths of historical tales without having to deal with touristy chaos.
Best time to visit: October to March is the best time of the year to explore the historic temple ruins of this quaint hamlet in Jharkhand.
How to get there: At a distance of around 16 km, Rampurhat railway station in West Bengal is the nearest railway station to Maluti. From here, bus services are available to Maluti. Ranchi airport, which is about 250 km from Maluti is the nearest airport.
Things to do: Maluti has everything a historic temple town should have. You can go on to explore various ancient temples with most them in ruins, know about the associated intriguing legends, intricate carvings on walls, forests, hillocks, and rivulets create a peaceful yet enticing environment. Low tourist footfall just adds to its intact natural calm.
Where to stay: Swagatam International and Maa Tara Palace

8.) Replace Jim Corbett Park with Tadoba Reserve
Okay, Jim Corbett Park might be home to the most number of tigers in comparison with other tiger reserves of India, but all who have visited the park are aware of the fact that it's thronged by a huge number of wildlife lovers. Jeep after jeep, carrying overtly-excited tourists just negates the whole purpose of spotting the big cats in their natural habitat.
If you really want to enjoy a successful jungle safari, why not just try a different tiger reserve? Tadoba Andhari Tiger Reserve, the largest in Maharashtra, can solve the purpose. It's less crowded and that can better your chances of spotting not just tigers but striped hyena, sloth bears, Indian leopards and many other wild animals. Shall be a great option for wildlife photographers who can't wait to 'shoot' a tiger.
Best time to visit: March to May in summers and November to December in winters are the best months to enjoy a jungle safari in Tadoba Andhari Tiger Reserve. The park is closed from June to October.
How to get there: Nearest railway station is Chandrapur Railway Station, which is about 45 km from the tiger reserve. Nagpur Airport at 140 km is the nearest airport. Taxis and buses are available from the railway station and the airport. The park is well connected to nearby towns by roads with Chimur bus stand being the nearest bus station.
Things to do: Apparently, you are going to visit this place to see the wild at its best. Availability of open jeep safari in the core area just makes the reserve even more favourable.
Where to stay: Tadoba Tiger Resort and Jayshrea Meadows
9.) Replace Alleppey with Valiyaparamba
Alleppey, or Alappuzha, is probably the most sought after tourist destination in India that offers houseboat cruise in its once-serene backwaters. However, a decade of tourist activity in God's Own Country has started to show its affects in Alleppey, too. With backwaters of Alleppey usually overcrowded with houseboats, you now might want to visit some place that can be as good as Alleppey.
Valiyaparamba is the name. The amazingly beautiful coastal island, thankfully, still has serene and placid backwaters where a houseboat ride during the sunset might remind you of the Alappuzha of late 90s. And why just backwaters; the imposing Bekal Fort and the beautiful Ezhimala Hill beach with surreal ambience are bound to leave you spellbound. Visit Valiyaparamba and you will know why we recommended it.
Best time to visit: October to March is the best time to visit Valiyaparamba as the weather is at its pleasant best.
How to get there: Cheruvathur is the nearest railway station and is just 5 km from Valiyaparamba. Mangalore Airport at 50 km is the nearest airport. Cabs and buses are easily available from Cheruvathur and Mangalore. If you choose to drive to Valiyaparamba, roads are in very good condition.
Things to do: There are a lot of things you can do when you are in Valiyaparamba. Visit the ancient Bekal Fort, Bekal Hole Aqua Park, and of course, the truly enjoyable backwater cruise experience.
Where to stay: Lakeview beach homestay and Avisa Island

10.) Replace Khangchendzonga National Park with Great Himalayan National Park
Khangchendzonga National Park–a wildlife reserve with the third highest mountain peak in the world–must be the one of the best places on earth to enjoy the charisma of Mother Nature. Yes, it still is. And it's been quite tough finding replacement for this awe-inspiring Mixed Heritage Site in India, but what if you have explored Khangchendzonga National Park already? What else would come to your mind when you think of photographing a snow leopard again?
Probably, the Great Himalayan National Park in Himachal Pradesh is the fitting choice. Not every wildlife lover travels to this park. Not every wildlife photographer opts to explore this spectacular abode for nature's rarest and most elusive flora and fauna. And just for the record, it's a UNESCO World Heritage Site, for best reasons.
Best time to visit: March to June and late September to mid November make for the best time to visit the Great Himalayan National Park as winter is extremely cold and monsoons are dangerous.
How to get there: If you want to travel by air, Bhuntar Airport in Kullu, about 60 km from the park, is the nearest airport. Flights operate regularly from Delhi to Bhuntar.
Although the nearest major railway station in Chandigarh is 296 km far, Jogindernagar station, which is about 142 km from GNHP, is connected to Pathankot Junction. If you are travelling by road, reach Aut and then take a link road to Banjar Valley. However, don't forget to check out the official web portal of Great Himalayan National Park for major regular updates and helpline numbers.
Things to do: Treks, walking tours, snow-clad mountains, quaint villages, and wildlife safari tours are some of the best things you must do when you are in Great Himalayan National Park.
Note- Entry to the park is subject to the permission from the competent authority. For more details, check the website of GNHP mentioned above.
Where to stay: This is no ordinary wildlife park. It's the Himalayas we are talking about. So, there are very limited options, including the government guesthouses in Sairopa. You might find cosy homestays in nearby villages at very affordable prices though.
So, which one you think is going to be your next travel destination? Comment below and let us know. You can also post your travel stories here. Don't forget to subscribe to Tripoto on YouTube for unique travel videos.