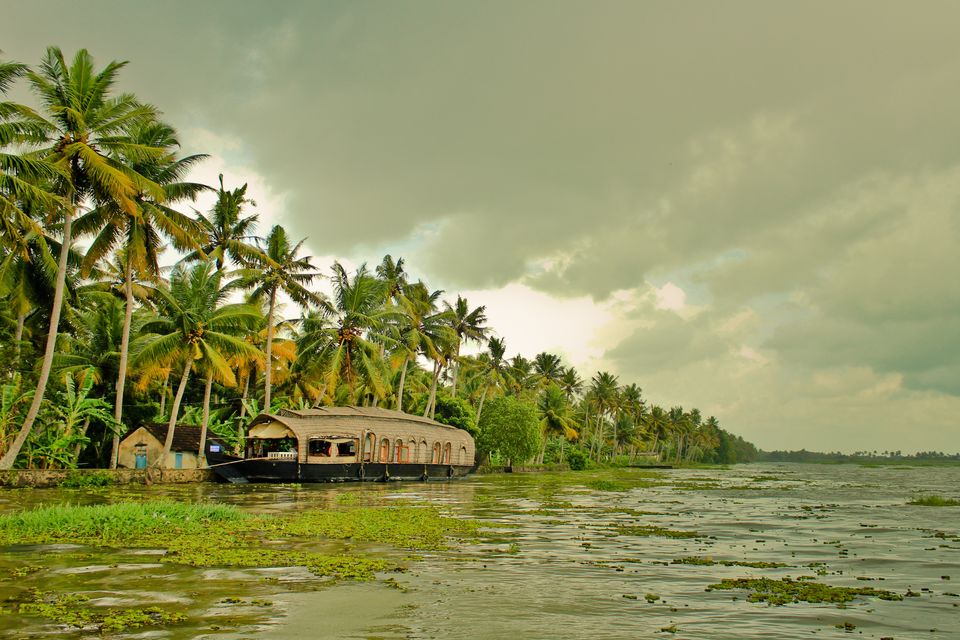 Quite rightly known as God's Own Country, Kerala is known for its tranquil backwaters, palm-lined beaches and the Western Ghats, mountains where coffee, tea, spice and wildlife grows. This Indian state has the highest Human Development Index, literacy rate, life expectancy and the highest sex ratio in India. So it's no surprise that Kerala is emerging as a great destination, especially for families and couples. While most tourists flock to places such as Munnar, Alleppey, Kochi and Thekkady, there are a lot of beautiful places to see in Kerala that are not frequented by tourists.
Stunning Yet Offbeat Places To See In Kerala
Check out these seven lesser known places to see in Kerala.
The Kerala backwaters, a hallmark of Kerala tourism, are a chain of lagoons and lakes lying parallel to the Arabian Sea coast. A visit to Kerala is incomplete without witnessing the rustic backwaters. While most Kerala tour packages would include a visit to Alleppey, Kumarakom or Kollam for backwaters facilities, Valiyaparamba backwaters located in Bekal, in the Kasargod district of North Kerala are much less commercialised compared to other backwaters. This place is perfect for peaceful boat rides and sightseeing. Being surrounded by the Western Ghats on the East; near to the Chandragiri River and with a number of forts, temples and beaches Kasargod is one of the most peaceful places to see in Kerala if you love backwaters.
How to reach: The nearest railway station to Valiyaparamba is Payyanur(11km) and the nearest airport is Mangalore airport(110km)
Where to stay: Avisa Island House or Vretreat
Best things to do: Enjoy a houseboat cruise, visit the nearby Bekal Fort and Bekal beach
Best time to visit: October to March
Located in Azhikode village in Kannur district, Meenkunnu is an uncrowded, clean and peaceful beach away from hustle bustle of touristy places. The beach is a wonder place to see in Kerala as it makes for a perfect getaway when you just want solitude. The beach is 10km from the town of Kannur, and there is an ample space for parking personal vehicles. Reaching here via public transport can be rather hard, however.
How to reach: Calicut International airport is the nearest airport (124km) and the nearest railway station is Kannur(10km)
Where to stay: Meenkunnu Beach Resort or Asokam Beach Resort
Best things to do: Sit back, relax, grab your favorite book and enjoy the tranquil waves of the sea. Visit the nearby Fort St. Angelos.
Best time to visit: October to May
Situated at a height of 1372m above sea level, Paithalmala is a hill station and the highest geographic peak in the Kannur district. Nestled in the Kerala-Karnataka border near to Kodagu forests, it lies in the Western Ghats. This underrated hill station is a paradise for trekkers and nature enthusiasts. There is an observatory tower made by the department of tourism at the hill top which can be reached after a 45 minutes walk from the base village of Pottenplave. Paithalmala is undoubtedly one of the most offbeat places to see in Kerala.
How to reach: Kannur is the nearest railway station (61km) and Kannur International Airport is the nearest airport(49km). One can board a KSRTC bus to Pottenplave(the base camp) from Kannur.
Where to stay: Paithal Mount Cottage, Paithal Kaveri Hill View Resort
Best things to do: Trek up the hill and sit down, or stroll around the sweeping scenery of the Kodagu forests and rolling hills. If you have time, visit Chelavara Waterfalls in Madikeri, 11km from Paithalmala
Best time to visit: June to October
In the Kasargod district of Kerala is Ranipuram, popularly known as the 'Ooty of Kerala' and previously called Madathumala. It is an offbeat trekking destination, which is sparsely populated and provides panoramic views as you walk across misty, lush green grasslands. Due to the length of the trail, Ranipuram makes for a perfect one-day getaway if you reside in or around Mangalore or in the northern part of Kerala.
How to reach: The nearest railway station is Kanhangad(45km) and the nearest airport is Mangalore International Airport(113km). Local buses are available from Kanhangad railway station that go till Panathady. One has to hire a jeep from Panathady to reach Ranipuram
Where to stay: Essa Villa Homestay, Sree Gokulam Nalanda Resorts
Best things to do: Trek up to the hill and relish the views of huge boulders, dense shola forests and the picturesque hills of the Western Ghats. Explore some areas nearby such as Bekal Fort and Kappil Beach
Best time to visit: September to March
Lying 2,640m above sea level, Meesapulimala is the second highest peak in the Western Ghats of Idukki district on the Indian subcontinent after Anamudi. The name derives from the fact that it is formed of eight peaks which spread like a moustache. Located around 20km from Munnar, treks to the peak can be organized through the Kerala Forest Development Corporation in Munnar. Climbing privately is illegal. The beautiful trek is a feast for the eyes. You'll be greeted with distinct flora and fauna throughout your trek to the Meesapulimala peak, one of the most picturesque places to see in Kerala. However, leeches are common so it's important to carry necessary preventive measures.
How to reach: The nearest railway station is Theni, in Tamil Nadu(72km). However, the nearest railway station in Kerala is Aluva(135km). Cochin International Airport is the nearest airport.(132km). One can also board a bus towards Munnar and then catch a jeep towards Rhodo Valley
Where to stay: Silver Mount Homes or Camp Eden
Best things to do: View hundreds of blooming Rhododendrons, charming tea estates and gurgling brooks as you trek through eight hills, passing through the shared border of Tamil Nadu and Kerala
Best time to visit: October to February
The Nelliyampathy hill range stretches across the Palakkad district of Kerala and is a gem of the Western Ghats. It is one of the few places to see in Kerala where nature is at it's best and least touched by humans. Nelliyampathy is surrounded by tea and coffee plantations. The views of the Pothundi Dam, which is also the entrance for Nelliyampathy hill are spectacular from the top. The unpolluted air, cool climate and the serene atmosphere are worth mentioning.
How to reach: The nearest airport to Nelliyampathy is Coimbatore International Airport (55km away) and the nearest railway station is in Palakkad (56km away). One can hire a taxi from Palakkad to reach Nelliyampathy
Where to stay: Blue Mount Resort or Mango Village
Best things to do: You can go boating at the lake formed by the Pothundy Dam or make your way to the vast tea estates and orange plantations that Palakkad is famous for. If you have more time, visit Seetharkundu, 8km from Nelliyampathy, where you can trek to a 100m high waterfall of the same name.
Best time to visit: November to March
Located in the town of Punalur in Kollam district, Thenmala is emerging as a town of tourist attraction. It is still not visited by tourists as much. Thenmala is the first planned eco-tourism destination in India. The eco tourism destination has been divided into three major zones, each with a particular theme – Culture Zone, Leisure Zone and Adventure Zone. A boardwalk in the Leisure Zone leads to the breathtakingly beautiful Thenmala Parappar dam. One of the highest waterfalls in Kerala, Palaruvi is also pretty close to Thenmala and is a popular picnic spot.
How to reach: The nearest airport is Trivandrum(75km) and the nearest railway station is Thenmala(2.4km)
Where to stay: Kandamath Heritage Resort or Hotel Kurinji
Best things to do: Experience the best of Kerala's cuisine, crafts and natural wealth at the Thenmala Culture Zone, go on a short (4km) guided tour of the nearby Shendurney Wildlife Sanctuary, go on a guided tour of the Thenmala Butterfly Park. If you're more into adventure, try rock climbing, elevated walkway, zorbing, river crossing, flying fox, mountain biking and archery. Visit the Thenmala Parappar Dam
Best time to visit: July to March
Frequent searches leading to this page:-
Kerala Tourism Packages Honeymoon, Kerala Tourism Packages For Family, Top Kerala Tour Packages With Price, Best Kerala Tour Packages For Couple With Price, Kerala Tour Packages 3 Nights 4 Days Price, Best Kerala Tour Packages With Price From Delhi, Kerala Tourism Best Places To Visit