Traveling with a toddler is never easy. Though the child may get used to travel over a period of time, it is our job as parents to make sure the little one's journey is smooth and he/she gets the comfort on the journey as they would at home, if not 100% at least we should try our best.
As a traveling mom & with a lot of trial & error I have come to use certain products that I can vouch for. Below is a list of products that I use regularly to make the journey smooth for my child
1)Baby carrier
This is a complete must have. Even if your toddler loves jumping & playing around be rest assured after every hour or so you'll have to carry them. Especially if you love walking then this product is for you. Never step out without a good, sturdy & soft baby carrier which will help you hold the child snugly without any discomfort to your back & your child will also enjoy the walk. You can try Kol Kol toddler carriers & if you're traveling with an infant I totally vouch for Anmol wrap.
2) Electric Travel Pressure Cooker
A very handy product, an electric cooker can work wonders for you if you prefer to give your child freshly cooked meals. You'd prefer giving your child a simple meal of dal & rice rather than feeding him/her oil rich food from the hotel right. This is where the cooker will come in handy, make khichdi, porridge or just boil milk and you're rest assured that your child doesn't stay hungry. A belly full child is a happy child. I use Orbit 1.5 lts electric cooker but there are other brands too like prestige, Nova, etc. You can buy them on Amazon.in or Snapdeal.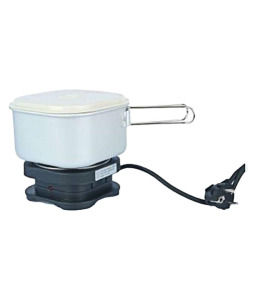 3) Your child's favorite Blanket or Toy
Trust me this is a great comforter for your child in new surroundings. As the child is used to this everyday at home, having a blanket or toy that he/she is familiar with helps ease the child in new places.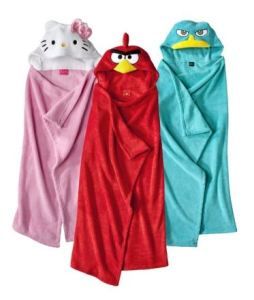 4) Playing Blocks
I know many of you may seem aghast by this idea, but it's a really fun way to keep your child engaged & interested while on a journey. I came across Tegu blocks online & these are a cool set of magnetic blocks that come in a handy pouch so they wont tumble all over. Available at amazon.in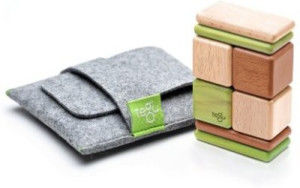 5) Travel Trunk
Traveling with a child means carrying so many things right. Clothes, diapers, toys, food supplies, etc, etc. We obviously need to carry luggage for our child's stuff so why not carry them in a really cute colorful trunk? I carry the Hamley's trunki which is a trunk as well as your child can sit on it while you pull the trunk like you would your luggage. It's bright colors & the ride make it an exciting event for your child. Available across all Hamley's stores in India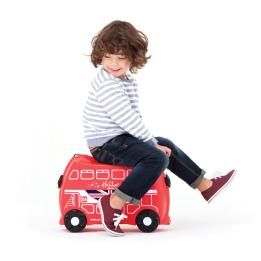 If you have any handy products & suggestions for a smooth travel with a toddler, I'd love to hear in the comments below.
This blog was originally published on 'DIARIES OF A WANDERLUST'